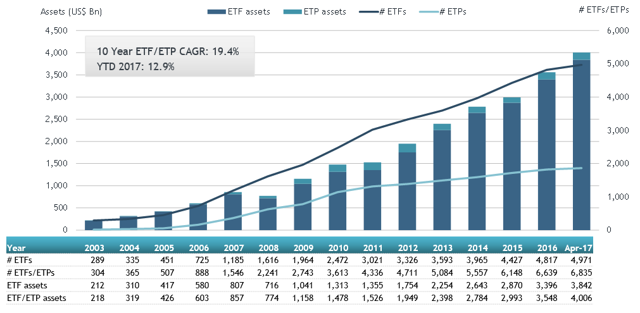 Source: ETFGI data sourced from ETF/ETP sponsors, exchanges, regulatory filings, Thomson Reuters/Lipper, Bloomberg, publicly available sources and data generated in-house. Note: "ETFs" are typically open-end index funds that provide daily portfolio transparency, are listed and traded on exchanges like stocks on a secondary basis as well as utilising a unique creation and redemption process for primary transactions. "ETPs" refers to other products that have similarities to ETFs in the way they trade and settle but they do not use a mutual fund structure. The use of other structures including grantor trusts, partnerships, notes and depositary receipts by ETPs can create different tax and regulatory implications for investors when compared to ETFs which are funds.
ETFGI, a leading independent research and consultancy firm on trends in the global ETF/ETP ecosystem, reported today that assets invested in ETFs/ETPs listed globally broke through the $4 trillion milestone at the end of April 2017, according to preliminary data from ETFGI's April 2017 global ETF and ETP industry insights report.
The Global ETF/ETP industry had 6,835 ETFs/ETPs, with 12,892 listings, assets of $4.002 trillion, from 313 providers listed on 68 exchanges in 56 countries at the end of April 2017. According to Deborah Fuhr, managing partner and a founder of ETFGI:
Investors continued to favour equities over fixed income and commodities as equity markets performed positively in April. The S&P 500 was up 1%, international equity markets outside the US and emerging markets were both up 2% in April. Investors were captivated by a closely-fought first round of the French elections during April.

ETFs and ETPs listed globally gathered record net inflows of $37.94 Bn in April marking the 39th consecutive month of net inflows. Year to date, a record $235.21 Bn in net new assets have been gathered. At this point last year there were net inflows of $81.01 Bn.
In April, equity ETFs/ETPs gathered the largest net inflows with $27.75 Bn, followed by fixed income ETFs/ETPs with $10.78 Bn, while commodity ETFs/ETPs experienced net outflows of $1.28 Bn.
YTD through end of April 2017, ETFs/ETPs have seen net inflows of $235.21 Bn. Equity ETFs/ETPs gathered the largest net inflows YTD with $167.42 Bn, followed by fixed income ETFs/ETPs with $49.97 Bn, and commodity ETFs/ETPs with $7.59 Bn.
iShares gathered the largest net ETF/ETP inflows in April with $23.94 Bn, followed by Vanguard with $10.29 Bn and Schwab ETFs with $2.53 Bn net inflows.
YTD, iShares gathered the largest net ETF/ETP inflows with $89.30 Bn, followed by Vanguard with $53.10 Bn and Nomura AM with $10.23 Bn net inflows.
Disclosure: I/we have no positions in any stocks mentioned, and no plans to initiate any positions within the next 72 hours.
I wrote this article myself, and it expresses my own opinions. I am not receiving compensation for it. I have no business relationship with any company whose stock is mentioned in this article.