This year, Snap (NYSE:SNAP) went public.
Result: Its closing price was 44% above its initial value of $17.
In Snap's S-1, the firm had mentioned:
"Our business is highly competitive. We face significant competition that we anticipate will continue to intensify. If we are not able to maintain or improve our market share, our business could suffer."
But the following months generated little growth for the camera company.
In its first quarterly earnings report, Snap recorded a net loss of $2.2 billion, which as it mentioned was attributed to the stock-based compensation related to its February IPO.
After the first earnings report, many analysts compared Snap's poor post-IPO performance to that of Facebook (NASDAQ:FB). As the largest tech IPO in the US history, Facebook arrived as a public company in 2012 with an offering price of $38 per share in the markets. It went on to raise $16 billion in that offering but the stock soon fell as it opened with share prices crashing more than 50% over the following months. Today Facebook has a whopping 1.97 billion monthly active users. with current stock price trading way above its IPO price.
But the concern should not only be limited to the lukewarm performance of Snap. Here are the good, the bad and the ugly scenarios for Snap investors:
The Good: AR Ad revenues and Target Demographic
Augmented Reality (or AR) is the next big thing and with most companies like Facebook and Apple introducing AR features, AR ads could soon be revolutionizing the traditional revenue streams for mobile apps.
AR ads can impeccably create an authentic connection between the real and the virtual worlds. Snap generates substantially all of its revenues by offering various advertising products on Snapchat. These include Snap Ads, which are vertical full screen video advertisements, and Sponsored Creative Tools, which include Geofilters and Lenses.
In Snap's S-1, the firm mentioned:
"Our strategy is to invest in product innovation and take risks to improve our camera platform. We do this in an effort to drive user engagement, which we can then monetize through advertising. We use the revenue we generate to fund future product innovation to grow our business."
Sponsored Geofilters allows user interaction with an advertiser's brand by enabling stylized brand promotion to be overlapped on a Snap. Snap's branded geofilters alone costs anywhere from $250,000 to $750,000 (subject to the date, geographical coverage, and reach). (For non- Snap users - Geofilters are digital stickers that Snapchat users overlay on photos and videos they post on the social messaging network).
Sponsored Lenses allows users to interact with an advertiser's brand by enabling branded interactive experiences. Snapchat's First Sponsored Lens had starred 'Peanuts' and a Stream of Candy Corn and the campaign reportedly were priced at $750,000 for just 24 hours on Halloween, according to Ad week. This year, Snap took its augmented reality to next level with World Lenses and Audience lens. World lens allowed advertisers to create an environment of floating 2D or 3D objects and other interactive content.
According to TechCrunch, the first advertiser to run Sponsored World Lens will be Warner Bros. for promoting a new ad for the joint MGM and WB film "Everything, Everything." Netflix and Dunkin Donuts plan to run World Lens ads in the future, according to the report.
Ad revenues generated from such ads become even more significant if they are focused one of the most sought after demographic - the Millennials.
As of spring 2017, Statista reported that Snapchat was the most important network for US teens and ranked ahead of other platforms like Instagram, Twitter or Facebook. According to Snap, an average user spends 30 minutes with Snapchat every day, up from 25 to 30 minutes during the fourth quarter of 2016. Everyday Snap users create more than a total of 3 billion Snaps with 166 million daily users opening the app on an average of 18 times per day.
Going by this data provided it maintains its largest advertisers and keeps its user engaged, Snap may be looking towards generating big numbers in revenues especially,
The Bad: User Growth
But the bad part of the good news is that for ad revenues Snap needs to look beyond Millennials since revenue generation is closely connected to the user growth and that may not be looking too impressive for Snap if it remains focused on the younger users. To many, the user growth graph of Snap closely resembles the path of Twitter (NYSE:TWTR). After its IPO Twitter witnessed a slow user growth and even recorded a decline in its fourth quarter of 2015. The stagnant user growth of Twitter remains one of its biggest challenges. It raised the monthly active users to 319 million, which is a drop when compared to its competitors.
Snap's daily user base has merely grown 5% from the previous quarter reaching 166 million. This number is below Instagram's daily active users of 200 million that use Instagram stories and way below Facebook's average daily active users of 1.28 billion. On April 26th 2017, Instagram announced that its community had more than 700 million Instagrammers, with the last 100 million joining "faster than ever".
Snapchat has a relatively unique user base, with 35% of Snapchat's users in the US not on Facebook and 46% not using Instagram. But even with its devoted Millennials, the total number comparatively stands small in front of Instagram or Facebook. Scale is a powerful competitive advantage since more users a firm has, the more valuable the platform is.
The bad part of the Snap-Instagram saga is that competitor Instagram has an extensive active user network of its parent company Facebook, that is both loyal and growing.
The Ugly: Product Exclusivity
After Snap's IPO talks, its rival Instagram had started introducing features at an alarming rate to its existing platform. But the twist here is that is that Snap's most innovative features are appearing to not look exclusive or distinctive. In August 2016, Instagram added a new feature after launching its "Stories" section in August 2016. According to TechCrunch, after Instagram Stories was launched, Snapchat's growth sank 82%.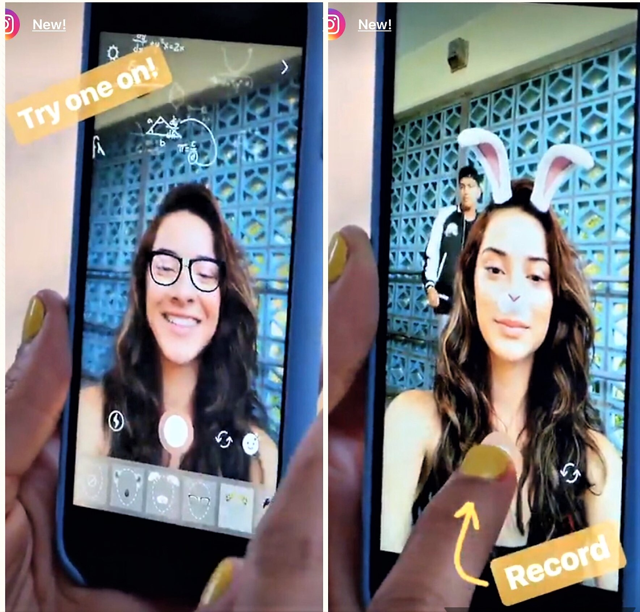 Image Source: Instagram
To stay ahead of the curve, Snap has added series of extensions to its existing products. It introduced a search feature for stories on its messaging platform, Snap Chat calling it Stories in Search which allowed users to search through 1 million stories. In another recent announcement, it added 'limitless snaps' which made changes to creative tools by adding Magic Eraser and setting the viewing timer to infinity.
But its direct competitor, Instagram, has been strategically and aggressively positioning itself and unapologetically introducing features that resembles that of Snap's. After hosting series of new features like stories, live video and disappearing messages in Direct, Instagram's most recent feature reflects Facebook's future course towards augmented reality. The integration of Facebook and Instagram is matter of convenience for users, allowing them to upload and share Instagram stories, photos and filters on Facebook. The introduction of the eight filters in Instagram comes after Snap's added AR features last month to World Lens allowing users to paint the world with new 3D experiences.
According to Instagram's VP of Product Kevin Weil, this is the way the tech industry works.
On being asked about Snap at the TechCrunch Disrupt conference in New York, Kevin Weil said, "If we're being honest with ourselves, this is the way the tech industry works and frankly, it's how all industries work. Kudos to Snapchat for being the first to Stories, but it's a format and it's going to be adopted widely across a lot of different platforms."
After a dull performance in its quarterly earnings report this year, when Snap CEO Evan Spiegel was asked about Instagram's parent company, Facebook, he said: "If you want to be a creative company, you have to be comfortable with the fact that people will copy your stuff. Everyone will develop a camera strategy. Just because Yahoo has a search box, it doesn't mean they're Google."
But the truth is that Snap is neither Yahoo nor Google.
For a strong performance in markets, Snap would need to prove that it has the potential to innovate features that are tougher to duplicate (Instagram proof) and are backed by patents.
Disclosure: I/we have no positions in any stocks mentioned, and no plans to initiate any positions within the next 72 hours.
I wrote this article myself, and it expresses my own opinions. I am not receiving compensation for it. I have no business relationship with any company whose stock is mentioned in this article.