This research report was jointly produced with co-author Big Dog Investments.
It's always great to be able to put an ETF on my watch list.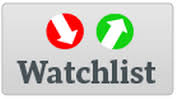 My view right now on the domestic equity market is to move my funds elsewhere, but also make a list of investments I want to keep an eye on in case the price drops. I just recently sold off all my domestic equity mutual funds and now want to make sure I have options for what to buy if the market falls a material amount. Right now I'm mostly investing in individual stocks, but I do like part of my portfolio in an index ETF. Now is the time to wait until I can give a bullish rating on ETFs.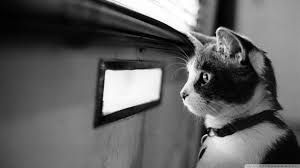 Even though I have no bullish rating on ETFs right now, I've found a utility fund I'm going to be putting on my list for a possible future buy. The Utilities Select Sector SPDR ETF (NYSEARCA:XLU) is a strong fund which attempts to track the investments results of the Utilities Select Sector Index. XLU overall has performed insanely well since its foundation and has done so with a strong yield. In any given year this fund can swing drastically, but for a long-term investment it has been extraordinary.
Expenses
The expense ratio for XLU is currently .14%. Considering the sector, performance, and yield this is an expense ratio I'd be happy to pay if I can get the ETF at a price I'm comfortable paying. I want to stress that the market is currently way too high for me to consider putting money into an ETF. However, I do believe this is a good choice for long-term buy-and-hold investors even with the expense ratio which will add up over time.
A slightly cheaper alternative, in terms of expense ratio, is the Vanguard Utilities ETF (NYSEARCA:VPU). VPU carries an expense ratio of only .10%. Want more? Take a thorough look inside the Vanguard Utilities ETF.
Yield
The yield for XLU has been fantastic over the years and is currently at 3.25%. Considering how well the actual stock price has done, the addition of a strong yield makes it impressive. If I were an investor with a long-term investment plan in mind and wanted utilities in my portfolio this would definitely be one of my top choices after the price drops.
Allocation
Here's the sector allocation from Morningstar: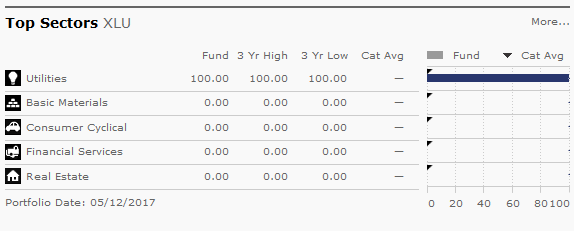 You could probably tell from the title, but this is a fund that only invests in utilities. If you're not interested in utilities for a portfolio, make sure you understand how different it performs from SPY. Since the inception of XLU in January 3, 2000, until recently the fund has returned 253.1% compared to the 126.8% of SPY. It had this difference in returns along with having a beta of .61. Do note, these are long-term numbers and short term could take volatile swings you may not be comfortable with. Here's how much of a difference you can see short term:
In the last two years XLU has had a beta of .46 while having total returns of 26.8% compared to SPY's 17.4%
In the last five years XLU has had a beta of .53 while having total returns of 73% compared to SPY's 97.5%.
As you can tell, the investor who has had this ETF for five years probably has a different opinion than someone who has had it for 17 years. Over a long period of time, utilities do a great job in portfolios by reducing risk and having a low correlation to something like SPY. Don't forget, a portion of the returns comes from the generous dividend yield.
Holdings:
Below is a chart of the top 28 holdings:
| | | |
| --- | --- | --- |
| Ticker | Name | Allocation |
| (NYSE:NEE) | NextEra Energy Inc | 9.78% |
| (NYSE:DUK) | Duke Energy Corp | 8.31% |
| (NYSE:SO) | Southern Co | 7.62% |
| (NYSE:D) | Dominion Energy Inc | 7.55% |
| (NYSE:PCG) | PG&E Corporation | 5.21% |
| (NYSE:AEP) | American Electric Power | 5.19% |
| (NYSE:EXC) | Exelon Corp | 4.88% |
| (NYSE:SRE) | Sempra Energy | 4.34% |
| (NYSE:PPL) | PPL Corp | 4.08% |
| (NYSE:EIX) | Edison Intl | 3.98% |
| (NYSE:ED) | Consolidated Edison Inc | 3.79% |
| (NYSE:XEL) | Xcel Energy Inc | 3.60% |
| (NYSE:PEG) | Public Service Enterprise Grp | 3.34% |
| (NYSE:WEC) | WEC Energy Group Inc | 2.96% |
| (NYSE:DTE) | DTE Energy Co | 2.95% |
| (NYSE:ES) | Eversource Energy | 2.93% |
| (NYSE:AWK) | American Water Works Co Inc | 2.10% |
| (NYSE:ETR) | Entergy Corp | 2.09% |
| (NYSE:AEE) | Ameren Corp | 2.07% |
| (NYSE:CMS) | CMS Energy Corp | 2.01% |
| (NYSE:FE) | FirstEnergy Corp | 1.96% |
| (NYSE:CNP) | Centerpoint Energy Inc | 1.84% |
| (NYSE:PNW) | Pinnacle West Capital (AZ) | 1.49% |
| (NYSE:SCG) | SCANA Corp | 1.44% |
| (NYSE:LNT) | Alliant Energy Corp | 1.39% |
| (NYSE:NI) | Nisource Inc | 1.23% |
| (NYSE:AES) | AES Corp | 1.16% |
| (NYSE:NRG) | NRG Energy | 0.73% |
Investment tool
There are many ways to invest, but investors often look to purchase multiple ETFs. If they aren't looking to purchase more than one ETF then they are normally using it to get some sector exposure they don't have or want to be more heavily allocated to it.
I use the following chart to break things down: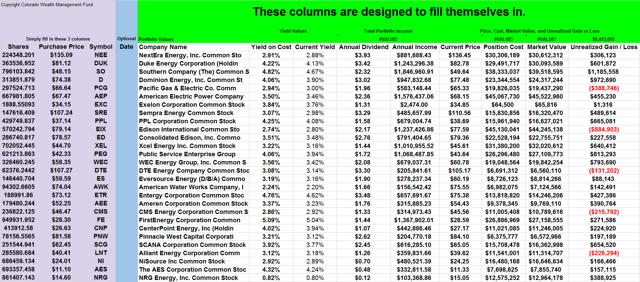 For even more information, the chart below will show the value of the portfolio each position holds and the percentage of income. It helps to not only know how each investment is doing, but also how they compare to each other. This is what it looks like: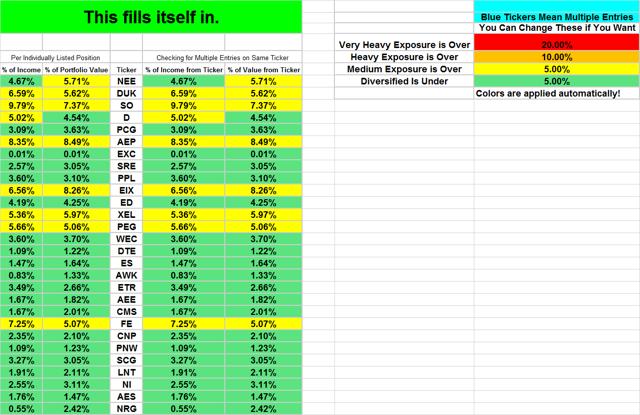 Conclusion
If you're looking to invest in utilities, XLU is a top-notch ETF. While the market currently isn't in a place that makes me comfortable buying an ETF, this one is definitely going on my watch list. This fund has a very reasonable expense ratio along with a solid dividend yield. The dividend yield compared to other investments may not look strong, but there's also a lot of value in the underlying stock. Since inception, XLU has outperformed SPY by a massive margin and has had extremely low correlation to it. If this is an ETF you're going to be putting on your watch list, remember the funds allocation to the utilities market is not very diversified. The top holding is nearly 10% of the entire fund. While I'm advocating this as a great ETF, I think using a utilities ETF for between 5% and 15% of a portfolio can make sense.
If you want to know about my investment choices, you can check out every trade I've made since the end of 2015.
Disclosure: I am/we are long MO, WMT, TGT, FSIVX, PM, FSITX, BMNM, WPG, ANH-C, GBLIL, CYS-B.
I wrote this article myself, and it expresses my own opinions. I am not receiving compensation for it (other than from Seeking Alpha). I have no business relationship with any company whose stock is mentioned in this article.
Additional disclosure: No financial advice. Investors are expected to do their own due diligence and consult with a professional who knows their objectives and constraints. The ideas, opinions, and ratings in this article reflect the views of Colorado Wealth Management Fund. Joint efforts primarily consist of having Big Dog Investments paraphrase or quote the views expressed by CWMF. CWMF actively trades in preferred shares and may buy or sell anything in the sector without prior notice. Tipranks: No ratings in this article.