If I ask you point blank, to tell me the name of a biotech company engaged with the discovery or the commercialization of immuno-oncology drugs, maybe Novartis (NYSE:NVS) will not be the first name that will comes to your mind. Although it may seem that the Swiss company has missed the boat it is actually looking at immuno-oncology from a different angle: From what it calls "second-generation" immune system-boosting agents.
We should not forget, however, that Novartis is developing CTL019 (tisagenlecleucel-T), a novel chimeric antigen receptor (CAR) T-cell therapy for pediatric and young adult patients with relapsed and refractory with B-cell acute lymphoblastic leukemia ((rrALL)).
Although this initial market opportunity is small, CTL019 had a blockbuster potential in diffuse large B cell lymphoma (DLBCL) and -within a few weeks- we will know if Novartis' hopes are well-founded, when the Swiss company will release the interim data from the JULIET trial, during the International Conference on Malignant Lymphoma (ICML) in Lugano. As long as there will be no unforeseen incidents Novartis is planning U.S. and EU filings in lymphoma in the second half of the year.
What are CAR-T Therapies?
I'm guessing you already know the answer, but for those of you who don't know CAR-T therapies work by genetically engineering T-cells to produce chimeric antigen receptors (CARs) on their surface. In other words, these cells are enhanced to have cancer-killing ability recognizing a target expressed on tumor cells. CAR-T cells are "expanded" in laboratory, than frozen and after they are sent to the hospital where the patient is being treated. CAR-T cells may remain in the body long after the infusion has been completed and this could lead in long-term remissions.
Most advanced CAR-T therapies are being developed starting from patient's own cell (collected via apheresis) and specifically target the CD19 antigen, as it is expressed on the surface of most B-cells and a validated target for therapies to treat various blood cancers.
Novartis & Kite (& Juno)
The race for the commercialization of the first CAR-T therapy was initially performed by three companies: Novartis, Kite (NASDAQ:KITE) and Juno Therapeutics (NASDAQ:JUNO). The latter derailed following many deadly adverse events that lead to the discontinuation of their lead asset JCAR015, leaving Kite and Novartis racing for the final victory.
The two companies were neck and neck with Kite slightly down, now even more after Kite disclosed the first cerebral edema death in the ZUMA-1 trial. This kind of fatal adverse event is the same that entailed the suppression of Juno's JCAR015, which is a similar CAR construct to Kite's KTE-C19. If you want to see the features of these and other CAR-T, look at figure 1.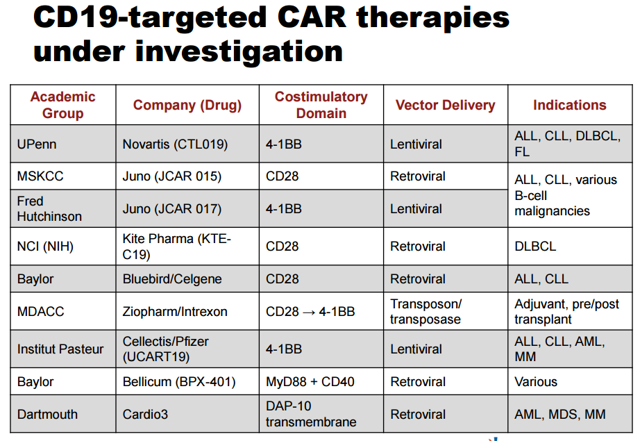 Figure 1: Selected CAR-T therapies in clinical development (Source: Novartis)
Kite pointed out that the patient who died was very sick with a rapidly progressing lymphoma which did not respond adequately to first- and second-line therapy. The company also said that all the trials are continuing unchanged as planned and that the incidence of grade 5 events (which means death related to adverse events) remains at 2% in approximate 200 patients treated.
Since now three death were attributed to KTE-C19 treatment in ZUMA-1. Frankly, I don't think that the latest update about tolerability of Kite's CAR-T therapy will jeopardize a possible FDA approval, but it is undeniable that as more CAR-T clinical trials are conducted, different types of side effects are emerging.
Novartis, Kite and other players will have to face many challenges, so the race goes on, because this is a marathon, not a sprint.
The other side of the coin.
CAR T therapies have proven to be highly effective in certain hematological cancers, like diffuse large B-cell lymphoma (DLBCL) or acute lymphoblastic leukemia (ALL). However, CAR-T cells also have elicited toxicities including: cytokine release syndrome, neurologic toxicity, inappropriate on-target/off-tumor reactions against healthy tissue or excessive on-target/on-tumor reactions against heavy tumor loads, and serious allergic reaction. In addition to cerebral edema, one of the most serious side effect associated with CAR-T cell therapy is cytokine release syndrome (CRS), a potentially life-threatening toxicity caused by the release of inflammatory cytokines following immune cell activation and tumor cell lysis.
There are many strategies for enhancing the safety of CAR-T cell therapy, for example:
Select a safe antigen: the vast majority of targets are overexpressed on tumor cells but also in normal "bystander" cells.
Using a "switch" or a suicide gene to control or terminate the CAR-T cell activity to avoid toxicity that can occur immediately after T cell infusion.
One further aspect to be considered is that treatment options for solid tumors are limited and (together with the hostile tumor micro-environment) the on-target/off-tumor recognition of normal tissues is one of the main reasons.
And, last but not least, antigen loss relapses is an emerging threat to CAR-T therapy, even for solid tumors.
Novartis efforts in CAR-T space.
In 2012, Novartis entered into a global license with the University of Pennsylvania (UPenn) to develop CAR-T therapies for cancer. Novartis and the university established a research and development facility located at Upenn Medicine's campus while Novartis established an autonomous cell and gene therapy unit. To manufacture CAR-T, Novartis acquired a Provenge manufacturing plant in New Jersey from Dendreon. In July 2014, the FDA designated CTL019 as a Breakthrough Therapy for the treatment of pediatric and adult patients with r/r ALL under.
And then something very atypical occurred.
In 2016 Novartis struck the entire biotech's world announcing the decision to dissolve the cell and gene unit, which initially developed CTL109, laying off 120 workers. Despite the assurances given by the Swiss company about its commitment to the CAR-T program, many investors thought that it was getting out.
That's not how it was and in December 2016 Novartis released promising data from ELIANA, the first global pediatric CAR T-cell trial. The Phase 2 study found that 82% (41 of 50) of relapsed and refractory B-cell ALL patients achieved complete remission or complete remission with incomplete blood count recovery at three months post CTL019 infusion, with 60% of these responders still relapse-free six months later.
Nearly half (48%) of patients in ELIANA trial experienced grade 3 or 4 cytokine release syndrome (CRS) although there were no deaths. Fifteen percent of patients experienced grade 3 neurological and psychiatric events including encephalopathy and delirium, with no grade 4 events seen.
On April 18, 2017 Novartis announced that the U.S. FDA granted the second Breakthrough Therapy designation to CTL019 for the treatment of adult patients with relapsed and refractory diffuse large B-cell lymphoma who have failed two or more prior therapies. This Breakthrough Therapy designation is based on data from the multi-center Phase 2 JULIET study. As I said at the beginning of this column, findings from this trial are expected to be presented in June.
The Belgian way.
As we have seen, toxicities and poor efficacy in treating solid tumors are serious issues, but there's another problem I haven't yet mentioned: The manufacturing element is complicated. Dendreon had three plants for the manufacture of Provenge and their cost was one of the factors leading into bankruptcy: Its cost of goods at one point was 77%.
Although Novartis and Kite claim to have strategies to overcome this issues, there is a Belgian biotech which has an interesting and unconventional approach to this topics: Celyad (NASDAQ:CYAD).
It just so happens that recently Novartis and Celyad announced a partnership…
"Celyad [...] announced a non-exclusive license agreement with Novartis for Celyad's US patents for the production of allogeneic CAR-T cells. This license agreement is related to two targets currently under development by Novartis".
Well, Celyad -I'm going to talk about the company in another column- is developing its own CAR-T based on the premise that the best way to avoid toxicities arising from the expansion of the modified cells is don't let them survive more than a day or two.
The Belgian company is currently enrolling patients with both liquid and solid cancers with first data expected later in 2017.
Perhaps one of the most interesting aspects of the deal between Novartis and Celyad is that includes Celyad's intellectual property rights under United States Patent No. 9,181,527 related to the production of allogeneic TCR-deficient CAR-T cells. The adjective "allogeneic" means (in this specific case) that CAR-T cells are engineered using T cells from a single donor that are utilized in multiple patients. Even if in real life the situation is a little more complicated, a similar approach will result in a dramatic cost reduction.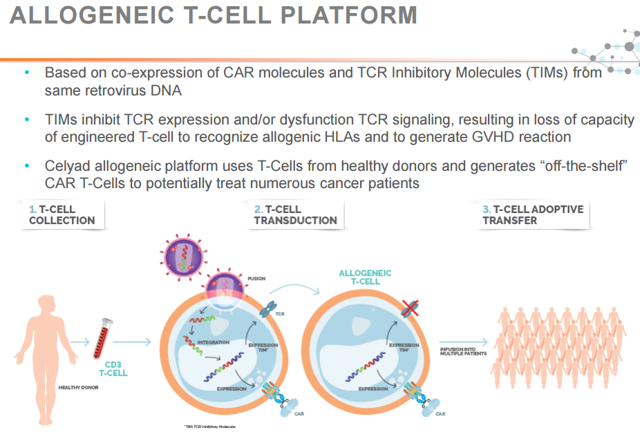 Figure 2: "Off the Shelf" approach, CAR-T cells are developed from an healthy donor to treat many patients (Source: Celyad)
It is interesting to note that the Patent No. 9,181,527 was repeatedly challenged by an "anonymous" (you're not thinking about Cellectis (NASDAQ:CLLS), are you?) rival through an Ex Parte r e-examination procedure.
Celyad recently announced that the U.S. Patent and Trademark Office (USPTO) has decided to reject a new re-examination request, so the patent remains valid and enforceable.
"This is the fourth time that our US Patent for Production of Allogeneic TCR-Deficient CAR-T cells is challenged and each time, the USPTO has been favorable to Celyad. This patent is key for the players that are developing in the US allogeneic CAR-T cell approaches and it places Celyad in a very good position to optimize the significant potential of its allogeneic platform, either on our own or through strategic collaborations", said Christian Homsy, CEO of Celyad.
Well, going back to the terms of the agreements the license is related to two undisclosed targets currently under development by Novartis, which has the option to extend the agreement to additional targets and to convert its non exclusive license into an exclusive license.
Conclusion
Novartis aims to a larger market for its CAR-T cell therapies and, at the same time, needs to manage manufacturing issues so as to minimize costs and inefficiencies. The deal with Celyad provides all the elements to pursue the allogeneic way without infringing Celyad's patent.
Of course, there is not only the CAR-T space: the company has 15 second generation immuno-oncology agents progressing in early studies.
More important, PDR001, an anti-PD1 antibody, is progressing quickly, with two pivotal trial already under way, one in melanoma (in combination with Tafinlar and Mekinist) and one in neuroendocrine tumors.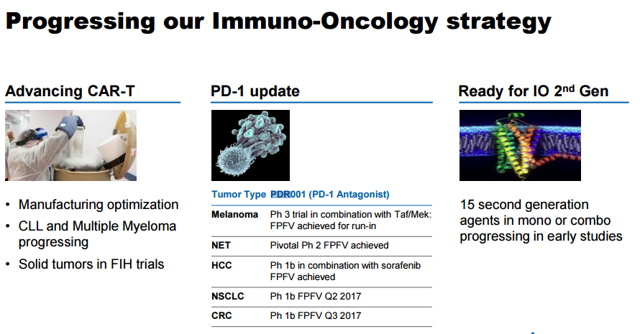 Figure 3: Progressing of the I/O strategy (Source: Novartis)
There is a growing evidence that blockade of the PD1 pathway can significantly enhance the efficacy of a CAR-T therapy, especially in solid tumors, where the presence of an immunosuppressive micro-environment is a serious problem.
It is too early to say if PDR001 will be effective as Opdivo or Keytruda or other competitors, but owning an anti-PD1 and several CAR-T therapies Novartis could be at the forefront of the next immuno-oncology revolution, mastering two fundamental pillars.
Disclosure: I am/we are long CYAD, NVS.
I wrote this article myself, and it expresses my own opinions. I am not receiving compensation for it (other than from Seeking Alpha). I have no business relationship with any company whose stock is mentioned in this article.