Harley-Davidson, Inc. (NYSE:HOG) is fairly priced and sports a strong dividend, but needs to find a way to reignite its growth engine while saving profit margins.
Profitability
HOG has experienced relatively flat revenue and earnings per share growth over the past decade, though performance has markedly improved since 2009.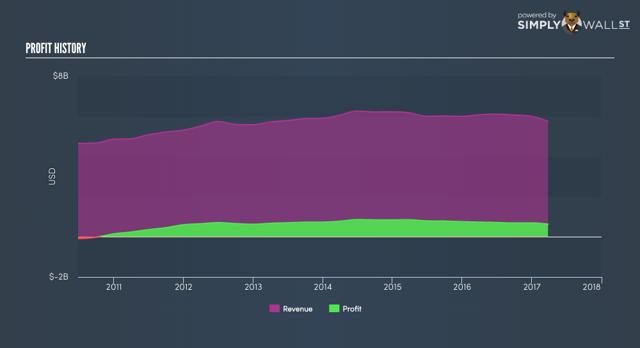 It received mixed reviews on its profitability metrics: its ROE and ROA are above industry averages, while its ROIC is slightly below.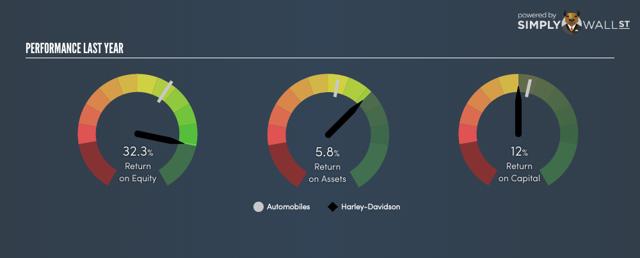 Harley Davidson's extremely high ROE comes from the durable competitive advantage provided by its superior dealer network and brand loyalty. Competitors would have to invest enormous resources to replicate its international distribution and economies of scale capabilities and the reputation for quality, style, and performance has been more than 100 years in the making. HOG's widespread and deep popularity among the biker community should keep the company profitable for the foreseeable future.
Financials
The company has a decent current ratio (1.66), but its 2.67 debt to equity means the company is considerably leveraged: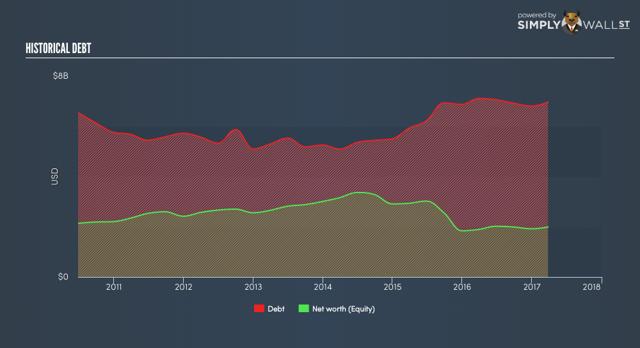 It is important to note that much of this leverage is due to the increasingly high percentage of financed on purchases of its products.
Management
Matt Levatich became CEO of Harley in 2015 and has over 20 years of experience with the company in a variety of roles. His experience, coupled with the share ownership requirements on leadership and the board's independent makeup, indicate that the company should continue to serve shareholder interests moving forward.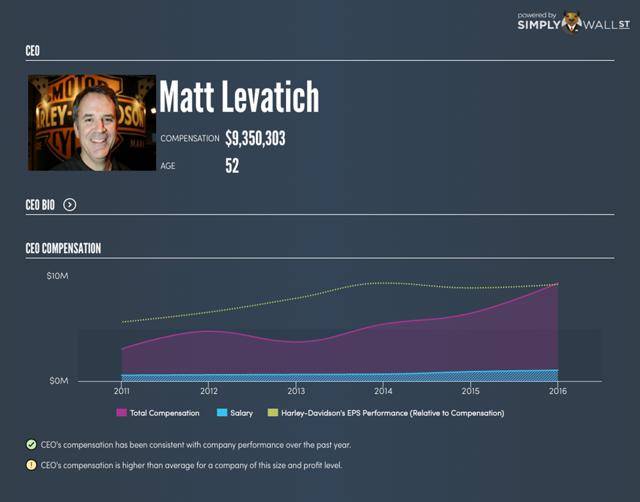 Management is trying foster growth by extending marketing and product design to cater to demographic groups beyond its traditional niche and has shown a willingness to innovate products to adapt to changing consumer preferences. The company detailed this growth strategy at its recent earnings call: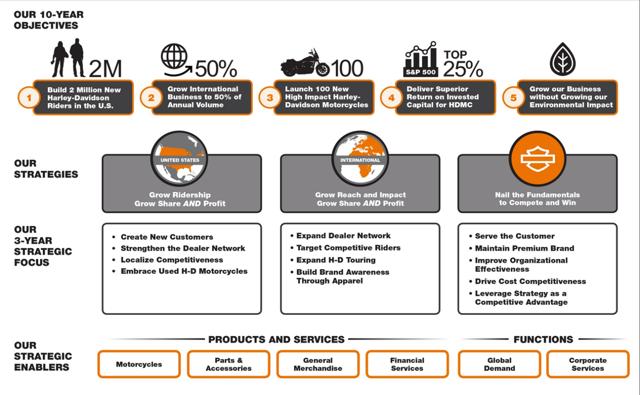 Risks
Economic downturns could affect product demand by reducing disposable income along with making financing purchases costlier for the company, especially given its historically high purchase financing rate. Another risk is if consumer preferences increasingly shift to prefer smaller lighter motorcycles produced by companies like Honda (NYSE:HMC), which seem particularly popular with younger demographics.
Valuation
The current purchase price of ~$53 appears slightly undervalued when weighed against several valuation metrics:
| | | | | |
| --- | --- | --- | --- | --- |
| | P/B | P/E | P/S | P/CF |
| HOG | 4.7 | 15.1 | 1.6 | 7.3 |
| HOG - 5 yr. Average | 4.4 | 16.8 | 2.1 | 11.2 |
| Industry Average | 5.3 | 21.8 | 1.1 | 10.0 |
| S&P 500 | 3.0 | 21.2 | 2.1 | 13.3 |
Jitta's model (fair value of $47.8) considers it slightly overvalued. Analysts consider HOG a slightly undervalued "hold", giving an average $58.33 price target (low of $50 and a high of $70) and project an annual EPS growth rate of 9.23% over the next five years after the company averaged growth of -0.48% over the past five years.
Given the strong improvement this would require over recent trends, I apply a 25% factor of safety in the growth rates for my DCF valuation, resulting in an annual EPS growth rate of 6.9% over the next 5 years. Combining this with a terminal growth rate of 4% and the company's tangible book value yields the following results:
| | | | |
| --- | --- | --- | --- |
| DCF Valuation | 10% Discount | 12.5% Discount | 15% Discount |
| 6.9% Growth | $86.89 | $63.74 | $51.15 |
However, if HOG can meet analysts' expectations, its valuation looks even better:
| | | | |
| --- | --- | --- | --- |
| DCF Valuation | 10% Discount | 12.5% Discount | 15% Discount |
| 9.23% Growth | $101.57 | $73.13 | $57.74 |
These models make HOG appear undervalued. However, they imply that there is a high probability of success for the company's growth strategy. If current low-growth trends continue (assuming 3% annual growth over the next 5 years and 2% terminal growth rate), the company's valuation model looks closer to fairly valued:
| | | | |
| --- | --- | --- | --- |
| DCF Valuation | 10% Discount | 12.5% Discount | 15% Discount |
| 3% Growth | $57.84 | $46.65 | $39.76 |
HOG offers a healthy and growing dividend payment, currently yielding ~2.7% and supported by a sustainable 40% payout ratio. The company also consistently returns cash to shareholders through share repurchases: reducing shares outstanding from 250 million to 178 million over the past decade.
Conclusion
Harley's brand strength, large manufacturing and distribution capabilities, and brand power will enable it to retain considerable market share in the years to come. It sells at a fair price and also boasts a solid dividend payment with room to grow. However, it must continue to innovate and market new products to new demographics in order to reignite growth while protecting its profit margins. Its leverage and retail driven business model also render it highly sensitive to an uncertain economic climate. I currently view this company as a "hold" and would recommend waiting until the price drops into the mid to high $40s before considering initiating a position.
Disclosure: I/we have no positions in any stocks mentioned, and no plans to initiate any positions within the next 72 hours.
I wrote this article myself, and it expresses my own opinions. I am not receiving compensation for it (other than from Seeking Alpha). I have no business relationship with any company whose stock is mentioned in this article.