Brazil!
(I am not dancing right now. Wikipedia)
I am a low-information owner of the iShares MSCI Brazil Capped ETF (NYSEARCA:EWZ), so today is an interesting day for me! By "low information," I mean that I bought this fund on a pure CAPE valuation basis in late April 2016. I was more or less following Meb Faber's global asset allocation framework, which observes historical outperformance of global indices when they get cheap with respect to long-term earnings. You can read Mr. Faber's white papers at his website.
How's that working out for me? Not so well today.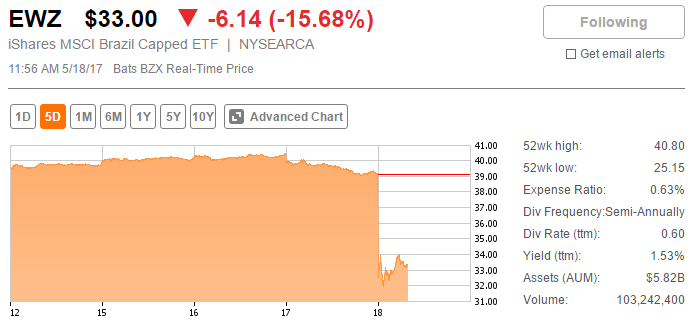 I recommend Ian Bezek's Brazil crash postmortem for some background on the selloff. Among lessons learned was the impact of investors with insufficient knowledge of South American politics:
My mistake then? I figured that faraway investors in North America would care about Brazilian politics. The Temer government had been taking more heat in recent months, but the market didn't care even in the slightest. I kept watching with increasing awe as bad news piled up and yet Brazilian stocks didn't move down even slightly. It wasn't until the decisive blow finally came Wednesday that Brazilian stocks suddenly came unglued as political risk went from zero to one in peoples' minds in about an hour.
That's me! I am that "faraway investor"! I did not, and do not, know or understand the political dynamics affecting Brazil. Brazil could fully nationalize every company in EWZ, for all I know. It's odd to consider the possibility of total loss on a broadly diversified large- and midcap index. I don't know how to quantify that risk, but I am sitting here considering it.
Reading Mr. Bezek's recap, it doesn't sound like systematic state seizure of assets is imminent. Instead, it seems like short-term growth projections had run a little hot and now the index is correcting, albeit in a major way.
My idea in buying EWZ had been to hold it across multiple economic cycles. I expected the fund to go up and down sharply, and that is what it is doing. At the time I bought it I didn't think I had a political information edge, and I don't think I should try to develop one now.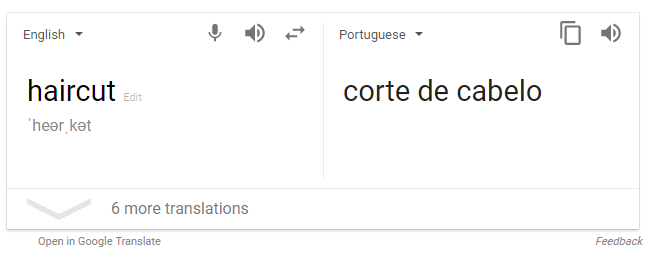 Investors underreact to news, and they also overreact. I tend to prefer to make the former mistake rather than the latter, so I'm riding this one out. I may even average down if I find the time to do another low-information valuation on the index. Anyway, fun little "whoosh" out there for Brazil bulls. When you don't think you have an edge, sometimes you just get to enjoy the excitement.
See also: Brazil turmoil hits consumer products sellers.
Retail Watch
It's not an "Amazon destroys all" day today, to judge by a few headlines.
Solid results for Wal-Mart in the U.S.: I've been tempted by a contrarian view of Wal-Mart (NYSE:WMT) if it is even contrarian. The broad sketch of the thesis (which is all I have) relies on the idea that there's a persistent segment of the U.S. population that does not and will not shop online. No matter how many inroads Amazon (NASDAQ:AMZN) makes, it can't wipe out everyone, especially companies that serve the unbanked and uncomputered. The stock has been doing well lately anyway, so perhaps that overhang is no longer on investors' minds.
I did common size income statements for the past five years, and the numbers are unbelievably consistent. COGS is always 75% of revenue, depreciation always 3%, SG&A always 20%. I like thinking about mean-variance analysis for company fundamentals, but I started confusing myself about whether to calculate standard deviations of percent changes in income statement items, so I'll leave it at: Wal-Mart's annual earnings eyeball as super consistent. Too bad we have to be on the lookout for the Amazon secular shift.
Finally, I wasn't sure how to interpret the ~80 bps in reference to e-commerce's share of comps. I'm all ears for answers.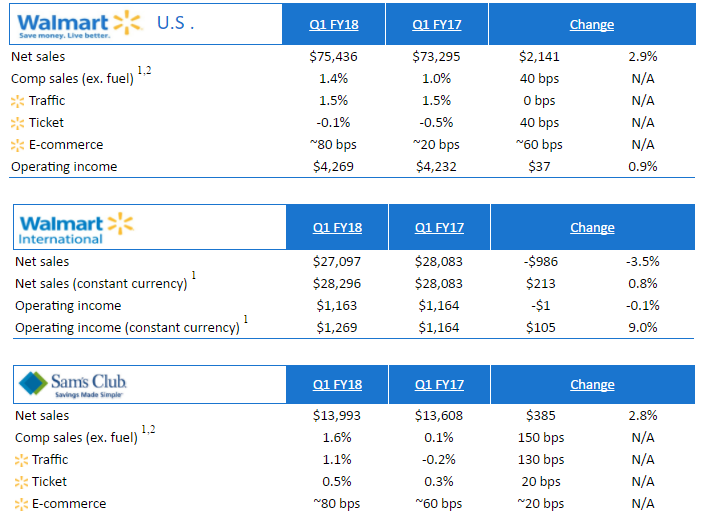 Alibaba down 1.7% after earnings miss: This is going to seem like a cheap comparison of a growth vs. mature company, but since these reports came out on the same day, might as well discuss: Alibaba (NYSE:BABA) is not consistent like Wal-Mart. First of all, the growth is huge - revenue CAGR of 30%. But not only that, COGS has ranged from 26% to 37% of revenue over the past four years. SG&A has dropped relative to revenue. My brow furrows as I look at a 71% net margin for 2016 that includes nonoperating income that's larger than EBIT. Interesting company.
Children's Place +11% after defying retail slump in Q1. To be honest what most impresses me about Children's Place (NASDAQ:PLCE) is its five-year run from under 50 to over 100. I'm not a customer, so maybe it's an investing blind spot for me, but I'd always thought it wasn't doing very well. Huh.
By the way, these earnings capsules have been pretty balance sheet deficient. I find myself thinking from time to time what alternate uses there might be for a Wal-Mart's asset base. There's $123.3 billion in buildings and land booked on WMT's 2016 balance sheet.
Tech
(The real question is "How much is the Tesla obelisk worth? Wikipedia)
Tesla (NASDAQ:TSLA) CEO Elon Musk says Tesla's valuation is too high. CEOs are usually known for talking their stocks up, so, hmm, what to make of this. Musk's behavior reminds me of Steve Wynn's knack for issuing Wynn (NASDAQ:WYNN) shares on price increases, most notably in 2007. A quick Google fails to turn up any think pieces about the two men's similarities. I would probably read that blog post.
Meanwhile:
FinTwit Corner
Wow, this Tweet thread by Alex Cuadros (@alexcuadros) starts, "these billionaires bought dollars before leaking a recording that implicated Brazil's president in graft and made the local currency tank." The title of Cuadros' book is Brazillionaires, and I respect that.
Jeff Macke (@JeffMacke), who often sounds sarcastic and who was great on Fast Money during my TV recapping days, tweets a $121 price target on Wal-Mart.
Ivan the K (@IvanTheK) talks about the weather.
Disclosure: I am/we are long EWZ.
I wrote this article myself, and it expresses my own opinions. I am not receiving compensation for it. I have no business relationship with any company whose stock is mentioned in this article.