I previously wrote about Rapid7 (NASDAQ:RPD) before the latest quarterly release and explained the rationale on why I doubled my own position on this stock (article can be found here). I've been digesting the earnings information and now I'm ready to share my thoughts.
First - thoughts on revenue and billings

It's not just the revenue beat that is significant here, it's also the billings growth (which, as I've mentioned in the past, is a good indicator of sales conversion - i.e.. closing deals). Keep in mind that management is still reiterating 2017 guidance:
$193MM to $198MM in revenue: 23% to 26% growth - $224MM to $234MM in billings: 13% to 18% growth.
So already in Q1, we are seeing above guidance topline growth. This is a good sign considering that 2016 Q4 ended with a beat and a strong revenue growth. Here's the historical trend to remind you:

Source: RPD 10-Q and 10-K filings
What does this mean? It means the main reason for the strong Q1 top line growth is unlikely to be because of Q4 deal slippage into Q1, which is good (recall that in Q3 2016, the stock got hammered because a number of deals slipped into Q4 2016. A note to investors, this could happen in the future). Most of the deals that occurred in Q1 were organic to Q1 (hopefully, that's an appropriate way to use the word "organic." I couldn't think of any other word).
By the way, the Q1 renewal rate was within historical range. No signs of concern here either:

Source: RPD 2017 Q1 Financial Metric Data File - see investor relations website.
Second - some more thinking on the deferred revenue balance and contract length
There's something that's kind peculiar about software revenue in enterprise software sales that readers should be aware of, especially, if you're using billings (non-GAAP figure) to track top-line growth. Billings is essentially the same thing as sales contract size, whether it's a one-year deal, two-year deal, or a 10-year deal. If a sales person books a one-year deal for $1,000, the revenue in year one would be $1,000 and so would the billing. However, if the salesperson signs the customer up for a 10-year deal, then the billing would be $10,000, but there's no real growth on the revenue side! So it's dangerous to look at billing as the only top line figure. To see if this is happening at Rapid7, I looked up the deferred revenue balance on the balance sheet (in my example of the 10-year deal, $1,000 would go to revenue and $9,000 would go to the deferred revenue balance).

If Rapid7 is achieving the billing growth by selling longer term deals (which is not something you would want to see on a large scale), we would see LT Def revenue increase. Not so in this case - this matches management's assertion that average contract length has not changed significantly (about two years). So we are seeing good quality organic revenue and billing growth north of 20%.
Third - some more thinking about gross margin
In my last article, I had indicated some concerns around the gross margin pressure. I had expressed some concerns that maybe this is due to competitive pressure. If you look at Q1 gross margin, you'll see that it went down by quite a bit. I've been doing a lot of thinking on this, which is why it took me some time to write and publish this article. First, here's the trend for Q1: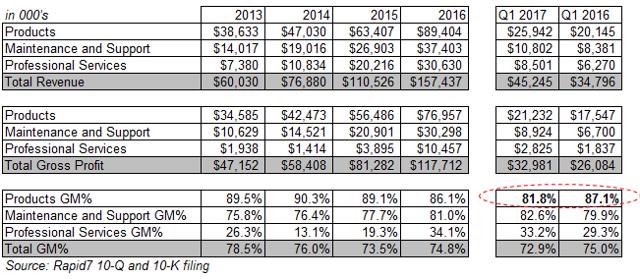 My initial reaction to the products gross margin was holy smokes! That went down by quite a bit! But as I listened to the earnings call and other earnings call for software companies going through product transition from perpetual license to cloud subscription, my thoughts became more clear.
For sure, the cyber security space is competitive and I'm sure RPD, like any other companies in this space, face pricing pressure. With the cloud subscription model, RPD is taking on the IT infrastructure cost by paying Amazon AWS, Azure, and anyone else. This is in contrast to the old perpetual license model where the customers paid for the IT infrastructure on themselves. This is why the cloud subscription product is a lower margin product. You simply have more cost to bear in order to make the customer happy. Under this model, you're probably not going to get the leverage effect on the gross margin side - most of the operating leverage is going to come from customer renewals and new customer revenue eventually leading to higher gross profit which in theory should outstrip the operating expense. There's an accounting anomaly that further penalizes the gross margin when you convert from a perpetual licensing model to cloud subscription. This is best illustrated from Tableau's (NYSE:DATA) recent earnings call.
"…This example helps illustrate the difference in the unit economics over a three-year period.

Let's take the individual user cost of a customer deploying Tableau Server as their analytics solution. Our new subscription price is now $35 per user per month billed annually. The upfront cost is $420 compared to $1,000 on a perpetual basis. On a perpetual basis, we would recognize the entire amount in year one as both license and maintenance revenues, specifically $800 in license revenue immediately and $200 in maintenance revenue recognized over the course of the year. Assuming the customer renews with us, we recognize $200 in each of the years two and three under the maintenance revenue line.

Now, under subscription pricing, we bill the customer for $420 in year one. And assuming the customer continues to renew, we go on and bill $420 per year in years two and three and recognize it as license revenue.

Carrying that math out, you'll see the overall effect on revenues and bookings. In year one, we've booked and recognized less than half the revenue as compared to the perpetual scenario. That's $420 versus $1,000. However, in years two and three under the subscription pricing, we booked and recognized more than twice the revenue in each of those compared to the perpetual basis, $420 versus $200. The economics on our Tableau Desktop products are similar." - Tom Walker, CFO of Tableau, Q1 2017 earnings call.
What is happening, mathematically, is that gross margin will be penalized during the initial stages of the transition and it will normalize over time. This is purely because of GAAP revenue accounting rules.
Management believes that gross margin will stay around the current level. Looking at how much gross margin dropped in Q1 2017, I would expect to see some more modest declines in the near term (this is without knowing exactly what the sales mix is).
Lastly - OCF, operating income, signs of fixed cost leverage
I won't speak too much here because the chart kind of explains itself. We're seeing good improvements on both the cash flow side and the operating income side.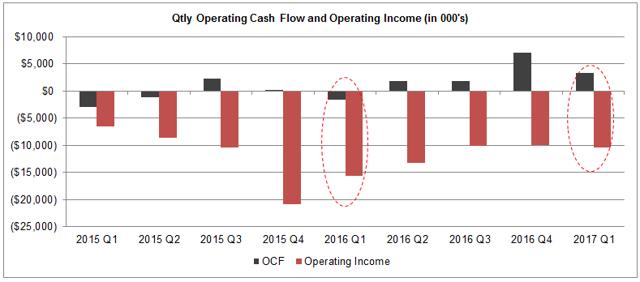 Source: RPD 10-K and 10-Q filing
Overall
Overall, RPD had a good Q1 with strong top line growth. I think gross margin is something that should still continue to be watched. 2017 is going to be a product transition year for RPD, and so far they have done a great job on execution.
Disclosure: I am/we are long RPD.
I wrote this article myself, and it expresses my own opinions. I am not receiving compensation for it (other than from Seeking Alpha). I have no business relationship with any company whose stock is mentioned in this article.