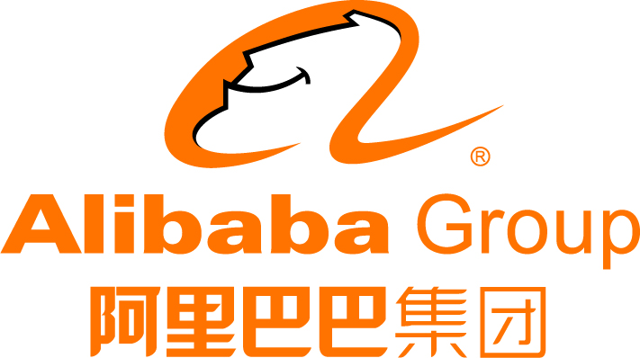 Strong Revenue Beat, Acceleration
The first thing worth mentioning is that revenue growth was simply outstanding for a company of Alibaba's (NYSE:BABA) size. Not only did the company managed to beat estimates by $400 million, but it also delivered the strongest YoY growth since the IPO, posting a 60% growth over the corresponding period of 2016.
Revenue was RMB38,579 million (US$5,605 million), an increase of 60% year-over-year.

Revenue from core commerce increased 47% year-over-year to RMB31,570 million (US$4,587 million).

Revenue from cloud computing increased 103% year-over-year to RMB2,163 million (US$314 million).

Revenue from digital media and entertainment increased 234% year-over-year to RMB3,927 million (US$571 million).

Revenue from innovation initiatives and others increased 88% year-over-year to RMB919 million (US$133 million).
As we can see in the chart below, revenue growth is on different trends, according to the division we analyze. Growth in Core Commerce and Innovation & other initiatives is accelerating, while it's declining in DM&E and Cloud Computing. But remains very high in every division.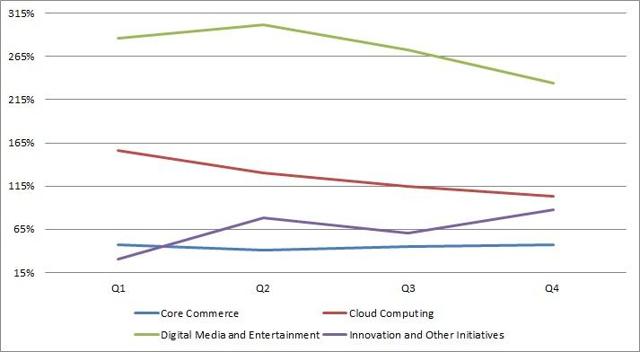 Source:Author's Elaboration
Core commerce, which accounts for above 87% of total sales, has shown an upward acceleration, with the YoY growth rate rising from 45% to 47%. The strong performance in the division is a result of international expansion as well as the domestic growth helped by a significant rise in mobile active users for Alibaba's core platforms. Adjusted EBITA margin remained flat at 59%, which, according to management's comments in the earnings call, remained high if we consider the significant investments made this year.
Cloud Computing remains a fast-growing segment, although growing slower than in the previous quarters. In my opinion, it's an obvious result of the difficult comparisons with Q4 of Fiscal 2016, when the division grew 175% YoY. 103% is absolutely a very solid number. Paying customers for Cloud computing grew to 874,000, an increase of 109,000 from the previous quarter and of 374,000 from the corresponding quarter of 2016, which means a 75% YoY increase. Comparing the growth in paying customers with revenue growth in the division, we discover that more than one quarter of the division's growth was a result of growing revenue per customer, despite the several price cuts on many products. Adjusted EBITA margin improved from -16% to -8%. Although management has often declared that their priority is to grow the division and consolidate its market leadership, and not to reach profitability in the short-term, the division continues to improve its margins and does look to have the potential to become profitable soon. My expectations on this division are positive, as it shows attractive fundamentals and the company already has the leading position in the market, providing cloud services to more than 35% of websites in China.
Digital Media And Entertainment
The Digital Media and Entertainment division largely depends on Alibaba's platform Youku and is also growing fast, but adjusted EBITA margin fell sharply, from -17% to -44%. As I have written a few times, the media and entertainment business is a tough one, especially when many companies are competing for the same cake. Being the leader is the key to report acceptable profits, and the huge investments in content are significantly weighing on margins. Alibaba and its competitors know that reaching a decent scale will determine the margins of their media and entertainment divisions, so they are throwing huge amounts of money to content producers to obtain something that can attract customers to their platforms. But everybody is doing the same and, actually, Baidu's (NASDAQ:BIDU) iQiyi seems to be better positioned to remain the market leader, especially after the partnerships with Lions Gate Entertainment, Warner Bros and Netflix. I have to be honest. Despite the strong secular growth in Chinese online video, I see too much competition and no bargaining power against content producers. I expect this division to be a drag on profits for many years, as competitors are being equally aggressive with their investments in content and are trying to gain a better position. Besides Baidu, competitors include Tencent (OTCPK:TCEHY) (OTCPK:TCTZD), which has its own video platform; LeTV.com, controlled by LeEco; Mgtv.com, the online streaming site of the leading TV broadcaster Hunan Broadcasting System. These players were operating through different business models (like Youtube and Netflix) and used to offer different content, but are becoming increasingly similar in order to reach more customers.
In the earnings call, the management declared they expect the negative EBITA margin to narrow, and it might be. It could narrow as the huge content acquisition costs gets diluted by increasing subscription revenue. Anyway, the road to profitability is still very long and full of uncertainties. The possibility to reach profitability also depends on how aggressive competitors will be with their pricing strategy, as they all compete to reach the same customers. If Baidu or Tencent continue to invest heavily and accept large losses in order to maintain or improve their position, Alibaba will have to choose between continuing to report large losses or accept a market share loss.
Innovation And Other Initiatives reported an acceleration in growth, but still accounts for a very tiny portion of total revenue (less than 3%), so it doesn't make much of a difference. This division includes several projects and investments that are often uncorrelated and which include a navigation and mapping division (AutoNavi, bought in 2014), a smartphone operating system (YunOS), an enterprise messaging app (DingTalk), and other smaller projects. Unlike the DM&E division, Innovation and other initiatives reported strong improvements in EBITA margin, although it remained negative at -74%, but much better than the -210% of the corresponding period of 2016. As I wrote in a recent article, there are good opportunities in this division, although there is fierce competition in some fields like autonomous driving. For the moment, I don't think the market cares much about what happens here.
Market Reaction
Let me share a few thoughts on how the market reacted to the earnings report. As I am writing this, the stock is down 1%, despite a 7.6% revenue beat. What the market was not happy about is margin contraction. EBITA fell from 43% to 39% YoY, but EPS were just $0.02 below consensus ($0.63 actual vs. $0.65 expected). If margins were not declining, the stock would probably trade higher on the basis of a P/S multiple expansion, as the current growth rate is at record highs. Nonetheless, investors seem to be prudent and are avoiding buying only the revenue growth story. We have been offered examples of big companies that lived long periods of successful expansion in their core business before being trapped in periods of declining margins as a result of an excessive expansion in non-core ventures. A recent example is Baidu, the Chinese search giant and Alibaba's competitor whose stock has been dead money for 2 years, and only recently started to head higher. The reason is that the market began to discount the growing losses of the company's non-core divisions, although revenue growth continued at a good pace.
If operating losses in the non-core divisions start to grow fast as in Baidu's case, those losses will lead to a margin contraction and will have to be discounted in the stock price. Nonetheless, losses in 2 of the 3 non-core divisions are actually narrowing, leaving most of the uncertainty in the DM&E division. If losses in the division start to narrow, as management said, I don't see any reason for the stock not to keep trending higher. The current revenue growth rate is at a record high, while NTM P/S ratio is 25% lower than the IPO multiple (10.40 vs 13.80). On the other side, margins are significantly lower. In the medium term, this valuation gap could narrow if the company actually managed to reduce operating losses in the non-core divisions - this event is likely if we trust management, but we still don't know how much they could expand. On the other side, I can find some discrepancies in how the market is valuing BABA compared to peers. The market is giving BABA no premium over peers such as Amazon (NASDAQ:AMZN), Yahoo (NASDAQ:YHOO), JD.com (NASDAQ:JD), Baidu or Tencent, although BABA reports higher growth rates.

Source: Author's Elaboration
I could justify the premium the market is giving to AMZN and YHOO. After all, when you invest in BABA you are not buying a piece of the company but only a share of the profits. But there are no strong reasons to justify the difference with Baidu, JD or Tencent. In the long-term, I confirm my positive view on the company's prospects, as it is exposed to strong secular trends in basically all its divisions and has strong competitive advantages in its fast-growing commerce business.
Thanks for taking the time to read the article. If you liked it, click on the follow button at the top of the page. You will get my articles as soon as they are published. I am available to further discuss the topics of this article in the comments section.
Related:
Alibaba - Growth Beyond E-Commerce
Baidu - Back To Growth, With Powerful Allies
Disclosure: I am/we are long BIDU.
I wrote this article myself, and it expresses my own opinions. I am not receiving compensation for it (other than from Seeking Alpha). I have no business relationship with any company whose stock is mentioned in this article.
Editor's Note: This article discusses one or more securities that do not trade on a major U.S. exchange. Please be aware of the risks associated with these stocks.