Two weeks ago, shares of online artisan outlet Etsy (NASDAQ:ETSY) plunged in the wake of a disappointing first quarter report as well as a concerning replacement of its CEO. While it had become clear that Chad Dickerson wasn't the right person to be at the helm, it wasn't clear Josh Silverman would fare any better.
Silverman, who was formerly an executive at eBay (NASDAQ:EBAY) but has also worked closely with American Express (NYSE:AXP) and Shake Shack (NYSE:SHAK), is a tried-and-true Wall Streeter who may not truly embrace the original vision of Etsy. That is, Etsy is an online marketplace that focuses on the quality of the crafts and the people making them more than it worries about profits.
It's an admirable mission. Unfortunately, by choosing to go public in early 2015, the company ceded the rights to maintain or alter that mission as needed. Majority shareholders now make that call.
To that end, the bad news is pair of major investment groups just bought in and appear to have plans to either fix what's broken, or sell the company to an outfit that could do something with it (or both). The good news is, patient Etsy shareholders may finally start to get some of their money back on their soured investment.
And the odds on favorite suitor? Some say Amazon.com (NASDAQ:AMZN). But, more likely eBay would not only be more interested, eBay and Etsy would make the better symbiotic relationship.
Change is (Finally) Coming
The surprise came earlier this week, when TPG Group Holdings and Dragoneer Investment Group both disclosed in required SEC filings that they collectively held an 8% stake ...
... not that either fund was trying to keep it a secret. The pair both acknowledges the wanted "to engage in discussions regarding strategic alternatives."
Silverman responded with the typical boilerplate response:
We are now reviewing our strategic and operational plans to ensure Etsy is focused on the most value-enhancing near- and long-term opportunities. We will prudently invest in areas that will deliver the greatest returns. At the same time, we see significant opportunities to scale our marketplace business model and drive efficiencies. ... We look forward to providing additional details when our review is completed.
That's usually Wall Street code for "We really don't care what these activist investors have in mind because they don't truly understand our business." In the case of Etsy though, its new chief is not only something of a hired gun that's been around the block a few times, he's a former executive of the company that could arguably do the most with Etsy. That's eBay.
That's Wall Street code for "some big changes are coming, and ideally it will be some sort of sale."
Not everyone agrees that eBay is the logical buyer here. Think tank L2's Research Director Cooper Smith recently opined "The most likely suitor for Etsy is an e-tailer experienced with marketplace transactions and that has a global cross-border fulfillment network, which would suggest Alibaba or Amazon as potential acquirers."
Makes sense. Though Handmade at Amazon is reasonably successful for being in place less than two years, it's only got 800,000 product listings versus Etsy's 45 million. It could use a few more...
On the flipside, Smith also concedes that artisanal one-offs -- or even just small-run goods -- aren't Amazon's strength. That's eBay's forte, not because it only sells one of anything (plenty of eBay store operators have hundreds of the exact same, factory made item for sale at any given time), but because it's at least got some experience with connecting buyers with sellers of one-of-a-kind goods. And, as Ansira Assistant Vice President Luigi Ferguson recently noted, "Ebay has been able to make significant moves over the last 12 months from a technology, advertising and personalization standpoint and Etsy would be able to benefit greatly from integrating similar optimizations to their core platform."
That puts eBay back at the top of the likely-suitor list.
With that backdrop in place, the one aspect of Etsy that's either been overlooked or mischaracterized since it went public in 2015 is just how near it is to being viable.
Don't misread that. Etsy has never been profitable on a full-year basis, and is rarely profitable on a quarterly basis. It's never been wildly unprofitable though, and with a few nips and tucks, could turn into a sustainable profit center.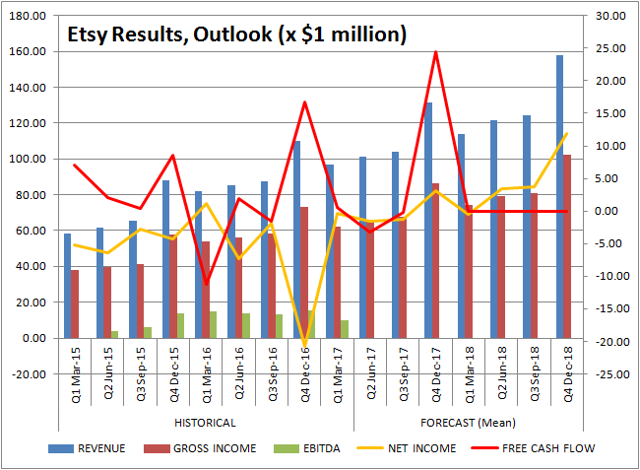 Data from Thomson Reuters, chart made by author
Those nips and tucks are most likely what Dragoneer and TPG Group have in mind, at least for starters. With or without Dragoneer and TPG Group's involvement though, Silverman is likely thinking along those same lines.
Those cost cuts would take aim at some of the very things that make Etsy what is. In enough interested parties' sights are employee perks that most would deem a bit too lavish. These include an oddly nice catering service, square footage devoted to employee's personal pursuits of printmaking and yoga at the company's headquarters, and Etsy's adherence to managing its own servers rather than outsourcing that function to a cloud-based provider.
Those things haven't come without a cost though... a literal cost. By not outsourcing its server needs and getting far more serious than Amazon and eBay have gotten about marketing themselves on the web, Etsy has not become all it could have become, sales-wise or earnings-wise.
Bottom Line
Sure, its chic feel played for a while, but the company and its sellers can't pay bills with social responsibility. When all is said and done, it's a business ultimately meant to make money. If it's not willing to do what its competitors are willing to do -- even the indirect ones like Amazon and eBay -- it can't grow.
The masses are starting to see this now, and a trio of players seem willing to start the necessary changes. In the meantime, fears that Etsy will be altered into everything it initially suggested it didn't want to become may be a tad overblown.
Whatever the case, eBay seems best suited to fix the biggest part of what ails Etsy, which is scaling up the sale of one-off items, and helping Etsy's merchandise be found by consumers who weren't necessarily shopping at etsy.com. The cost-culling measures should already be well underway by the time eBay would be interested in making a move, right in front of what analysts had widely expected to be a nice swing to profitability anyway.
It's been said before but it merits repeating now -- owning a stock just because it's a rumored buyout candidate is a bad reason to own it. Most suspected buyouts don't seem to pan out. If a company is a legitimate turnaround candidate that might also be an acquisition target though -- and that's what Etsy is here -- the rationalization holds more water.
It won't be something that happens soon no matter what. Any potential buyer wants to see that Etsy can be fixed before taking on the project. The company's fiscal second quarter numbers due in early August, which will be the first with Silverman in charge, will be the first possible opportunity to present any evidence that Etsy isn't doomed. And realistically, it will take a couple of quarters for Silverman to produce any meaningful amount of such evidence.
Nevertheless, the stage is set with all the right players. It's not too soon to take Etsy off the shelf, blow the dust off, and put it back on your mental watchlists. The pot's just been stirred, and a deal could be brewing.
Disclosure: I/we have no positions in any stocks mentioned, and no plans to initiate any positions within the next 72 hours.
I wrote this article myself, and it expresses my own opinions. I am not receiving compensation for it (other than from Seeking Alpha). I have no business relationship with any company whose stock is mentioned in this article.