Recently I've started encountering more than a few articles warning about another consumer debt bubble forming. Most of the articles I've seen center around a possible bubble in the $1.1 trillion dollar auto loan market. With the amount of auto loans soaring and delinquency rates rising surely we must have another credit bubble on our hands that is about to burst. However, I do not think this is correct.
To be sure we do have a large amount of auto loans outstanding. The graph below, taken from the Federal Reserve's Economic Data website, shows auto loans reaching an all-time high.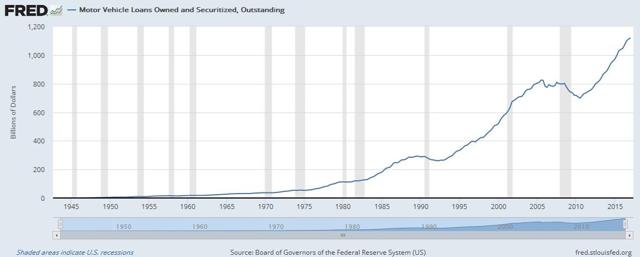 On top of that auto loan delinquency rates are rising and have reached their highest post-crisis rate. Indeed, delinquency rates are even increasing among prime borrowers. But a lot of the fear mongering over the auto loan sector lacks context.
Putting the Auto Loan Sector in Proper Context
Even though $1.1 trillion sounds like a huge number, in the context of consumer credit it really isn't. The entire consumer credit market is worth about $14.8 trillion. That means auto loans account for just under 7.5% of all outstanding consumer credit. The genesis of the last consumer debt crisis was the mortgage market which at its current size of $9.75T is over nine times the size of the auto loan market.
It's also useful to look at auto loan debt in another context. A single data series is very rarely useful on its own, it usually has more meaning when it is compared to something else. With auto loans we need to keep in mind that the population of the US, inflation and the economy are all continuing to increase. It's only natural therefore that the total amount of auto loans outstanding will steadily increase over time. By comparing the total amount of auto loans outstanding to GDP we can get a better sense of whether or not auto loan growth is tracking ahead of economic growth.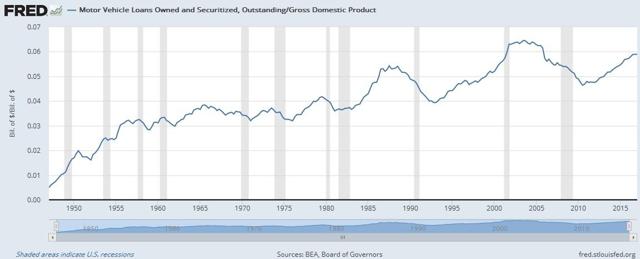 We can see that yes, auto loans are growing faster than the economy as a whole but it's not as sharp an increase as just looking at the total loan balance on its own. It's also worth pointing out that auto loans balances are still below their pre recession peak. However, the period leading up to the recession saw strong auto demand in no small part due to increasing light truck sales as everyone fancied themselves a contractor and house flipper. So, with loan balances approaching those levels there is reason for caution in the auto loan market.
Auto Loans Compared to Other Consumer Debt
We also need to look at what's happening with consumer debt as a whole in order to evaluate the auto loan situation.
Starting with the largest type of debt first, mortgages, we don't see a problem.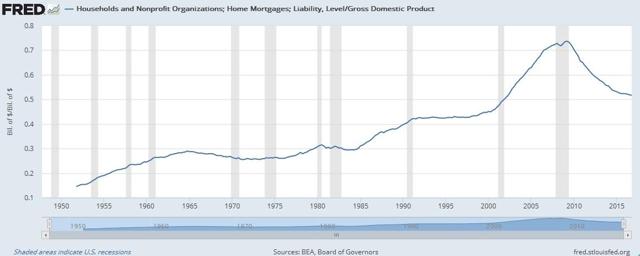 Mortgage debt as a percentage of GDP continues to trend slightly lower.
Turning to the next largest market, student loans, we see a continued steady uptrend.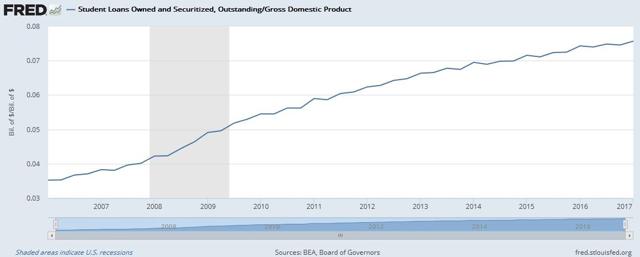 Finally, we have the smallest credit market, revolving consumer debt (e.g. credit cards). We see a sharp drop after the recession followed by a recovery around the 2015 time period.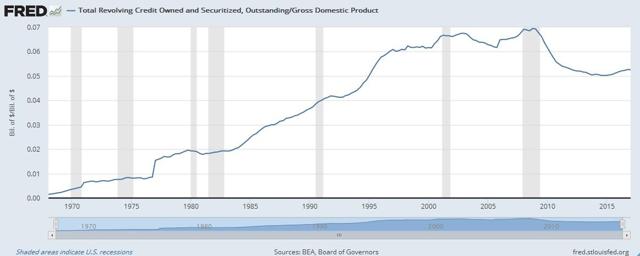 Combining every type of debt together we still see a drop in credit.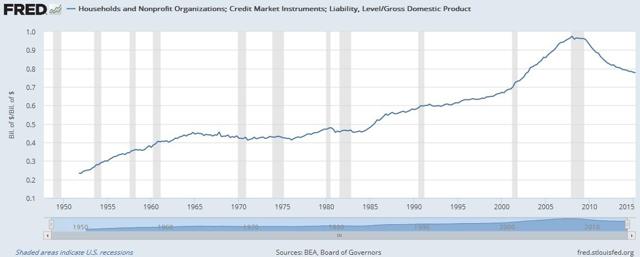 And perhaps most importantly, due to low interest rates consumers total debt service payments as a percent of income are at an all time low.

Summary
Whatever happens in the auto market is likely to be contained to just the auto market due to its small size. Even if there is a "bubble" in auto loans that pops the fallout out is likely to be contained. The auto market is 1/9th the size of the mortgage market so the maximum amount of economic damage is likely to be limited to 1/9th of what we saw during the great recession in a worst-case implosion style scenario. Indeed, unlike mortgages prior to the recession auto loans haven't been sliced and diced, securitized, and spread all over the financial system.
The auto market certainly appears to be at or nearing a cyclical top. We'd caution investors against packing their portfolio full of auto manufacturers, auto parts companies, auto dealers, and banks which huge auto loan portfolios. But beyond that there should be nothing happening in the auto loan sector that will affect the rest of the economy.
Disclosure: I/we have no positions in any stocks mentioned, and no plans to initiate any positions within the next 72 hours.
I wrote this article myself, and it expresses my own opinions. I am not receiving compensation for it (other than from Seeking Alpha). I have no business relationship with any company whose stock is mentioned in this article.