Gladstone Investment Corporation (NASDAQ:GAIN) is a private equity fund that has been in operation since its founding in 2005 by David Gladstone. It operates by acquiring mature companies with attractive fundamentals and strong management teams. The company provides both equity and debt capital, and this is translated into shareholders receiving monthly dividends with potential of capital gains or special dividends when a particular investment is sold.
GAIN prides itself on its long-term outlook, as it has no end-of-life deadlines and builds relationships with the companies it partners with. Due to how the business operates and avoids paying income tax by distributing a minimum of 90% of taxable income to shareholders, it comes under the category of a Business Development Company.
Business Overview
As mentioned earlier, GAIN operates by investing in several categories of debt and equity securities, with each investment ranging from $5 million to $30 million. The company invests in a business by means of 3 categories:
First lien secured debt - This means when a business is seeking a loan from Gladstone Investment, its assets will be used as collateral. First lien guarantees Gladstone Investment priority of the assets if the borrower is liquidated.
Second lien secured debt - This means when a business is seeking a loan from Gladstone Investment, its assets will be used as collateral. Second lien means it has second priority after the first lien. This form of debt can also be used to enhance the yield by using warrants to buy common and preferred stock or limited liability interests.
Preferred and common equity - This means Gladstone Investment is investing in a business and becoming a major shareholder or partner, oftentimes owning a significant portion of the equity.
The business objective is to achieve a portfolio that consists of 75% in debt securities and 25% in equity securities at cost. This means the company takes more of an active role in its investments as opposed to the majority of BDCs, which usually hold around 90% in debt securities and only 10% in equity.

Asset Allocation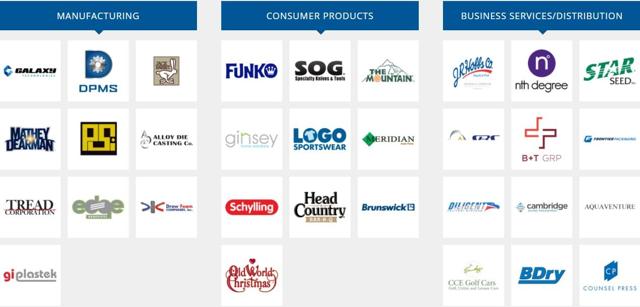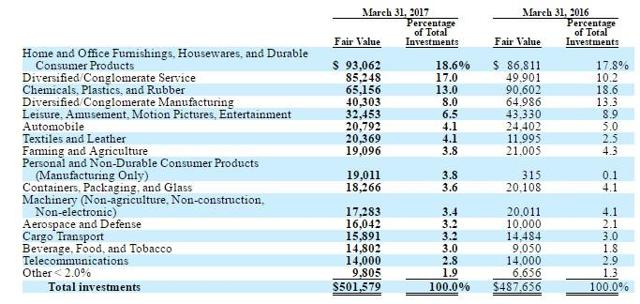 The images above are from page 5 of the 2016 annual report, though considering we're approaching Q4 for Gladstone, some transactions have taken place in the following 9 months.
In Q1 reported in August 2016, Gladstone Investment sold its position in Acme Cryogenics for a gain of $18.6 million. With the proceeds, it invested $25.5 million in combined debt and preferred equity in a company called The Mountain, which designs and manufactures premium-quality clothing.
Q2 reported in November 2016 was a relatively quiet period, with only $2 million being invested in its existing portfolio and the company receiving about $2 million in repayments and sales. It did, however, raise $55.4 million through share issuance of the Series E preferred stock, and $40 million of it was used to redeem preferreds that were due in 2017.
In Q3 reported in February 2017, Gladstone Investment sold its position in Behrens Manufacturing with a $5.8 million gain. An additional $1.2 million was gained due to a previous exit in Funko, though it still does hold a small position in the company. One of its investments also got restructured.
In Q4 reported in May 2017 just recently, Gladstone Investment exited one position, which resulted in full repayment of a debt investment of $5 million and fee income of $500k. The company invested $28.9 million through a combination of secured first lien debt and preferred equity in one new portfolio company and put $2.4 million into existing companies.
Recent News and Financials
After the Q4 results and annual release just published a few days ago, Gladstone Investment gave a breakdown of the goings-on in April and May.
In April, it sold its investment in Mitchell Rubber Products Inc., which had a cost basis of $16.4 million and netted the company $19 million, including the debt repayment of $13.6 million. Gladstone also declared a 2.4% increase in its monthly dividend and a special dividend scheduled for June 15th. This was the reason I invested and am now writing this article.
In May, the company completed a public offering of 2.1 million shares at a price of $9.38 per share. The net proceeds amounted to $18.6 million.
Initially, Seeking Alpha readers were skeptical of the news as fears began to rise that the company's NAV per share had taken a hit. Luckily, this has been proven to not be the case, since the NAV per share has not been this high since the crash in 2008. I am wondering why the shares were discounted by 5.72% compared to the NAV. I assume this is because Gladstone Investment doesn't have the following and appeal that a company like Main Street Capital (NYSE:MAIN) has. Any public offering MAIN utilizes is immediately accretive to its NAV simply because it can be sold at quite a hefty premium. This means Gladstone has to work harder to gain the same value, since the company has discounted itself.

As we can see from the financials, Gladstone has achieved its goal of $500 million in total investments, with its cost to fair value steadily climbing to 95.5%. The dividend coverage does look concerning on paper, but considering the company's strategy to use capital gains to cover that dividend, as well as the recent increase to dividends and a special dividend, the future looks bright.
Conclusion
If your main goal is monthly income with a secondary goal of capital gains, Gladstone Investment could be a nice addition to your portfolio. It's different from the majority of BDCs, as it focuses on having an active role with regard to companies it partners with and invests in. As previously mentioned, the company aims for 25% of its portfolio in equity, compared to the sector average of 10%.
I initiated a position in GAIN at a price of $9.47 a share on April 19th and will consider averaging down on any future price declines.
Disclosure: I am/we are long GAIN.
I wrote this article myself, and it expresses my own opinions. I am not receiving compensation for it (other than from Seeking Alpha). I have no business relationship with any company whose stock is mentioned in this article.