Late last year, the share price of Patterson Companies (NASDAQ:PDCO) fell 17% due to quarterly underperformance and the announcement that its 20-year distribution relationship with Dentsply Sirona (NASDAQ:XRAY), a maker of dental imaging equipment, had lost its exclusivity. The business has suffered disruptions ever since and is coming under pressure again because of declining margins. Is now an opportune time to jump in on Patterson, or would you be barking mad to do so?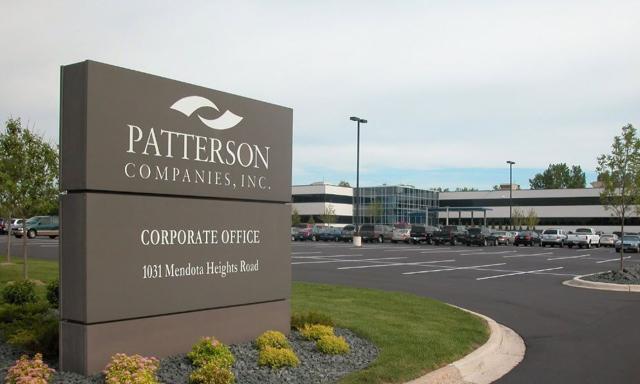 Patterson Companies is one of the largest distributors of dental and veterinary products in the United States and the United Kingdom. Strategically aligning the two very different segments in human dental and animal health, Patterson's offerings work relatively hand in hand and successfully expand the business's products and services to different customer bases. Patterson's dental segment provides a complete range of consumable dental products, equipment and software, digital solutions, and value-added services to dentists, dental laboratories, institutions, and other healthcare professionals throughout North America. It is these products and services that allow Patterson to demand a 33% market share in the States, and in turn contributes 47% to its top line. Patterson animal health extends to both the United States and the U.K. and distributes animal health products, services and technologies to both the production-animal (cattle) and companion-pet markets (man's best friend).
The general consensus from analysts is that the 20-year partnership has ended between the two businesses. However, the deal simply allowed Dentsply to extend its exclusivity to a much larger competitor of Patterson in Henry Schein (NASDAQ:HSIC), as explained in the Dentsply earnings call. As a result of the deal, Patterson's share price took that spectacular 17% tumble as investors saw this as the end, considering HSIC's reach extends to 30+ countries including the United States, The United Kingdom, China and Australia. Although perhaps coming off second-best in this deal, Patterson is still very optimistic with the road ahead and has emphasized that it will continue to work with Dentsply. Market commentators have been somewhat bearish on Patterson after the deal, but we don't see it as being too much of a hindrance. As the population ages, dentistry requirements will continue to rise in the United States, and there's plenty of market share on Patterson's side to capitalise on this growth.
The biggest contributor to Patterson's top line is its animal health segment. This segment currently provides 53% of total revenue. With the recent acquisition of Animal Health International, Patterson doubled its animal health segment overnight, also increasing its market share to 40% in both the United States and United Kingdom. This appears to be great timing in our opinion. The growth of both commercial and domestic animal ownership is expected to increase revenues in the pet care industry for 2017 and 2018. With pet expenditures etching close to $70 billion in the U.S. alone, we expect Patterson to benefit from such a boost.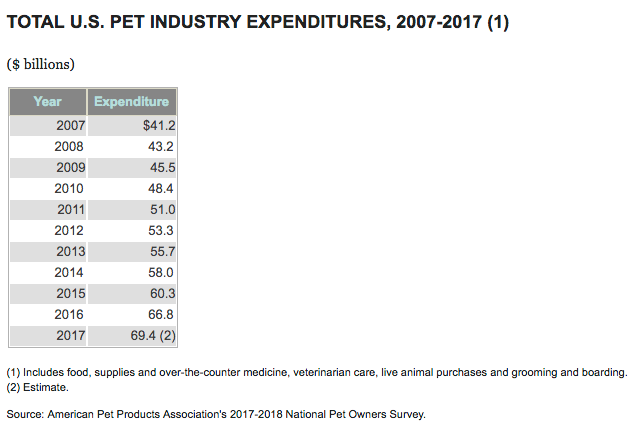 Source: iii.org
Whilst we expect this to boost the company's sales this year, we think it will be in the next fiscal year when the company benefits the most. As the fiscal year draws to a close, we expect Patterson to grow revenues by a modest 3%. However, with gross profit margins likely to weaken due to restructuring activities from the integration of the Animal Health International acquisition, profits are likely to be lower than a year earlier. At the end of the third quarter, management provided full-year adjusted earnings per share guidance of between $2.27 to $2.33 per share. Down from $2.47.
But next year, we believe the company will receive a boost on the bottom line from the growth of the pet industry, improved margins, and its share repurchases. As a result, we expect earnings per share to rebound to $2.49.
Patterson has always had a tendency to trade on a lower earnings multiple than its close rival Henry Schein. At present, Patterson's shares are changing hands at a little over 18x management's full-year guidance, compared to the 26x earnings Henry Schein's shares currently trade at.
We think 18.5x earnings is a fair multiple for Patterson to trade at, given its defensive qualities and current growth profile. Based on this and our FY 2018 forecast of $2.49 per share, we have a price target of $46.00 on its shares. Should it reach our price target, it would mean a return in excess of 7.5%. If you include the dividend, this potential return increases to just short of 10%.
Disclosure: I am/we are long PDCO.
I wrote this article myself, and it expresses my own opinions. I am not receiving compensation for it (other than from Seeking Alpha). I have no business relationship with any company whose stock is mentioned in this article.