Well, almost every offshore drilling company told us about increasing customer inquiries and improving contract prospects during the first-quarter earnings season. Noble Corp. (NYSE:NE) is now the only driller that provides fleet status reports on a monthly basis, so we can use it as a gauge of market activity. The company has just released its fleet status report and here's its key content:

Unfortunately, the company had nothing to report. Here's what the company had to say about the prospects of its rigs during its recent earnings call:
Among the floaters, four rigs are on a cold-stacked mode, and we are not actively seeking work at this time for these units. As noticed in our latest Fleet Status Report, we've also moved the Noble Bully I to a cold-stacked posture following completion of the rig's five-year term contract in mid-March, consistent with our disciplined approach on balancing near-term market exposure against OpEx considerations.

Three other floating rigs are in warm-stacked mode, including the Noble Sam Croft and Noble Tom Madden in the U.S. Gulf of Mexico, and the Noble Clyde Boudreaux in Asia. All three rigs, and the hot-stacked Noble Bob Douglas in South America, are chasing work in and around their respective locations, and we are increasingly confident of securing contracts for some of these units prior to the conclusion of the year. We are especially encouraged by the prospects we have for the Noble Bob Douglas in light of the exceptional performance it has just delivered to its last client in an exciting basin."
It is evident that nothing has yet materialized. Let's be fair to the company - the rigs that currently chase work are floaters, and the floater segment remains in deep distress. Potentially, the whole industry is now in the waiting mode as we approach the ultra-important OPEC meeting. Current consensus is a prolongation of the deal for 9 months with cuts' size unchanged. Anything less than this will mean huge downside for oil prices, at least in the short term.
In order to provide material support for oil, OPEC and non-OPEC members should cut more. So far, all that the cartel has been able to do is to provide a lifeline to U.S. shale, while oil prices failed to develop significant upside momentum. Yes, current oil price levels are a bit higher than pre-deal levels, but this improvement is far from a decisive victory for OPEC and non-OPEC producers who are participating in the deal.
While it was, perhaps, too optimistic to expect that Noble Corp. would report a new contract in May, its shares seem to be in need of an upside catalyst right now: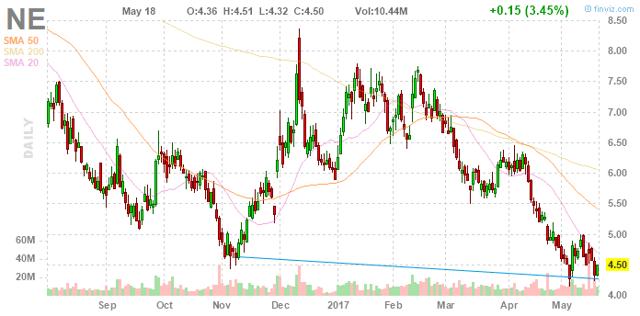 It's worth noting that the latest upside move in oil did not provide any help to drillers' shares, so Noble Corp. is not an outlier in its peer group. Among "potential survivors," Rowan (NYSE:RDC), Diamond Offshore Drilling (NYSE:DO), Transocean (NYSE:RIG) and Ensco (NYSE:ESV) all performed poorly in recent days. Only Atwood Oceanics (NYSE:ATW), which I'd classify as "under question," was able to show some upside momentum and resistance to downside.
For now, the market consensus is lower for longer, and this does not help drillers' shares. In case an OPEC/non-OPEC deal does not provide additional support for oil prices, Noble Corp.'s shares will easily slip to new yearly lows. I continue to believe that talk is cheap and I want to see factual evidence of drillers' words about improved prospects for new contracts.
There is also one more important thing that I'd like to discuss here. Brazil is back in the headlines with another corruption scandal. Brazil is the main hope of the deepwater market, and political turmoil in this country is very dangerous for offshore drilling recovery prospects. While I recently wrote a bullish article on iron ore miner Vale (NYSE:VALE) stating that the scandal likely provided a buying opportunity, the situation is much worse for anything Petrobras (PBR) - related.
If the outcome of the current scandal is another fight for power among Brazilian elites, investments in deepwater will be postponed as all key figures that make decisions on such big projects will be busy either fighting for roles in the new government or trying to save themselves if they are under political attack. Noble Corp. has no rigs in Brazil now. However, the industry as a whole needs these new jobs in Brazil to increase rig utilization, so Brazilian problems (if they occur as a result of the scandal) will be felt by all drillers, including Noble Corp.
In my view, Noble Corp.'s shares will have trouble holding at current levels without help from oil prices. Should oil stay at $50-52 for Brent, more downside should be expected in the short term.
Disclosure: I/we have no positions in any stocks mentioned, and no plans to initiate any positions within the next 72 hours.
I wrote this article myself, and it expresses my own opinions. I am not receiving compensation for it (other than from Seeking Alpha). I have no business relationship with any company whose stock is mentioned in this article.
Additional disclosure: I may trade any of the abovementioned stocks.