This article is about L Brands (LB) and why it's a buy investment for the dividend income investor and the turnaround investor. LB's last earnings report was good, showing a beat in earnings as revenue decreased. Also Target (TGT) and Wal-Mart (WMT) had good earnings showing that maybe the decrease in mall traffic was overdone and good companies can still make money. L Brands is a global retailer of women's apparel and personal care products.

L Brands is being reviewed using The Good Business Portfolio guidelines and is 3.8% of the portfolio. Fundamentals of L Brands will be reviewed in the topics below: The Good Business Portfolio Guidelines, Total Return and Yearly Dividend, Last Quarter's Earnings, Company Business and Takeaways And Recent Portfolio Changes.
I use a set of guidelines that I codified over the last few years to review the companies in The Good Business Portfolio (my portfolio) and other companies that I am taking a look at. For a complete set of the guidelines, please see my article "The Good Business Portfolio: Update To Guidelines and July 2016 Performance Review". These guidelines provide me with a balanced portfolio of income, defensive, total return and growing companies that hopefully keeps me ahead of the Dow average.
Good Business Portfolio Guidelines
L Brands passes 9 of 11 Good Business Portfolio Guidelines. These guidelines are only used to filter companies to be considered in the portfolio. Some of the points brought out by the guidelines are shown below.
L Brands has a dividend yield of 5.0% which is above average for the market. The dividend has been increased for 7 of the last ten years and its dividend is safe. L Brands is therefore a choice for the dividend income investor. The average 5 year payout ratio is high at 85% over the past five years. After paying the dividend this leaves cash remaining for investment in expanding the business by opening new stores mainly in the foreign markets which are still being developed. LB has been paying the extra cash out to the shareholder though special dividends and stock buy backs but this year there was no special dividend as the company repositions some of its products.
L Brands is a large-cap company with a capitalization of $15 Billion. The large size of L Brands gives it the muscle, plus its cash flow to increase the business going forward. L Brands 2017 estimated total yearly cash flow at $1.7 Billion is coming back allowing the company to have the means for company growth.
I also require the CAGR going forward to be able to cover my yearly expenses. My dividends provide 3.2% of the portfolio as income and I need 1.9% more for a yearly distribution of 5.1%. The three-year forward CAGR of 10.0% (S&P Capital IQ) meets my requirement. I feel this CAGR is a bit high right now but LB can turn around and make this come true as the action they took increases the earnings.
Looking back five years, $10,000 invested five years ago would now be worth over $13,600 today. This makes L Brands not a fair investment for the total return investor looking back but has future growth as the turnaround continues. This is a buying opportunity to buy a good business at a discount price.
L Brands S&P Capital IQ rating is two stars or sell with a target price of $46.0. L Brands price is presently 8% above the target. LB is over priced at the present price but is a fair investment for the long term investor who wants above average growing steady income. The last earnings report shows that the company is starting to turn around and should continue its growth of past years.
One of my guidelines is would you buy the whole company if you could, the answer is yes. The Good Business Portfolio likes to embrace all kinds of investment styles but concentrates on buying businesses that can be understood, makes a fair profit, invests profits back into the business and also generates a fair income stream. Most of all what makes LB interesting is the increasing earnings as a turn around company and the hope of reduced corporate taxes.
Total Return And Yearly Dividend
The Good Business Portfolio Guidelines are just a screen to start with and not absolute rules. When I look at a company, the total return is a key parameter to see if it fits the objective of the Good Business Portfolio. L Brands total return under performs the Dow baseline in my 52.5 month test compared to the Dow average. I chose the 52.5 month test period (starting January 1, 2013 and ending to date) because it includes the great year of 2013, and other years that had fair and bad performance. The low total return of 39.59% does not make L Brands a good investment for the total return investor looking back but does provide a steady increasing income and earnings are getting better. L Brands Has increased its dividend for 7 of the past ten years and presently has a yield of 5.0% which is above average for the income investor.
DOW's 52.5 month total return baseline is 57.25%
| | | | |
| --- | --- | --- | --- |
| Company Name | 50 Month total return | Difference from DOW baseline | Yearly Dividend percentage |
| L Brands | +39.59% | -17.66% | 5.0% |
When I scanned the 5 year chart L Brands does not have a good chart with 2013 and 2014 being good with 2015 flat and 2016 really getting hit with the pressure from the Mall retail sector weakness.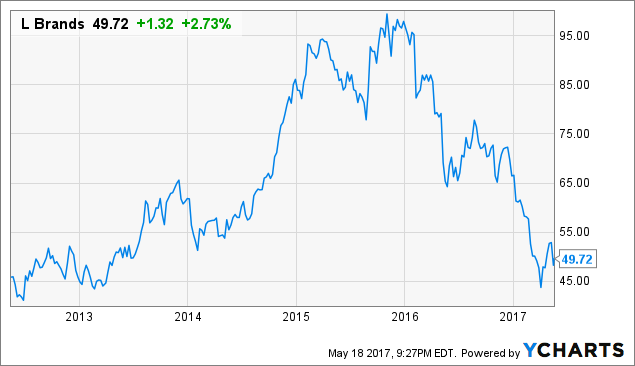 LB data by YCharts
Last Quarter's Earnings
For the last quarter on May 17, 2017 L Brands reported earnings that beat expected by $0.07 at $0.33 and compared to last year at $0.59. Total revenue was lower at $2.44 Billion less than a year ago by 6.5% year over year and was in-line with expected. This was a fair report with bottom line beating expected and top line decreasing but earnings were less than last year. The next earnings report will be out in August 2017 and is expected to be $0.46 compared to last year at $0.70 not looking good yet. The company did guide higher for the year at $3.10-$3.40.
Business Overview
L Brands is a global retailer of women's apparel and personal care products.
As per Reuters L Brands operates specialty retail business. The Company is focused on women's intimate and other apparel, personal care, beauty and home fragrance categories. Its segments include Victoria's Secret, Bath & Body Works, and Victoria's Secret and Bath & Body Works International. It sells its merchandise through company-owned specialty retail stores in the United States, Canada, the United Kingdom and Greater China, which are mall-based; through Websites, and through international franchise, license and wholesale partners. It operates in the retail brands, which include Victoria's Secret, PINK, Bath & Body Works and La Senza. La Senza is a specialty retailer of women's intimate apparel. It sells its La Senza products at over 120 La Senza stores in Canada. Henri Bendel sells handbags, jewelry and other accessory products through New York and 28 other stores. Mast Global is a merchandise sourcing and production function serving the Company and its international partners."
As seen in the graphic below Bath and Body Works likes to have elegant names for its products.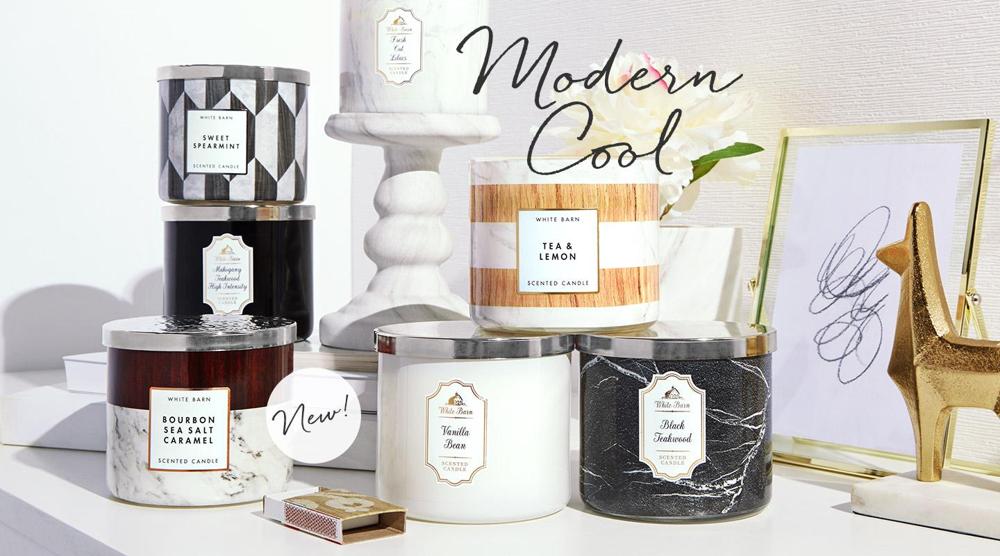 Source : L Brands
Over all L Brands is a fair business with 10% CAGR projected growth as the need for more relatively low cost women's products are introduced as simple every day gifts to the women in your life. The cash flow is getting better giving LB the capability to continue its growth by opening new stores.
Also as a tail wind we have President Trump wanting to lower corporate taxes. As the corporation tax rate is lowered earnings of L Brands business should increase. They are now paying 37% above the maximum rate of 35%.
The economy is showing moderate economic (about 1.8%) growth right now and the FED has raised rates in March 2017 with future rate increases dependent on the United States economy. The FED projects for 1-2 more increases in 2017. I feel when it does raise rates it will be less, maybe just one more, they don't want to trigger a slowdown in the economy.
From the May 17, 2017 earnings call Stuart B. Burgdoefer (EVP and CFO) said " After a particularly challenging February which we believe was related in part to a delay in the timing of income tax refunds, we gained momentum through the remainder of the quarter.

Looking forward to the remainder of the year, we have confidence in the growth opportunities for our business. Our brands are strong and lead their categories and we have an experienced and aligned leadership team. We're continuing to invest in initiatives that will drive significant growth, including White Barn remodels at Bath & Body Works and investment in China.

As you know, about a year ago, we made strategic changes at Victoria's Secret to streamline the business, focus on our core categories and accelerate growth. While these investments and strategic actions will continue to put pressure on results in 2017, we're confident that they are providing the platform for accelerated future growth.

Beyond the short term impacts to this year, we remain committed to our goals at growing annual operating income by 10% and an operating income rate in the high teens. We will continue to focus on the things that we can control and manage inventory, expenses and capital spending with financial discipline."
This shows the feelings of the top management to continued growth of L Brands business and to deliver good value to its customers, but this positive statement has to be turned into growing earnings which has started with the recent earnings announcement.
Takeaways and Recent Portfolio Changes
L Brands is an investment choice for the income investor with its above average yield of 5.0% and it's turnaround possibilities. L Brands will be added to by The Good Business Portfolio as cash is available. I feel the company is oversold and Mr. market has gone too far too fast. If you already own LB it's a good hold long term and a buy for the investor that can take some risk and wants income.
Added to position of Texas Instruments now at 4.3% of the portfolio a full position. S&P recently raised TXN target price to $84 from $77.
Started a position (position number 25, portfolio now full) in American Tower (AMT) a specialty REIT at 0.4% of the portfolio. Their earnings just can out and were great, beating expected by $0.13 and with revenue increasing 21.3% year over year.
Increased position of Omega Healthcare Investors (OHI) to 6.2% of the portfolio. I wanted a little more income.
Trimmed Boeing (BA) from 10% of the portfolio to 9.4%. Great Company but you have to be diversified.
Trimmed Harley Davidson (HOG) to 2.9% of the portfolio. Growth looks likely to be negative again this year. S&P raised HOG target to $60 but sales look slow for a while.
Wrote some HOG May 26 strike 53.5 calls on a portion of the holding.
Added to position of Digital Reality Trust (DLR) now at 1.3% of the portfolio. I feel the computer industry facilities business has nowhere to go but up and DLR pays an above average 4% dividend. I wrote an article on Digital Reality Trust this year if you are interested. This is another specialty REIT in a growing sector.
The Good Business Portfolio generally trims a position when it gets above 8% of the portfolio. The four top positions in The Good Business Portfolio are, Johnson and Johnson (JNJ) is 8.2% of the portfolio, Altria Group (MO) is 7.7% of the portfolio, Home Depot (HD) is 8.6% of portfolio and Boeing is 9.4% of the portfolio, therefore BA, JNJ and home Depot are now in trim position with Altria getting close.
Boeing is going to be pressed to 10% of the portfolio because of it being cash positive on 787 deferred plane costs at $316 Million in the first quarter, a increase from the fourth quarter. The first quarter earnings were good with Boeing beating the estimate by $0.07 at $2.01. S&P Capital IQ also raised its one year target to $210.
JNJ will be pressed to 9% of the portfolio because it's so defensive in this post BREXIT world. Earnings in the last quarter beat on the top and bottom line but Mr. Market did not like growth going forward. JNJ is not a trading stock but a hold forever, it is now a strong buy as the healthcare sector is under pressure.
For the total Good Business Portfolio please see my article on The Good Business Portfolio: 2016 third-Quarter Earnings and Performance Review for the complete portfolio list and performance. Become a real time follower and you will get each quarters performance after the earnings season is over in a couple of weeks.
I have written individual articles on CAB, JNJ, EOS, GE, IR, MO, BA, PEP, Omega Health Investors, Texas Instrument (TXN), Digital Investors Trust (DLR) and Home Depot (HD) that are in The Good Business Portfolio and other companies being evaluated by the portfolio. If you have an interest please look for them in my list of previous articles.
Of course this is not a recommendation to buy or sell and you should always do your own research and talk to your financial advisor before any purchase or sale. This is how I manage my IRA retirement account and the opinions on the companies are my own.
Disclosure: I am/we are long BA, JNJ, HD, MO, LB, TXN, DLR, HOG, OHI.
I wrote this article myself, and it expresses my own opinions. I am not receiving compensation for it (other than from Seeking Alpha). I have no business relationship with any company whose stock is mentioned in this article.