In a market that has seemingly gone up in a straight line, until this week, it's becoming increasingly difficult to find undervalued stocks with downside protection and decent upside potential. I have a list of roughly 100-125 stocks that I track on a regular basis to determine when an attractive entry point may appear. In this case, I believe IMAX (NYSE:IMAX) represents an extremely attractive risk/reward ratio and is at an attractive entry point.
Downside Protection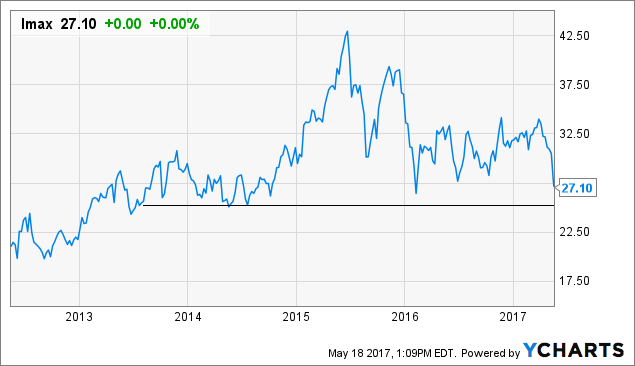 Going all the way back to 2013, IMAX has enjoyed a strong level of support around the $25-$26/share. When the stock broke below $30/share on weaker than expected 1Q17 earnings, it became clear that the next strong level of support would likely be this $25-$26/share level. At $27/share, I believe the stock has potential for up to 7% downside before running into a level of important technical support.
The stock started seeing downward pressure when it was reported that private equity investors, FountainVest Partners and China Media Capital, in IMAX China sold their remaining 5.9% stake in the company to a large international investment bank. This left investors scratching their heads and asking if they knew something the public didn't. FountainVest Partners and China Media Capital initially bought 20% of IMAX China for $80 million back in 2014 and sold a large portion of that just 2 years later after the IMAX China IPO on the Hong Kong exchange. The private equity partners made a nice gain on their investment and clearly didn't plan to hold this large equity stake for the long term. So the fact that the company sold their remaining position shouldn't come as much of a surprise to investors.
The 1Q17 earnings miss did come as a surprise to investors and is largely responsible for the continued downward movement. A combination of tough comps and a weak IMAX release schedule during the first quarter resulted in year-over-year revenue decline of 25%. Clearly not a good quarter for the company, but I believe the near-term as well as long-term outlook for the company is quite positive.
Near-Term Catalysts
The company is increasingly becoming more leveraged to box office revenue with close to 650 joint revenue sharing theaters. This means when blockbusters are released, IMAX enjoys an increased revenue share across its theater base. This fact hurt the company in Q1 due to a weak IMAX lineup, but should become a major catalyst throughout the remainder of 2017. The company started Q2 with the release of Fate of the Furious which generated $30 million in IMAX box office revenue in its opening weekend, marking the 4th largest IMAX opening of all time. In addition, Fate of the Furious marked the second biggest three-day weekend ever in China and generated 45% more box office than Furious 7 over the same period, the largest film of all time in China. To date the film has grossed $387 million in total box office revenue in China.
This is important because IMAX is heavily leveraged to China with 403 IMAX theaters. The company owns 68% of IMAX China and it accounts for roughly one-third of revenue. Of the 524 theaters in the backlog, 356 are in China. Whenever a movie does well in China, it's an added bonus for IMAX. This is why IMAX has many near-term catalysts. Two of the most popular movie franchises in China are both scheduled to be released in Q2. The Fast & Furious franchise is extremely popular in China as is the Transformers franchise. Transformers: Age of Extinction released in 2014 grossed $320 million in China alone. The newest movie in the franchise, Transformers: The Last Knight, is scheduled to be release on June 23 in China as will likely gross over $150 million in its opening weekend. Wonder Woman and Pirates of the Caribbean: Dead Men Tell No Tell could be wild cards in Q2 that further drive strong box office numbers.
When you combine 2 of the most popular movies franchises in China both opening in the second quarter with a weak comparison in 2Q16, where revenue fell 14%, the company should enjoy a healthy Q2 revenue beat with strong year-over-year growth. Of the 10 analysts covering the company, the average Q2 revenue estimate is $105 million. This estimate represents a 14.5% year-over-year growth. With the already strong IMAX box office and strong remaining releases in Q2, I estimate Q2 revenue will grow 25% to $115 million. An earnings beat and strong growth would go a long way to relieve investor concerns of lumpiness in IMAX revenue.
Long-Term Catalysts
IMAX relies on theater installations for revenue as well as long-term revenue from IMAX box office. The company has done an outstanding job of no only increasing the pace of installations, but signing new contract deals with movie theater operators throughout the world. On the last conference call the company increased 2017 theater installations from 150-155 to 160 and saw its year-over-year backlog increase 35% to 524. That's over a 3 year backlog assuming installations continue around 160 per year.
In addition, the company has done a good job of getting top directors on board with using IMAX cameras during the production of a movie. Virtually every director of potential blockbuster movies has embraced the technology and moviegoers are now seeing an increased percentage of footage being shot exclusively on IMAX cameras. Typically IMAX movies will have roughly 10-20% of the final movie cut filmed on IMAX cameras, but these numbers are steadily rising. It was announced last year that Avengers: Infinity War will be the first movie ever shot entirely with an IMAX camera. When a movie has increased IMAX content (e.g. Interstellar, Star Wars: The Force Awakens, Star Trek: Into Darkness), IMAX tends to increase its box office market share.
IMAX has also locked up long-term film deals with every major movie studio. The company recently extended its deal with Disney through 2019 to include every major blockbuster from Marvel, LucasFilms, Pixar and Disney Live Action. These deals ensure IMAX will be an integral part of future blockbusters and also push advertising campaigns to drive moviegoers to IMAX theaters.
The company has also been proactive in its business with a push into virtual reality through its concept VR theater in Los Angeles and planned 10 additional theaters to open during 2017. This is still a negligible part of revenue, but marks an important growth opportunity into an untapped market. The Los Angeles pilot has already seen admission top 25,000 through its first 3.5 months and weekly revenue run rate over $15,000 per week. In late March, IMAX and Warner Brothers announced a partnership to launch 3 interactive VR experiences based on Warner Brother movies and characters.
Conclusion
IMAX has entered oversold territory at current levels around $27/share. The stock has long-term technical support around $25-26/share, making downside potential very limited. Over the past 2 plus years, the stock has traded between $30-$40/share. I believe once the disappointing Q1 earnings have been fully digested and near-term catalysts begin to be recognized, the stock will gradually move back to a normal trading range between $30-$35/share. Based on a strong IMAX lineup remaining through 2017 and into 2018, I'm putting a year end price target on the stock at $34/share, or 26% upside. It's rare to find a stock trading at such oversold levels with both near and long-term positive catalysts in today's market.
Disclosure: I/we have no positions in any stocks mentioned, but may initiate a long position in IMAX over the next 72 hours.
I wrote this article myself, and it expresses my own opinions. I am not receiving compensation for it (other than from Seeking Alpha). I have no business relationship with any company whose stock is mentioned in this article.