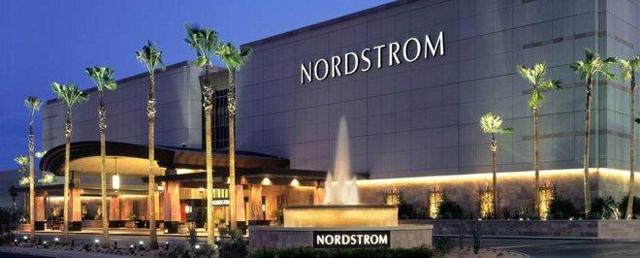 The Bigger Picture
Readers have probably noticed that, although they were already trading at depressed multiples, stocks in the retail industry have crashed in the last few days. The reason can be found in some earnings misses that seem to have fueled a new wave of pessimism among investors. Before analyzing the recent developments and sharing my view on what's happening in these days, I want to share some thoughts on the bigger picture.
The last two years have been particularly tough for the whole retail industry, with malls and all the companies exposed to this channel experiencing declining sales and deflationary pricing pressures. While some short-term factors had a small impact (strong dollar, weak tourist spending), the main reason is that the overcapacity in the U.S. has started to force a wave of store closures. Overcapacity has been there for a while, and it was clear even 10 years ago. To understand the problem, we should compare American retail space per capita to similar markets, Canada in particular. According to CoStar Realty Information, as of 2016, there were 2,353 square feet of retail space in shopping centers for every 100 Americans, compared to 1,636 square feet in Canada. If the gap was an anomaly, retail space in the U.S. should fall up to 30%. There is a gap, but as I often said, the problem is overestimated, since retail spending per capita in the U.S. is 20% higher than in Canada. People need more retail space because they spend more. Anyway, even adjusting for spending per capita, an 18% overcapacity would still be a problem and could lead to a 15% reduction in retail space. This is something that retailers are currently reacting to. Some "weaker" retailers went bankrupt, many other companies scaled back their operations. Even solid department store chains like Macy's (NYSE:M) decided to close a large number of underperforming stores (in Macy's case, 63 stores will be closed in 2017). On the other side, upscale retailer Nordstrom (NYSE:JWN) has a similar business model and faces the same negative trends as Macy's but is holding up much better and is not engaging in many store closures. In the last earnings call, the management clearly declared that the company doesn't have a store closure strategy. Look at this comment:
While there may be opportunities to close underperforming stores, that's not really part of our strategy. We don't have a closure strategy. We have a market share strategy. So as we look at any given market, there might be an opportunity to move from a C location to an A location, as an example. There might be opportunities to look at the number of stores we have in a given market. But what we're not going to look at is just simply the 4-wall economics of that store. We're going to look at how good of a job we're doing using and leveraging those stores to drive the overall market sales.
Besides a confirmation that Nordstrom doesn't currently seem to have a scale problem, it tells us that the main focus is on improving their exposure to "high productivity" malls, rather than reducing their scale. Together with a constant focus on growing the e-commerce business, this is the key to successfully manage the current headwinds. The retail industry has changed often and it will continue to change. Every once in a while, the market starts to have problems with retailers, citing a series of threats. As I wrote in my recent article on Macy's, several factors, such as catalogs, TV shopping and the diffusion of outlet malls, have been indicated as big threats in the past, and many analysts have periodically claimed that shopping malls or other retail formats are dying. Actually, they are all still there. Even shopping streets in the city centers are still there, 60-70 years after they started to feel the competitive pressures of urban and suburban malls. The situation is not so different now, as competition from e-commerce players like Amazon (NASDAQ: AMZN) is exerting some pressure on brick-and-mortar retailers, but it's leading to a multi-channel model, rather than a disruptive change. Many people will continue to buy things in physical stores, but those companies that fail to adapt to the new multi-channel environment will likely disappear. In this period of change, Nordstrom already derives 24% of its sales from its e-commerce business and has declared it's focused on improving its exposure to high productivity malls.
Market Panic and Valuation Discrepancies
As I did for Macy's, I am going to show you how valuation multiples have changed compared to expectations. Nordstrom recently reported Q1 results, with both an earnings and revenue beat. EPS of $0.31 were $0.04 above consensus, while revenue of $3.350 million was 10 million above estimates. Comparable sales were a bit light, with a 0.8% contraction, but not even comparable to the declines reported by competitors. On top of that, the positive guidance shared last quarter was re-affirmed. For this year, the management is expecting sales to grow 3%-4%, comps to remain flat and EPS in the $2.75 -$3.00 range, which means 36%-48% higher than in Fiscal 2017.
Summarizing, the company beat top-line and bottom-line expectations, comps are expected to improve, EPS guidance is in line with market expectations. In response to this information, the stock declined 20%.
Between 2015 and 2016, EPS expectations (blue line) were declining fast and revenue growth declined to a low of -0.20%. Nonetheless, the stock price found a strong support at a P/E of 13.50 three times. Now, EPS expectations are improving and the stock trades at 14 times expected earnings (using the mid-point of the guidance). Doesn't the market trust the management? I find no reason to believe that, as results have been consistent enough with their guidance.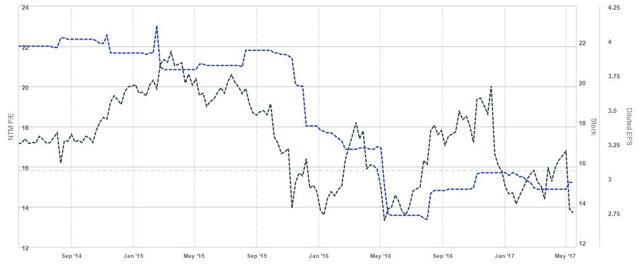 The same discrepancy is evident if we look at NTM Price/Sales. Last year, when revenue growth was falling and expectations were being revised downwards, the stock found a support at a P/S of 0.44. Now that revenue is expected to grow and comps to be flat, the stock is trading at the same P/S.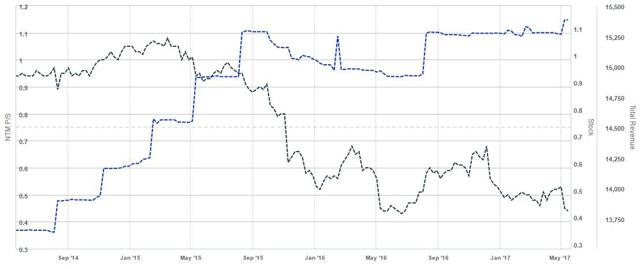 I think these discrepancies show the market is not pricing the stock as it used to do in the recent past and is showing signs of irrationality. The stock is trading near a P/E of 13.8 and a P/S of 0.44, two levels where the stock found strong support several times in the recent past, even when fundamentals were expected to deteriorate.
Thanks for taking the time to read the article. If you liked it, click on the follow button at the top of the page. You will get my articles as soon as they are published. I am available to further discuss the topics of this article in the comments section.
Related:
Macy's - Recent Results and Market Panic
Michael Kors At A Turning Point
Disclosure: I am/we are long JWN, M.
I wrote this article myself, and it expresses my own opinions. I am not receiving compensation for it (other than from Seeking Alpha). I have no business relationship with any company whose stock is mentioned in this article.