When I first recommended Boston Beer (NYSE:SAM) in January, the share price stood at $156. Four months later the stock is down to $140, a decline of 10 percent. My own paper losses are much greater, since I began accumulating my stake a year ago at a higher cost basis. Boston Beer has been the one underachiever in a portfolio that has otherwise done very well, so I should at least entertain the possibility that perhaps I am wrong on this one. Here I review my original thesis and consider the latest company and industry developments.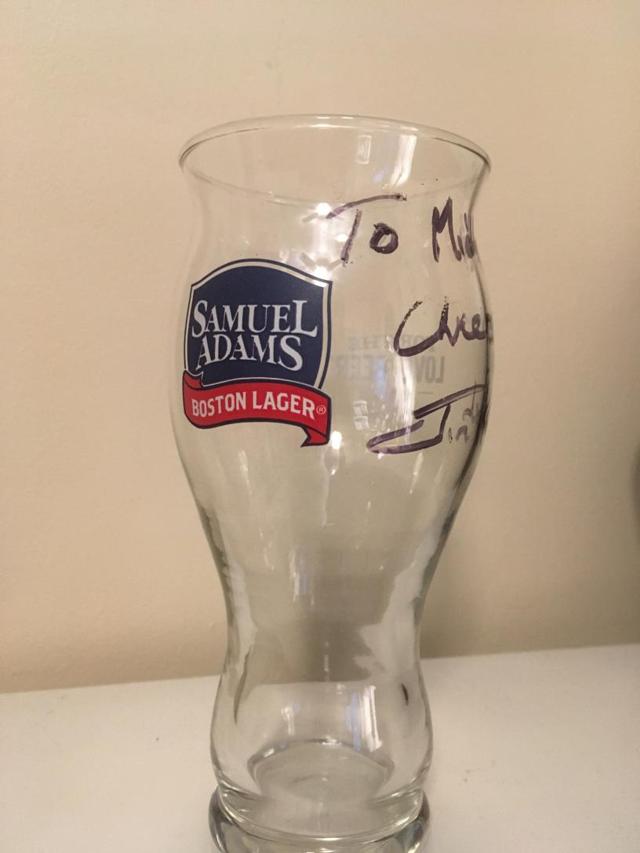 Shareholder's Meeting Summary
Boston Beer held its annual shareholder meeting on May 18. Since I live just outside Boston, I decided to take the morning off work so I could go hear what founder Jim Koch had to say. Here are a few relevant highlights from the Q&A session:
· On making an acquisition - Koch said that the company would consider a purchase, provided that the brewer is a good fit for the culture and the price is right. However, craft breweries are far too expensive now in his view. which is why Boston Beer prefers to buy its own shares at a cheaper multiple.
· On being acquired - Boston Beer is not considering a buyout. Koch appears to believe pretty strongly in being an independent company. On paying a dividend - Although Boston Beer has discussed paying a dividend on and off for ten years, the company has no plans for one in the near future.
· On craft beer market - Koch noted that the craft beer market entered a prolonged slowdown in the late 1990s that lasted several years. He believes a similar downturn is now occurring, and will use this slow growth period as a time for reflection and innovation. Koch admitted that during the boom period, they were "just trying to keep the wheels from flying off the bus" and meet surging demand.
· On the retirement of Alan Newman - Last year marked the end of Boston Beer's contract with the legendary entrepreneur, who ran Boston Beer's craft beer incubator Alchemy and Science. Newman is responsible for founding the company's Traveler's brand, as well as its Angel City brewery in Los Angeles. Koch also credits Newman with teaching the company how to run a taproom and think like a small brewery. This summer, a small taproom will open at Boston Beer's Jamaica Plain brewery. I previously expressed such a wish in my January article, and I am glad to see that it is actually happening. Hopefully more taprooms will follow.
Original Thesis
My initial enthusiasm for Boston Beer rested on the fact that long-term operational realities for distributors and retailers would make it difficult for many local mom-and-pop brands to compete with bigger craft players. Despite appearances, craft beer is a highly concentrated industry, and it is likely to experience further consolidation. I also liked the fact that the market valued the shares far below what Big Beer was paying for comparable acquisitions. Using multiples paid for its competitors, Boston Beer would probably be worth anywhere from a low of $2.5 billion to a high of $5 billion in the private market. Even with the recent slowdown, craft beer still has room to run. Consumption per capita is still extremely low in many U.S. states, especially poorer areas in South.
Industry Developments
Earlier this month, Lagunitas' Tony Magee, a harsh critic of Boston Beer, sold his remaining 50 percent stake in the brewery that he founded to Heineken, which already owned the other half of the company since Magee struck a deal with the megabrewer in 2015. In a lengthy blog post defending his marriage to Big Beer, Magee explained that expansion was impossible without access to more funding. Apparently even a billion-dollar company such as Lagunitas did not have the capital to expand abroad, which Magee has long desired to do. Exporting craft beer is difficult because of the product's short shelf life, which means that companies must build expensive new facilities abroad and set up distribution networks in order to serve foreign markets. But with so many breweries selling out to Big Beer, it seems only a matter of time before American craft makes its way to retailers around the world. Even though Western Europe was long considered the mecca of good beer, the U.S. is now at the forefront of the industry.
Latest Earnings
Last month Boston Beer released its latest earnings, which revealed yet another stinker of a quarter. The company's $0.45 a share handily beat expectations of $0.26, but earnings are still down 15 percent year-over-year. Management acknowledged on the earnings call that they blew it with spring seasonal beers, which were widely derided as inappropriate flavors for the time period. Koch admitted that Boston Beer has struggled to find an appropriate beer to lead the spring season, having tried out over a dozen candidates over the years. Looking forward to the next quarter, the company plans to heavily market its popular Sam Adams Summer Ale. The next two seasons are crucial for the company, which does most of its business during the summer and fall. As part of its plan to revive flagging sales, the company's new head of marketing is also conducting a review of the Sam Adams brand. Unfortunately that plan is not expected to be completed for another two or three months, likely pushing any major changes into 2018.
Was I Wrong?
I still stand by most of the arguments that I made in my original article. However, I do think that I made two mistakes in my analysis. The first is that I failed to properly quantify Boston Beer's future prospects. Although I did compare the company's market value to potential private market value, that exercise might not be terribly relevant. As Magee's post made me realize, the benefits of shelling out $5 billion for SAM would only be realized if such a transaction came to pass, which seems unlikely.
Thus, in order to properly value Boston Beer, we need to know roughly what its unit growth will be over an appropriately sufficient time period (I usually choose a decade). Nobody knows how big craft beer will become, but I think it is fair to say that significantly more craft beer will be consumed in ten years compared to today.
Let's assume that craft beer production doubles by 2027 to 50 million barrels, up from the nearly 25 million barrels produced in 2016. I think that is certainly reasonable. Craft beer culture is virtually nonexistent in many states of the Deep South, where overall beer consumption is quite high. Mississippi ranks at the bottom in terms of population per craft brewery, yet the state ranks number ten in terms of beer consumption per capita. It is widely recognized within the industry that craft beer sales are closely tied to the presence of a craft beer culture. But when the invasion does occur, what percentage will go to Boston Beer? Right now SAM controls 8.7 percent of the craft beer market, but that share has slipped in recent years. In a bad scenario, maybe they end up with a 5 percent share in 2027. If we give the company a future multiple of 18 times earnings and a 12 percent profit margins, the present value is somewhere around $1.67 billion. If they manage to hold the line on market share, the present value is $2.91 billion.
So which scenario seems more likely? If you asked me six months ago, I would have chosen an optimistic outlook based on the reasoning that I spelled out in my January article. But I am less sure of that now, which brings me to my second error-downplaying competitive pressures. At the time, I believed that the sales decline was temporary and that consumers would soon return to their previous habits. Beer brands, after all, tend to be pretty sticky. But consumer behavior is really changing in ways that I did not anticipate, and now I am not certain that it is possible to develop an enduring competitive advantage.
Over the past few months, I have been touring more breweries around my home state of Massachusetts and other parts of New England. By now I have seen around 25-30 percent of the more than 100 recognized craft brewers in Massachusetts. Many of them are mom-and-pop joints, but I was very surprised by the sophistication of some of the larger operations. Regional firms have been investing in huge capital improvements in order to expand production capacity and meet demand. There is also action on the distribution front, where Night Shift Brewing in Everett, MA is building up its own network in order to bypass the big players. Success there could extinguish what has heretofore been one of Boston Beer's major advantages.
To be clear, I do not plan to sell my shares, and my timeline for holding this investment remains indefinite. Even in the event that the company's market share falls by 25 or 30 percent, it will probably still do more volume in ten years than it does today. Its return on invested capital is nearly 20 percent in an industry that often yields little profit, which is a testament to effective management. On the other hand, I have no plans to add to my current stake. What I intend to do is wait and see what the company does during the current slowdown. If I like the company's plans to restore growth, then I may consider buying more shares at that time.
Disclosure: I am/we are long SAM.
I wrote this article myself, and it expresses my own opinions. I am not receiving compensation for it (other than from Seeking Alpha). I have no business relationship with any company whose stock is mentioned in this article.