In the Superinvestors of Graham and Doddsville, Warren Buffett wrote the following:
If you buy a dollar bill for 60 cents, it's riskier than if you buy a dollar bill for 40 cents, but the expectation of reward is greater in the latter case. The greater the potential for reward in the value portfolio, the less risk there is.
With that in mind, I ask you this. Which is riskier today:
Owning the S&P 500 (NYSEARCA:SPY)? Or Owning an index of emerging markets stocks?
By Buffett's definition, the more expensively valued investment would be the riskier one. I'm going to show you some data that would suggest that the riskier investment today is by far and away the S&P 500.
Jeff Gundlach - Some Perspective On S&P 500 Valuation At The Ira Sohn
Doubleline's Jeff Gundlach presented at the Ira Sohn investment conference earlier this month, and he spoke with CNBC afterwards.
Like many of the top tier investors that I follow (not everyone but most), Gundlach is concerned about valuations of U.S. stocks. And, like many of the other top investors, Gundlach believes that the massive inflows going into the same stocks through passive investing vehicles are a major driver of this.
Gundlach also provided several pieces of data that show how historically expensive U.S. stocks are today.
Let me run through them.
First up is total S&P market cap to GDP. This is Warren Buffett's favorite valuation tool for the overall market.
The chart below shows where we are today versus various other points in history.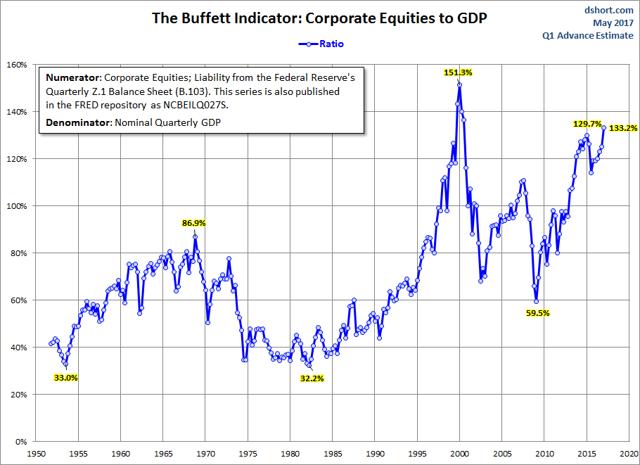 Source: Advisor Perspectives
The only time since 1950 we have exceeded the current level of this indicator was during the madness of 2000 when a small segment of absurdly valued technology stocks created the bubble.
Today, that overvaluation is much more uniform across the index. I would agree that there is no sector as ridiculously overvalued as tech was back in the day, but the overvaluation is across a greater percentage of companies.
Next up is the valuation of the S&P 500 relative to the sales revenues of the companies in the index.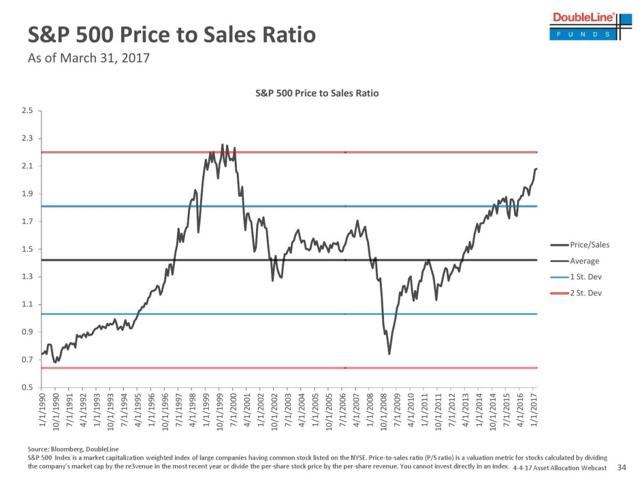 Source: Doubleline
Again, we see that only in the dot.com bubble were valuations higher than they currently are for the S&P 500.
Third valuation data point is Shiller's cyclically adjusted PE Ratio which Gundlach's Doubleline shows as being higher today than any point since 1900 other than two specific times.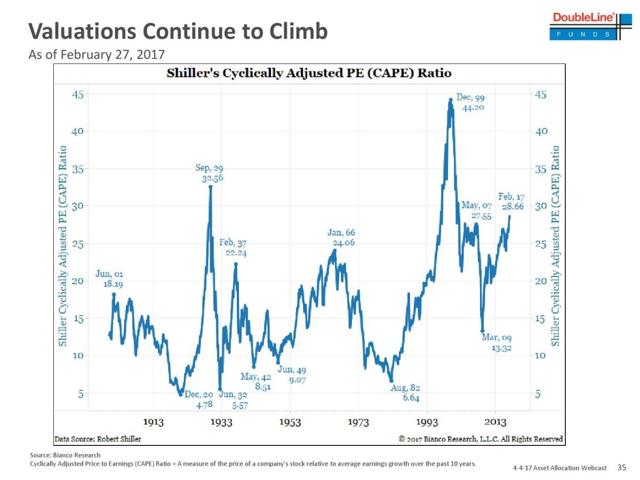 Source: Doubleline
Those higher valuations being September 1929 and December 1999. Yes, yikes. We all know what followed both of those.
Which brings me to data point number four, corporate debt to GDP. This isn't a valuation figure, but it is still a relevant one. The graph below shows that our corporations are highly leveraged relative to where they have been over the past 40 years.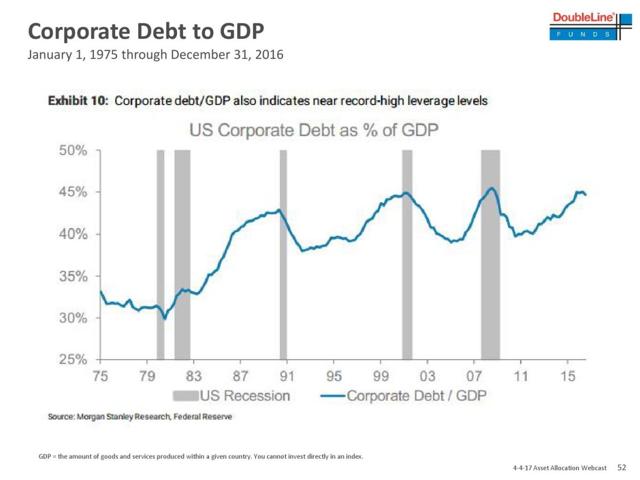 Source: Doubleline
Which gets me to thinking, can you imagine the hit to S&P earnings should interest rates increase by 2 percent?
That would create an incredible double whammy of higher interest expenses depressing earnings (because companies have a lot of debt) and higher interest rates simultaneously depressing valuation multiples.
Those two forces acting together at once could make a big difference in share prices.
Gundlach Offers A Preferred Equity Asset Class - Emerging Markets
When I say emerging markets, I bet that you think high risk. Certainly, at the individual company or even single country level, I'd agree.
But what about an entire index of emerging markets stocks? An entire index that is trading at a much more attractive valuation than any U.S. alternative.
That is something different altogether.
At the Ira Sohn this year, Jeff Gundlach said that he thinks the much more attractively valued emerging markets are set to outperform the overvalued U.S. stock market.
He even recommended shorting the S&P 500 while going long emerging markets through the MSCI Emerging Markets ETF (NYSEARCA:EEM).
Gundlach supported his argument with some data. First, he put the CAPE ratio for the S&P 500 up against that of the MSCI Emerging Market Index.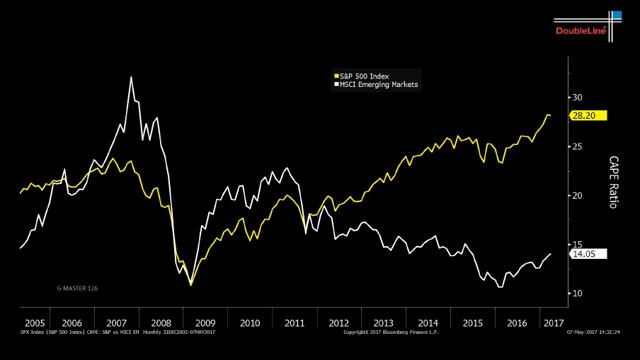 Source: Doubleline
I find that to be a very strong visual in support of his argument. The valuation in the S&P 500 is twice that of the emerging market index. Note that for the first half of the graph the emerging market index was actually valued at a premium much of the time. That premium would have been justified by the higher rates of growth in emerging countries.
I would certainly think that the current spread between the two would shrink over time by a significant margin.
That would work very well for Gundlach's trade.
Gundlach also presented price-to-book valuation data for the each index.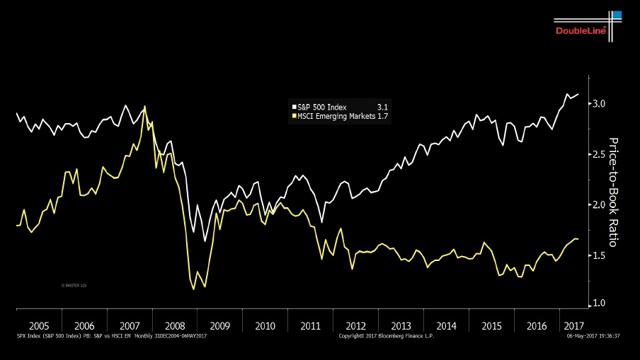 Source: Doubleline
Again, the emerging markets index is valued at half that of the S&P 500 providing further support to his argument.
Investor Takeaway
I've written a few articles about the unattractiveness of the S&P 500 today. They don't seem to go over all that well with many readers. I have to admit that I view that as a bit of a contrarian indicator that we are nearing a top.
What everything today rests on are extremely low interest rates. If rates don't rise, then I do appreciate that these high valuations make a lot more sense. Unfortunately, I don't buy into the idea that these historically low interest rates are going to stick around forever.
You can try and convince me otherwise in the comments section.
Please use the option to "follow us" at the top of this article if you would like to read our future material.
Thanks for reading.
About The Superinvestor Bulletin
We are building a portfolio made up exclusively of the highest conviction positions of the world's top investors.
One of our most recent picks is an emerging markets company that is fully controlled by one of the greatest investors of the past 30 years. I can't really give much of a hint without giving the company away (which wouldn't be fair to our subscribers). I'll just say that the Superinvestor behind this company is using it to exploit a very inefficient market where he should be able to compound shareholder value at an extremely high rate.
You can get actually get this idea for free when it comes out next week by signing up for a free trial now.
Disclosure: I/we have no positions in any stocks mentioned, and no plans to initiate any positions within the next 72 hours.
I wrote this article myself, and it expresses my own opinions. I am not receiving compensation for it (other than from Seeking Alpha). I have no business relationship with any company whose stock is mentioned in this article.