Author's Note: Subscribers to Engineered Income Investing got an early look at this material.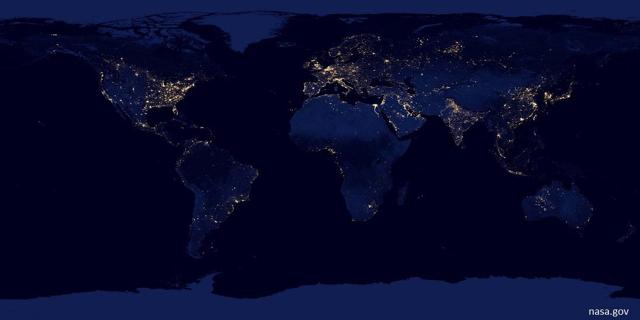 Do you live here? If you do, then there is a 100% probability that you use Cisco routers and switches to access the internet. Yes, whether it is your home wifi, or your ISPs or the backbone switches and routers, most of them are made and maintained by Cisco Systems (NASDAQ:CSCO). Never before in history has every person in the entire world relied on a single company. This is unprecedented. Stop and think about it. If you are online or get information from the internet (directly or indirectly), then somewhere that data passes through Cisco routers and switches. Even if you never have been online, the companies that serve you products and services use the internet for some part of their business. Thus, everyone, yes EVERYONE, relies on Cisco. So, with that in mind, let us see what Thursday's 8% drop in share price really means to a wise investor.
Cisco Systems, Inc.
Market Price: $31.38
Dividends: $1.16 (3.70% yield) Ex-dividend: ~7/4/17
Fair Value: YDP (3.0%) $38.67
This week, Cisco reported a 1% drop in sales revenues and forecast a 4% to 5% drop for the year. Let us consider what an income investor needs to understand about these numbers.
The Outlook Going Forward:
I have already highlighted Cisco's unique standing in the history of the world as the only company ever to have all 7.5 billion people dependent on it. With this in mind, there is really little need to look at the current newly released numbers or even the forward forecast for the remaining year. So long as they are not indicative of impending disaster (and they are not), we can remain comfortable that Cisco will be serving us for many decades to come.
So, the key things to consider for long-term income investors in Cisco are:
Is the dividend safe? Payout ratios are extremely safe, with cash payout ratio below 43% and earnings payout ratio at under 54%.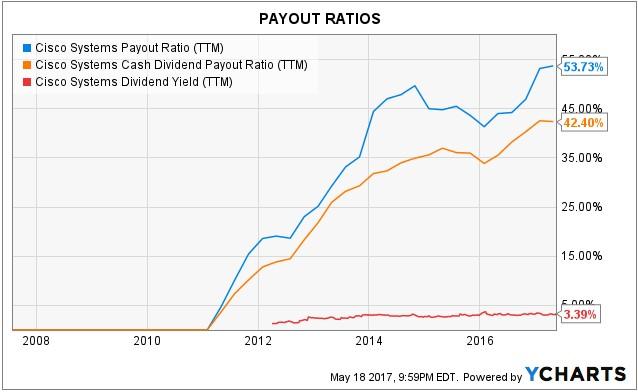 Are the cash flow trends sustainable? Do the trends for those show any early warning of serious problems ahead? The health and sustainability of the life-giving cash flow blood are rock solid with no threats to the continuing ability for the company to thrive.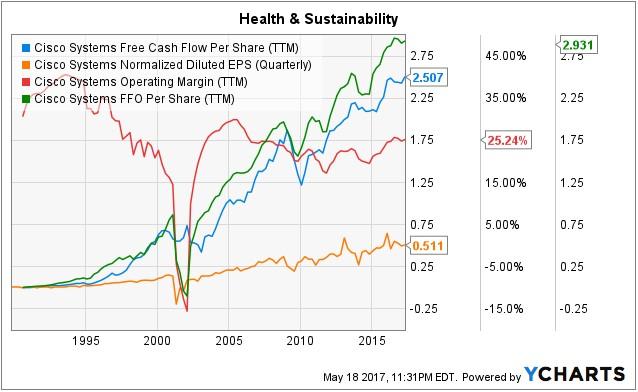 What drives the long-term price trend (fair value) of Cisco? YDP analysis and appraisal confirms that although it is viewed as a high tech growth company by many, its share price is strongly correlated to the size of its annual dividend distributions. That is to say, the company sets the dividend (currently at $1.16 annual distributions) and the market place, with the totality of buyers and sellers acting as the ultimate crowd-source in determining value, bid price up and down to place a value on those dividends. Historically, the yield trend placed on the Cisco dividend is 3.0%. This calculates to a fair value of the current dividends at $38.67 per share. A look at the annotated price chart below, showing predicted fair value based on a 3% dividend yield (in orange), demonstrates excellent correlation to this prediction relationship of Yield = Dividends/Share Price (Y=D/P). This confirms that Dividends valued at 3.0% are a good way to estimate the long-term fair value (and expected market price) of CSCO shares. Major movements away from the fair value are simple volatility noise from tech traders. This is the type of noise we saw this week after the earnings call.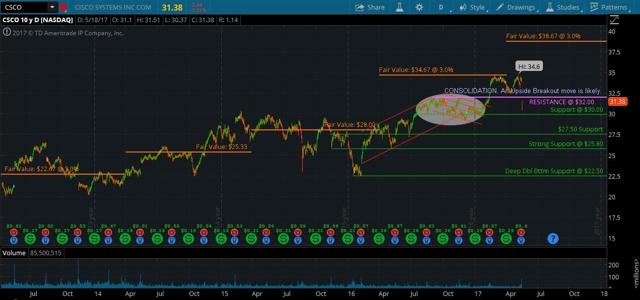 Downside Risks:
While Cisco remains a solid company with an unbreachable moat, the trading range can be extremely volatile. Short-term investors or those without a stomach for significant price swings should avoid these shares.
Additional Points The Pundits Have Missed:
Over 40% of Cisco's revenues come from overseas. The strong U.S. dollar has been a considerable headwind in forex currency translation to company results for the past year. The U.S. dollar is falling now as tax changes and other economic policies no longer look like they will be early accomplishments of the Trump administration. This weaker U.S. dollar will reverse the forex currency translation headwinds and turn them into significant tailwinds to aid the bottom line even if sales fall as predicted.
Conclusions:
Cisco is and will remain the world's strongest company in terms of health and sustainability due to its global moat of installed customers.
Share price over time tends to be strongly correlated to the dividend distributions. The mathematical relationship of this ratio is Yield. It is defined and calculated as Y=D/P (with Y being the long term average historical yield, D being the annual dividend distributions, and P being the fair value share price). Knowing that Cisco's historical Yield [Y] is a constant (3.0%) and knowing the current annual dividend distributions [D], investors can re-arrange the formula to solve for the fair value Price [P]. This can then be compared to the current share price to see if the company is a bargain, priced about right, or in a bubble for long-term investors.
Current YDP fair value of $38.67 suggests shares are presently a true bargain, 23.2% undervalued.
Disclosure of Engineered Income Investing Prior Results:
Prior Research:
Coverage of CSCO began on 1/26/17. The suggested cash covered puts using the 2/17/17 $30.50 @ $0.53 expired unexercised with markets closing out of the money at $33.74. Total boost income to date of $0.53 is an absolute gain of 1.01% (17.59% annualized yield rate). On 2/21/17, My research suggested a Buy-write using the $33.74 market and a covered call leg on the 87 day calls for 5/19/17 $35.00 @ $0.49, combined for a net debit of $33.25. Absolute gain from premium is 1.47% (6.18% annualized yield). Combined with the 3.44% dividend yield, the total annual rate is 9.62%. If called away, absolute gain is 6.14% (25.7% annualized yield rate). These May 19th calls will almost certainly expire far out of the money on Friday.
Results since we opened positions on 1/26/17 in CSCO include $1.02 in option premium cash and $0.29 dividends harvested, for a total $1.29 of cash income to date. Shares are currently at $31.38 with our total cost basis of $33.74, this is an unrealized intrinsic loss on paper of $2.36 at present. Total net return to date stands at net unrealized loss of $1.07. I am confident that the paper intrinsic loss will not remain for long. Continued boosts of dividends and option premiums will always be positive to total net return results and CSCO remains a strong company as far forward as the mind can see. For income investors, cash income results for this 113 holding period is $1.29 on our basis of $33.74, a 3.82% absolute return (12.35% annualized yield rate). This compares to the 3.7% annual yield rate of the dividend and a total net unrealized loss of $2.07 for investors of the same period who have not used the Engineered Income Investing strategy.
Closing Thoughts:
Thank you for taking the time to read this analysis. I welcome your comments and questions. If you find this article thought-provoking, please consider becoming a follower by scrolling back to the top and clicking the orange "Follow" link next to my name. This ensures you are notified of all my work as it is published and gives me feedback to know what readers find of interest.
Those of you interested in income focused on value-based investing, using high-quality dividend income equities with covered option writing to boost cash income and yield while reducing (but never totally eliminating) market risk, I offer through Seeking Alpha my private premium research service, Engineered Income Investing. Send me a private message with your email address and a topic of "EII offer" if you'd like a complimentary copy of a few of my recent research reports.
I am not a licensed securities dealer or advisor. The views here are solely my own and should not be considered or used for investment advice. As always, individuals should determine the suitability for their own situation and perform their own due diligence before making any investment.
Disclosure: I am/we are long CSCO.
I wrote this article myself, and it expresses my own opinions. I am not receiving compensation for it (other than from Seeking Alpha). I have no business relationship with any company whose stock is mentioned in this article.