Inovio Pharmaceuticals (NYSEMKT:INO) closed at $7.22 on May 17, 2017, down $0.12 for the day, but up $0.83 or 13% since its close at $6.39 on May 10. After the close on May 10 Inovio announced its Q1 results and updated the public on its pipeline progress.
Inovio does not have any commercial products for sale, although veterinary vaccines it developed and later sold to other companies are on the market. For a background in Inovio's DNA vaccine technology and candidate pipeline, see past Seeking Alpha articles on the company, including mine (most recently "Inovio's Zika Vaccine is not its Most Attractive Asset," dated March 24, 2016).
Start of Phase 3 VGX-3100 trial could be near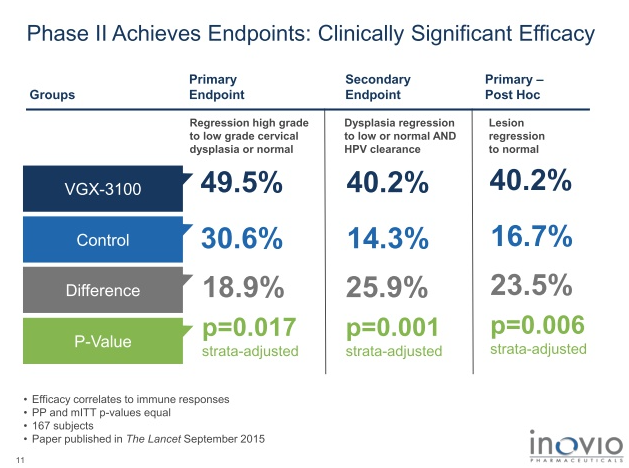 A pivotal Phase III study of VGX-3100 for cervical dysplasia was planned for initiation in Q4 2016 by Inovio. But the FDA has placed the trial on hold, with a complete response letter, apparently related to the electroporation delivery device, not to the data from prior trials. Inovio believes it has fully complied with the FDA request. If the FDA releases its hold, the trial could start in Q2.
Lack of patience is not a good quality for Inovio investors. Even if the Phase 3 trial starts before the end of June, a commercial approval from the FDA is at least a couple of years away. The Phase 2 data was impressive: a vaccine that can cause certain pre-cancers (cervical dysplasia) to spontaneously regress and even disappear.
Which is why Inovio announced a collaboration and license agreement providing ApolloBio Corporation with the exclusive right to develop and commercialize VGX-3100 within Greater China. Inovio will receive a $3 million signing fee and a $12 million milestone upon lifting of the VGX-3100 phase 3 pre-initiation clinical hold by the FDA. ApolloBio will also invest in Inovio common stock subsequent to the lifting of the clinical hold. The aggregate investment, expected to be completed in the first half of 2017, will not exceed $35 million and may be a lower amount such that ApolloBio will not be the largest shareholder in Inovio. If commercialized, the vaccine would also generate double-digit royalties in China.
To top off the VGX-3100 story, a Phase 2 trial for vulvar neoplasia began recently.
MedImmune's VGX-3112
VGX-3112 ( which is essentially VGX-3100 plus a DNA-based immune activator encoded for IL-12) is licensed to MedImmune, a division of AstraZeneca (NYSE:AZN), for treating head and neck cancers. It reported very encouraging interim results from a Phase 1 trial. MedImmune plans to start another trial of VGX-3112 in combination with a PD-1 checkpoint inhibitor before the end of Q2.
Ebola and Zika
On May 12 the WHO (World Health Organization) declared the existence of an Ebola outbreak in the Democratic Republic of the Congo. This may or may not turn into another crisis like we saw in West Africa in 2014. Nevertheless, Inovio's INO-4212 vaccine has generated strong immune responses in 75 healthy volunteers. More data could be available later in 2017. There are competitors, and the data so far would normally be considered too preliminary for deployment in the field. But it is clear Ebola is not going away, and in an emergency the normal protocols might be sped up.
And Zika season is upon us, including in the U.S. Again, there is competition, but Inovio has the leading vaccine candidate, GLS-5799, in partnership with GeneOne Life Science. Interim Phase 1 immune response and safety data showed high levels of antibody in all subjects.
Geneos Therapeutics
It is a bit of a mystery so far, but Inovio announced the creation of a subsidiary, Geneos Therapeutics, to develop cancer therapies based on personalized neo-antigens. Operating capital will be independently secured by Geneos. We don't know who will provide the capital, but most likely it will be one or more larger pharmaceutical companies. This is another indication that people with experience in the field believe Inovio's therapies have significant potential medical and commercial value.
Cash runway
At the end of Q1 Inovio had a cash balance of $89.7 million. Cash burn in Q1 was $15.1 million. Given the amount of time it may take to generate commercial revenue, more cash is likely to be needed.
Inovio has done remarkable job over the years getting federal agencies and pharmaceutical partners to support its research. Still, investors worry about dilution, and Inovio has issued new stock from time to time to fund its operations.
If Inovio does receive $50 million from ApolloBio, that would greatly lessen concerns that dilution might be needed in the near future.
Conclusion
Inovio's market capitalization is currently $539 million. That is very reasonable considering the breadth of the pipeline. Nothing, however, guarantees that any particular vaccine in the pipeline will ever generate significant revenue. First, clinical results must be generated that will guarantee an FDA (and European) approval for commercialization. The main risk, at present, would be a failure to get FDA permission to start the VGX-3100 trial. That seems unlikely, since the delay was caused by questions about the delivery device, not the vaccine itself. Statistically, if the trial is conducted, it is likely to be successful, extrapolating from Phase 2 results.
In March 2014 Inovio's stock price reached $15.56, 115% higher than the recent close. Partly that reflected a more buoyant biotechnology sector pricing environment. Mostly the decline since then has resulted from investors being impatient with the long timelines required to bring new vaccines to market. VGX-3100 positive results were revealed in September 2015, yet the Phase 3 study has not yet started.
I can take the long view. I initially invested in Inovio in May 2012 at $1.84 per share. I have seen a number of remarkable medical results since then. There are certainly risks for investors, but it is clear DNA vaccines work, and in some cases for diseases where traditional vaccines have long failed. In 2012 I thought there would be a commercial product by now. So I don't want to guess at a timeline. Inovio will doubtless give us one once the VGX-3100 trial has its enrollment well underway.
Disclosure: I am/we are long INO.
I wrote this article myself, and it expresses my own opinions. I am not receiving compensation for it (other than from Seeking Alpha). I have no business relationship with any company whose stock is mentioned in this article.