Warren Buffett showed great confidence with his big purchase of Heinz (NASDAQ:KHC) a few years ago. While the recent mergers have made the stock's balance sheet appear very strong, I argue that the earnings picture combined with favorable accounting have weakened the actual investment thesis.
The Kraft Heinz Company is a typical Buffett-type stock. The company thrives on their strong brand names, which give that wide competitive moat that Buffett loves to refer to. Having just been renamed in 2015 after previously being called H.J. Heinz Holding, the stock has done really well in such a short time. The stock is up 23.56% since the rename and boasts a few other strong financial metrics.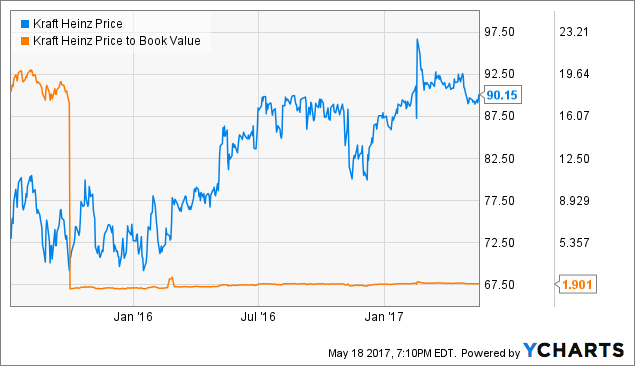 KHC data by YCharts
You can see the sudden drop in P/B in 2015. This signals a sharp rise in shareholder's equity, most likely coming from an increase in assets rather than decrease in debt when you consider the merger between Kraft and Heinz. Looking at the old 2014 H.J. Heinz annual report, the company was once called H.J. Heinz Company and was acquired by parent company H.J. Heinz Holding Corporation in 2013. Needless to say, the financial statements are a mess and balance sheet figures have been revised with each merger. So, the FY 2013 balance sheet had Heinz at $12.9 billion in total assets. Post merger (which they refer to on the 10-k as "successor" ending December 2013) the total assets were increased to $38.9 billion. I bring this point up because it explains the P/B jump in the above chart. In the March 2016 10-k report of the now currently KHC, the balance sheet showed December 2014's total assets as $36.5 billion and January 2016's total assets as all the way up to $122.9 billion. It's that jump from the 2014 year of financial results and the 2015 year that accounts for the P/B drop from over 16 to below 2.
Now, in the first merger assets and shareholder's equity jump, the combination of the total property plant and equipment assets with current assets grew in total less than $1 billion. The rest of the asset growth came from increases in Goodwill and Trademarks, which are intangible assets and not something that can be physically liquidated. The P/B doesn't differentiate from tangible and intangible net assets, so the improvement we see can be deceptive to the unsuspecting investor. At the same time, the new 2013 successor company took on substantial long term debt, so the increase of over $25 billion of intangible assets led to a little over $13 billion increase in shareholder's equity. The recent 2015 merger looked very similar. Goodwill and intangible assets grew by about $23 billion and $48 billion respectively, while the shareholder's equity grew by about $50 billion. Without a doubt, I'm not saying that these mergers created no value unlocking for shareholders. The tough part about analyzing strong brands with little capital requirements is that there is no concrete number that can accurately display their true value.
From the 10-k:
Goodwill and Intangible Assets:

"..Estimating the fair value of individual reporting units and indefinite-lived intangible assets requires us to make assumptions and estimates regarding our future plans, as well as industry and economic conditions. These assumptions and estimates include projected revenues and income growth rates, terminal growth rates, competitive and consumer trends, market-based discount rates, and other market factors. If current expectations of future growth rates are not met or market factors outside of our control, such as discount rates, change significantly, then one or more reporting units or intangible assets might become impaired in the future. Additionally, as goodwill and intangible assets associated with recently acquired businesses are recorded on the balance sheet at their estimated acquisition date fair values, those amounts are more susceptible to an impairment risk if business operating results or macroeconomic conditions deteriorate."
Much of the goodwill and trademark growth is most likely reasonable and substantiated, but I do believe the favorable current P/B overstates it. Perhaps Buffett thinks otherwise as he is still holding this position. It's possible he could think the stock is overvalued but will continue to ride the gains for the long term. I know I like to buy and hold stocks that way. Regardless, the price to tangible assets is around 6.8 while net tangible assets are a negative number. These important data points aren't readily shown on most stock screeners yet should be considered for investors looking to buy KHC here. Watch especially for profitability problems, which can be exacerbated in situations like this.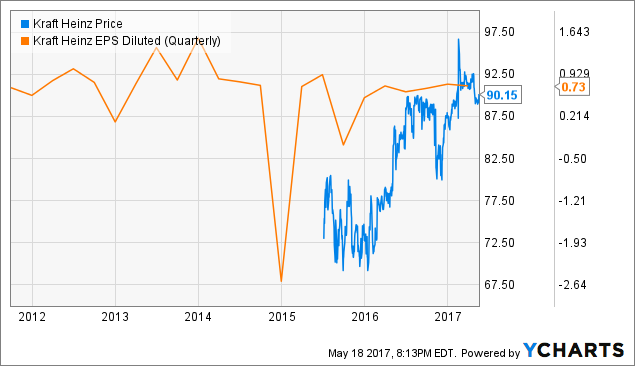 KHC data by YCharts
All things considered, the EPS growth has been stagnant for some time. I added a net income line on my own chart to make sure this wasn't because of share dilution, which can happen during a merger- not to mention two. The EPS chart seems to properly indicate the profitability and recent growth abilities of the company.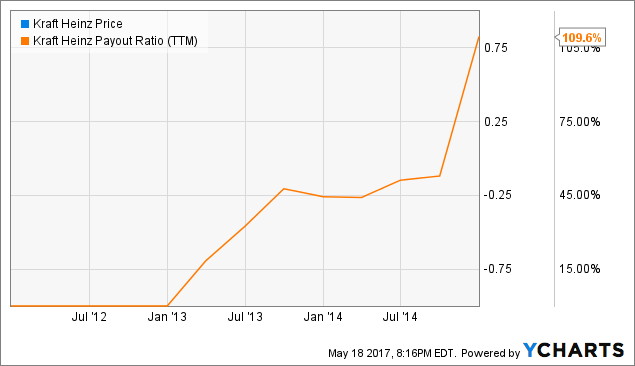 KHC data by YCharts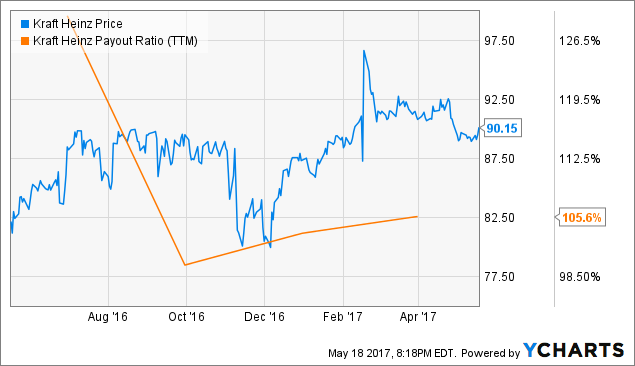 KHC data by YCharts
As for the dividends, I left out the 2015 year because it skewed the chart so badly it made it unreadable. The payout ratio is at an unsustainable 105%, after coming off an even higher 2015 number. The trend before 2015 showed that this started to become a mounting issue and has not changed as the net earnings picture hasn't changed. Shareholders hope to see a catalyst to kick start growth, as Heinz and Kraft are well known, established household brands. But until one appears, this looks like a stock to tread carefully with.