Chesapeake Energy (CHK) management made a presentation to the investment community focusing on the latest field results.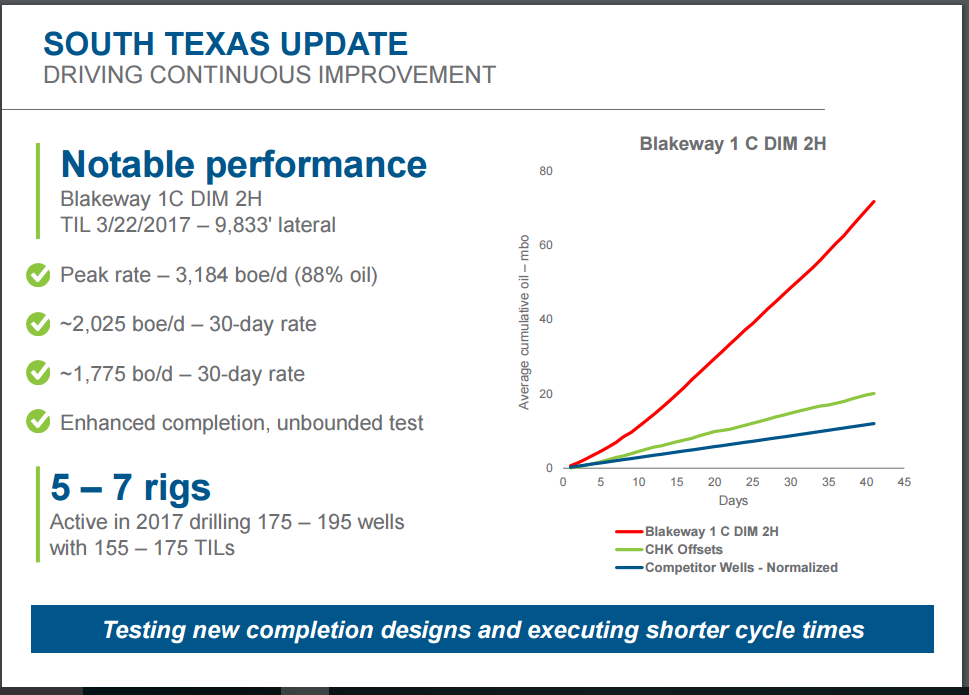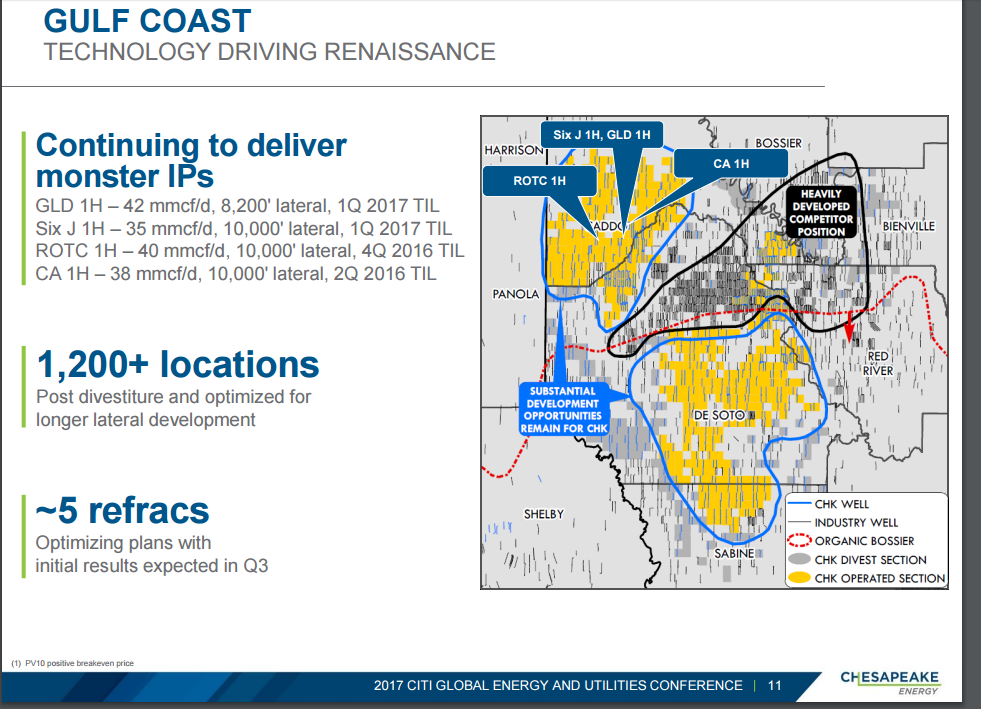 Source: Chesapeake Energy 2017 Citi Global Energy and Utilities Conference in May, 2017
Chesapeake is a big company, so some giant results are needed to change the profitability picture materially. The two locations shown above have nine rigs running between them. That is about half of all the company rigs running. These are the kind of results that give the market hope that Chesapeake Energy can pull out of its debt spiral. Good results will not save the company. This management needs unforeseen fantastic results. Then it needs enough suitable locations to drill enough wells to change the corporate profitability.
Management has not yet discussed cash flow as a result of these finds or the effect on future cash flows. In fact only one property, the Marcellus leases were shown with any free cash flow. But more relevant numbers will have to come out in the future for this story to gain traction.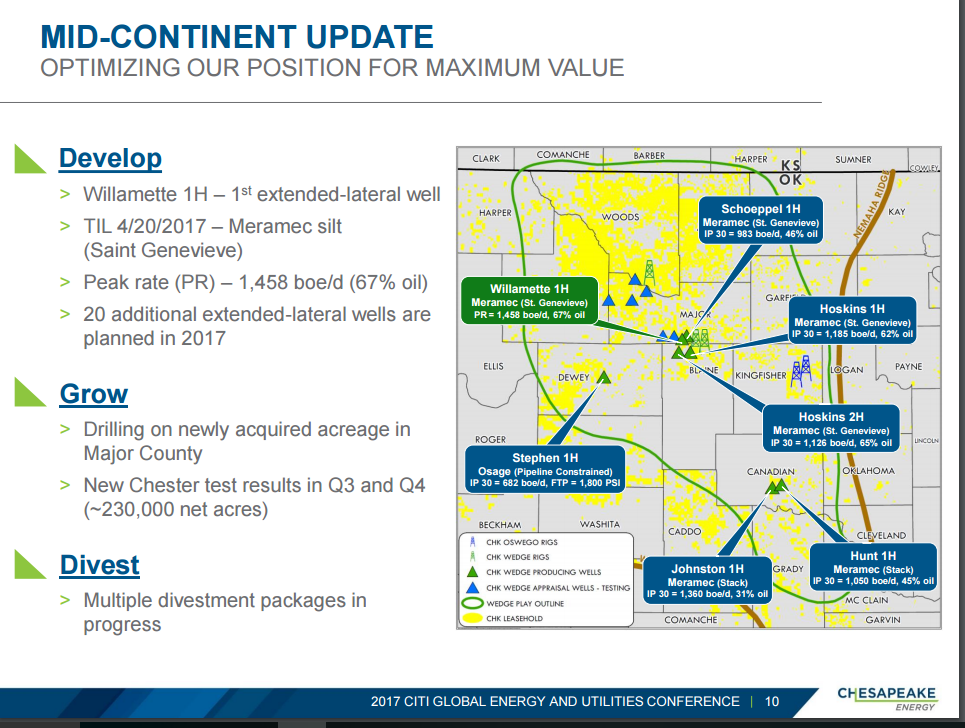 Source: Chesapeake Energy 2017 Citi Global Energy and Utilities Conference in May, 2017
The other area with 4 rigs running is shown above. The results appear good, but not really outstanding. Management is telling that much by stating that divestment packages are being pursued. These results could advertise for an excellent sales price. Then management can reinvest in remaining areas with better results. The results shown above are good. But they are definitely not the outstanding results that the company needs to service its debt. So selling the properties to fund the capital budget and pay debt may be a far better choice.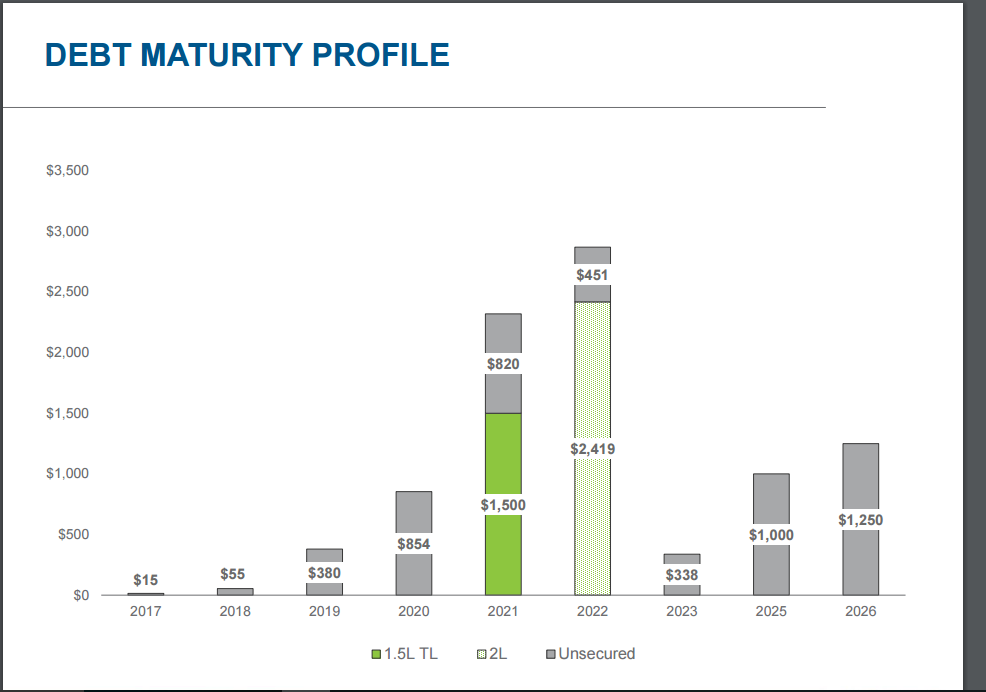 Source: Chesapeake Energy 2017 Citi Global Energy and Utilities Conference in May, 2017
The challenge remains to pursue the capital budget to acquire enough cash flow to pay off the debt shown above. However, favorable the profile looks, there is still a lot of debt shown above. The first quarter press release showed a balance of about $9.1 billion in debt. Plus the company paid a judgment of $441 million in the second quarter. Net cash provided by operating activities was $99 million. The judgment payment ensures that the second quarter cash flow from operations will not improve materially upon the first quarter cash flow from operations. So there is essentially no material cash flow from operations in the first half of the fiscal year. Therefore, the capital budget is being funded from the credit line and any remaining cash until there are some property sales. Management may direct Mr. Market's vision to the first quarter debt payoff. But wise investors need to watch the continuing expenditures in excess of incoming cash and the working capital deficit for a total progress report.
"I commented in my prepared notes this morning that we have diverted some funds to reducing some burdensome contracts. Those were done at favorable economics.""
Management has not yet put definite numbers to this. But so far the amount paid to settle some of these contracts has been huge. The fact that management is not quantifying the situation should serve as a warning that potentially large payments remain. There are probably more quarters on the way with no significant cash flow from operations due to these payments. One of these payments reduced the first quarter cash flow significantly.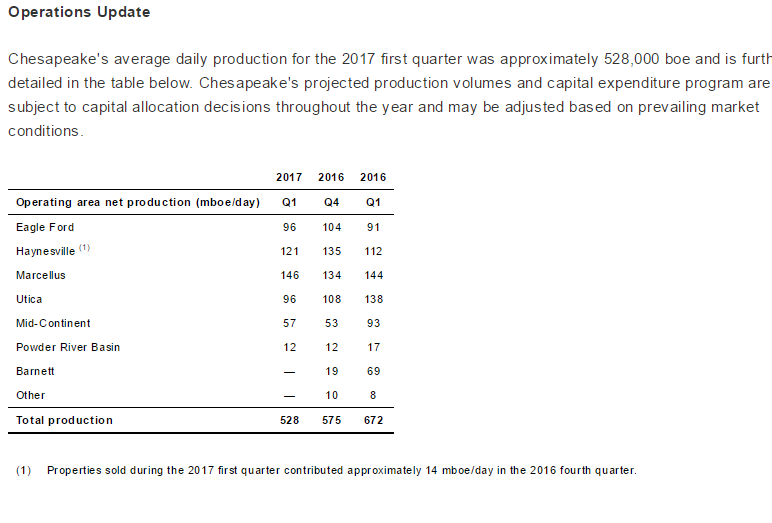 Source: Chesapeake Energy First Quarter, 2017, Financial and Operational Update Released May 4, 2017
Production has been declining. Despite any guidance to the contrary, production will most likely continue to decline. The budgeted property sales should ensure a production decline. So the remaining production must overcome the lost production from property sales and increase the cash flow as well. That is going to be one very tall order. That statement demonstrates just how outstanding these new wells have to be. Total capital expenditures are budgeted to be approximately $2.3 billion. So far those expenditures are resulting in additional debt.
Cash flow before all the special payments but from operations is in the $1.6 billion annual range. It needs to get to the $3 billion range for the amount of debt and working capital deficit that the company has. The current 10-Q (click on May 4, 2017 10-Q) shows current assets of $1.4 billion and current liabilities of $2.8 billion. The resulting working capital deficit of $1.4 billion will eventually have to be remedied. Until that deficit disappears, it is additional debt as far as common shareholders are concerned. Total long term debt could be approaching $11 billion at this point when the latest payments and working capital deficit are included.
So about $2 billion in property sales are needed just to get the long term debt balance back to that January balance after the company announced the debt payments. Additional sales will depend upon more payments to cancel some contracts and the results of the capital budget. For cash flow to expand to the necessary $3 billion annual rate, the company needs paybacks under one year. That implies a rate of return of more than 100%. While some operators are reporting those kinds of wells, it may not be the kind of results that investors want to depend upon. Chesapeake is going to need to drill a lot of significant wells with a fantastic rate of return to change the long term company outlook.
The story-line in the production area paints a wonderful picture for the future. But investors need to realize there may be some other things complicating that picture. Unexpected good results will definitely help, but any setback could be fatal. In the meantime, it is a race against time as the company appears to have entered a debt spiral. Those kinds of spirals are very difficult to end (especially for large companies). So this stock will continue to be a very volatile trading vehicle. Cooperation from commodity prices is definitely needed. The future continues to brighten, but it needs to brighten a whole lot more before this stock is a proper investment.
Disclaimer: I am not an investment advisor, and this article is not meant to be a recommendation of the purchase or sale of stock. Investors are advised to review all company documents and press releases to see if the company fits their own investment qualifications.
Disclosure: I/we have no positions in any stocks mentioned, and no plans to initiate any positions within the next 72 hours.
I wrote this article myself, and it expresses my own opinions. I am not receiving compensation for it (other than from Seeking Alpha). I have no business relationship with any company whose stock is mentioned in this article.