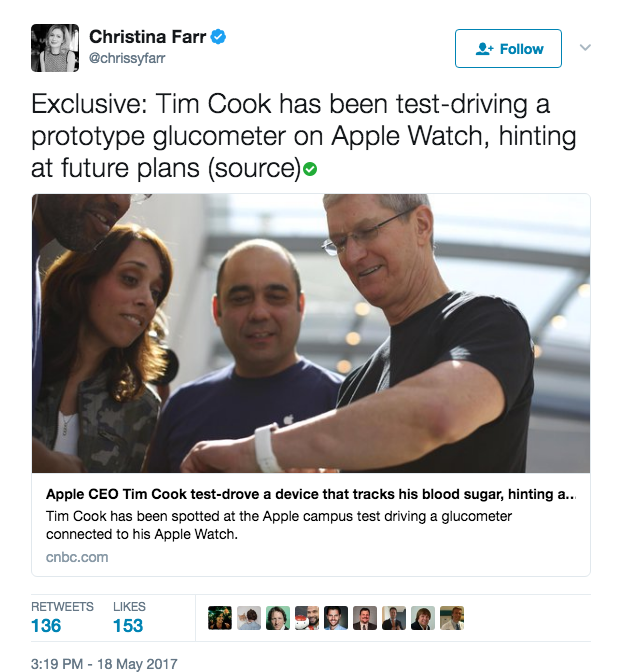 Apple: Not Out Of Ideas
In our previous article on Apple (NASDAQ:AAPL) we included the tweet below, in which the Washington Examiner's Byron York, commenting on a Wall Street Journal article on Apple's lavish new headquarters, lamented that the company was out of ideas.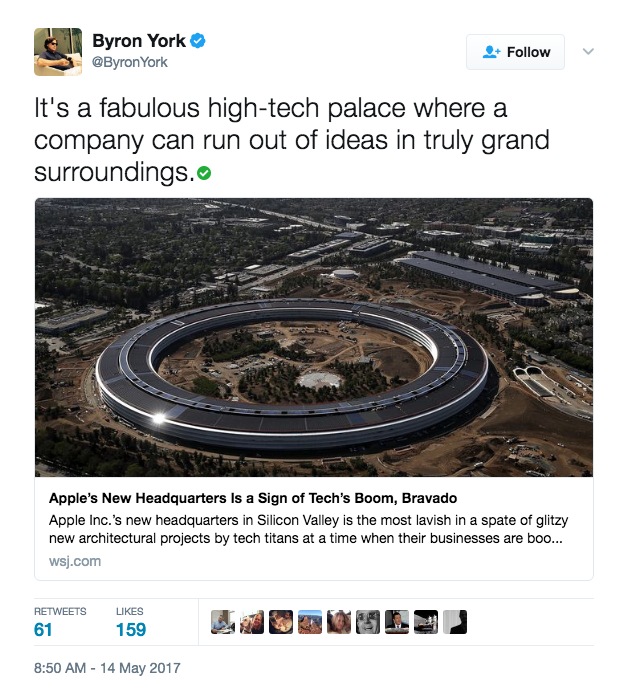 Steve Sailer, the influential journalist and blogger, touched on the theme in a post on Thursday ("What has Apple been up to since Steve Jobs died"):
Apple hasn't had too many knockout new products this decade, but, then, they've been bus, building a $5 billion headquarters for themselves in Cupertino, CA in fulfillment of Jobs' last vision. Steven Levey takes the tour of the nearly completed circular main building in Wired.
After commenting on the building, Sailer concluded:
One of Parkinson's Laws is that:

During a period of exciting discovery or progress there is no time to plan the perfect headquarters. The time for that comes later, when all the important work has been done. Perfection, we know, is finality; and finality is death.

But Apple has surprised me before, so...
CNBC hinted at one possible surprise from Apple on Thursday, as Apple CEO Tim Cook was spotted wearing a glucose monitor prototype attached to his Apple watch. CNBC wasn't sure whether the glucose monitor was built by Apple or another company, but it did note Cook's previous statements about wanting to get Apple into the health space and in non-invasive blood glucose testing specifically.
This would be good news for diabetics: In addition to the pain of piercing their skin to use chemical test strips, there's the expense: Test strips cost so much (about $2,000 per year, absent insurance, per patient) that there's a grey market in them.
Enough To Move The Needle?
A few years back, Seeking Alpha contributor Jordan Lund cited research estimating the total blood glucose testing market in 2017 to be about $12 billion annually. That would be a huge market opportunity for most companies, but most companies don't have $220 billion in trailing twelve months' revenue. $12 billion represents about 5.5% of Apple's current annual revenue. But, presumably, diabetics would need to buy Apple watches to use an Apple monitor, so that could goose Apple's watch sales. And $500 for an Apple watch wouldn't be unreasonable to avoid an annual cost of $2,000.
Downside Protection For Apple
A few commenters on our previous article were resistant to the idea of hedging Apple. The Portfolio Armor website is still bullish on Apple, estimating a potential return of 26% for it over the next six months, but, as Horace Dediu points out here, Apple shares have suffered 40% declines eight times over the last few decades.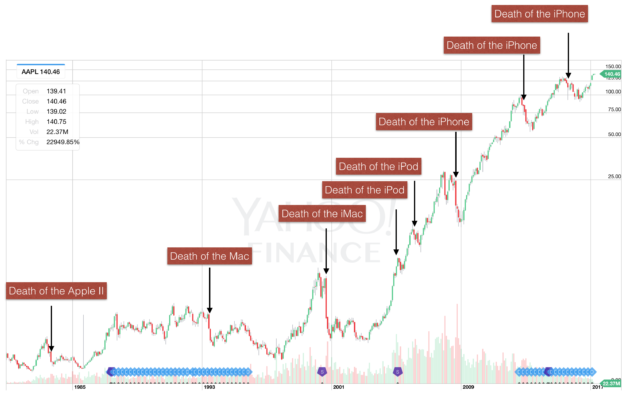 Even if you're confident that your shares will come back, as they have before, it might make sense to hedge: In the event of a steep drop, you can use your appreciated puts to buy more shares. That's a tack David Cohen, who runs a family office for a billionaire, took successfully in 2008-2009.
With that in mind, let's look at other ways of hedging in Apple. In our previous article, we used the hedged portfolio method to construct a hedged portfolio around Apple, which included an optimal put hedge on Apple itself, against any drawdown greater than 8%. Here we'll show an optimal put hedge and an optimal collar hedge for investors with a greater risk tolerance, ones willing to risk a drawdown of up to 20%.
We found these hedges using the Portfolio Armor iOS app, but you can find them manually too, using the method laid out here. For a refresher on hedging terms, see the section titled "Refresher on Hedging Terms" here.
Uncapped Upside, Positive Cost
These were the optimal puts, as of Thursday's close, to hedge 1,000 shares of Apple against a greater-than-20% decline between now and mid-November.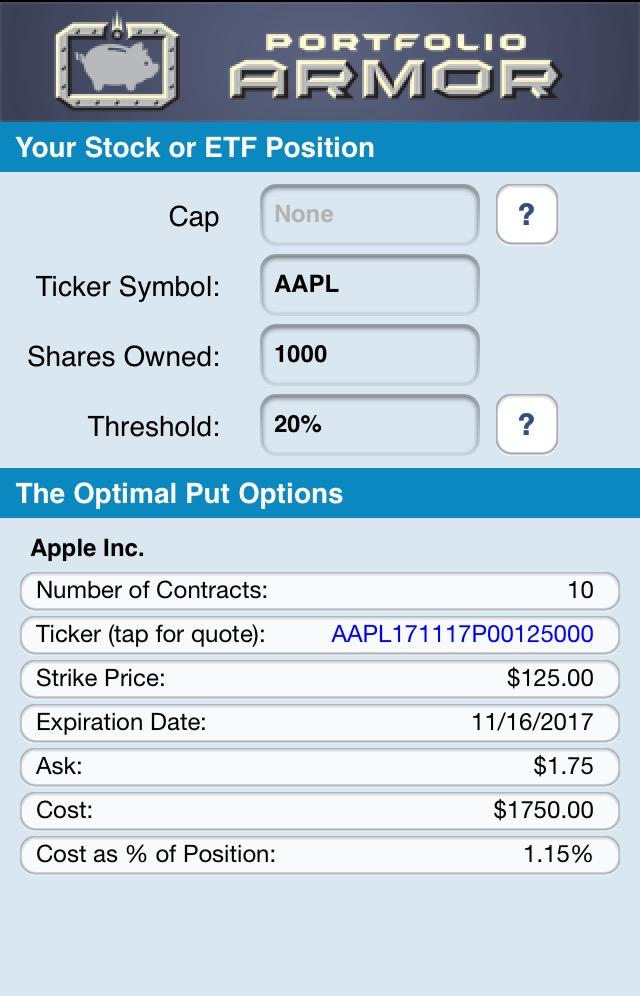 As you can see above, the cost here was $1,750, or 1.15% of position value. That cost was calculated conservatively though, using the ask price of the puts. You can often buy them for some price between the bid and ask, so you likely would have spent a little less than this on Thursday. Also, note that 20% threshold there includes the hedging cost: In the worst-case scenario, you'd be down 18.85%, not including the hedging cost.
Would you rather put your $1,750 toward a new MacBook? Read on for a hedge that pays you instead.
Capped Upside, Negative Cost
As of Thursday's close, this was the optimal collar to hedge 1,000 shares of Apple against a greater-than-20% drop by mid-November while not capping your upside potential at less than 18% by then. 18% was the highest cap where we could wipe out the positive hedging cost.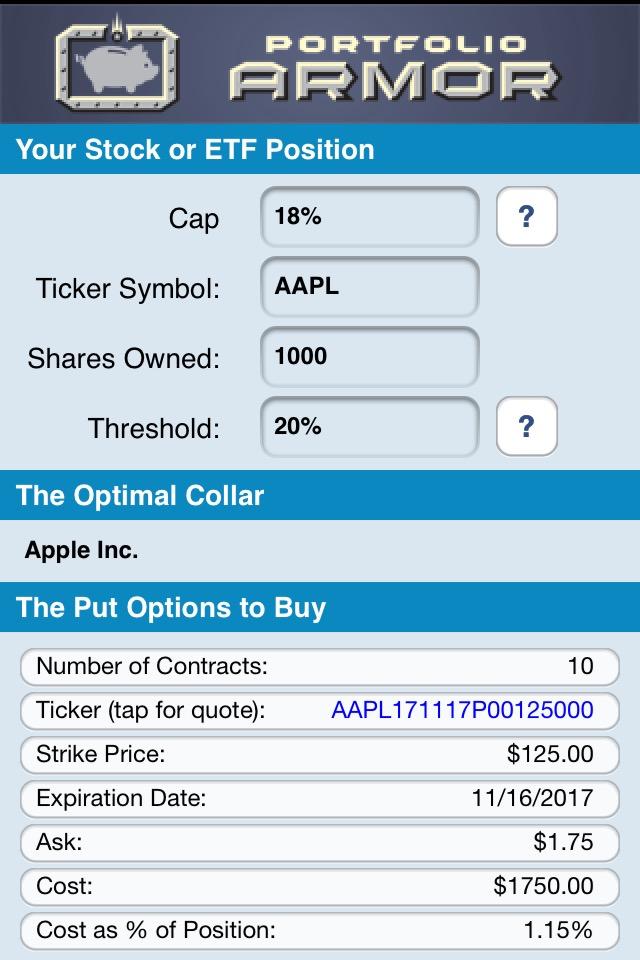 As you can see above, the put leg of this collar was the same strike as the optimal put hedge above (that's not always the case), so the cost was the same: $1,750, or 1.15% of position value, calculated conservatively, using the ask price of the puts. As you can see below, though, the income generated from selling the call leg was higher: $1,900, or 1.25% of position value (also calculated conservatively, using the bid price of the calls).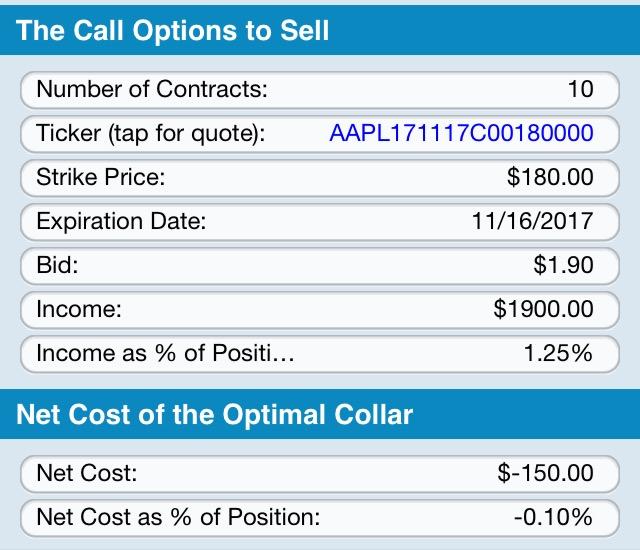 So the net cost here was negative, meaning you would have collected $150, 0.19% of position value when opening this hedge, assuming you bought the puts and sold the calls at the worst ends of their spreads.
Disclosure: I/we have no positions in any stocks mentioned, and no plans to initiate any positions within the next 72 hours.
I wrote this article myself, and it expresses my own opinions. I am not receiving compensation for it (other than from Seeking Alpha). I have no business relationship with any company whose stock is mentioned in this article.