52-Week High: $43
52-Week Low: $23
Net Debt (in millions): $2610
Last 12 months EPS: $2.61
Last 12 months revenue (in millions): $10,824
Target Price: $75
Relevant Comps: Stock trades at 0.63x of Book Value ex-AOCI. Peer Median trades at 1.47x Book Value ex AOCI.
Fair value for the company is at least 1.2x YE 2017 estimated book based on:
Restructuring program driving improved operating earnings, margins and ROE
Aggressive share repurchase program retiring ~10% of the stock per year at an avg. 67% of book
As interest rates rise, which appears increasingly likely over the next 12 months, Voya (NYSE:VOYA) should be a strong beneficiary
Catalysts:
Rise in interests rates, particularly if the 10-yr US Treasury lifts above 3%, highly bullish for Voya
Likely to buy back ~8-10% of their stock this year
Restructuring program likely to lead to 13% improvement in run-rate operating profits within 12 months
Real potential for a takeout given dramatic valuation disconnect with peers
Potential sale (or increased ability to attractively deal with) of their Closed Block Variability Annuity business in a higher interest rate environment (or even just anticipation of a higher interest rate environment)
Orange Hare on a Coiled Spring: Voya (VOY) Financial

Investment Thesis
At 63% of book value, stock trades at 43% of the median peer's price-to-book
Company amidst multi-year turnaround effort that's leading to much improved ROE (10.3% in 2013 (year of IPO) to 12.3% in 2016 with company guide for 14% by 2018)
Senior management composed of a number of ex-AIG alumni (CEO, COO & EVP Ops) - believe they are restructuring the business and intend to ultimately sell
Company actively shrinking (and looking to potentially dispose of) its Closed Block Variable Annuity ("CBVA") business - arguably the biggest overhang on the stock.
Voya shares
Company taking advantage of cheap valuation by aggressively buying back stock
Book value per share ex-AOCI has grown at a 11% CAGR since IPO and should continue to grow at a 11% CAGR over the next couple years - well in excess of peers
Voya "Orange Money" campaign is effectively repositioning and establishing the Voya brand in the marketplace - should improve recognition/perception with independent advisors & consumers
Compelling takeout candidate at even 50+% premium for Principal Financial, Athene, Prudential or Lincoln Financial
Ultimately, while fundamentals are strong and improving, Voya's stock may very well turn out to be a leveraged play on rising interest rates
Background
Voya Financial (formerly ING US) is a retirement, investment and insurance company that serves approximately 13mm individual and institutional clients. The company was built over their first 33 years through acquisition starting with Wisconsin National Life in 1975 followed by Midwestern United Life (1976), Securit Life of Denver (1977), Equitable Life of Iowa (1997), Furman Selz (1997), Reliastar Life (2000), Aetna life and Annuity (2000) and CitiStreet (2008).
The divestiture of Voya by ING was not an opportunistic exercise. ING was compelled to sell off Voya as a condition of their receipt of a bailout from the Dutch government in the wake of the 2008/2009 financial crisis. ING sold Voya over a series of six offerings between May of 2013 and March of 2015 with every offering of the stock at a reasonable discount to book value per share. Of note, all offerings since the IPO were done at a higher price as a percentage of book value (81% average) than where Voya (63%) currently trades.
Key Drivers of Future Outperformance
Rising rates
o Provides higher investment income
o Allows Voya to provide more compelling investment/insurance products
o De-risks CBVA and makes CBVA more saleable (3% on 10-yr UST - a key threshold according to management)
o Likely to lead to a re-rating of the sector (broad unease in the investment community about how life insurers can meet obligations when 10-yr UST is near/below 2%)
o Restructuring driving $100mm per year (~13% of 2016 operating income) of cost savings by 2018 expanding operating earnings/margins & ROE
o Stock repurchase program retiring 10% of shares outstanding per year and contributing to 11% per share book equity growth CAGR
o "Orange Money" branding campaign helping Voya gain mindshare amongst independent financial advisors & customers
o Lessening regulatory burdens - current administration highly focused on lessening regulation in financial services industry
o Potential takeout - an acquisition of Voya by any number of their competitors would be highly accretive on a price-to- book basis
While energy prices have recovered from their early 2016 lows and Voya has reduced their exposure to the energy sector by 18% since September of 2015, Voya (along with MetLife (MET)) has not participated to the same degree as peers in the recent surge in the Life Insurance sector.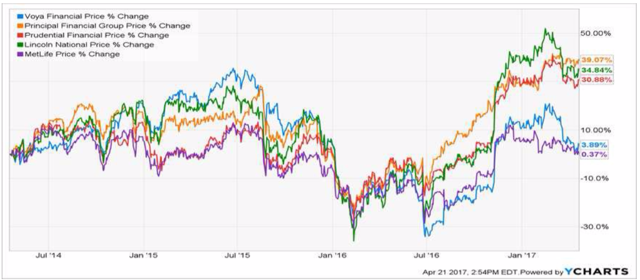 Ultimately, Voya appears to be suffering from a) being a value/restructuring play in a market favoring growth and/or pristine stories - regardless of material valuation disconnects - and b) having their sizable CBVA book. (MetLife is also a restructuring story).
Voya has been taking advantage of the market's disinterest by hoovering in shares.
Since YE 2013, Voya has repurchased ~$3bn of stock at an average price-to-book of 0.67x. This aggressive repurchase activity has generated $8 per share of incremental book value for existing shareholders. As of YE 2016, Voya had $941mm of excess liquidity with a strong continued bias to repurchase shares at the company's significantly discounted valuation. If all of that $941 were used for share repurchase at current prices, Voya could retire an additional 13% of the stock (and generate another ~$3 per share of book value).
Rising Rates Likely to be Strong Catalyst for Life Insurers - Voya in Particular
While it is likely that Voya's continued strong execution, restructuring and aggressive buyback program will put Voya's stock on track eventually, the increasingly high likelihood of higher interest rates in 2017 should untether the stock this year. Between Fed guidance on multiple Fed Funds rate increases over the next few years and increasing discussion of the Fed shedding bonds in its portfolio, the prospects for higher rates have not been this strong in over a decade. Looking back to how the banks performed vs. the life insurers during the last period (April 2004-August 2006) where the Fed did multiple rate hikes over multiple years is instructive. From April 2004 to August 2006, the Fed raised the Fed Funds rate from 1% to 5.25%. The table below highlights the performance of the money center banks vs. the life insurers over this period.

The median life insurer outperformed the median money center bank by over 5x during the 2004-2006 rate increase cycle. Not only should the life insurers broadly have the wind at their backs in this next cycle (higher rates provide the ability to offer more compelling products/policies and de-risks ability to meet already established commitments), it is likely that Voya will inordinately benefit a) with further attention from the investment community to its stark undervaluation b) with 10-year Treasury rates above 3%.
Above 3%, Voya's options with the CBVA become much more attractive between Voya's ability to obtain better value in a potential sale or be able to provide better offers to policyholders to accelerate the wind-down of that business. The variable annuities in Voya's CBVA business have what are called "guaranteed minimum investment benefits" (GMIB) that are rich in the current interest rate environment. But as rates move meaningfully higher, these GMIBs will be less compelling and therefore less onerous (and more easy to address) for Voya.
Risks & Considerations
CBVA - About 17% of Voya's assets ($37 billion) are in their CBVA which is being run off. The company stopped sales of these products in 2010 as they came to the realization that the minimum benefits they had been guaranteeing were significantly off-market in an ultra-low interest rate environment. They effectively ring-fenced the business, put a significant amount of capital against it and bought re-insurance on it. Voya has been actively working the CBVA down (~15% since 2012) through buyout offers made to policy holders. The concern in the investment community is whether Voya has sufficiently reserved and insured against the liabilities in this portfolio. When rates are rising and approaching the GMIB levels, the market seems less anxious about CBVA risks. During periods of market stress and diving rates, the market seems acutely disinterested in being exposed to the potential CBVA risks.
Return to Rock Bottom Interest Rates - In such a scenario Voya suffers from the CBVA issue discussed above and the broader life insurance sector concern over whether they can generate enough returns to meet their obligations. In the Summer of 2016 when the 10-year Treasury hit all-time low yields, the whole life insurance sector traded at a material discount to book.
Global/regional or specific industry recession(s) could impact credit quality in Voya's investment portfolio. As indicated previously, the market became concerned about Voya's exposure to the energy sector in late 2015/early 2016. If we go into a global/regional or industry specific recession (one that Voya has material exposure to), it may generate anxiety about Voya's investment portfolio.
Faulty Actuarial or Investment Assumptions - Why did AIG require a bailout? Principally for investing heavily in subprime mortgages (and derivatives) that ended up being worth a fraction of what AIG paid for them. It was recently disclosed that Penn Treaty American may end up being the 2nd largest life/health insurance liquidation in US history due to faulty actuarial assumptions on long-term care policies. Voya's CBVA business would not be in run-off mode if ING had not made poor actuarial assumptions. This is a risk that one takes when investing in insurance companies.
Lack of a Meaningful Dividend - All the most established life insurers pay a meaningful dividend. Voya does not by design. Why pay a meaningful dividend when the company can buy back stock at 70% of book? While Voya's share repurchase should create more value over the long term for shareholders, a healthy dividend is likely to attract more buyers and may provide more stability in challenging markets.
Conclusion
Based on strong execution, successful restructuring and aggressive share repurchase at a significant discount to book, Voya should ultimately close the valuation gap with peers.
But what is most likely to catalyze that valuation re-rating in the near term is the grinding higher of interest rates - the prospect for which haven't, arguably, looked better in over a decade. At 1.2x YE 2017 estimated book ex-AOCI, Voya would trade at $75 per share (100% above current). With the median peer trading at ~1.5x and all that Voya has going for it, 1.2x is a fair value multiple for the company. And as some of Voya's peers are trading at such healthy premiums to book, a takeout of Voya at 1-1.2x book would not come as a surprise.
(Editors' Note: This is a republication of an entry in the Sohn Investment Idea Contest. All figures are current as of the entry's submission - the contest deadline was April 26, 2017).
Disclosure: I am/we are long VOYA.
I wrote this article myself, and it expresses my own opinions. I am not receiving compensation for it. I have no business relationship with any company whose stock is mentioned in this article.