Comparing the Dow Jones 30 stocks' outlooks
Figure 1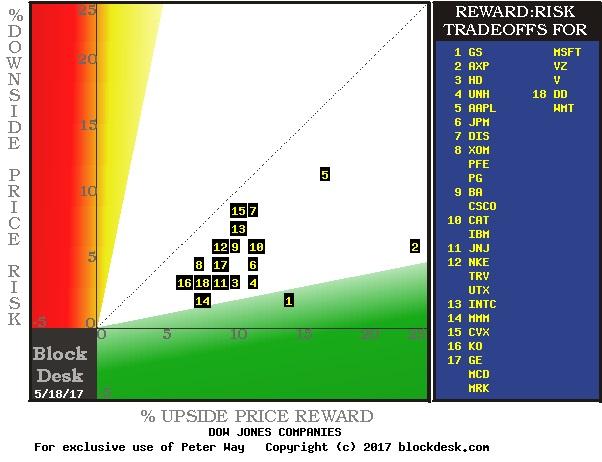 (used with permission)
The upside price changes foreseen in Market Maker current hedging actions (green horizontal scale) intersecting with actual experience price drawdowns (red vertical scale) following prior forecasts like today's make Goldman Sachs (NYSE:GS) a standout buy candidate at location [1]. It has a reward advantage over similar risk exposure MMM at [14] and a significant risk avoidance benefit over AAPL's slight return advantage at [5].
Additional detail about GS implied price change forecasts is provided in Figure 2.
Figure 2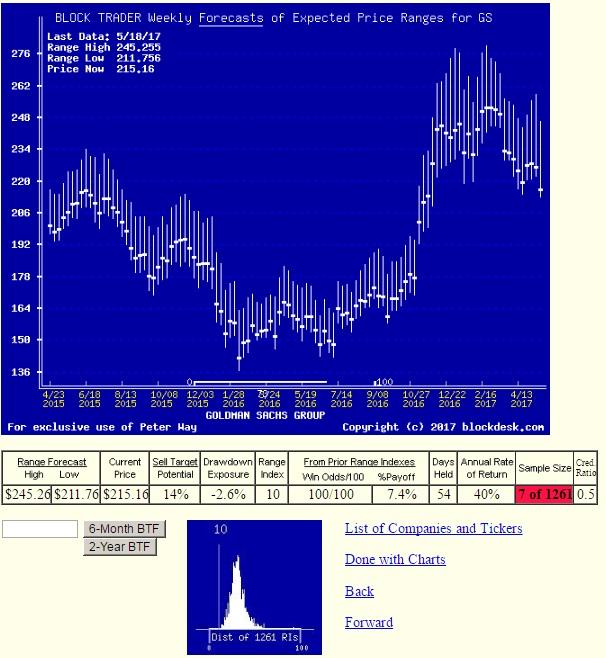 (used with permission)
This IS NOT a typical "stock chart" looking back at past prices. Instead, the vertical lines of this picture are ranges of prices yet to come. Ones held to be possible/probable in the next 3-6 months. The heavy dot in each price range is the closing market price of the stock on the date the forecast was made. This picture contains regular once-a-week forecast instances extracted from the daily forecasts, to allow the portrayal of a two-year history.
The forecasts are derived from the actions of market-making professionals, hedging firm capital that must be put at risk to balance buyers and sellers as they help big-money fund managers adjust holdings in their portfolios by large, negotiated off-exchange "block trades". What is paid for the protection against unwanted price change, and the specifics of the derivative contracts involved, tells just how far the subject stock's price is seen likely to move. The hedging deals are negotiated with other well-informed professionals taking an opposing posture, so both sides of the uncertainty are represented.
Here the current forecast range of $212 to $245 has an upside change prospect of +14% and a downside from $215 of less than 2%. Looking at the picture's furthest-right vertical line makes the opportunity imbalance from the current price dot quite clear.
The measure used to describe that imbalance is the Range Index [RI], and it tells what percentage of the whole forecast range lies below the current price. Here the RI is 10, meaning there is 9 times as much upside price change seen likely as there may be price decline. As market prices and coming price expectations change the RIs are recalculated daily. They provide a way to compare what is being seen and expected today with similar circumstances that occurred in the past.
At the bottom of Figure 2 is a small picture showing how often the RI of GS has appeared in the 1261 market days of the past 5 years. Clearly a RI of 10 is a rare occurrence. In fact there have only been 7 market days where that has happened, little more than once a year.
The row of data between the two pictures of Figure 2 contains the history of those 7 prior forecasts, when our standard portfolio management discipline of TERMD is applied to holdings of the subject following such Range Index forecasts. Because there were only a small number of examples the Sample Size section is flagged in red as an alert.
The limited number of forecasts could raise justifiable concern as to the comfortable acceptance of the current forecast. To deal with that we present what has happened to over 4,000 daily forecasts for coming GS prices, produced by exactly the same process, and managed under the same portfolio discipline. Please see Figure 3.
Figure 3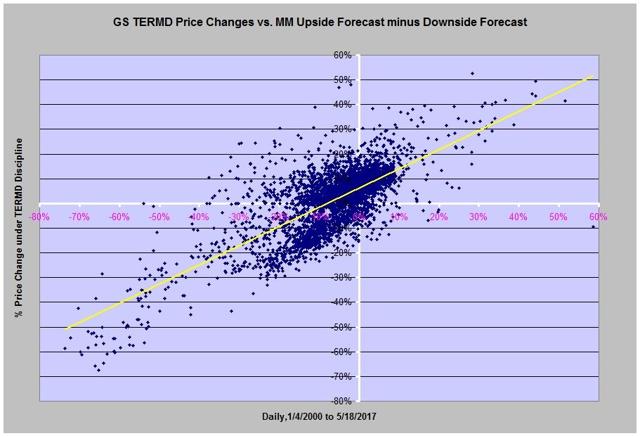 source: blockdesk.com
The current forecast provides a net price change expectation of +13.5%. On the horizontal scale, with its magenta numbers to peek out between the history dots, at the 13% point between 10% and 20% there are very few instances of losing experiences below the horizontal white zero price change line.
The best-fit yellow line is an average of the relationship of all GS forecasts at varied RI levels to subsequent TERMD position outcomes. It suggests that an outcome between +10% and +20% may be reasonable when the net forecast is on the order of +13.5%.
Returning to Figure 2, the average holding period required to reach the top-of-forecast-range price was 54 market days, or about 11 weeks - a couple of weeks short of 3 months. The result of those experiences was only +7.4%, about half of the possible +15% suggested by Figure 3. But it compounds into a CAGR of +40%.
No guarantees, but an outcome of +15% in such a time frame could produce an 80% CAGR.
Conclusion
This appears to be an especially opportune time to invest in shares of Goldman Sachs . As a market-maker itself, the hedging it undertakes, and the competition it meets in its own very serious playground rarely gets as favorable as it appears to be at present. The dynamic nature of equity investing keeps any stock proposition from ever being a "sure thing". Other investments may offer larger payoffs, but this one appears to be both worthwhile and comfortable.
Additional disclosure: Peter Way and generations of the Way Family are long-term providers of perspective information, earlier helping professional investors and now individual investors, discriminate between wealth-building opportunities in individual stocks and ETFs. We do not manage money for others outside of the family but do provide pro bono consulting for a limited number of not-for-profit organizations.
We firmly believe investors need to maintain skin in their game by actively initiating commitment choices of capital and time investments in their personal portfolios. So our information presents for D-I-Y investor guidance what the arguably best-informed professional investors are thinking. Their insights, revealed through their own self-protective hedging actions, tell what they believe is most likely to happen to the prices of specific issues in coming weeks and months. Evidences of how such prior forecasts have worked out are routinely provided. Our website, blockdesk.com has further information.
Disclosure: I/we have no positions in any stocks mentioned, and no plans to initiate any positions within the next 72 hours.
I wrote this article myself, and it expresses my own opinions. I am not receiving compensation for it (other than from Seeking Alpha). I have no business relationship with any company whose stock is mentioned in this article.