Purpose
Yesterday Ross Stores (NASDAQ:ROST) reported solid first-quarter earnings that beat consensus estimates on both top and bottom lines, while providing positive forward Q2 and full-year guidance. The after-hours market reacted positively to the news, sending shares up between 3 and 4%. However, ROST was already trading at a slight premium to fair value estimates. This article will examine whether investors should buy ROST on the positive earnings or wait for a better entry point.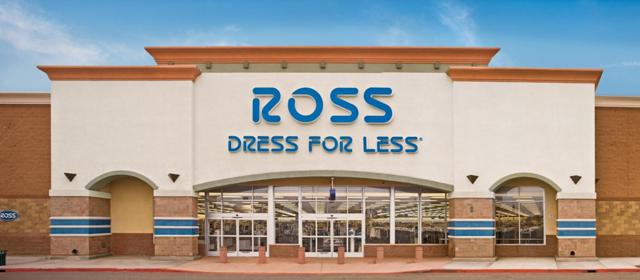 Background
On May 10, I penned a very positive article regarding the ability of discount retailers Ross Stores and TJX Companies (NYSE:TJX) to thrive and continue to profit in a "Death By Amazon" world. I also advised investors to keep an eye on both stocks for buying opportunities due to potential declines in the broad retail sector on possible poor Q1 earnings reports from mass-merchandise retailers, Macy's (NYSE:M), Kohl's (NYSE:KSS), and Nordstrom (NYSE:JWN).
Indeed, since my May 10 article, all five retail stocks declined precipitously after first M, then KSS, JWN, and other mass-merchandisers like JCPenney (NYSE:JCP) each announced either poorer than expected earnings and revenues, or declines in year-over-year comparable store sales. As the chart below illustrates, M and JWN each suffered double-digit percentage losses in their stock price over the period indicated, while ROST, TJX, and KSS each declined between 7% and 8%.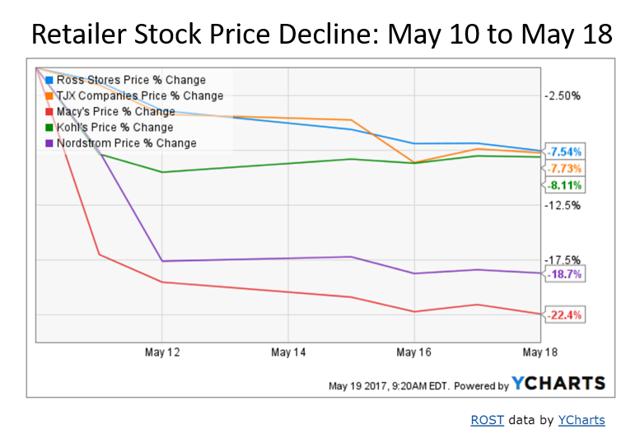 Despite the declines and my bullish stance on both ROST and TJX, I also indicated that each of these outstanding companies was already trading at somewhat of a premium to fair value, and I was hoping for an even larger pull back on the broader retail woes affecting the sector. For TJX, I indicated that my target price range was between $66 and $70, and for ROST between $51 to $54 dollars a share. These targets are 10-15% below Morningstar's fair value estimate and would give investors a much better margin of safety.
One reason for my conservative purchase price for ROST is that the stock is currently trading at a P/E of around 21.2, which is 3.4% above its 5-year average P/E of 20.4 (see chart below). A stock price of $54 would put the P/E at 18.5 based on trailing earnings, and would give investors a comfortable margin of safety over the 5-year average. A price of $60 would put the P/E right around the average.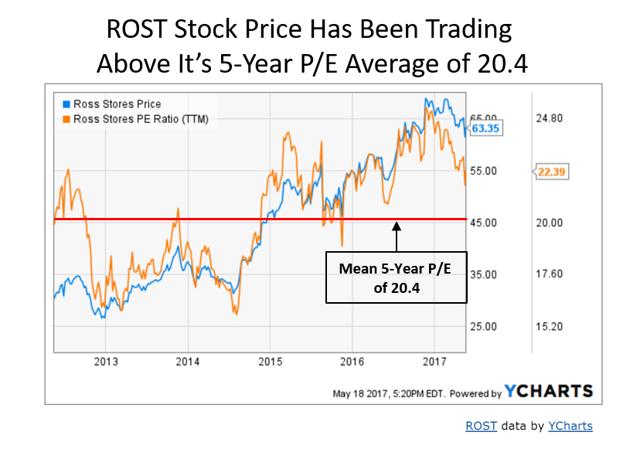 Does Today's Q1 Earnings and Forward Guidance Change Things?
On yesterday's Q1 earnings, ROST beat analysts' consensus estimates on top and bottom lines, with diluted EPS coming in at $.82 versus the prior year's $.76 per share, for a Y/Y increase of 7.9%. Sales for the current year quarter increased 7% to $3.3 billion, with comparable store sales up 3%. In addition, the company provided forward guidance forecasting same store sales to be up 1% to 2% above last year's 4% gain, with earnings per share of $.73 to $.76 (up from $.71 Y/Y), and to be in the range of $3.07 to $3.17, compared to $2.83 last year.
Since I believe ROST's management regarding its forward guidance, we can use the mid-range forward EPS estimate of $3.12 to calculate a revised purchase price that would put the share price at the 5-year average trailing P/E. Doing this, a share price of $64 puts ROST's forward P/E right around the 5-year average of 20.5. A 10% discount for a better margin of safety gives us a target share price of $57.60, which is 6.7% above my previous top target price of $54. Thus, despite the market's initial enthusiasm over the earnings beat, my advice for investors considering a long-term investment in ROST is to wait patiently for a pullback in shares due to a broader market sell-off.
Conclusion and Actionable Advice for Investors
Despite the initial 3-4% pop in shares following ROST's earnings, enthusiasm has already faded a bit in today's regular market action with shares currently up a bit under 1.5%. Overall, ROST and TJX are both outstanding companies specializing in discount retail. Both companies are likely to continue taking away market share from non-discount retailers such as M, KSS, JWN, and JCP, particularly in light of announced store closings from the mass-merchandisers, which will give TJX and ROST access to increased inventories. Although I advise waiting for a pullback in ROST shares to around $58 before initiating a position, long-term conservative investors with a 3-5 year investment horizon should be well rewarded by purchasing shares at the current market value.
Disclosure: I am/we are long TJX.
I wrote this article myself, and it expresses my own opinions. I am not receiving compensation for it (other than from Seeking Alpha). I have no business relationship with any company whose stock is mentioned in this article.