A lot has been written about Apple's (AAPL) pile of cash. If Trump gets his way and reduces tax on cash repatriated, the company will have more than $250 billion in cash. Obviously, the company will need to return money to shareholders through a special dividend and/or share buyback. The remaining cash will be used for investments and potentially, a big acquisition.
Recent Speculation
Recently, analysts have been speculating on the best company Apple should acquire. Early this year, Jim Cramer suggested that Apple should acquire SiriusXM (SIRI). This month, analysts at Citi (C) suggested that the company should acquire either Netflix (NFLX), Disney (DIS), Hulu, Activision (ATVI), Electronic Arts (EA), Take-Two Interactive (TTWO), or Tesla (TSLA). Last month, Amit Daryanani – an analyst at RBC Capital Markets – published a 20-page report suggesting that Apple should acquire Disney. Other companies that have been mentioned are Box (BOX), GoPro (GPRO), and Imagination Technologies (OTCPK:IGNMF).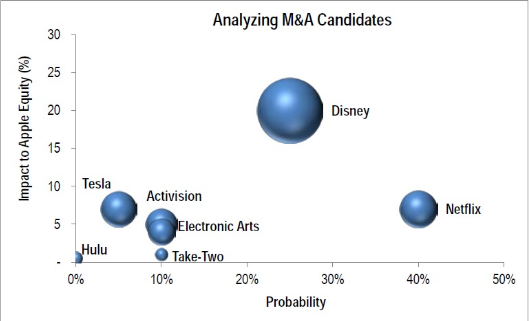 Potential targets: CNBC
Of these companies, Disney would be Apple's biggest acquisition. Amit suggested that the ideal price would be about $237 billion. Although the combination would create a content powerhouse, I believe it is not the best company to acquire. As I mentioned, the best way for Apple to use its pile of cash would be to invest in growth, make an acquisition, reduce its debt, and return the balance to the shareholders. Disney is just too expensive.
In this article, I will explain why I believe Adobe (ADBE) would make a better acquisition for Apple, at the right price.
Apple + Adobe
The suggestion for Apple to acquire Adobe is not new. As early as 2002, some people were asking for the deal to happen. It is, however, understandable why Apple has not offered to buy the company. In the past, it has avoided making big acquisitions. Its biggest acquisition was Beats Electronics which it paid $3 billion in 2014. However, I believe the company will need to make a huge acquisition for two reasons. First, it will have access to more than $250 billion in cash. Second, it needs a market leader in the services industry as it seeks to grow its service segment.
Apple has been under pressure of late. Its revenue is declining because of the weakness in its hardware segment. In 2016, its net sales declined 8% to $215 billion from $233 billion in the previous year. The only division that saw meaningful growth is Services whose revenue went up by 22%. However, this segment is relatively small compared to Apple's hardware products.
Adobe is the 11th largest software company in the world with annual sales of more than $5.6 billion. It has a market capitalization of $67 billion. Its products are used by creative professionals, developers, marketers, and consumers all over the world to create, manage, and deliver content. It is a market leader in the digital media and digital marketing segments.
A perfect complement
Adobe operates in three segments: digital media, digital marketing, and print and publishing. In digital media, Adobe provides solutions like Photoshop, Illustrator, Dreamweaver, and Premiere. These products target different people in the creative industry. For example, Premier is the most advanced video editing platform. It has been used to edit some of the best films in Hollywood like Christine, Hail Caeser, and Swiss Army Man among others. Although Photoshop faces stiff competition, it is the leading digital imaging software. The same is the case for other products like Illustrator, Dreamweaver, and Indesign. In 2016, this segment generated $3.4 billion in revenues.
In the digital marketing segment, Adobe provides products like Adobe Analytics, Adobe Social, Adobe Target, and Audience Manager that are targeted to people in the marketing departments. Adobe started the field of cloud marketing in 2012 and to date, it has the largest market share as shown below. Some of its competitors are Oracle (ORCL), IBM (IBM), SAP (SAP), and Salesforce (CRM) which have similar products.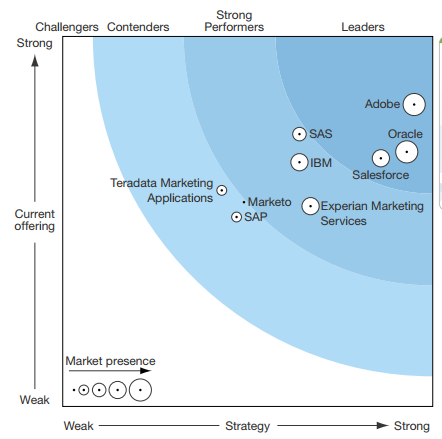 Source: Forrester
Forrester explained Adobe's strength in marketing cloud by saying that:
Adobe balances its direct response marketing capabilities (Campaign, Social, and Experience Manager) with advertising capabilities (Audience Manager, Media Optimizer, and Primetime), and ties them together with insights (Analytics and Target) and its core services offering.
Although the document cloud segment of Adobe is not big, its products like Adobe Acrobat are the market leaders.
In tech, Apple has missed several trends that have recently become big. It missed the cloud computing trend that has made Amazon (AMZN) one of the largest companies in the world. Amazon AWS is now generating more than $12 billion a year. It missed the Search trend that generates more than $80 billion for Alphabet (GOOG). It missed the Social Media trend which generates more than $27 billion in revenue for Facebook (FB). Apple has also missed several opportunities like Internet of Things, VR, and AR.
By acquiring Adobe, Apple would be entering a cloud segment that Adobe dominates and one that has more room to grow. For example, in 2012, the cloud marketing segment had revenues of $800 million. This went up to $1.63 billion in 2016 as more companies adopt to the new-normal in marketing as shown below.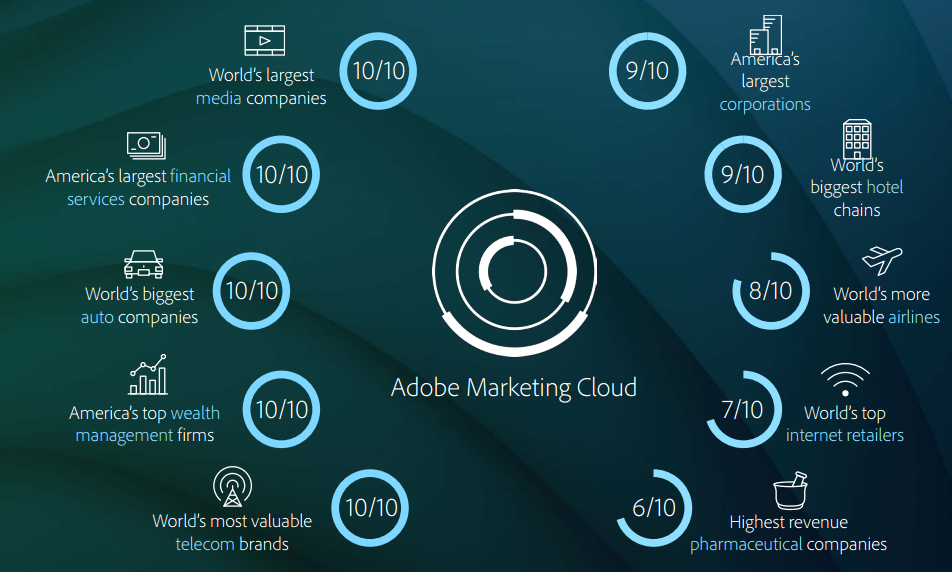 Source: Adobe
In addition, Adobe's products would perfectly complement Apple's computers, iPads, and its ecosystem. Apple prides itself for creating products like the iPad Pro, MacBook Pro, and the Apple Pencil that target people in the creative industry. In their product launches, they have showcased different ways through which designers are using their products. For example, Adobe was asked to demonstrate its applications during the iPad pro launch.
Consider this. Microsoft (MSFT) is the biggest software company. It is trying to penetrate the hardware industry by launching laptops and computers. Apple, a hardware company, is aiming to dominate the services industry. Wouldn't it be wise for Apple to acquire a leading brand in the cloud services industry?
Finances
Apple would be acquiring a growing company that is financially stable. In 2016, Adobe had about $5.8 billion in revenues, a net revenue of $1.17 billion, and free cash flow of $2.2 billion. It has more than $4.6 billion in cash and $1.9 billion in long-term debt. It would also be acquiring a company with healthy margins as shown below. Its margins will likely go up as more customers start using the Adobe Creative Cloud platform.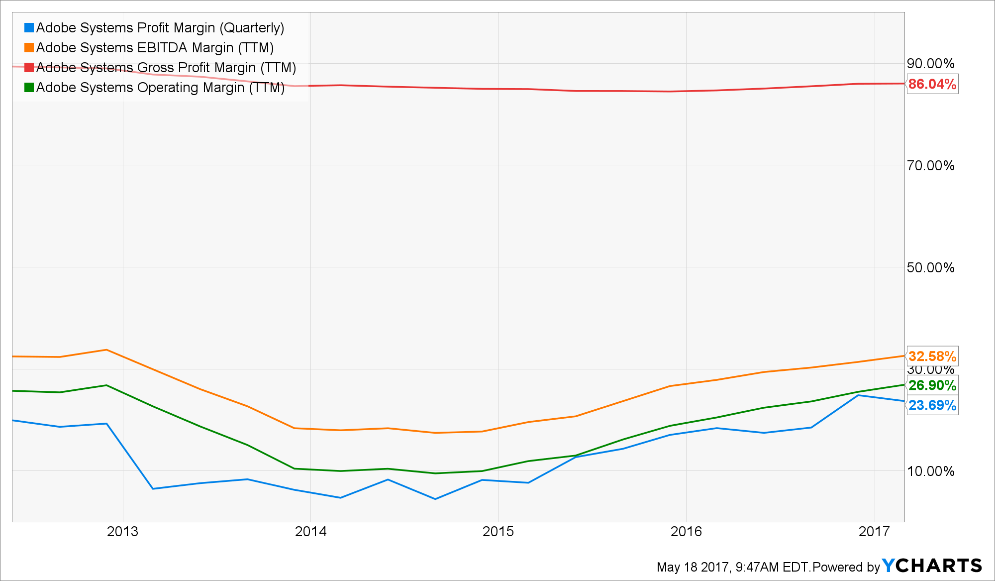 Source: Ycharts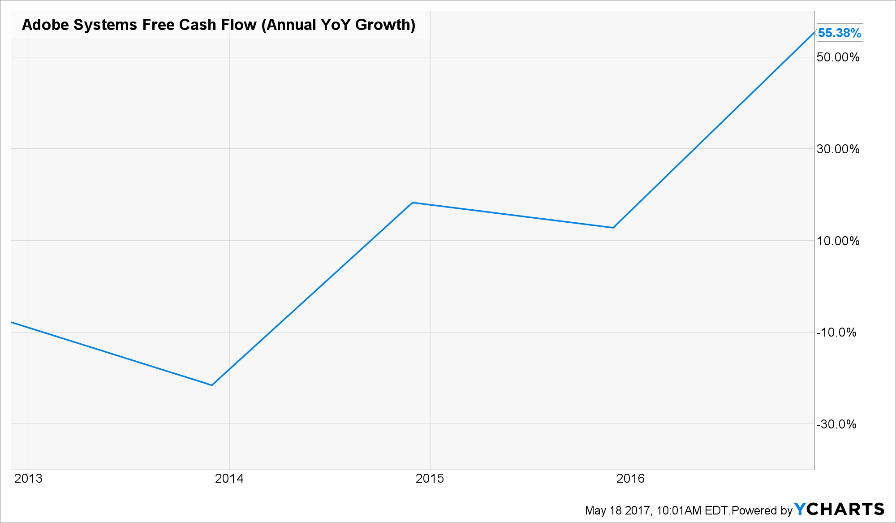 Source: YCharts
So, in summary, Apple would gain a company that:
A market leader in digital media and digital marketing
Complements its hardware products
Is financially stable
Has an excellent global brand
Has good -and improving – margins
Is a cash flow generating machine
Valuation
Adobe's growth has already been priced by the market. With its stock trading at $133, the company has a market capitalization of $67 billion. It is currently trading at 26 times this year's estimated earnings and 7.72 estimated sales. This is higher than Apple's PE and PS multiples of 14 and 3.17 respectively.
Conclusion
Apple should ignore RBC's recommendation to buy Disney or other small companies like GoPro and Box. It would be a very expensive acquisition that would not create value to the shareholders. To execute the Disney acquisition, it would need to sacrifice the share buybacks and dividends that investors are hoping for. As explained, I believe Adobe would be a better acquisition target. It would help Apple diversify its service revenue which is essential at a time when its hardware sales are declining.
Disclosure: I am/we are long ADBE.
I wrote this article myself, and it expresses my own opinions. I am not receiving compensation for it (other than from Seeking Alpha). I have no business relationship with any company whose stock is mentioned in this article.
Editor's Note: This article discusses one or more securities that do not trade on a major U.S. exchange. Please be aware of the risks associated with these stocks.