The order battle between Boeing (NYSE: BA) and Airbus (OTCPK:EADSF, OTCPK:EADSY) is one way for the companies to flex their muscles, next to marketing their respective products as the best solution with the highest fuel efficiency and passenger comfort. Even though the orders (in terms of value) are in no way a reflection of financial performance, it's important to have a look at the order inflow. That's because it offers a good idea of which manufacturer has the best mix of discount, comfort, slot availability and efficiency.
In this article, I will look at the order inflow during April for both manufacturers and their role in the narrow- and wide-body markets.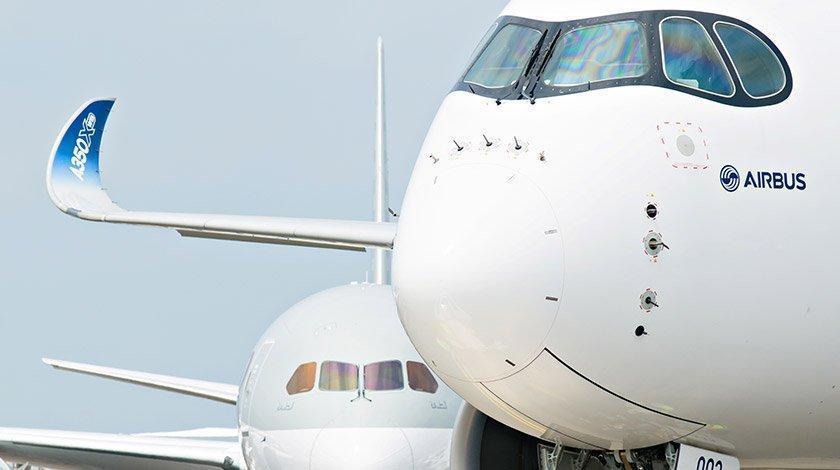 Source: www.aviationsource.com
Overview for April
In April, Airbus and Boeing together hauled in 40 orders compared to 119 in the same month last year. The decline can be attributed to Boeing booking 19 fewer orders year over year, while Airbus saw its order inflow decline by 60 units. Looking at the division of the orders in April, Airbus can be marked as the clear winner: Airbus received 25 orders while Boeing received 15 orders.
In March, Boeing booked 15 orders split between two wide body aircraft and 13 narrow body aircraft:
An unidentified customer ordered two Boeing 787-9 jets, marking the seventh consecutive month for Boeing with order inflow for its Dreamliner aircraft. If Boeing processes the WestJet (OTC:WJAFF) order in May, it will mark the eighth consecutive month for order inflow for the composite aircraft.
An unidentified North American customer ordered one Boeing Business Jet.
SMBC Aviation Capital ordered one Boeing 737-800, likely part of an earlier order it placed in March for two units.
Two unidentified customers ordered eight and three Boeing 737 MAX aircraft, respectively.
Cancellations rose from 28 to 31, reflecting cancellations on the Boeing 737 program.
The full report for Boeing's orders and deliveries in April can be found here.
In April, Airbus received orders for 25 aircraft divided between 11 wide bodies and 14 narrow bodies:
Avianca converted an order for five A319neo airframes to the bigger A320neo.
CALC ordered two Airbus A320neo and one A320ceo.
Nile Air converted an order for two Airbus A321ceo aircraft to neo airframes.
Iberia ordered a single Airbus A330-200.
Air Asia ordered three Airbus A320ceo aircraft.
An unidentified customer ordered 10 Airbus A350-900s.
The full report for Airbus orders and deliveries in April can be found here.
For Boeing, April showed nothing noteworthy. The Boeing 737 MAX continues to accumulate orders and the Boeing 787-9 continues to bring wide body orders to Boeing. Also in April, Airbus saw order inflow centering on the A32ceo family again. The order book for the "new engine option" family stretches over multiple years, but some momentum has been lost due to the problems with Pratt & Whitney geared turbofans. A positive for Airbus in April was the order for 10 Airbus A350-900 aircraft.
Overview Year to Date

Figure 1: Infographic Orders April; Source: AeroAnalysis.net
Airbus received 28 cancellations up until March, leaving the jet maker with 23 net orders -- up from the six orders a month earlier. Year to date, Boeing received 241 orders and 31 cancellations, bringing its net orders to 210. Looking at the net orders, Boeing is having a lead over Airbus, but no conclusions can be attached to a lead this early in the year.
Order inflow in April was appreciably balanced between narrow and wide body: One-third of the orders were for a wide body jet and two-thirds were narrow body orders. Airbus ended on top of Boeing in the narrow and wide body battle in April.
Conclusion
Order inflow in April weakened somewhat year over year, especially for Airbus. Airbus, however, won more orders during the month. But rather than battling each other, I expect that Boeing and Airbus will start focusing more and more on the core strength of their own products to achieve their internal targets. Accumulating more orders than the other party is nice, but under current market conditions there isn't a lot of reason to celebrate victory over the other, knowing that sales are likely going to contract further this year.
In June, the Paris Air Show will be hosted and it might very well be possible that Airbus already started holding off order announcements to make the show in June a well-organized marketing piece for Airbus. For now, Airbus is in the back seat, but it takes just a few orders to end up in the books of Airbus rather than Boeing's, and Airbus could take over the lead.
For investors, it's important to note that Boeing and Airbus have healthy backlogs allowing them to increase production on their narrow body programs, which should positively impact financial performance. Both jet makers are also working on cost cutting on their newest wide body jets, where Airbus is also working on ramping up production. Currently, I like Boeing shares a bit better because of the huge free cash flow the company generates. But Airbus shares also offer nice upside.
If you would like to receive updates for my upcoming articles, please click the "Follow" text at the top of this page next to my profile.
Disclosure: I am/we are long BA.
I wrote this article myself, and it expresses my own opinions. I am not receiving compensation for it (other than from Seeking Alpha). I have no business relationship with any company whose stock is mentioned in this article.
Editor's Note: This article discusses one or more securities that do not trade on a major U.S. exchange. Please be aware of the risks associated with these stocks.