For some time I've been focused on the contradictions between BP's (NYSE:BP) projections and business planning with what is happening in relation to reduction of greenhouse gas emissions. Here I suggest that there is dramatic news concerning electric car growth in both China and India that will fundamentally change BP's (and other oil and gas majors e.g. ExxonMobil (XOM)) business planning. This is no longer in the distant future.
BP 2035 outlook
In the BP 2017 Energy Outlook, transport accounts for 56% of global oil demand, but in the electric vehicle discussion BP focuses on cars (20% or 19 Mb/d). In the fine print BP puts SUVs in the trucks section (another 24% or 23 Mb/d). I've argued elsewhere that buses and trucks are rapidly electrifying. I think that cars, buses and trucks are in play when considering electric vehicles. So we are talking about 44% of global oil production threatened by electric vehicle implementation.
BP's 2017 Energy Outlook envisages by 2035, 6% electric vehicles or 4.5% BEVs (Battery Electric Vehicles). The most extreme case (which is not taken seriously) would give ~3x this penetration or 13.5% BEVs.
BPs projections are that by 2035 just 10% of the new car numbers will be BEVs. In other words BP sees ICEs overwhelming dominant for car transport even in 2035.
BP's Spencer Dale and Thomas Smith summed up the threat of BEVs to oil consumption in the following statement. "EVs are not likely to be a game changer for the growth of oil demand over the next 20 years, where the increasing prosperity in emerging Asia is likely to swamp the impact of even a very rapid increase in electric cars." Note that not only is the impact of EVs dismissed, but because this means dramatic expansion of ICE vehicles, oil consumption keeps on growing in the BP scenario.
BP said electric cars would not be a "game changer" for the oil industry. Spencer Dale, BP group's chief economist, said:
It's not Teslas and the US. It's the fact that 2 billion people, much of that in Asia, are moving to middle incomes, can buy their first motor car and that drives up oil demand. It's that stuff that really matters.
News from China and India
The above statement from BP has the key assumption that massive growth in car numbers will almost all be through purchase of ICE (Internal Combustion Engine) cars.
China has just announced that electric cars are going to account for essentially all growth of car sales as of now. China's April "road map" plans to have 20% (7 million) of new annual sales to be electric vehicles by 2025 (that is in 8 years), with 2 million electric car sales by 2020. In an extraordinary move China is seeking to have 8% of new car sales in China being electric vehicles in 2018 (next year!!). This is not only an emerging problem for the oil industry, it is also a big problem for foreign car makers without electric cars available in China next year.
And the story for Indian electric car/ICE substitution is similar, if not more dramatic (all vehicles electrified by 2032). A report just released by key Indian think tank NITI Aayog and the Rocky Mountain Institute is confronting for the ICE industry. The scale of the projected changes is huge: 1 Gigaton of CO2 emissions saved and savings of $60 billion in annual petrol/diesel costs in 2030. More than 80% of India's petroleum is imported. The report seeks a different direction from the personalised ICE tradition of the US. It involves decarbonising and integrating different forms of transport, including non-motorized transport in densely populated areas. There is a lot to digest in this report, which indicates that India could be the 3rd largest automotive market by 2026, with local manufacture of 2,3, and 4 wheel electric vehicles. It involves an integrated approach to moving people involving much more than personalised transport.
This is an earthquake for BP.
The International Energy Agency (IEA) has acknowledged the seriousness of the situation as it acknowledges that China and India are key markets for oil in the future. The IEA plans to release an update on the EV market in its World Energy Outlook 2017, which is due for release in November.
Credit rating agency Moody is reported to have indicated that falling oil demand could become material by the 2020's.
Investors might consider whether they want to get ahead of this story or wait as the drama plays out.
Car industry
No doubt the recent aggressive announcement about electric car quotas on manufacturers in China is causing lots of headaches in the automotive industry.
Local electric car manufacturers like BYD (OTCPK:BYDDY), BAIC (OTCPK:BCCMY) and Geely (OTCPK:GELYY) will be delighted, and it will be interesting to see how many of the some 200 companies involved in electric car manufacture will survive and prosper. China recently cut electric car subsidies and now it plans to have an 8% electric car quota in 2018, so heads must be spinning to work out exactly what is going on.
Besides the local electric car companies, many foreign manufacturers are paying attention to China. The latest news means that if you don't have electric cars or Chinese electric car making partners, then the Chinese market is going to be challenging. BMW (OTCPK:BMWYY), Volkswagen (VLKAY), and Daimler (DDAIY) are likely to be significant beneficiaries of China's BEV push.
BMW has announced that it is prepared to meet the Chinese Government targets, while indicating that exactly what is being proposed is still a little unclear.
Volkswagen plans to have BEVs in China next year with Chinese carmaker JAC Motors.
Daimler projects BEV cars to contribute 15-20% of its worldwide sales in 2025 and a further 10% of sales will be hybrids. See below for why I think hybrids don't have a future. There is so much to go wrong and so much additional expense, when a bigger battery does the job. While I am being cheeky, could this mean that Daimler will end up with 25-35% BEV sales by 2025?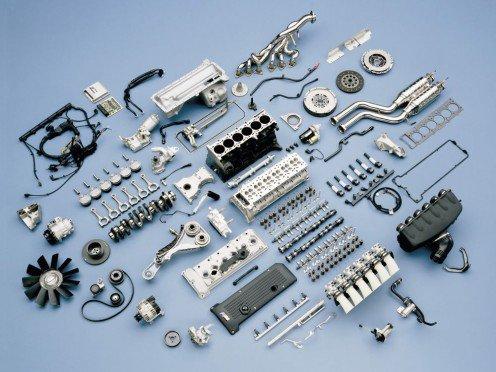 Principal engine components. Source: AxleAddict.
Daimler sees China as its biggest BEV market.
By contrast a recent report from China indicates that Ford (F) has a cautious approach to BEV introduction in China, citing "uncertainty about consumer interest and government policy". Trevor Worthington Ford VP product development Asia Pacific stated at the recent Shanghai Auto Show said "You don't get any prizes for being first to market . The challenge is to offer electrified vehicles at the right time". There were 500,000 electric vehicles produced in China last year …. I would be surprised if Ford isn't rethinking its plans. It does have plans to offer hybrid BEV versions of all models in China by 2025.
While GM (GM) highlighted its Velite 5 version of the Chevrolet Volt hybrid at the Shanghai motor show, it does have plans to introduce BEV cars in China within 2 years and 10 BEVs by 2020.
UNFCCC plans to require fossil fuel lobbyists to declare their conflict of interest
For some time now companies like BP have adopted contradictory positions on fossil fuel emissions, saying on the one hand that they support the Paris agreement, while their business plans are in conflict with the requirements of Paris. The positions and actions of various industry bodies has been summarized recently by Corporate Accountability International.
This makes clear that many business groups with major fossil fuel interest, who are active in the UNFCCC, are not constructive in their activities. Jesse Bragg from Corporate Accountability International stated the following:
As long as your business model depends on extracting and burning fossil fuels, you have no place helping to craft climate policy. Your profit incentive is going to keep you from doing the right thing. And, frankly, corporations have a duty to maximise profits - so they would be in violation of their shareholders if they were doing anything but.
Action by developing countries has brought this issue to a head last week in Bonn with a determination to allow observers (including the fossil fuel industry) to provide input, but it looks like they will need to make clear integrity and conflict of interest issues. This has been hotly disputed by the US, EU, Norway, Australia and New Zealand and it has been a long running battle by developing nations. I interpret this to be a sign that the domination of the fossil fuel industry is showing signs of weakening.
This kind of action just reinforces actions from major players like China and India, who are determined to contribute constructively to action to reduce greenhouse gas emissions. The push for electric cars is an earthquake, but it isn't the whole story.
Conclusion
It is interesting how revolutions creep up on one. BP's 2016 future energy report barely mentioned electric cars (less than 1.5% penetration by 2035) although around that time there was some loose talk from BP that if the electrification of transport caught on, then the future of the oil industry would need to be rethought. In its 2017 Energy Outlook, BP had penetration of BEVs at ~4.5% by 2035 (with a scenario that wasn't taken seriously at 13.5% BEV by 2035). Now China is saying that it plans to have electric vehicle (and it will be almost entirely BEV) penetration at 20% of new sales in 2025. This accounts for essentially all of expanded sales. India is even more dramatic about its plans for electrification of transport. The fact is that the future expansion of oil consumption has been projected by BP to be dominated by China and India. I suggest that we are confronting the earthquake that will shake the oil industry. While I haven't discussed it here, there are similar storm clouds gathering for the gas industry.
I've been saying for a while that dramatic change is coming for the oil and gas majors. The change this month is that a real and present danger has emerged that will play out over the short term. It is time to revisit whether you might replace the "safe" dividends that you've been getting from your oil and gas investments with another investment strategy. Uncertainty about the price of oil is the least of BP and other oil and gas majors problems.
Author's note: I'm not a financial analyst, but I do closely follow change in the energy industry as the world begins to decarbonise its energy sources. If my commentary helps you see your fossil fuel investments from a different perspective, please consider following me.
Editor's Note: This article discusses one or more securities that do not trade on a major U.S. exchange. Please be aware of the risks associated with these stocks.