Precious metals prices have whipsawed wildly over the last six months as investors oscillated between pessimism and enthusiastic optimism after Trump's ascendancy to the top job. Even the Trump's victory was not enough to boost precious metals prices as investors embraced his plans for fiscal stimulus and deregulation which pushed the S&P 500 (NYSEARCA:SPY) and Dow Jones (NYSEARCA:DIA) to record highs.
Nonetheless, there are growing signs of political instability and that much of the enthusiasm surrounding Trump's economic agenda was overbaked.
As the reality of Trump's presidency emerges, including the scandals that are now casting a shadow over his administration combined with the failure of the anticipated benefits of his proposed economic policies to materialize, the fundamentals for gold (NYSEARCA:GLD)(NYSEARCA:IAU) and silver (NYSEARCA:SLV) will strengthen.
While gold has rallied strongly since the start of 2017, silver has failed to keep pace which has seen a growing disconnect between the two precious metals. This has created a timely opportunity for investors seeking exposure to precious metals as means of hedging against this growing risk to acquire silver at a discount to its intrinsic value.
One of the best means of doing so is by investing in silver miners in order to gain levered exposure to the underlying metal, thereby maximizing the potential upside available.
Recapping the rational for investing in precious metals
I have written extensively on the outlook for silver and gold over the last two-years and despite the latest decline I believe that as the reality of Trump presidency becomes apparent precious metals will firm.
Among the primary reasons for this is the increasing likelihood that Trump's fiscal stimulus will not eventuate as planned along with the increasing unpredictability of the administration's statements and actions. It is highly likely that the end result will be even greater strains placed on the fragile U.S. economic recovery with the threat of stagflation looming large.
During times of stagflation or where the market perceives that it will emerge, gold and silver have performed incredibly well.
There are also the increasing range of scandals surrounding the Trump administration that have sparked considerable jitters in financial markets as it becomes increasingly clear that his erratic administration is incapable of providing stability and the much-promised fiscal stimulus.
The global economy is also facing a range of challenges that have the potential to derail markets which would boost gold and silver because of their safe-haven status. These issues include fears over China's unsustainable credit fueled growth, rapidly expanding debt bubble and growing bad-debts.
The fragility of Europe's banks and fears of another European banking crisis also make precious metals an appealing investment. Rising nationalism and other political pressures which are challenging the stability of the E.U. and other liberal supranational treaties and institutions globally.
There are still the ongoing tensions in the Middle-East and increasing incidence of terrorism which have the potential to conflate with a range of economic fissures.
There are also a range of emerging supply side issues with miners having shuttered production as well as sharply reduced investment in exploration and mine development because of the prolonged slump in prices. This with rekindled demand and firmer fundamentals will support higher silver prices.
Here are three opportunities that after the recent pullback in silver I believe will perform strongly when silver rebounds.
Coeur Mining (NYSE:CDE):
Coeur has been one of my preferred means of gaining exposure to silver since being recommended by a reader in June 2016. Since making my initial recommendation it is up by 9% despite the sharp pullback in silver.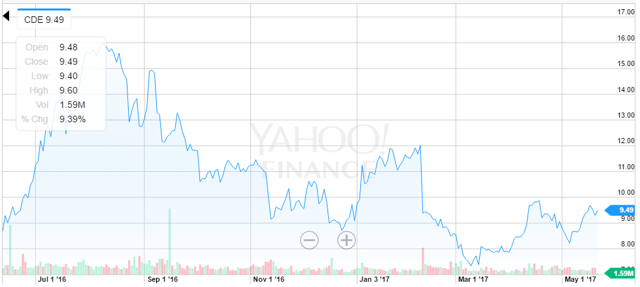 Source: Yahoo Finance.
Coeur remains one of my top picks for gaining exposure to silver because it has an impressive history of growing its precious metals production. Between 2014 to 2016 total production grew by an impressive 21% and for the first quarter 2017 it was up by 14% year over year. For 2017, it has forecast that total production will grow by 9% compared to 2016, positioning it to take full advantage of higher precious metal prices.
This ability to grow production is supported by its high-quality asset base composed of six operational mines with reserves of 177 million ounces of silver and 2.5 million ounces of gold.
The majority of these mines are located in the stable and mining friendly jurisdictions of the U.S. and Australia, thereby reducing the degree of geopolitical risk attached to its operations.
Importantly, Coeur has been able to significantly reduce its cost structure in recent years. For 2016, all-in sustaining costs fell by 2% year over year and came in below the miner's guidance. During 2017 they are expected to fall lower and this trend will continue into 2018.
In fact, for the first quarter 2017 AISCs were $13.66 per ounce which represents a 6% decrease quarter-over-quarter and is well below guidance of $15.75 to $16.25 per ounce for the year.
Then there is the significant effort the company has made to rejuvenate its balance sheet. At the end of the first quarter it had $210 million in cash on hand and total debt of a mere 0.9 times adjusted EBITDA, which is an 83% reduction in only seven quarters. This indicates that Coeur's balance sheet is in solid shape and the marked reduction in debt has significantly reduced the risks associated with investing in the miner.
These factors coupled with higher production will give Coeur's earnings a healthy bump, causing its price to appreciate.
Hecla Mining (NYSE:HL):
Another of my picks last year was Hecla Mining and despite silver's recent weakness it is up by an impressive 56% since my initial recommendation in late April 2016.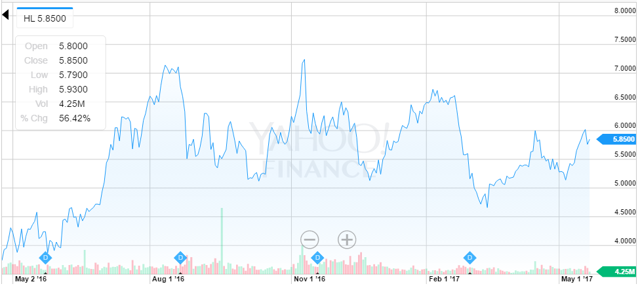 Source: Yahoo Finance.
This is even the recent weakness in silver and there are signs that Hecla will continue to perform strongly, particularly as silver appreciates.
Hecla has a high-quality portfolio of precious metal mining assets located predominantly in the relatively low risk and mining friendly jurisdictions of Canada and Australia. It has 172 million ounces of silver reserves and 2 million ounces of gold and Hecla has assessed those reserves using conservative pricing of $14.50 per ounce for silver and $1,200 per ounce for gold.
This means should precious metal prices remain well over those thresh holds and/or rise further then I would expect to see Hecla's reserves grow when reassessed at the end of 2017.
More importantly the ore grades for its silver reserves are quite high, ranging between 11.7 ounces per ton to 16.2 ounces per ton. This is an important consideration because the higher the ore grade or concentration of precious metal in the ore the more cost effective it is to extract.
It is this attribute coupled with Hecla's focus on controlling costs that it has low operating expenses.
For the first quarter, all-in sustaining costs for silver came to an impressive $7.60 per ounce which was a remarkable 24% lower than the equivalent period in 2016.
The only concern is that while Hecla has a history of growing production which saw full-year 2016 production rise by a stunning 123% year-over-year, first quarter production declined. This along with the company electing to pull its 2017 guidance because of nearly two-months of striking at its Lucky Friday mine in Idaho.
Nonetheless, Hecla has initially forecast a 4% year-over-year increase in production.
Like Coeur, Hecla has focused on making its balance sheet more robust. By the end of the first quarter it had total liquidity of $313 million and net-debt of a mere 1.1 times adjusted EBITDA. This indicates that it is not over levered and is more than capable of managing its debt expense.
These factors indicate that Hecla will continue to perform strongly and unlock value for investors. If the issues regarding its Lucky Friday mine and silver prices rally then its share price will surge higher.
Fortuna Silver (NYSE:FSM)
Fortuna is a new addition to my list. Unlike the previous two miners it has performed poorly, declining in value by 25% over the last year.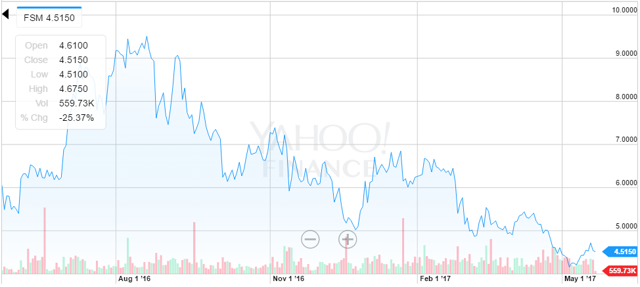 Source: Yahoo Finance.
It is this which makes it attractively priced and has created an opportunity for investors to acquire what is arguably one of the best plays on silver.
Fortuna owns and operates two mines the San Jose silver and gold mine in Mexico and the Caylloma silver mine in Peru. It has silver equivalent reserves totaling roughly 160 million ounces comprised of 45.8 million ounces of silver and almost 2 million ounces of gold.
The ore grades of these reserves are quite high, meaning that cost of extracting the silver and gold per unit weight of metal produced is quite low.
For 2016 it reported full-year AISCs of $9.39 per ounce of silver which was an outstanding 36% lower year over year and for 2017 Fortuna's guidance indicates that they will rise 15% to be $10.80 per ounce. This is still well below the spot price for silver and indicates the considerable profitability of Fortuna's operations.
When coupled with an impressive history of expanding production with output having more than doubled between 2012 and 2016, along with 2017 production projected to rise by 6% year-over-year it positions Fortuna to take full advantage of higher silver prices.
The miner is also in the process of developing its wholly owned Argentinean Lindero gold project. The mine is forecast to commence operations in 2018 producing 127,000 ounces of gold in its first year and have a mine life of 12 years. Once its commences operations it will give Fortuna's earnings a healthy lift.
While the risks associated with operating in Argentina are generally considered to be quite high they have fallen considerably since President Macri took power and implemented a reform focused agenda. The main focus of the reforms is to stabilize the Argentinean peso, reduce inflation, remove trade barriers and cut unnecessary regulation, all of which hints at a more favorable environment for foreign investment and business.
Like the other two miners discussed Fortuna has spent considerable energy fortifying its balance sheet.
It finished 2016 with $82 million in cash and at $20 million in an untapped credit facility. Fortuna also completed a bought deal financing equity offering in February 2017 that raised $74.8 million, further boosting its liquidity. Notably, its low level of debt which totaled $40 million at the end of 2016 coupled with growing cash flows means that the company can manage its debt expense and is not over levered.
It has also used some of the liquidity to purchase CAD$1.5 million of shares in Prospero Silver Corp. a Mexico focused prospect generator. This deal should boost the exploration upside associated with Fortuna's Mexican operations.
Fortuna is currently being investigated by the SEC in relation to its 2015 Annual Report and the company's use of inferred resources for the calculation of depletion expenses in its audited financial statements. The outcome of the investigation in unknown at this time but any impact from an adverse finding would be non-material to Fortuna's prospects.
Final thoughts
Investing in silver is not for every investor, especially smaller silver miners because of the relatively high degree of risk compared to other industries.
However, the widening gap between gold and silver in an environment where the fundamentals for gold remain favorable indicates that silver will rebound soon.
One of the best means of maximizing the potential gain is by investing in smaller miners with quality assets, low costs, solid balance sheets and growing production. These are the very assets that all three miners discussed possess making now the time to acquire them while silver remains weak.
Disclosure: I/we have no positions in any stocks mentioned, and no plans to initiate any positions within the next 72 hours.
I wrote this article myself, and it expresses my own opinions. I am not receiving compensation for it (other than from Seeking Alpha). I have no business relationship with any company whose stock is mentioned in this article.
Additional disclosure: I/we have extensive investments in physical gold and silver bullion as well as collectible antique gold and silver coins.