In a recent SA article, Owl proposed that Frontier Communications (NYSE:FTR) preferred stock (FTRPR) was a better value than the common stock with a simple accounting of cash flows. The concept is simple. On June 28, 2018, the preferred stock will convert to 20 shares of the common stock. Knowing that, the savvy investor can buy one share of FTRPR, short 20 shares of FTR, and pocket the difference, which Owl calculates at about $2.49, using the closing prices from May 12. This allows the investor to pocket the net difference between the higher dividends on FTRPR, the lower dividends on the FTR, and initial investment difference.
However, if the savvy investor were to try to replicate that trade with his brokerage, they would charge a fee to loan the 20 shares of FTR to short sell. This cost is in addition to the dividend on the on the FTR.
Now, if we account for this fee, and FTR qualifies as a "hard to borrow" stock because of the large short interest, I forecast that your brokerage will average 5.5% over the next 1.1 years that you will be short the stock.
In addition, I assume that you will receive $0.01 per share less than the close in selling FTR and pay $0.01 per share more than the close to buy FTRPR. In trying to execute a paired arbitrage trade, you'll have to lift the offer or hit the bid to ensure execution, otherwise you'll be left exposed to market price volatility, thus eliminating the arbitrage.
Now using recent closing prices, here are the undiscounted cash flows from that long FTRPR short 20 FTR trade: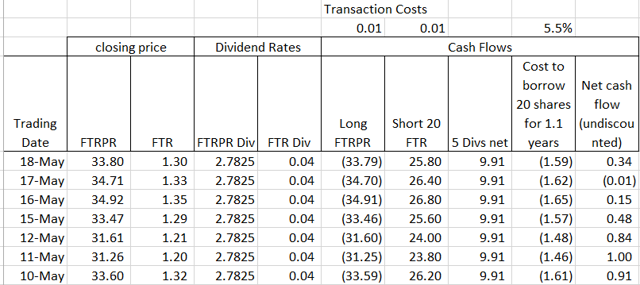 As you can see, after accounting for the execution cost and the cost to borrow, there is very little left for the savvy investor.
So let's say you are still interested, because the net cash flows look positive. If you executed this pair trade, you should be aware of the following risks:
You actually may not be hedged. Frontier may elect to pay a portion of its Preferred Dividend in common shares, not in cash. At today's price, they could issue about 70% of the dividend in shares. While this seems unlikely, it is still a risk.
While I have shown undiscounted value, the trade does take upfront cash, as the cost of FTRPR is more than the proceeds from selling 20 shares of FTR. At the May 18th prices, would you risk the net $7.99 (33.79-25.80) to make $0.34 over one year?
Depending on how your margin account is administered, you may be at risk to margin calls on the 20 shares of FTR you have sold short if your broker does not net FTRPR value against your the margin account.
Now, it is possible that there are holders of FTRPR who have shorted 20 shares of FTR. This is possible because the cost to borrow is charged very gradually, whereas the difference in the share price and dividends seems easier to grasp. However, behind the scenes, it does appear that traders are keeping this pair of securities within a few cents of the arbitrage-free price.
For those initiating a new trade, I suggest checking with your broker on the cost to borrow, checking my calculations independently, and then coming to your own conclusions.
Disclosure: I/we have no positions in any stocks mentioned, and no plans to initiate any positions within the next 72 hours.
I wrote this article myself, and it expresses my own opinions. I am not receiving compensation for it (other than from Seeking Alpha). I have no business relationship with any company whose stock is mentioned in this article.
Additional disclosure: I am long Frontier Communications bonds, various CUSIPs.