By Burland East III, CFA
After a career of nearly three decades investing in commercial real estate, it is my opinion that the sector performs best when these conditions exist: tenants are reluctant to leave because they have few options; developers have limited options to add new supply; and tenants' demand for space is growing, requiring more real estate. Who are my dream tenants?
Before I identify them, let me back up. I invest in commercial real estate via real estate securities, which includes Real Estate Investment Trusts (REITs)1 and C-Corporations2. Most of these companies typically specialize in one property type, giving investors the chance to invest in "pure plays" of property types they otherwise may not have investment access to, such as shopping malls, cell-tower networks, data centers, casinos, or ski areas. Specialization requires that the people who put these securities together become experts in the underlying properties.
That being said, my investment strategy is to identify companies whose properties have the following characteristics (or some subset thereof): there are only a limited number of companies in the industry (for instance, three companies own almost all cell towers in the US); new developers face high barriers to entry (i.e., building out a network of cell phone towers); tenants face high barriers to exit (i.e., a medical center with large and expensive diagnostic equipment like MRIs that is nearly impossible to move); and tenants have a healthy underlying business that requires more and more real estate (i.e., data centers).
In my experience, I have also found potential opportunities within the following examples, with a nod to the characteristics aforementioned: campus-based housing (limited supply and students don't frequently leave), gaming (licensing creates barriers to entry), research lab space (robust demand for new medicines), manufactured housing (supply limited by "not in my backyard" protestors) water (healthy demand with too few facilities to serve growing population) ski areas (nearly impossible to build), and infrastructure like bridges and roads (limited suppliers with the technical know-how).
Sector Selection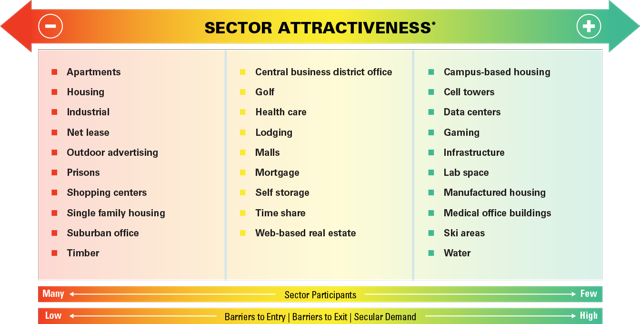 *This chart is presented for illustrative purposes only and represents the perspective of the Author as of March 2017. Sector attractiveness is subject to change at any time in response to market conditions and/or viewpoint of the Author and should not be construed as investment advice.
The characteristics work in tandem and, in some cases, independently to create a competitive landscape where the tenant has few(er) options to move or play one building owner against another. These properties can command higher occupancy rates and higher rents, which in turn, may potentially create more valuable portfolios for shareholders through enhanced dividends and higher real estate values. And, by the way, these conditions can exist anywhere geographically - location and markets are not as important (of course, there is no guarantee that any investment will achieve its objectives, generate profits or avoid losses).
By contrast, I generally avoid companies that invest in "generic" real estate, where the tenant considers the space fungible and where price plays an important part in their decision to rent. This includes industrial warehouses, office buildings, hotels, apartment buildings, or most retail outlets. Tenants in these properties have too many options. If warehouse rents soar in Dallas, for example, a developer can bring in "tilt ups" and have a new warehouse ready for occupancy in under four months. There's no barrier to entry for developers and no barrier to exit for tenants.
Commercial real estate suffered in the aftermath of 2008 financial crisis, but it is my belief that commercial real estate is now in the mid stages of a bull market. In the case of real estate, bull markets have historically been long (7-10 years) while bear markets have been short (~2 years).3 Of course, past performance is not indicative of future results, but we have been building less, and in effect, the water is building up behind the dam. In my opinion, as unmet demand grows, the value of existing properties rises, potentially leading to higher returns for investors.
1 A REIT (real estate investment trust) is a type of real estate company that mainly owns and operates income-producing real estate; some engage in financing real estate. Most REITs trade on major exchanges.
2 A C-Corporation generally refers to any corporation that is public and for-profit, unless the corporation elects the option to treat the corporation as a flow-through entity.
3 Source: NAREIT