By Roger Nusbaum, AdvisorShares ETF Strategist
The New Yorker ran a very long article titled Is The Gig Economy Working? You've probably heard the term. It amounts to cobbling together a (hopefully) sufficient income without necessarily working in a traditional job but that isn't exclusive. The article devoted a lot of real estate to people who Airbnb (AIRB) some or all of their home (the article uses Airbnb as a verb) along with the countless businesses that have popped up to help people Airbnb their place.
The article's intro was about working through something called Task Rabbit where people list their skills and consumers hire from the service to meet immediate needs. A handyman is probably the easiest example to create understanding.
Uber (UBER) also has a seat at this table.
I started writing about this concept long before the term came into being in a retirement context with my now former neighbor who did backhoe work. He charged $60/hour, we just had our road regraded and based on the invoice the new guy charged $100/hour. I don't know if the new guy considers himself to be retired but he is of retirement age.
In last week's post about tiny houses, I mentioned my belief that a young person living this lifestyle exclusively is more likely than not to wake up one day at 40 without much accumulated and without much in the way of marketable skills. Doing gig work on the side, as a young person, is a different story. At the end of the work day, why not Uber someone from close to your work to close to where you live? You'd cover your commute expense.
Over the weekend, I went to the Overland Expo in Flagstaff to take pictures of some very neat extreme adventure vehicles. Please check my Instagram feed for more pictures. I got to meet and talk to quite a few people including the owner of this converted ambulance. He created more overhead space, redid the inside including adding a bathroom. On the outside, you can see that little dome on the back left, which is his satellite TV.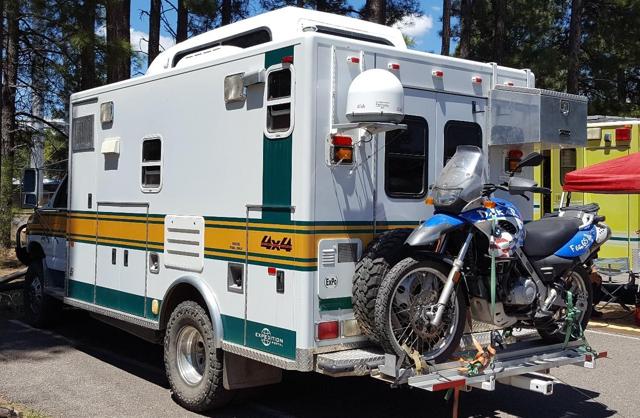 The ambulance is a 2005 (I think that was the year) that he bought through a state auction for $5500. Brand new he said it was $130,000 but it hit its miles limit and had to be disposed of. I didn't get his name but did get his story. He appeared to be older than me, like maybe 60-ish, he works part time installing/updating networks and travels around in the ambulance to the next job, or gig, network-installation gig that is.
On the presumption he likes technical work, this is one example where, like the backhoe work and the other forms of "gigging" where someone has created his own solution after a more traditional 9-5 career. This allowed him to at the very least, maintain a marketable skill and even if he didn't accumulate any retirement savings (I don't know either way), it is a path that would allow for accumulating a nest egg.
Another example of effective gigging comes from the 40-something-year-old daughter of a friend. She and her husband live in San Francisco. A while back, they bought a duplex with a $3500 mortgage payment. They are able to rent out the unit they don't live in for $3800. They were also able to fashion an Airbnb out of an area in the basement for a little more income. This is a great supplemental income story but not sufficient on its own for a young person (couple) to accumulate savings or maintain marketable skills (they both work).
If my friend's daughter and her husband stay in the house into their 60s when the house is presumably paid off, then the $3800 (in today's dollars) combined with Social Security could probably meet their needs, the basics anyway, even if they don't accumulate much of a nest egg.
A final example I just learned about was from the fire department's board, one of the board members creates sculptures out of wood. He is in three galleries and recently sold a piece in the high four figures. His work is very time consuming but he loves doing it, which is a great example of monetizing a hobby that I've been writing about for a long time. In telling us about the recent sale he said that will cover a few months.
The earliest post I can find about my neighbor with a backhoe was from 2006. The way the internet has evolved, gigging has become much easier to seek out and learn about. There are, of course, barriers to entry, be that skill from the Task Rabbit example, capital for some sort of Airbnb startup or time to Uber people around or anything else.
Easier access does not provide any shortcuts in terms of effort but should be taken as encouraging for people who need to figure out their own solution beyond Social Security and portfolio income.
Disclosure: I/we have no positions in any stocks mentioned, and no plans to initiate any positions within the next 72 hours.
I wrote this article myself, and it expresses my own opinions. I am not receiving compensation for it. I have no business relationship with any company whose stock is mentioned in this article.
Additional disclosure: To the extent that this content includes references to securities, those references do not constitute an offer or solicitation to buy, sell or hold such security. AdvisorShares is a sponsor of actively managed exchange-traded funds (ETFs) and holds positions in all of its ETFs. This document should not be considered investment advice and the information contain within should not be relied upon in assessing whether or not to invest in any products mentioned. Investment in securities carries a high degree of risk which may result in investors losing all of their invested capital. Please keep in mind that a company's past financial performance, including the performance of its share price, does not guarantee future results. To learn more about the risks with actively managed ETFs visit our website AdvisorShares.com.