Brazil!
(Brazil fans. Wikipedia)
Amid yesterday's carnage for the iShares MSCI Brazil Capped ETF (NYSEARCA:EWZ), I talked about my long position. Today we seem to be getting a bounce.
Seems like a good time to try to talk back-of-envelope valuation for Brazil. We can start with Star Capital's global valuation ratios. As of March 31, Star assigned Brazil a CAPE of 10.7, toward the low end of global stocks. EWZ traded at $37.46 at that time. At today's price of around $32.75 and assuming that 1Q earnings didn't dramatically affect the metric, I get a CAPE of 9.4 for EWZ. That's not super cheap, but it infers a CAPE "earnings yield" of 10.6%, good enough not to sell. The implied CAPE earnings yield reaches 15% at $23.20 and 20% at $17.40. Those are prices where adding new money might start to make sense for me.
How about relative to GDP?
Warning: This is rough, guesstimate type work.
The World Bank pegs Brazil's market cap to GDP ratio at 23.2% for 2015. At that time, the market cap was $759 billion, inferring a GDP of $3.3 trillion. The U.S. market cap is at 138.9% of GDP. The IMF puts Brazil's 2016 GDP at 97.7% of 2015 levels. EWZ was at $26.90 on May 20 of 2016. It's now at $34.75, 29% higher. Assuming EWZ reflects total market cap and that the trailing GDP numbers are useful, I get today's market cap to GDP of 31%. As this chart shows, that's low relative to historical levels and not bad relative to the U.S. On this very rough sketch, Brazil doesn't seem overpriced.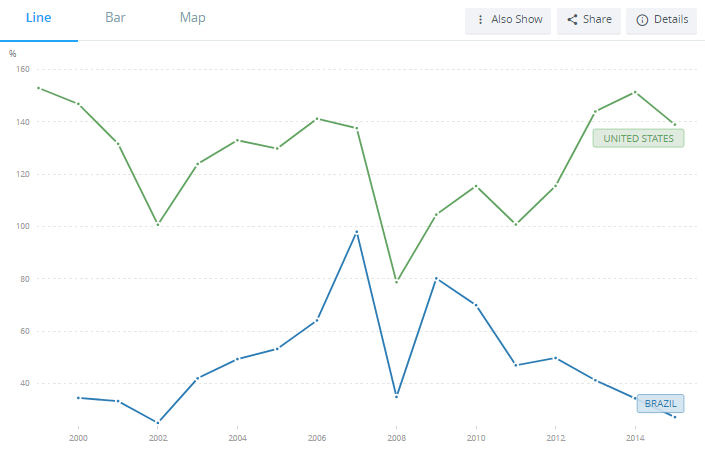 Investments can be cheap for good reason. For instance, we learned yesterday that Brazil's stock market can fall very far, very fast. Nothing in these two valuation metrics suggests that we're safe from further downside, but I'm willing to take that risk given my multi-decade time horizon.
By the way, Star Capital pegs Russia's CAPE at 5.3 as of March 31. At that time, the iShares MSCI Russia Capped ETF (NYSEARCA:ERUS) was at $32.12. It's now at $31.05, so not much different. I bought ERUS today, so: Disclosure: Long ERUS.
My positions in Russia and Brazil operate on the same strategy: Buy cheap, hold for a very long time, and don't worry about informational edge you don't have. My belief is essentially that CAPE is not necessarily a great sell signal, but it is a pretty good buy signal, and at low valuations, diversified funds are reasonable holdings for very long horizons.
America Has An Economy, Too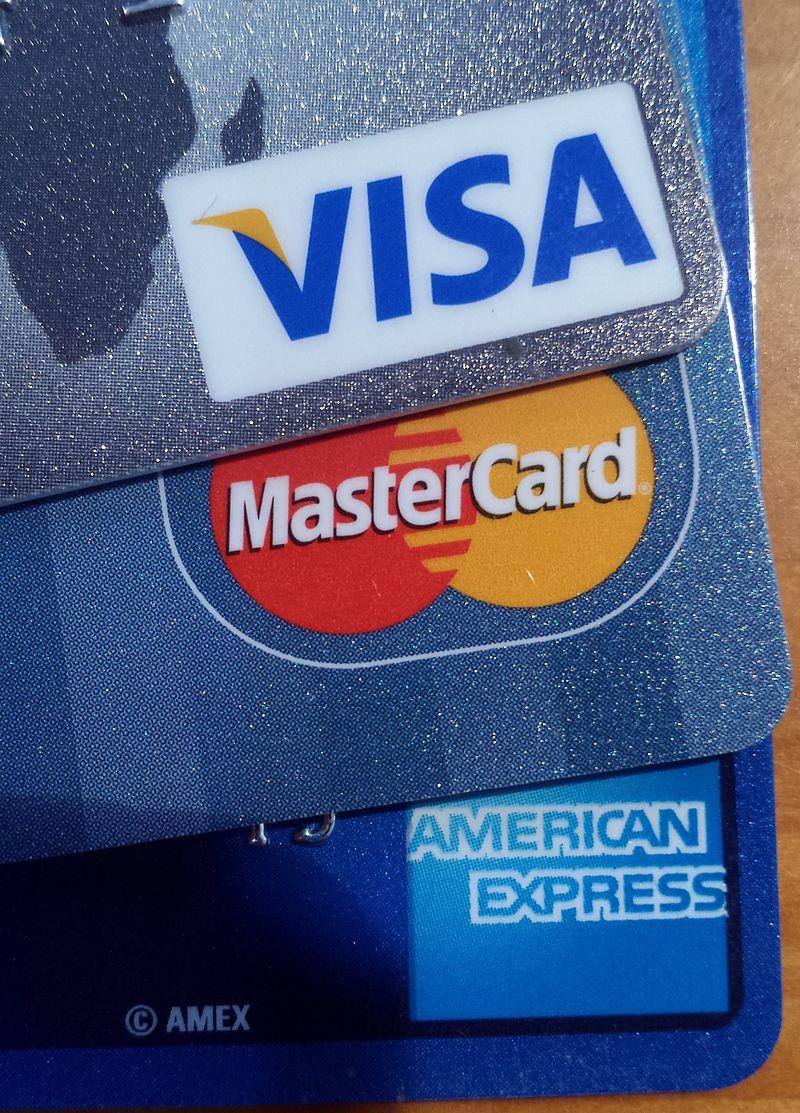 (Be careful! Wikipedia)
Stocks surprised a lot of people by going up since the 2016 election. But we did get a bit of a sell-off midweek this week, and only on the basis of how unusual that felt, I thought we should look through the headlines and see what narratives are emerging about the U.S. economy.
First stop: credit. Analysts and market commentators face strong incentives to describe industries and sectors as the next housing bubble, the next subprime, etc. It generates attention, especially since readers are highly motivated to avoid anything that could result in another 2008, Great Recession, financial crisis, etc. Here's Google Trends interest in the next recession and the next housing bubble. Housing bubble interest is not high. Recession interest is at a four-year high.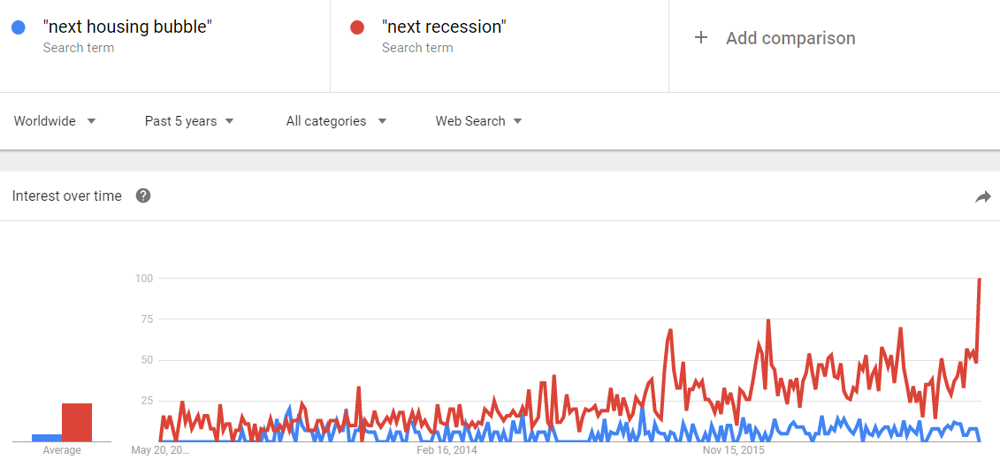 Here's interest in second mortgages and home equity.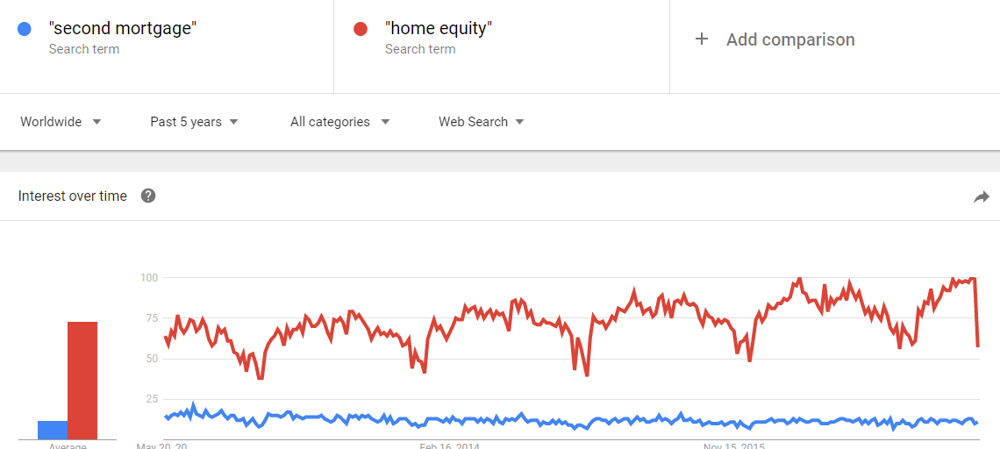 What called all this to mind was this headline on our site: "Subprime problem" for credit card sector - Wells Fargo downgrade. Auto loans have similarly been flagged as a thing to worry about. If you believe in online search interest as a contrarian indicator, I'm not seeing a signal of impending doom. On the other hand, Sotheby's (NYSE:BID) just sold a Basquiat for $111 million, which doesn't exactly seem bullish. My hunch is we need a few more data points to figure out where the economy is headed.
Let's start with oil. We jumped back over $50 per barrel today. After seeing that headline I wondered aloud (actually by GChat) whether oil could get back to $100. After all, it was just there a few years ago. A fellow editor asked me what the true economic value of oil is, which is a good question. The historical imported oil price chart from the EIA might give us a hint.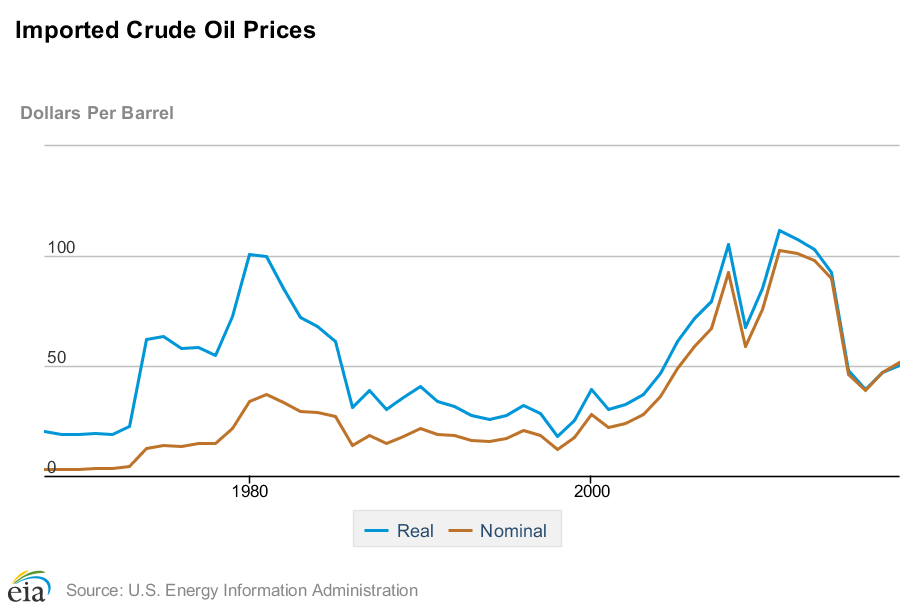 My updated guess for the true price of oil is $50 per barrel. Doesn't look like $100 a barrel is a very frequent occurrence.
Also today: Deere (NYSE:DE) tells investors demand looks good, and in government news, the U.S. president makes his first trip abroad.
What's Up With Bitcoin?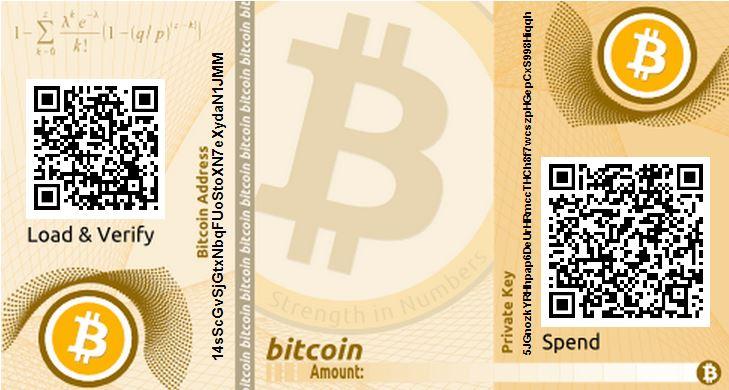 As of early this morning, the price of Bitcoin had almost doubled in 2017 (COIN), and whenever we get a Bitcoin news headline, it's time to check Reddit, a leading Bitcoin news source, to see what's shaking. Among posts chronicling the price action (two leading posts simply say "$1,900!" and "$2,000!," there is some discussion about what price quotes are showing up on different bitcoin exchanges, and in the thread about Coinbase reaching 7 million users, there's this observation: "A centralized hub for a decentralized cryptocurrency. That is [really] stupid." It seems like Bitcoin operates as the nexus between really, really smart and really, really stupid.
Tech, Burger Tech, SaaS
(With proper training I could AutoCAD a hamburger for the 21st century. Wikipedia)
Autodesk +16% after earnings and two upgrades; PTC Inc. +8.5% (ADSK, PTC) : What do you think of analyst upgrades and downgrades? I don't tend to follow them or use analyst earnings forecasts. I assume they're smart, and it does seem like the market reacts to their actions. Scholars have a ton to say about it. Something to investigate further at another time.
McDonald's to upgrade store kitchens (NYSE:MCD): Today it's hamburger capex; maybe tomorrow it will be hamburger R&D. How do you expect McDonald's menu to change over the next 20 years? Here's a historical timeline to help. It'd be cool to cross reference that with nutritional information on each menu item. I'd expect healthier food, or at least healthier seeming food, a generation from now. Speaking of menus and fast service: Starbucks +3.1%; Cramer a fan (NASDAQ:SBUX).
Salesforce.com up 1% post-earnings as sell-side bulls weigh in (NYSE:CRM): It's my first time looking at Salesforce.com, and I'm surprised that it hasn't been consistently profitable in the past five years and that net margin in 2016 was 2%. Maybe we're better off looking at operating cash flow; it's certainly more robust.
Earlier this week Amazon (NASDAQ:AMZN) explored pharmacy retail, and today Apple (NASDAQ:AAPL) takes an apparent step forward in glucose monitoring.
Finally, Twitter's (NYSE:TWTR) revolving door keeps spinning.
FinTwit Corner
To get this daily market recap as soon as it publishes, please click on my profile, hit the big, orange "Follow" button, and choose the real-time alerts option.
Disclosure: I am/we are long EWZ, ERUS.
I wrote this article myself, and it expresses my own opinions. I am not receiving compensation for it. I have no business relationship with any company whose stock is mentioned in this article.