General Motors (NYSE:GM) is one of the largest automobile manufacturers in the world, by unit sales. In 2016, they were the third largest manufacturer with 9.6 million units sold.
However, despite the global reach, GM as an investment is almost totally dependent on the North American unit, which contributed 4 million of their 2016 sales. North America accounted for almost 90 to 93% of their EBITDA from 2014-16, as profits from China cancelled out the losses from Europe, South America, and International Operations.
This concentration of profitability in North America has the market concerned about falling vehicle residuals, their growing reported debts, and impact of the anticipated sale of the Opel and Vauxhall brands.
My analysis shows that the threat of falling vehicle residuals is minor, the debt structure, once properly understood, is remarkably low, and the disposition of Opel and Vauxhall will improve EBIT performance going forward.
Assuming the Opel and Vauxhall sale completes in 2017 and results in $4.5 billion in restructuring charges, I anticipate that GM will still report earnings of $5.7 billion for 2017, or EPS of $3.75. Free Cash Flow will be stronger, with my forecast at $9.3 billion. As a result, I have entered into a long position in GM, as their market capitalization of $47 billion is very low against their earnings and cash flow generating power.
Global Profit Distribution And Opel/Vauxhall Sale
From GM's 2016 10-K, I have reproduced the following data on EBITDA, vehicle sales, and calculated adjusted EBIT per vehicle.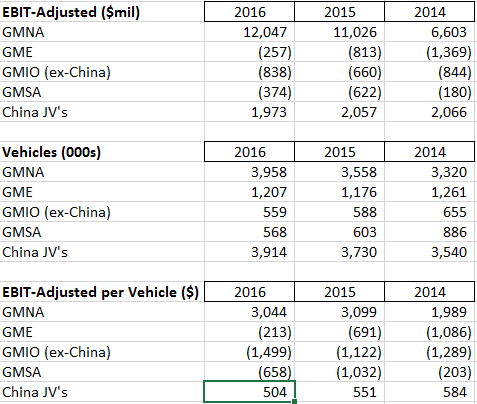 Source: GM 2016 10-K and author's calculations
From the above tables, you can see that only the GMNA and the China joint ventures generated positive EBIT. While vehicle production in China is about the same as in North America, the profit contribution is limited as those vehicles are produced under joint ventures with local Chinese partners. On average, the Chinese JVs produced about $500-600 per vehicle in EBIT, while North America has averaged $2000-3000 per vehicle in EBIT. Europe, International (outside of China) and South America all contributed losses.
In March, GM announced it was selling its European Opel and Vauxhall brands to PSA, the owner of Peugeot. While the announced transaction price is $2.2 billion, the reality is that the cash impact will be a negative $1 billion, due to the need to fund the existing defined-benefit pension obligation for the Opel and Vauxhall employees. Despite the low transaction price and assumption of the existing pension obligations, this will be a net positive to GM as they are relieved of a money-losing business and cut off future pension liabilities from their European operations.
Debt - Not As High As You Think
In GM's latest financial statement, overall debts and liabilities are reported as $184 billion. That seems like a lot, but in order to understand the business risk of this debt, we need to look closer at their balance sheet.
Below, I have reproduced their balance sheet from Q1 2017, and separated items into their Automotive and GM Financial businesses.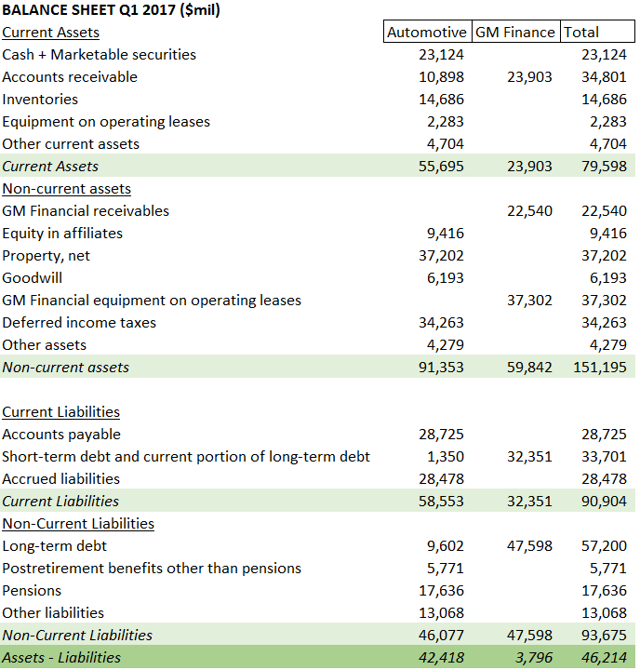 Source: GM 2017 Q1 10-Q
First, let's look at the balance sheet associated with the GM Finance business. For that business, the right way to look at it is the net of all assets and liabilities. While there are about $80 billion of liabilities related to GM Finance ($32.3 current, $47.6 non-current), this is backed up by assets of $84 billion comprised of $46.4 billion in receivables and $37.4 billion in vehicles on lease. In general, we expect the liabilities for GM Finance to be fully covered by the assets of GM Finance.
On the Automotive business, we can see that the current assets and current liabilities largely net out. These are the short-dated accounts that are required to run a large-scale manufacturing business.
Then, on the long-term liabilities, we see only $9.6 billion in debt, $23.4 billion in pension and other post-retirement benefits, and $13 billion in other liabilities, with some more details below.

Source: GM 2016 10-K
The automotive business has to cover its liabilities from its operating cash flows. Of all its liabilities, only the long-term debt has a certain debt service schedule. The pension liabilities can go up and down based on changes in the discount rate used to calculate future obligations, but generally in a rising rate environment, the present value of this liability will decline. And among other liabilities, these are real economic costs that will need to be paid one day, but do not carry an interest rate and thus do not compound.
The key conclusions about GM's debts is that the vast majority is funding the GM Financial business, and thus, fully covered by the assets (receivables and vehicles) of that business, and of the remaining liabilities, only a small portion is long-term debt for the operating business. While there are $37 billion in retirement and other liabilities, these will be serviced over decades of operating cash flow and will not create an immediate call on GM's cash.
Risk of vehicle residuals overblown
According to Mannheim, used car prices in April increased year over year by 1.6%, and 0.5% since March.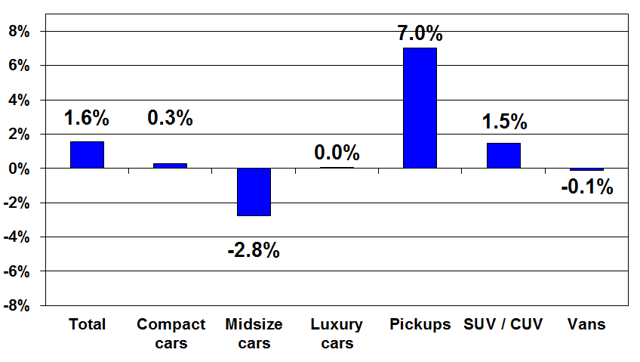 Source: Mannheim. April 2017 vs. April 2016 Used Car index
Within the mix, we can see that midsize cars suffered a 2.8% decline while at the other end, used pickup truck prices increased by 7%. So, for now, the market evidence of dramatic decline in used car prices is mixed.
GM Financial does have exposure to used car prices, as it will be receiving cars back from lease. GM has estimated that a 1% change in residual values would cost them $236 million.

Source: GM 2016 10-K.
Thus, while used car prices may present a risk in the future, they are small relative to a GM Finance business that is producing over $200 million a quarter in EBIT.
Forecast Of 2017 Earnings And Free Cash Flow
To produce a forecast of 2017, I downloaded all of GM's quarterly and annual reports since Q1 2015, reviewed the details of their income statement, and reproduced the calculations while rearranging them under "Automotive," "GE Financial" and "Corporate." GM's historical earnings are in the table below in the columns under "ACTUALS."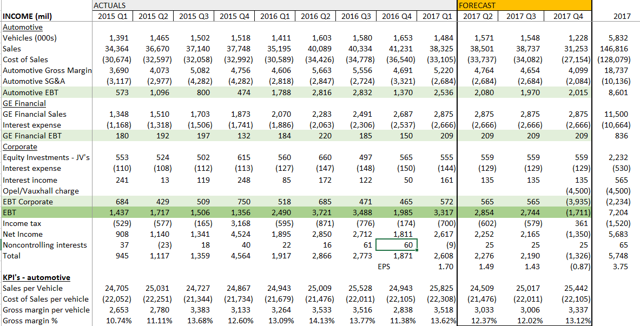 Source: GM SEC Filings and Author's calculations
From their historicals, you can see that GM Financial has been a steady business producing about $200 million a quarter in earnings. In the section above, we saw that GM Financial's sensitivity to a decrease in residual values is $236 million per 1% in residuals. So for the forecast, I have assumed a continuation of $209 million a quarter, as the most recent data do not show a decline since Q1.
Next, we can see that for Corporate, the JVs (mostly China) have produced about $500-600 million, and the net between interest expense and income have been about zero. For my forecast, I have assumed $559 million a quarter for the JVs, and a net of $6 million for interest.
Finally, for the biggest contributor, automotive, we can see that gross margin per vehicle trends have been very strong since 2015 Q3, ranging from 12.6 to 14.1%. For the forecast, I have assumed lower gross margins of 12-13% for Q2 and Q4 to reflect anticipation of lower demand.
Finally, I assume that the Opel/Vauxhall deal is closed by end of Q3 resulting in a $4.5 billion charge, and reduction of units sold by 320,000 in Q4, but a slight increase in EBIT due to the negative contribution of GM Europe.
This results in forecasted earnings of $5.7 billion, or EPS of $3.75, even after the Opel/Vauxhall restructuring charge.
Operating Cash Flow Remains Strong
I project that operating cash flow will remain strong in 2017 despite the need for a large pension contribution. My forecast of adjusted free cash flow (that is operating cash flows net of capital expenditures, without financing cash flows) is below: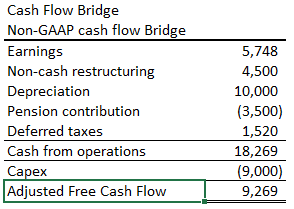 Source: Author's estimate.
I have labeled this as "non-GAAP" because I have excluded investment cash flows related to GM Financial. The reason is that for accounting reasons, cash flows of the vehicle financing business are split between investment and financing categories, so excluding them creates a clearer picture of the financial performance of their automotive business.
Depending on capex levels, I predict that GM can produce over $9 billion of adjusted free cash flow, which is my measure of what they can use to return to shareholders through dividends, increase in the GM Finance Asset base, or share repurchases.
Summary
GM is heavily dependent on its highly profitable North American operations, from which it sources 90% of its EBIT. The divestment of Vauxhall and Opel will reduce unit shipment counts and create a short-term earnings charge and cash outflow. But in the long term, this divestment will contribute to the long-term financial performance of GM.
Concerns about debt and residual vehicle values are unfounded, and do not present a material risk to GM's earnings and cash flow. Actual operating debt is extremely low at $9.6 billion. While there are substantial retirement debts of $23 billion, these will be serviced by earnings for several decades.
Despite the hit from Opel/Vauxhall, I predict strong earnings ($5.7 billion) and free cash flows, adjusted ($9.3 billion) for 2017. As a result, I have initiated a position in GM's stock based on my analysis.
Disclosure: I am/we are long GM.
I wrote this article myself, and it expresses my own opinions. I am not receiving compensation for it (other than from Seeking Alpha). I have no business relationship with any company whose stock is mentioned in this article.