In my youth, the brokerage firm E.F. Hutton had a famous series of television ads with the tag line, "When E.F. Hutton talks, people listen."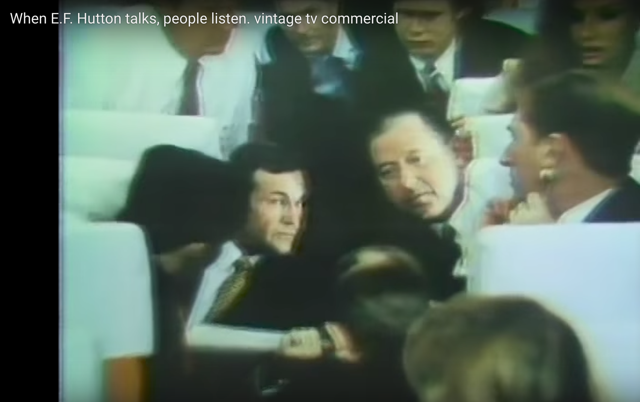 The ads are now period pieces, and E.F. Hutton was long ago merged into Smith Barney, which was owned first by Citi (NYSE:C) and now by Morgan Stanley (NYSE:MS).
Is there a financial institution today that causes people to perk up and listen when it speaks? Well, of course, there are several such institutions, but the one I regard as preeminent is Goldman Sachs & Co. (NYSE:GS).
Like every large institution, Goldman Sachs has its share of employees whose greater skills are in the realm of the political rather than the financial. But, partner for partner, employee for employee, few if any firms can match its overall high level of quality.
I offer these kind words even though in the past I have been scathingly critical of Goldman Sachs' relationship with Tesla (NASDAQ:TSLA). If you don't believe it, take a look at what I wrote in Tesla, Goldman Sachs And Lenin or Goldman Sachs Plays A Rotten Role In Tesla-SolarCity Deal.
Why so scathing? Because I hold Goldman Sachs to a much higher standard than the minor leaguers at, for instance, Dougherty & Co., Cowen & Co., or Robert W. Baird & Co.
Moreover, Goldman Sachs has been a lead underwriter for Tesla since Tesla's initial public offering. While this creates an obvious danger of pro-Tesla bias, it also gives Goldman Sachs an incentive to give straight information to its investor clients who buy the stocks and bonds it helps peddle (And, yes, I know about the Chinese wall between the investment banking side and the equity research side, but I also know about human nature).
One other huge factor: Ever since David Tamberrino replaced Patrick Archambault as the lead equity research analyst covering Tesla, Goldman Sachs' Tesla research has jumped up several notches on the quality scale.
As Tesla research goes, it is now approaching the gold standard of Tesla research analysts: Barclays Capital, Inc. (NYSE:BCS), with its research team led by Brian Johnson (who, one might note, manages to ask the most penetrating and useful questions in conference call after conference call).
In a related vein, Goldman Sachs' role gives it an inside edge in gathering information. A recent example of Goldman's inside track is the meeting it recently arranged with Aaron Chew, Tesla's vice president of investor relations, about which more in a moment.
For all these reasons, when Goldman Sachs talks about Tesla, I listen. And I listen carefully.
Goldman Sachs was talking about Tesla again when it published its latest note on Tesla on May 15 after that meeting with Mr. Chew.
I've seen reports about how Goldman's May 15 note cut its forecast for Q2 deliveries by 1,000 cars because of a potential pull-forward of China demand. The implications of that finding, though, have not been explored, and they are significant.
Moreover, several other aspects of the Goldman Sachs note appear not to have been reported at all. Yet they seem far more important than the delivery adjustment.
Here, I discuss five key features of the Goldman Sachs note that have gone unnoticed.
1. Does Goldman See Another Capital Raise This Year?
As part of its note, Goldman Sachs updated its forecast financials. Take a look at this part of the cash flow statement:


Goldman Sachs sees a total of $3.8 billion in cash flow from financing in 2017.
Some of that cash, of course, has already flowed, primarily from Tesla's capital raise in March. Tesla's most recent 10-Q shows net cash flow from financing activities of $1.6 billion through March 31.
The difference between Goldman's $3.8 billion for the full year and the $1.6 billion that had occurred as of March 31 suggests Tesla will experience another $2.2 billion in net cash flow from financing activities for the balance of the year.
Some of that $2.2 billion no doubt will be from collateralized lease borrowings, and some may arise from transactions in the SolarCity debt stack. On the other side of the equation, $75 million in Solar Bonds held by SpaceX come due in June, and there will be other debt repayments as well.
My rough math leaves a gap of anywhere from $800 million to $1.5 billion. To me, that means Goldman Sachs expects another Tesla capital raise this year of that magnitude.
That surmise is supported by Goldman Sachs' forecast balance sheet, which shows an increase in long-term liabilities this year of $3.22 billion (going from $10.93 billion to $14.15 billion).
Tesla's 10-Q shows an increase as of March 31 of $1.8 billion from the issuance of convertible and other debt. So, that leaves a gap of about $1.4 billion.
Does Goldman Sachs foresee more convertible debt? Hard to say. Plainly, though, it foresees a capital raise of some sort this year (along with further raises in 2018 and 2019).
I hope Bill Cunningham, notasmidgeon, Bryce_in_Texas, robiniv and others who are astute students of the Tesla financial statements will weigh in with their theories, and so would recommend that interested readers check the comments for some refinements to or disagreements with my own surmise.
2. A Huge Model 3 Delivery Shortfall
What is Tesla's most recent forecast for Model 3 production? I realize its 2018 forecast is a total of 500,000 vehicles, and its most recent 2017 promise is a production rate of 5,000 per week exiting the year.
So how many Model 3 cars does Tesla forecast it will deliver in 2017? 50,000? 30,000? 10,000? I'm not sure.
Regardless of what Tesla says, Goldman Sachs forecasts only 2,025 Model 3 deliveries in 2017.
Yes, 2,025. I didn't leave any zeroes off.
Why so few? Goldman Sachs does not say directly, but it dropped two hints: (1) the general assembly facility for Model 3 production is not yet fully installed, and (2) disruptions in the supply chain are always a risk.
The 2,025 delivery figure for 2017 would seem to imply a run rate of less than 5,000 cars per week at year end. A run rate which Goldman believes is necessary "to justify valuation levels."
Make of that what you will. Whether 5,000 cars a week can justify current valuation levels obviously depends upon the profitability per car. Goldman Sachs obviously has a profit margin in mind.
I continue to doubt the Model 3 can be profitable. But, hey, that's just me, and there are no doubt many good reasons why I don't work in Goldman Sachs' equity research department.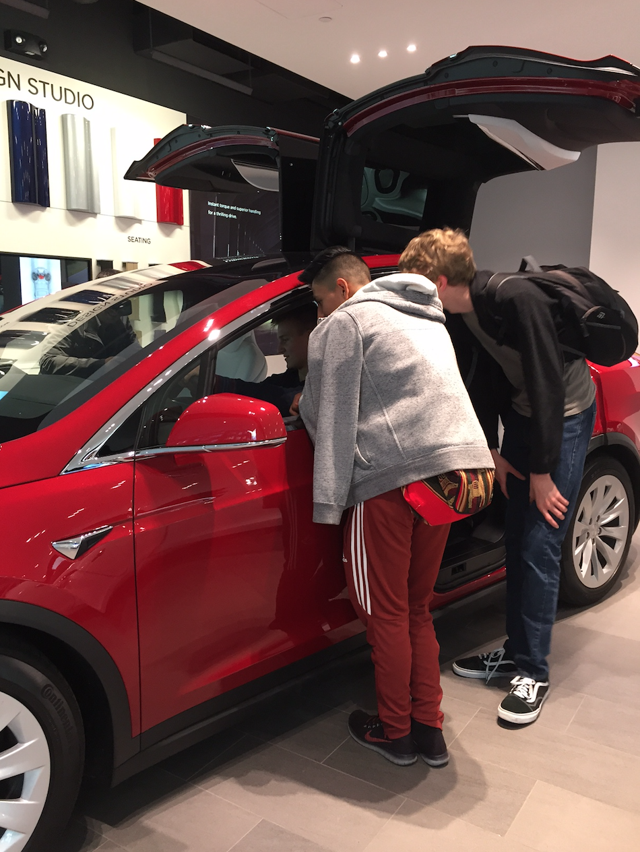 (Shoppers at Tesla's Gallery in Boston's Back Bay - Montana Skeptic photo)
3. Lower Gross Margins
Goldman noted that Tesla has guided for lower gross margins as the Model 3 launches. Goldman agrees, and then some. Whereas the "Street consensus" calls for 25% gross margins in H2, Goldman foresees only 17%.
And, as we all know, large indeed is the gap between Tesla gross margin and Tesla net margin.
CoverDrive has in the past told me he sees Tesla operating losses of $1 billion this year. Goldman Sachs sees $1.4 billion in losses, but then shrinks that considerably by deducting $975 million attributable to the SolarCity minority interests.
4. Make up your mind, Tesla. Is LIDAR needed or not?
Goldman's note discussed the setback Tesla experienced in its switch to AutoPilot 2.0, and the advantage TSLA believes it is gaining with ongoing data collection from Tesla cars on the road. It then dropped this line:
Lastly, the company noted it is not ruling out the use of LIDAR, but is also not waiting for the price point to decline for it to roll-out its fully autonomous software packages.
Either LIDAR is or is not required (in conjunction with the equipment Tesla cars now have) to achieve the Full Self Driving capability Tesla promises. I'm not qualified to say, but I've read opinions from many knowledgeable engineers who are convinced LIDAR is an indispensable element of an equipment suite that aspires even to Level 4 autonomy (never mind Level 5).
So, what does it mean when Tesla says "it is not ruling out the use of LIDAR?" Is Tesla acknowledging LIDAR is indeed necessary or, at least, desirable?
If so, that seems like an important point of disclosure to Tesla buyers, who are being told their cars have hardware that will eventually make the cars FSD-capable. My understanding is that one cannot add LIDAR to existing Tesla vehicles.
Again, all opinions from knowledgeable commenters are welcome.
5. What's Going on in Hong Kong?
Goldman Sachs believes Tesla's higher China deliveries in Q4 2016 and Q1 of this year resulted from expiration of Hong Kong's EV tax incentive. It believes the incentive expiration has pulled forward demand, and consequently expects a fall-off in China deliveries for the balance of the year.
Meanwhile, though, there are reports of some possible monkey business with the Q1 Hong Kong deliveries. The report in Sing Tao Daily, Hong Kong's second largest newspaper, is here (unless you speak Cantonese, you'll need a translation program).
Here is electrek's take on it.
Not surprisingly, electrek puts the best possible pro-Tesla spin on the matter. However, Tesla itself is being mum, at least for now. From the electrek account:
Tesla HK didn't confirm that they were behind the 510 vehicles registered by a "non-personal owner" and said that they only had a "small number" of inventory vehicles currently for sale.
If Tesla won't confirm it's behind the apparent chicanery, doesn't that mean the company won't deny it, either?
Let's remember this exchange from May 3 conference call:
Brian A. Johnson - Barclays Capital, Inc.

Yes, I have a couple of questions... [Y]our order delivery announcements at the end of the quarter, I mean delivery announcements, you used to talk about deliveries to end customers. This quarter it was just deliveries to customers. Is there any change in distribution channels potentially using resellers in some markets that that's meant to communicate?

Jonathan McNeill - Tesla Motors, Inc.

No, it's the same thing. It's consistent. We are delivering to end individual customers.
Hmmm. For some time, Andreas Hopf, Bonaire, and CoverDrive have suspected something was up in Hong Kong.
Whether they were right all along, how this ends, and whether it requires a restatement of the Q1 financials is all TBD.
Thanks for the help...
Much thanks this time to Bonaire and CoverDrive.
Disclosure: I am/we are short VIA OPTIONS.
I wrote this article myself, and it expresses my own opinions. I am not receiving compensation for it (other than from Seeking Alpha). I have no business relationship with any company whose stock is mentioned in this article.