Tesla (NASDAQ:TSLA) has been an innovative and dynamic company to analyze even for non-car enthusiasts. But it has not been very good for the average investor. Since it went public in 2010, it has erred toward volatility. Within the last few months, they have fallen from around $28 to under $23, and since then have climbed back to around $33. That one day decline, of which TSLA is highly vulnerable to, resulted from publicized rumors of defection within the company.
Having sold just over 2000 cars in about two years, TSLA has never shown a profit in public or private form (they were private for about seven years before going public in 2010). As such, TSLA is subject to a great deal of speculation. This is evidenced most poignantly by its short interest, which consisted of over 50% of float as of 2/15/12. Of TSLA's 47 million public shares, almost 25 million are held short. However it should be noted that the public float is just shy of 50% of the over 104 million total shares outstanding, which yields a more palatable but still very significant 25% short on total shares. As contrast, GM (NYSE:GM) and Ford (NYSE:F) have about 8% and 3% respective short interests, although they are far more established and sizeable.
Headed by serial entrepreneur Elon Musk (founder of PayPal and Space X) TSLA has set its sights on whetting the American and world appetites for all-electric passenger vehicles. Up until mid-February when it unveiled the latest model, TSLA's pace and judgment which is critical at this time, had a very strong foundation.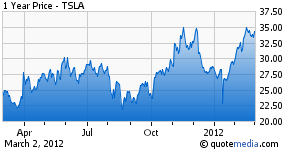 TSLA first produced a true sports car with the Roadster model, built around the Lotus platform and starting at $109,000 (with options it can cost more than $160,000). The stated goal was to not only prove the concept of high performance and quality electric vehicles, but to use the cars themselves as marketing tools. Now with over 2000 roadsters on the road and at least that many loyal followers, Tesla proved that an electric sports car could compete with more established designs. Moreover with covers of several car aficionado magazines, the Roaster also produced formidable low-cost high-yield marketing value. TSLA currently has almost no marketing budget, which works well with it's current financial position, indebted to green-energy funding which it plans to pay back in full within the next few years.
Next TSLA debuted the Model S, aimed at competing with the large luxury sedan models of companies like BMW, Audi, and Lexus. The Model S is set to start rolling out of the factory in mid 2012, planning to produce 15 thousand vehicles for the first round of orders. TSLA has currently taken $5000 deposits from over 8000 customers for the Model S. Priced significantly lower than the Roadster starting around $50 thousand, the Model S is TSLA's "every-day driver" product for the masses, relatively speaking.
Most recently, TSLA went public with the Model X. Similarly priced to the Model S, it is marketed to the SUV/Minivan crowd. It has high quality features and options including AWD, which TSLA's other two models do not currently offer. Additionally and most recognizably, it includes what they call "falcon-wing" doors, a take on gull-wing doors. Instead of sliding doors typical of mini-vans, TSLA is hoping that the "falcon-wing" design will be the next sliding door. However in the relatively conservative world of mass-market passenger vehicles, "falcon-wing" doors may have trouble being accepted. Previously, the doors have only been utilized on very niche vehicles, a reputation which TSLA intends to outgrow. However replacing the sliding door of a mini-van with the "falcon-door" is a noticeably larger design step than it was to replace the conventional door with a sliding door. Some consumers may be more turned off by the design than convinced by it.
A classic innovators dilemma that has caused many to stumble, is doing too much too fast. Pushing the consumer or the market too quickly, can result in pushing back with equal force. Like telling people that the Earth actually revolves around the Sun (that is an intentionally exaggerated comparison), it has to be done delicately to avoid alienation. Providing the "falcon-wing" doors initially as an option might have been a better strategy, as they may be the only things keeping more conservative buyers from putting down a deposit. With the "falcon-wing" doors TSLA runs the risk of taking the cool, new, innovative product into the realm of too cool and too new. Consumers like edgy and high tech up to a point, but when it comes to putting upwards of $50 thousand into a car, they may be turned-off by something perceived as too anything. And that is a big risk for TSLA, who's future is leveraged heavily upon sales of the Model X.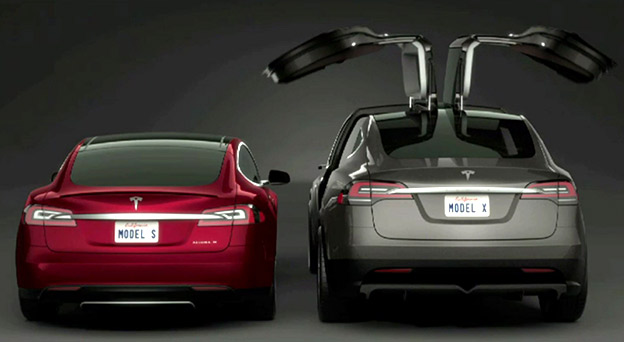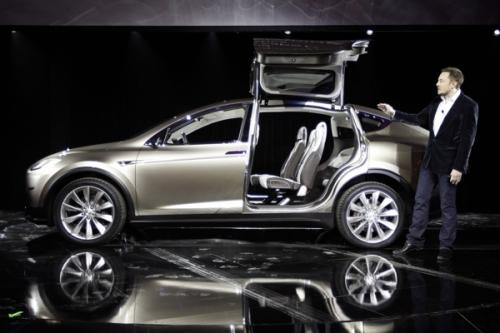 Moreover, the marketing verbiage TSLA includes on their website (Tesla) is intentionally geared toward women. While it is important that TSLA address the needs of the female market, and probably more women with kids purchase minivans than men, there is no shortage of SUV/crossover buying men. Some men might see the Model X as a perfect fit for them, only to be turned off when they find it has a reputation for being feminine. As with most crossovers, TSLA should market the Model X more broadly to appeal to all parties, as it is certainly widely amenable in design.
Hopefully TSLA will have a far brighter fate than Delorean, the last memorable maker to include gull-wing type doors on a passenger vehicle. Delorean was short lived as a company and suffered from innovation problems, but nonetheless it's cars were immortalized and gained considerable attention from the "Back To The Future" films of the 1980's. Even with TSLA's likely marketing and innovation stumble, it took nearly 500 Model X reservations on the day of unveiling. For investors with an eye for long term value, they could be the next Ford if demand continues trending toward alternative fueled vehicles. Musk in fact has been compared to a modern day Henry Ford and the similarities between the two are indisputable.
But before investors take a value position, they should be reminded that TSLA has yet to post positive earnings in it's ten year existence. It is still a very adolescent company. Investors considering a long position should look toward this summer for more definitive results after TSLA has begun slated production and future owners begin taking possession of the Model S. For the risk averse looking for a value play, it is probably best to look, but not touch TSLA. For those with a high risk-tolerance, TSLA shows considerable potential. Less ubiquitous knowledge regarding TSLA (and a differentiator from the aforementioned and ill-fated Delorean) is that it has already made agreements with Daimler to collaborate on an all-electric Mercedes-Benz. Other more established auto-makers are interested as well, but little specific information has been released. This is a good sign, indicating that TSLA is open to licensing intellectual property, which can open doors and more importantly alternative revenues if sales are slow. This will likely be a make-or-break year for Tesla; either confirming a permanent position in the car world, or exiting it. In a more entertaining vein, maybe TSLA's Model X could star in an updated "Back To The Future" film.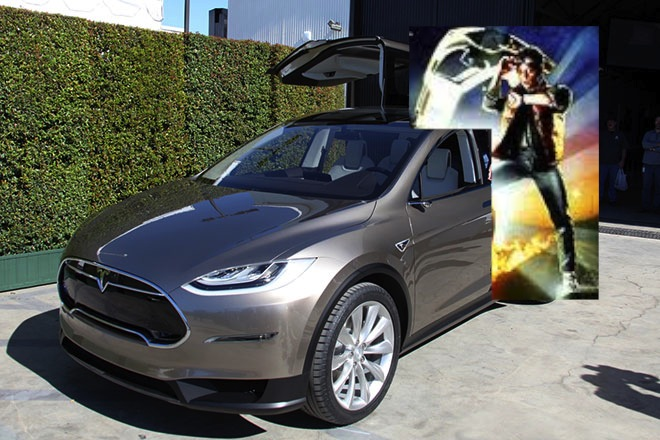 Disclosure: I am long TSLA.