It goes without saying that the retail sector has seen better days. L Brands (NYSE:LB) has been beaten down like many of its peers. However I believe that its balance sheet is healthy enough to sustain the dividend and that projected earnings might even allow the dividend to grow. At a 4.8% yield, it is an attractive pick for dividend growth investors and the recent 13% earnings surprise comes as an optimistic signal in a sector which many are calling dead.
The stock price has decreased constantly from circa $90 in 2015 to $49 and subsequently made its way into my screener.
The S.A.F.E dividend stock screener is designed to find stocks who have attractive yields because of short term fright, a history of dividend increases, room to grow the dividend, and whose financial condition ensure dividend stability. The S.A.F.E Dividend Method is a framework developed by my son Sam and myself to uncover undervalued dividend growth stocks
It screens on 5 Criteria:
Dividend Yield Greater than 3%.
Payout Ratio less than 70%.
Current Ratio greater than 1x.
At least 5 years of consecutive dividend payments.
And a positive PE Ratio.
L Brands fits the bill in every single respect, as the data below suggests.
| | | | | | | |
| --- | --- | --- | --- | --- | --- | --- |
| Company | Industry Name | Dividend Yield | Payout Ratio | Current ratio | Number of years | Price Earnings |
| L BRANDS | Apparel | 4.54 | 60.30151 | 1.72 | 6 | 9.36 |
Source: uuptick
Within our framework, I analyze in detail any stock which makes it into our screener. I monitor the screener weekly for new entrants as well as exits.
REVENUES AND NET INCOME
The first thing I do is look at top line and bottom line growth over the last 7 years.
L Brands' revenues have grown at a compound annual growth rate (CAGR) of 6.5% vs 3% for the S&P 500, whereas the company's earnings have grown at an astonishing 17% CAGR vs 3.4% for the S&P 500.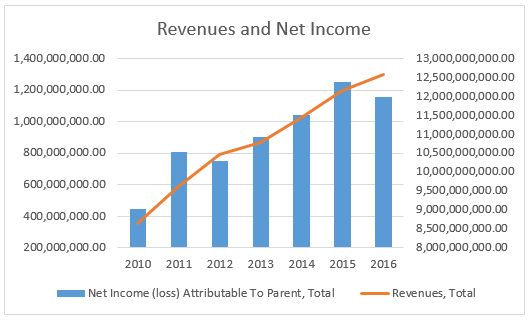 Source: uuptick
This kind of growth seems unusual for a company yielding 4.8% in dividends and trading at 9.36x earnings.
HISTORICAL PAYOUT RATIO & OUTLOOK
The next thing I do is look at the company's payout ratio relative to its historical value. I also look at the evolution of the two underlying line items: net income and dividends.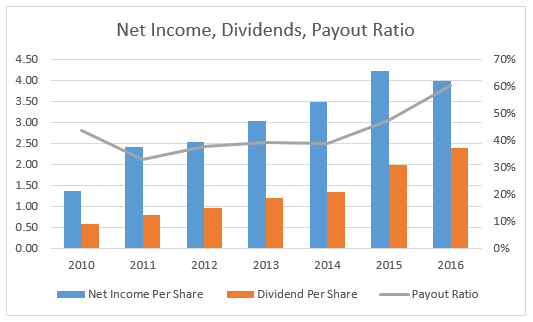 Source: uuptick
While the company's payout ratio has been stable at around 40% since 2011, we realize that during the last two years the company has started distributing a higher percentage of its earnings. As depicted in the graph above, this is mostly due to an aggressive increase in dividends.
The spike to 60% in 2016 was also somewhat fueled by lower earnings. This trend is set to continue with earnings in 2017 expected to be in the $3.10-$3.40 range. For this reason, I don't see massive growth this year in the dividend, maybe a $0.01 per quarter increase.
This would set the 2017 payout ratio between 73% and 80%, which while not alarming would be getting rather high. Both revenue growth and earnings growth should be monitored, were a position to be taken in this security. In the scenario where revenues and earnings remain flat, the company will only be able to increase its dividend by 5% for 6 consecutive years before paying out the entirety of their dividends.
HISTORICAL DIVIDEND YIELD & OUTLOOK
I then look at the company's dividend yield compared to its historical value as well as the historical 1 year trailing average.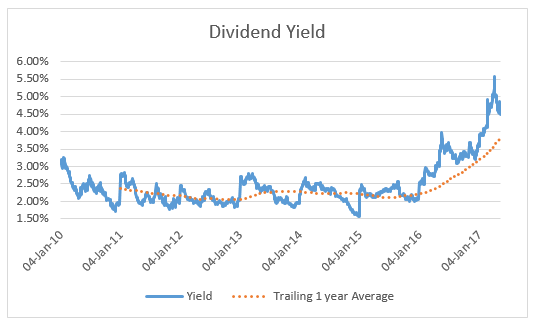 Source: uuptick
L brands has historically yielded between 1.5% and 2.75%. However, since 2016, the yield has spiked as high as 5.48% and now sits at 4.8%. The stock has never been yielding so much more than its 1 year trailing average than it has in the last few months.
The combination of a 20% increase in dividend between 2015 and 2016, and the steep decline in price has increased the yield dramatically.
PRICE ACTION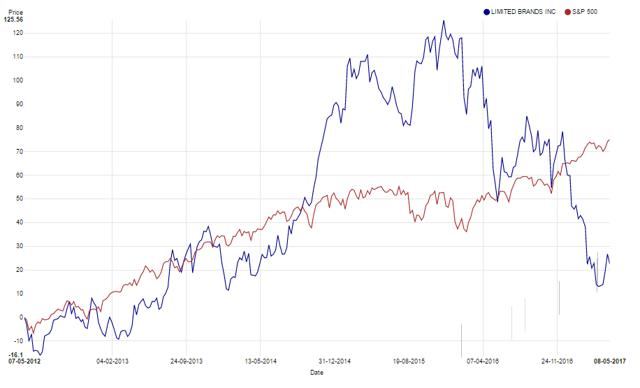 Source: uuptick
And as you can see in the chart above, LB's stock price declined steeply upon news of sluggish revenue growth and lower earnings. The stock's price is now worth only 54% of its late 2015 peak, making it a worse investment than the S&P 500 (NYSEARCA:SPY) over the last 5 years.
As an investor, I am attracted by these situations because often a dividend stocks' price action closely follows its dividend payments, resulting in a stable current dividend yield. This was the case for LB between 2010 and 2016, before market sentiment went from great to bad.
A curious opportunity arises when that happens: From a corporate governance point of view, these firms cannot afford to interrupt their history of dividend growth, let alone slash the dividend. What happens is the dividend will often remain stable or grow modestly, whereas the price can fall until supply and demand find a new equilibrium.
This is when dividend growth investors want to pounce. But before doing so, I need to assess the safety of the dividend, since the depreciated price often implies tough times to come in the short run. I want to know that I will still be receiving my dividends if things get worse before they get better.
I will look at the degree of operating leverage (DOL) for our security, and how it evolved over the last business cycle. This allows me to estimate the decline in revenues required to wipe out operating income. The DOL is an elasticity measure between operating income and revenues.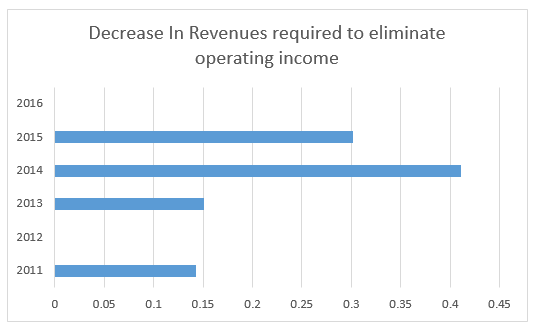 Source: uuptick
Because the reality of accounting and business isn't as straightforward as the DOL formula would like, you sometimes get a negative relationship between revenues and operating income, in which case the data isn't workable. You also get high standard deviations with such a small number of observations.
It remains interesting to look at the range of values: between 15% and 40%. In other words, if LB's revenues were to fall by 15%, we would be in trouble.
I then look at the interest coverage ratio to make sure the company's financial burden isn't too high to sustain a potential decrease in revenues.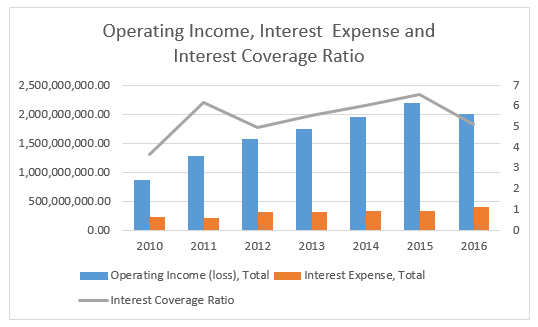 Source: uuptick
LB's operating income has been between 5 and 6 times its interest payments for the last 6 years. This is encouraging, because we know that the company will most likely be able to pay for interest and have enough money left for dividends.
The company's Altman Z score is 3.56 which means the company is in the safe zone. The Altman Z score is a good way to quickly view financial health since it combines several ratios.
These fundamental aspects are enough to consider the stock is financially sound. The company had important growth in the aftermath of the crisis, and multiples are now softening as the retail sector took a hit and expectations of growth have declined. The only real red flag is that the payout ratio is likely to grow up to 80% in 2017 on flat revenues.
At the top of the cycle this is to be expected, and it will still leave the company with room to maintain the dividend during the slump, and maybe even increase it somewhat.
VALUE OF THE DIVIDEND STREAM
Next up is figuring out what I want to pay for a stock which pays $2.40 in dividends per year, which I will assume grows at 6% per year (well below historical growth but reasonable for a future potential dividend champion).
I run a simple DDM Model three times adjusting the dividend growth rate by +/- 1%. I then divide these values by the price to see what portion of the stock price can be attributed to the dividend stream, and what premium I must pay for exposure to potential stock appreciation.
I assume a constant 10% discount rate for every equity I analyze which allows me to compare the stocks within my screener's theoretical value to their stock price.
For L Brands this gives us a value between 50 and 85$, or between 96% and 160% of the current share price. This is clearly a sign that the company is out of favor right now. This value can seem high but it is not infrequent for stocks in the S.A.F.E. screener. As you can see, L Brands is one of the cheaper companies relative to its theoretical value among the stocks who make it to the screener.
Source: uuptick
RELATIVE VALUATION
We know that the stock price has come down, and when we look at the Peter Lynch PE lines, it becomes apparent that the stock is trading close to its lowest TTM multiple of earnings in the last 5 years at around 9-10x TTM earnings. Looking at these lines gives investors a good idea of the range of multiples within which the stock has historically traded. The last time L Brands was so cheap relative to its earnings was in 2011, which reflects the expectation of lower earnings this year.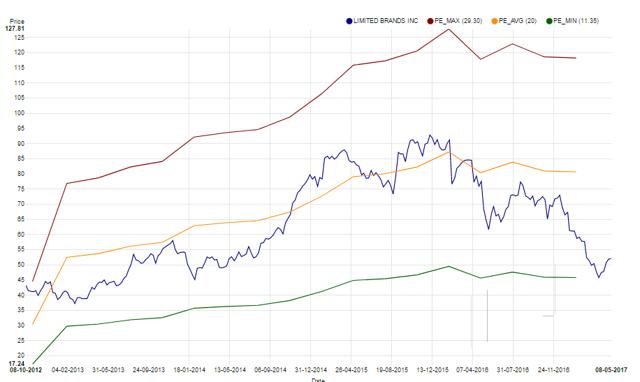 Source: uuptick
CONCLUSION
At this point it would seem that L Brands will be able to make its way through this rough patch. If the company's bet to focus on higher margin products after having cut out swimwear pays off, the stock price could stabilize soon.
There is a scare right now all across the retail sector, which will soon pass when the next big fright arrives. The situation is bad, and could get worse, but LB has the financial position to bear through the trough.
Going into earnings, I wouldn't have advised anybody to buy L Brands before seeing what kind of guidance management gave. But the higher guidance of $3.1 to $3.4 per share in earnings this year implies the payout ratio will be around 70-80%. This means that the company will afford the dividend this year and the next, assuming sales hit the bottom this year.
The company has been increasing dividend payments for the last 6 years, which means it has an incentive to maintain its dividend and increase it by at least 1 cent. On the other hand a 6 year streak isn't as influential as 10 year and more streak where management goes out of its way to maintain the dividend.
Given the strong guidance management gave, I think L Brands is an interesting addition to a dividend portfolio to boost income. I was waiting for this latest earnings report, and now believe that the bottom will be hit this year, and that retail stocks will recover when investors move on to being scared about whatever is next.
What about you, what do you think about L Brands?
If you enjoyed this article please follow me and ask any questions you might have.
Disclosure: I am/we are long LB.
I wrote this article myself, and it expresses my own opinions. I am not receiving compensation for it (other than from Seeking Alpha). I have no business relationship with any company whose stock is mentioned in this article.
Additional disclosure: These views represent the opinion of the author and not those of his company, uuptick LTD.