The "Nudge"
Fellow SA author Logical Thought penned an article recently under the title: "Tesla's Nonsense Claim That Its Solar Roof Saves Money."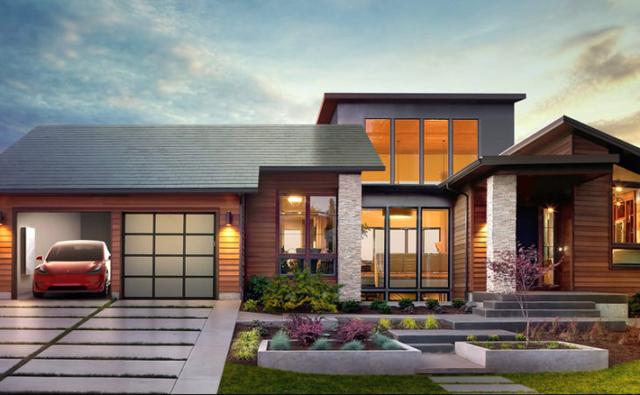 Source: Tesla
He goes on to dispute the validity of their online calculator and questions whether it actually encourages tax fraud by encouraging customers to apply for a tax credit on the entire roof. He develops the case that the upfront cost for the roof could be put into treasuries at 3% and this lost opportunity revenue drives the cost of the roof "over $100,000." He indicated that a "rocket scientist" such as Elon Musk should understand that, but is probably banking on the fact that his customers won't. He is shorting Tesla (NASDAQ:TSLA).
It seems everyone has an opinion about his piece as the comment section is bristling with arguments from Tesla supporters and detractors.
Compelled to Action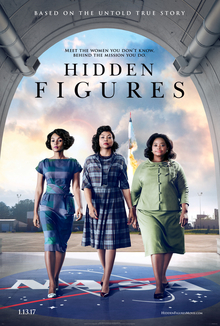 Well I am certainly no rocket scientist, not even a brilliant "computer" such as Katherine Johnson in "Hidden Figures." But I did recently decide to become CEO of my own solar utility and ran the ROR numbers. Seeing the heated debate on Logical Thought's post, I decided to "run the numbers" again, this time with Tesla tiles and see where they lead me.
What I found was very surprising.
No Trespassing on the Roof Please!
Lacking access to Logical Thoughts' roof, I used the Tesla calculator on my own: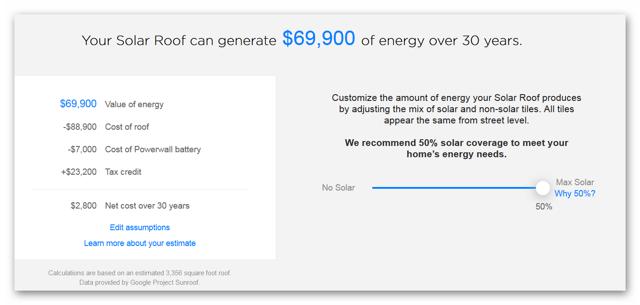 It comes up with $69,900 worth of generated over the next 30 years but a net cost of $2,800.
First blush not so enticing.
Testing Assumptions
Under the "learn more about your estimate" button, we find that energy cost inflation is projected at 2% and for local energy cost they use the US Energy Information Administration's website. The solar influx is based on Google's (NASDAQ:GOOG) (NASDAQ:GOOGL) solar maps.
The EIA projects for my area a rate of 12.8 cents/kWhr.
My actual cost is 12.3 cts/kWhr at the moment but slated to rise by 3.2% next year to 12.7 cts/kWhr. Close enough!
Checking the math:
Using the available data I approximated Tesla's calculation. Solar panels lose efficiency over time. The panels I will install are guaranteed for no more than 0.6% efficiency loss per year. Since that number isn't available for the Tesla tiles, I backed into it.
Dialing in a 0.4% panel deterioration by year, we end up close to the above cost savings estimate.
2% energy inflation is also a more conservative number than what my installer used at 3.2%.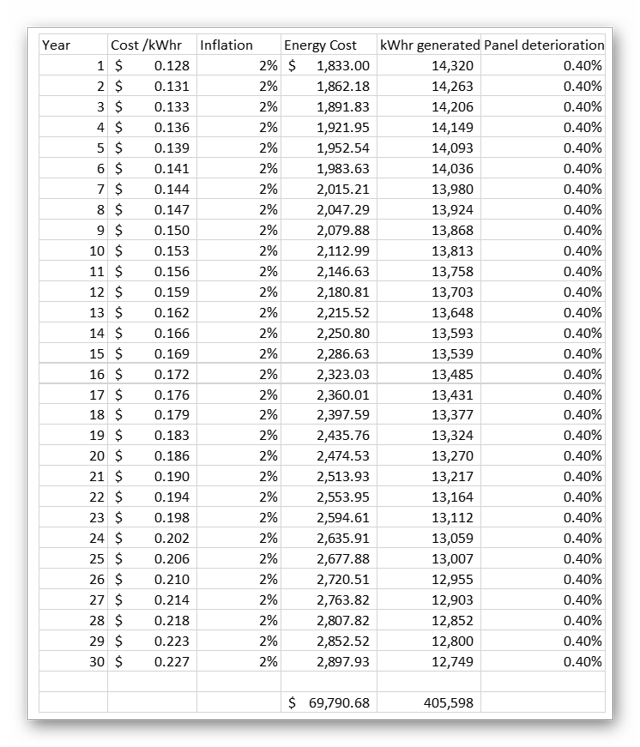 You can see what inflation does: Even at a modest 2% over 30 years offset by a 0.4% efficiency reduction you end up paying 60% more.
First conclusion: The projected energy savings look realistic and not overly aggressive.
Splitting the Roof in Pursuit of Potential Tax Fraud
Now let's try to split the solar component from the conventional roof and examine the potential "tax fraud" issue.
Tesla proposes to cover half of my roof with solar shingles, which calculates out to 1680 sqft generating 14,300 kWhrs/year.
No Powerwall Please!
Let's take the power wall out of the mix. I have net metering. The grid is my backup. While Tesla claims they take that into account, in this case they haven't. The added cost of a Powerwall doesn't provide a benefit.
Taking the tax credit of 30% for the power wall out of the $23.200 tax credit we end up with a net credit of $20,900 for the solar shingles.
The solar installation therefore costs about $62,700 (3.33 x the federal tax credit). That leaves $87,900-$62,700 = $25,200 for the rest of the roof.
The regular Tesla shingles therefore cost $15/sqft or $165/sqm. The solar shingles including converters etc. cost ~$37/sqft or $410/sqm. All these costs are fully installed.
My own system going up soon will have 43 Hanwha Modules of 1.67sqm each so 72 sqm or about 800sqft. Cost before federal tax credit (FTC) is $39.000 installed, which translates to 541$/sqm or $48/sqft producing 13.600 kWhrs per year.
Of course $/sqft is misleading, as the efficiencies are different.
| | | | | |
| --- | --- | --- | --- | --- |
| Brand | Annual production | Yearly output per area | Energy cost savings per area | System Cost before Tax Credit |
| Tesla | 14300 kWhrs | 8.51 kWhrs/sqft | $1/sqft | $62.700 |
| Hanwha | 13.600 kWhrs | 17 kWhrs/sqft | $2/sqft | $39.000 |
This would suggest that the efficiency of the Tesla tiles is about half of a conventional solar panel/area.
Don't Forget About the New Roof!
Now to be fair, I don't get a new roof with the solar modules. Per Roofingcalc an asphalt shingles roofing job costs $2.75 to $7.50 per square foot.
Let's go with the high end as I would certainly opt for a professional installer and some decent shingles. After all they need to last for 30 years. My roof is about 3,300 sqft, so a new roof would cost about $25.000. For obvious reasons nobody wants to install solar on a roof that needs replacing soon.
For a slate roof HomeWyse gives me an estimate of $38,000 ($12/sqft) to $53,000 ($16/sqft) installed.
Let's put it together by comparing solar installations with different roofing materials:
| | | | | |
| --- | --- | --- | --- | --- |
| Roof Type | Roof cost excluding solar panels/tiles | Solar Installation (Panels or Tiles) | Total before Federal Tax Credit | Total after Federal Tax Credit |
| Tesla | $25,200 | $62,700 (Tiles) | $87,900 | $67,900 |
| Asphalt Shingles | $25,000 | $39,000 (Panels) | $61,000 | $52,300 |
| Slate low | $38,000 | $39,000 (Panels) | $77,000 | $65,300 |
| Slate high | $53,000 | $39,000 (Panels) | $92,000 | $80,300 |
Tax Credit on Your Shingles
Conventional solar with asphalt shingles wins, in terms of installation costs. But if you do consider a slate tile roof plus a conventional solar system, Tesla is certainly in the game. Their non-solar shingles cost $15/sqft and are competitively priced with a high-end slate shingle. The real kicker is that the solar shingles can be tax-deducted in their entirety. You get a 30% tax credit on half of your tile roof, which calculates to about $8,000 federal tax credit on your roof,excluding the solar component.
Now you could call that sneaky or ingenious, depending on your value scale, but it certainly isn't an enticement to tax fraud. Dow (NYSE:DOW) and others have sold solar shingles under the same premise for a couple of years. The tax break is higher because the solar shingle costs are higher than regular solar panels, but then you don't need extra regular tiles, where the solar tilles sit. I look at that as value engineering.
Conclusion: No tax fraud here.
Net Cost of a Tesla Solar Roof
If we separate the cost of the Tesla solar component from the roof, it will cost us $37,500 ($62,700-$25,200) before tax credit which is quite equivalent to the regular solar panel installation of $39,000.
The Tesla 30% tax credit on the entire solar portion of the roof is $20,900. The net cost of Tesla after tax is $17.500, which is $8,000 lower than a regular panel upgrade.
Conclusion:
The guys at Tesla have done their homework and the value proposition holds, if you are comparing it to a tile roof. The savings advertised on the website are based on reasonable calculations.
In fact Tesla's roof is more attractive than installing a regular solar panel system onto a tile roof. The trick here is that the tax credit applies to the total solar portion of the roof, not just the solar component.
The target market is likely new home owners that chose a Tesla roof over a conventional slate or terracotta tile roof.
What About Opportunity Cost?
Logical Thought rightfully pointed out that any solar investment should consider the opportunity cost of not being able to invest the money spent on installation into income producing assets. His choice of asset was a 3% 30-year Treasury or tax-free municipal bond.
As several readers pointed out in the comment section, the "roof portion" of the installation should be subtracted out, as one commonly does need a roof, Tesla shingles or not.
So let's do the math:
Up-charge for the solar solution
| | | | |
| --- | --- | --- | --- |
| Roof Type | Cost of Regular Roof | Cost of Tesla Solar Roof after FTC | Net Cost of Solar |
| Slate Roof High End | $53,000 | $67,900 | $14,900 |
| Slate Roof Low End | $38.000 | $67,900 | $29,900 |
| Asphalt Shingles | $25.000 | $67,900 | $42,900 |
Choosing a More Viable Competitor
I am going to look at an investment into the SPY ETF assuming historic returns of 2% dividends and 5.5% price growth for total return of 7.5%. Certainly, a tougher hurdle to clear than a dodgy 3% 30-year Treasury bond, but that is what I used in my initial assessment for my own solar installation that I predict to beat the SPY index.
I am using a starting price of 12.3cts for the energy and a 3.2% escalator which is what my regular solar installation ROR calculations are based on. The energy credits I will be receiving from the utility on top are worth over $10,000. These are included in my other panel calculations, but I have taken those out here. They are not part of the Tesla calculator and not necessarily available everywhere else. It's clear that they would dramatically shorten payback times.
We invest the net roof charge for the solar component into a SPY ETF. Utility bills will be covered out of dividends and selling of shares (15% tax included for both). Transaction costs are not included.
High End Slate Roof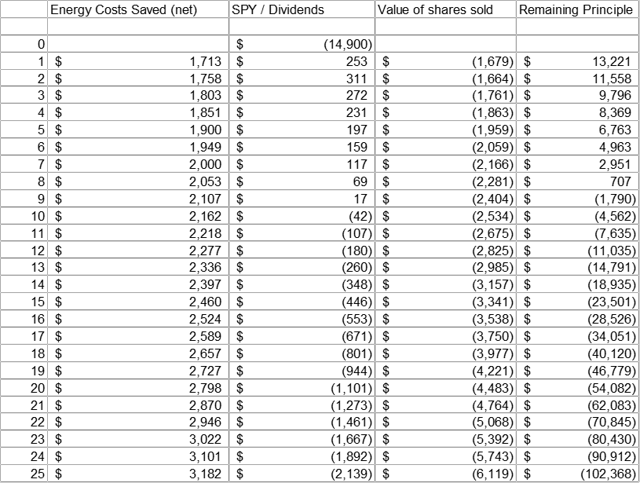 Low End Slate Roof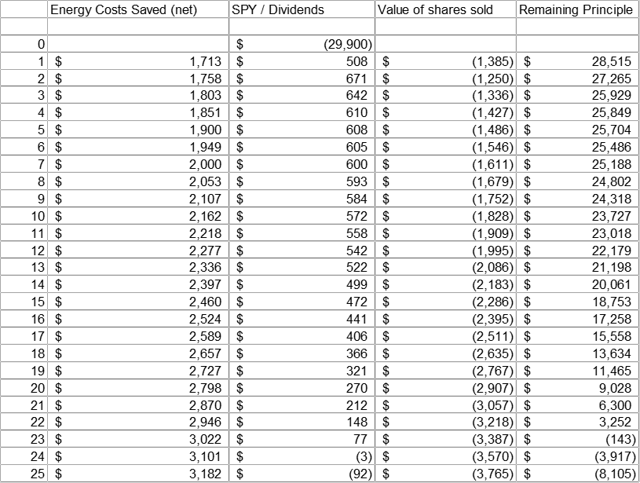 Somewhere between year 9 and 22 the money you saved on the solar installation and invested into a 7.5% ROR SPY ETF will be depleted through utility bills. This calculation assumes the federal tax credit only. Additional utility or state incentives will shorten the time frame even further. Given the current high valuation of the market you are exposed to sequence of return risks, that might force you to draw principal down in a down market, leading to faster depletion. I've included such a scenario in my other article.
Asphalt Roof Replacement With a Tesla Roof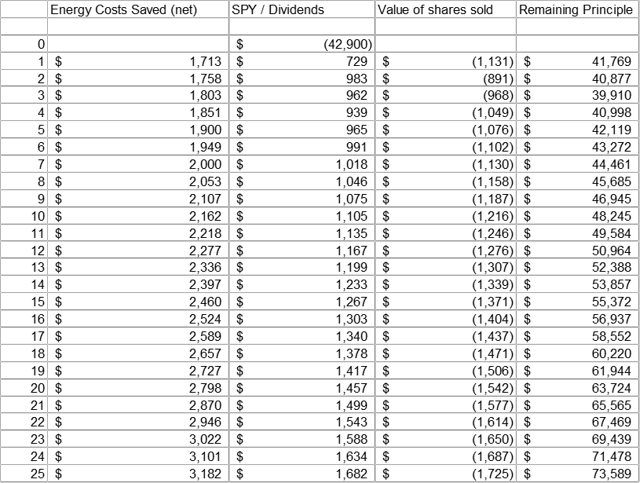 In this scenario the compounding effect of 7.5% return overtakes the 3.2% inflation of the energy cost. You are better off investing. I will point out that with the current market valuation it is highly unlikely that you will generate that return without a bear market draw down.
Looking at the same scenario with a 3% 30 year Muni, which assumes tax free distribution you can follow the draw down of principal here.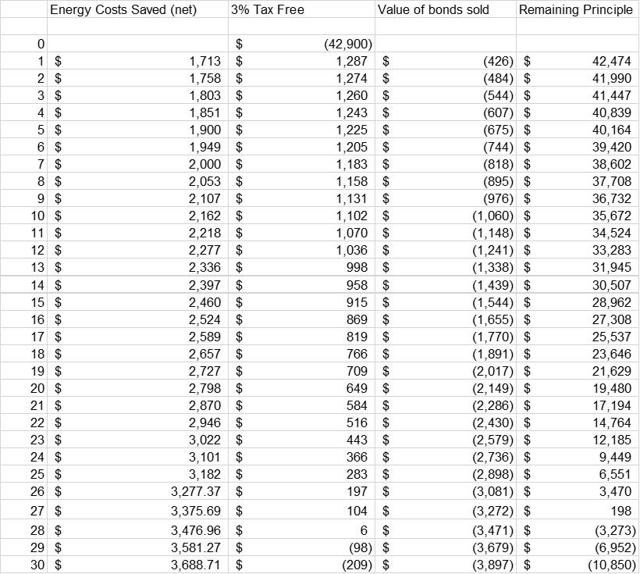 Still nothing to brag about, but this scenario is also a bit over optimistic. With near full employment, rising inflation and the Fed already projecting yields to rise, the bonds will have to adjust.
$1000 worth of bonds with a 3% coupon yielding $30 would drop to a face value of $600 if the interest rate grows to 5% giving you the same $30 in interest. If you hold to maturity you do get your principal $1000 back, but as you have to pay your energy bills, you do realize those losses.
Replacing an asphalt roof with a slate roof from an energy perspective alone doesn't make much sense, but that is intuitively clear.
It neglects the additional resale value of the house gained by upgrading from asphalt shingles to tiles. I am not willing to guess at what that might be, but you can see for each year the remaining principal, which would be the premium you need to get out of your Tesla Solar Roof when selling to break even.
Don't Forget The Net Residual Value
Let's take year 20 as an example.
If you sell in year 20 and the solar cells quit producing power in year 30, right after expiration of the warranty (bummer), the NPV of the utility bills (discounted at 3%) calculates to $27,500. That is the future value of just the utility bill savings for the following 10 years. The remaining principal on your bonds is $19,480. I'd say it is roughly equivalent,assuming you can find a buyer willing to pay you for the 'free electricity' that comes with the house. Add the value of a sleeker looking tile roof and you should be coming out OK.
She Looks Beautiful And Expensive, Is She Reliable?
Solar cells have three main hurdles for adoption:
- Price
- Looks
- Intermittent supply and concerns about reliability
Tesla has made substantial progress on all three.
Price
If you are planning to build a home with a slate tile roof and want to go solar, Tesla provides a very competitive offering.
Beauty
If WAF (wife or significant other acceptance factor) or the home owner association is keeping you from your solar dream, Tesla has the solution for you.
Reliability
As far as stable energy supply goes, I have my reservations on the utility of a battery backup for the time being, but Tesla does offer an option. Reliability of the solar tiles remains to be proven. As Elon Musk wants to go to Mars, I give him the benefit of the doubt. He certainly has access to engineers that know a thing or two about reliability. For the 30-year warranty, remember that it's only good if the company is still around (not planning to get in the midst of that discussion).
The Country of Elon Musk's Solar Dreams: Germany
It does indeed not take a rocket engineer to figure out that the consumer value proposition of Tesla tiles is strong for a segment of the solar roof market.
Whether it is good business for the supplier and a boon for investors is a question that we did not set out to answer here.
The solar tax credit has been extended through 2019, beyond that the benefit of getting tax credits on your roof shingles is uncertain.
The best market for this product might not be the US anyways:
Look at Germany:
- Tiled roofs EVERYWHERE!
- 3x the energy cost
- High solar adoption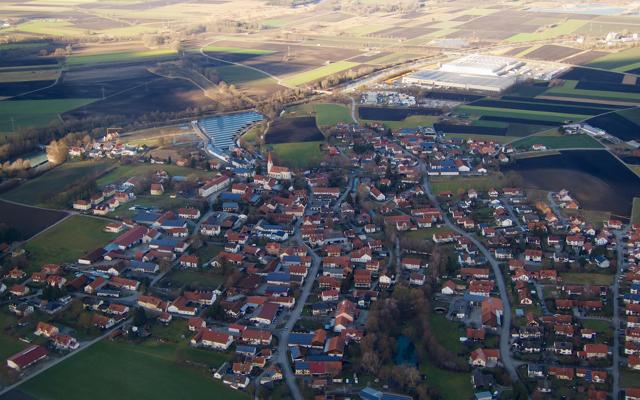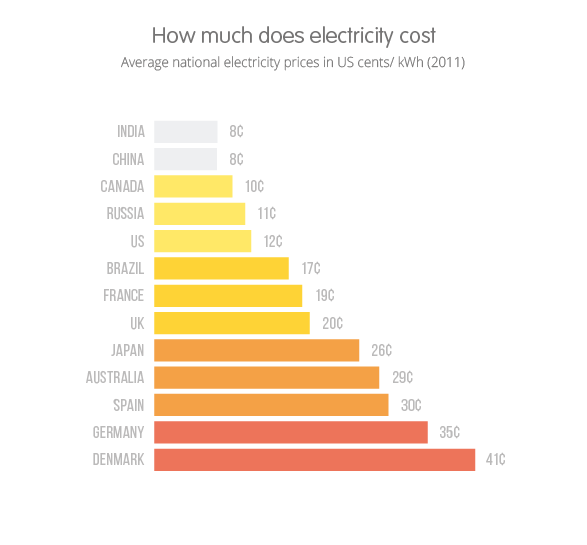 An Answer to the Question: Is Tesla Overvalued?
Fellow writer Logical Thought seems to think so, and backs his conviction up with a short position.
As a long-term investor, I personally don't short any stocks. Should I invest instead?
Let's ask the "rocket scientist" Elon Musk!
Here is what he told the Guardian recently:
"I do believe this market cap is higher than we have any right to deserve."
And that I can agree with.
Note:
A previous version of this article mistakenly included a market draw down scenario in the first 3 years for the SPY calculations (10%/10%/5%). The draw down tables have been corrected. A 3% tax free municipal bond scenario has been added.
Disclosure: I/we have no positions in any stocks mentioned, and no plans to initiate any positions within the next 72 hours.
I wrote this article myself, and it expresses my own opinions. I am not receiving compensation for it (other than from Seeking Alpha). I have no business relationship with any company whose stock is mentioned in this article.