You know that feeling of emptiness in your gut, the feeling of weightlessness, at the top of a Ferris wheel. That's how we feel about the US stock markets (SPY, IWM, QQQ, DIA, VTI). After 8 years of successful 'buy the dip' strategy it comes as little surprise to us that, on any weakness in the stock market, talking heads on TV first talk about which levels to buy at before even discussing reasons for the weakness.
For a quick primer on our thought process, please check out our past analysis on the breadth of the US stock market: April 2016, June 2016, July 2016.
In March 2017, we finally threw in the towel.
We highlighted that the breadth of the S&P 500 index was weak, that the '12 month forward EPS expectations' had clearly diverged from 'As reported Case Shiller EPS' in a meaningful way, and finally we made the following point regarding earnings yield premium:
"Post the great financial crisis of 2008 when the Federal Reserve indulged in QE, one of the many things it accomplished, as a byproduct of lowering long-term rates, was that it also artificially increased the earnings yield premium on equities. This premium has been the bedrock of a compelling argument in favor of equities over bonds. Well, here's the bad news: This premium is no longer at levels that make relative equity valuation seem like peanuts. In fact, the yield premium on the S&P 500 stock index, relative to 10-year US TIPS yield, is around levels it was pre-2008 crisis."
Below is an update on our thought process:
Market Breadth - Shorter Time Frame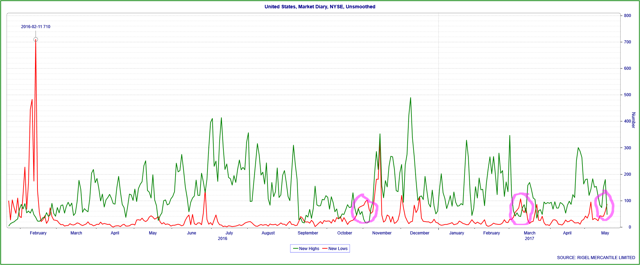 The breadth of the broad US stock market, as measured through NYSE composite, continues to signal weakness in this market. The total number of stocks that made a new 52 week high (green line in the chart above) is once again lower than the total number of stocks that made a new 52 week low (red line in the chart above).
Market Breadth - Longer Time Frame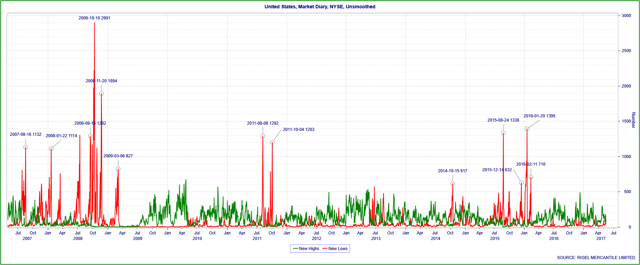 A look at a longer term chart though reveals that even at this point in time, anxiety is only an undercurrent, not yet a massive tide. As anxiety seeps in, we should start to see spikes in the number of total stocks making new 52 week lows (red line in the chart above). If and when that happens we can start talking about whether this is a correction? where we should be buying? etc. For now, all that is too early. All we can infer is that the market is weak and that this is not the right time to be long this market.
Net Advances of The Broader Market Versus S&P 500 Index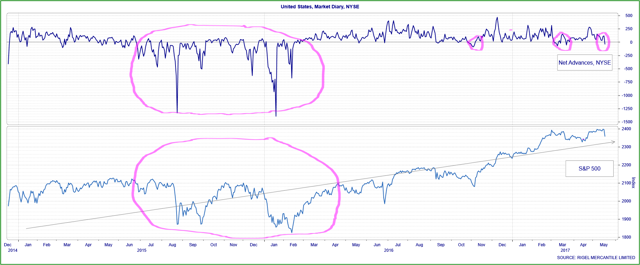 Net advances of NYSE, measured as the difference between total 52 week highs minus total 52 week lows has once again dipped into negative territory. As of the most recent data point, this number stood at -40. To put it into perspective, this number was at -67 in Mar 2017, -86 in Nov-2016, and -1,392 in Jan-2016.
Switching Gears - Technicals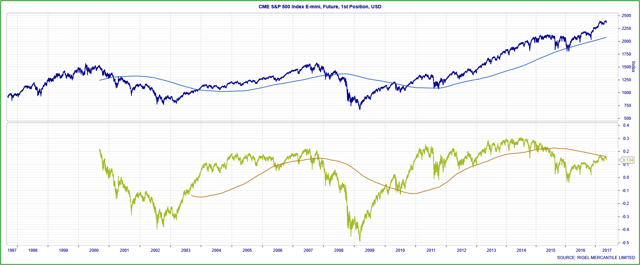 If you plot a price chart of the S&P 500 index (top panel, blue line, in the chart above) and alongside plot a chart that measures the price's deviation from its long term moving average (bottom panel, green line, in the chart above) we can see a strong divergence between these two charts. While a standalone analysis of the price chart would lead us to conclude that the market is strong and likely to continue to make new highs, an analysis of the 'price's deviation from mean' ("DFM") chart reveals a much different picture. The DFM chart reveals that over the last five years, on average, the price of the S&P 500 index has been about 20% above its long term mean. This dynamic broke down in June-2015. This coincided with the ensuing correction, a text-book-correction: the market dropped 20%, tested support at its long term mean and bounced off. Since then, however, the price has been struggling to get above, even, 16% of its long term mean. The last two times it tried to get above 16% (Feb-2017) and (May-2017) it was turned back down. The DFM's own long term mean looks like it's turning down. This market seems to have lost its upside momentum.
Switching Gears Again - Volatility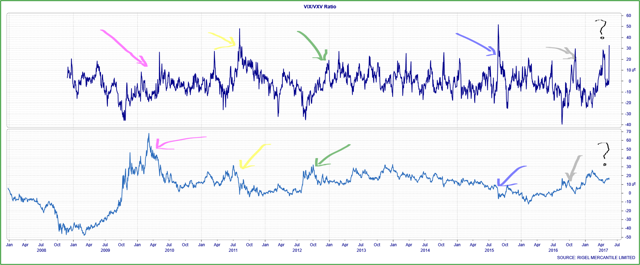 Above, we have plotted two charts. On the top panel, is a chart that plots year over year rate of change of the ratio of 1-month S&P 500 volatility to 3-month S&P 500 volatility. On the bottom panel is a chart that plots the year over year rate of change of mini S&P 500, 1st future. What this chart tells us is that every time the ratio of 1 month S&P 500 volatility to 3 month S&P 500 volatility spikes, it, almost always, is accompanied/followed by a decline in S&P 500. Why would this time be any different?
Conclusion
Our analysis of the breadth of the US stock market continues to point to continued weakness in the US equity markets (SPY, IWM, QQQ, DIA, VTI). When an asset that has been appreciating for the last 8 years turns lower even by small amounts, the introduction of negative daily returns to its return distribution tends to increase the volatility of that asset by a meaningful amount. While we are long volatility we think that a better trade structure would be to focus on acquiring long exposure to volatility of volatility of the US stock market. In our view, one of the best trades for the next 12 months is to be long Vega of Vega. We will continue to develop this idea and post our thoughts on an ongoing basis.
Disclaimer: Rigel Mercantile Limited specializes in Macro/Value Research and Systematic Trading. The views expressed above are our discretionary ideas that we have arrived at using discretionary analysis and, therefore, are limited to our discretionary portfolios only. Our systematic strategies may or may not have a position (long or short) in the securities mentioned above. Under no circumstances should the information contained herein be used or considered as an offer to sell, or a solicitation of an offer to purchase, any security or investment service. The information presented herein is presented in summary form and is, therefore, subject to qualification and further explanation.
Disclosure: I am/we are long VIX.
I wrote this article myself, and it expresses my own opinions. I am not receiving compensation for it (other than from Seeking Alpha). I have no business relationship with any company whose stock is mentioned in this article.