Introduction
Gold and the gold ETF (NYSEARCA:GLD), as I predicted last week, have enjoyed positive returns. GLD was up 1.7% to finish off the week, while spot has enjoyed 2.2% to the upside from 1227$/oz to 1255$/oz. The gold bears remain wary, and are beginning to warn of a decline into the June Fed meeting. While I will probably agree with them eventually, I think the call is too early, and I think we will be seeing another green week for gold ahead.
To analyze the recent price action for gold, I'll be talking about recent factors influencing the price. This includes: Federal Reserve policy involving interest rates and the balance sheet, political shenanigans and volatility, dollar movements, and fed funds futures expectations.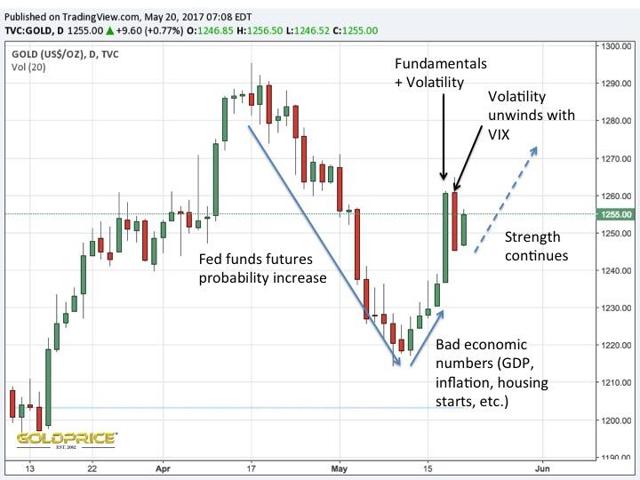 These may work in concert or against each other every day to ultimately determine most of the movement in the overall market price for gold. I'll also provide a bit of technical analysis for those wishing to trade (NYSEARCA: JNUG) or enter into short-term positions.
Interest Rates
Of course, the most important factor weighing on the price action for gold is due to the expectations of an interest rate hike in June. If we look at the CME Group's FedWatch Tool, the market now thinks that there's a 78.5% chance for a hike. This is up from Thursday's 73.8%, and also higher than 69.2%, the probability of a hike assigned by the market a week ago on May 12.
Gold tends to follow a "buy the rumor, sell the fact" trade into expected increases in interest rates, and the price declines going into a FOMC meeting, and rallies coming out of it. This is because an expected increase in the fed funds rate is priced into the markets, which are forward-looking, and then the speculation into the trade is reversed when "the fact" is realized.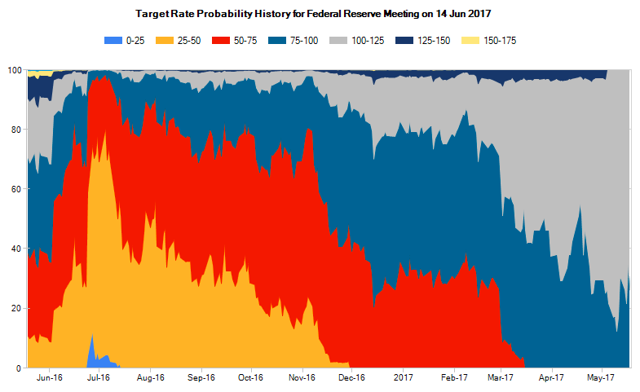 In general, as the probability of a rate hike goes up in the fed funds futures, the price of gold declines. The odd thing is, the futures have been increasing all week, yet gold has continued to rally. What might this unexpected divergence be telling us?
It is likely that the other factors below are all weighing against the fed funds futures. The market hopes that the Fed will raise interest rates in June, despite weakness in the dollar, a developing uptrend in gold, increasing political uncertainty, and a stagnating economy.
Dollar Weakness
Since the dollar normally competes with gold as a safe-haven, in addition to the fact that the yellow metal trades in dollar terms, when the dollar strengthens, gold weakens, and vice versa. In the past week, the dollar index has fallen 2% to 97.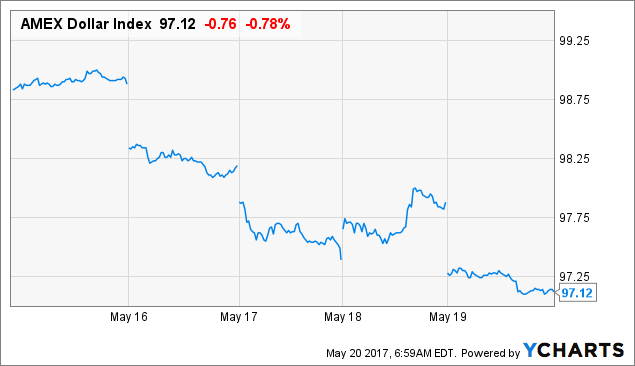 This is good for gold, and has been propping up gold prices despite strong pressures from higher expectations of a June rate hike.
Political Uncertainty
As indicated in the graph in the introduction, on Wednesday, we saw an unusually high 2% increase in the price of gold. This was quickly erased the next day on Thursday. Many heralded this as a resumption in the downward price of gold. I think the timing is off on that call, and there's more of this run before it loses steam.
However, the price action can be explained through volatility and uncertainty over President Trump. News came out that Trump had fired FBI Director Comey, and also had asked him to drop investigations into Michael Flynn concerning the allegations that Trump had ties to the Russians. VIX spiked, and my holdings of (NYSEARCA: VXX) spiked over 18% on the day.
This political fiasco spilled over into the safe-haven gold, and gold rose along with VXX on political uncertainty. Of course, as I drew on the graph, gold was already gaining due to the declining US dollar and weak fundamentals, and the buying into VXX also meant that investors were buying gold as a temporary hedge.
As the VXX trade unwound after the one-day news tanked the Dow by 350 points, the Dow recovered, and the excess gold speculators exited the trade. Gold fell by 1%. Of course, this drop wasn't a harbinger for a resumption in gold weakness. This was nothing to worry about, because the short-term volatility didn't interfere significantly with the weak fundamentals, and gold made back some of the losses on Friday.
Economic Fundamentals
The lasting concern is that Trump's supposed pro-business policies and favorable tax plans won't get passed as quickly as the market presumed. While the Fed and their dot plots still signal two hikes, the market is hovering at an expectation of 1.5, meaning that with further bad news, we might be getting only one hike this year.
Furthermore, US housing starts failed to beat expectations this past week. Nevertheless, the Atlanta Fed and the NY Fed have both increased their forecasts for Q2 GDP, to 4.1% and 2.3%. On this front of mixed data, we will have to wait for more news to see ultimately what to expect for Q2 GDP.
Although many people were excited that the Fed was finally going to start unwinding its massive $4.4 trillion balance sheet, I wouldn't get my hopes up too high.
Interviews with Fed officials, and public statements they've made suggest the Fed's new normalized balance sheet could end up being three times as large as it was before the financial crisis. And it could be bigger than that.
According to CNBC, Ben Bernanke and others advocated the Fed not to reduce the size of the Fed's balance sheet to less than $2.5 trillion, and even that we would see $4 trillion again in the next decade. If we won't be seeing a significant reduction in the balance sheet, the amount of money in circulation, already growing at an average pace of 7% per annum for the last five years, will likely continue to increase, and GLD prices will track this increase in the money supply.
Technical Entry
So now that we've looked at the major fundamental factors moving gold, let's look at what the technical indicators say.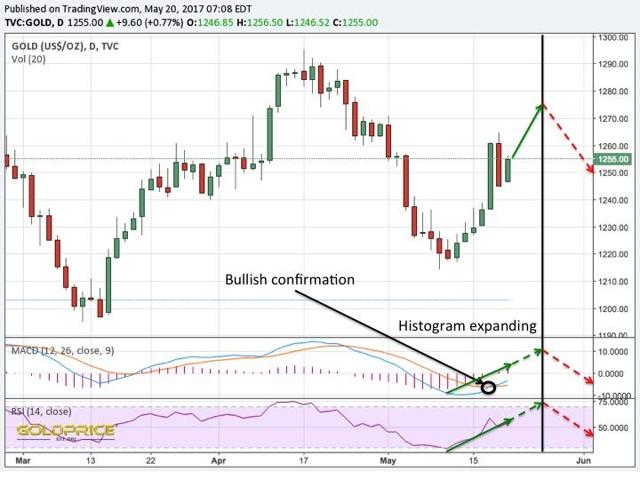 The histogram has barely turned positive on the MACD. The signal line has just been crossed, which is a bullish confirmation. The RSI is not yet overbought, and won't likely reach that area until a week has passed. Afterwards, as the red arrows show, I expect a decline of gold prices as expectations of a June rate hike increases significantly.
Conclusion
The Fed futures predict that we will likely get a hike in June. However, other factors such a weaker dollar due in part to a strong Europe after Macron's election, political shenanigans with Trump and Russia, poor fundamentals in the US economy, and an unreliable Fed have managed to thus far stymie gold's usual decline with an increase in the Fed funds futures. As of now, I think we're going to keep going up next week, and I will continue to hold gold.
Disclosure: I am/we are long GDX, GDXJ, JNUG, OTHER GOLD MINERS. I wrote this article myself, and it expresses my own opinions. I am not receiving compensation for it (other than from Seeking Alpha). I have no business relationship with any company whose stock is mentioned in this article.
Additional disclosure: I own physical gold. This article is based on public information that I assume to be true and correct. My assumptions and forecast may be wrong. This investment may not be suitable for all investors. Always consider your specific investment goals and styles before investing money.