The oil (NYSEARCA:USO) market is too focused on supply-side economics. Price risk is tilted to the downside as oil demand forecasts are likely to be downgraded. This will largely stem from a hard landing in China. An OPEC supply cut extension will not serve to propel prices significantly higher, and if it does, the response would be a further surge in U.S. shale production and supply, limiting oil price appreciation.
It wasn't too long ago at the end of 2015/beginning of 2016 when concerns regarding China's (NYSEARCA:FXI) economy and the Federal Reserve tightening cycle were at the forefront of the market. I expect a repeat. China stock prices, PMI and economic data have recently slowed and I expect this to continue. Chinese manufacturing entering a contraction is a catalyst for significantly lower oil prices.
China's growth model of investment led growth is facing diminishing returns. The authorities in China are more concerned with reining excessive leverage and speculation in home prices than they are with increasing growth. Corporate debt in China is at 170% of GDP and is at an untenable level. Many state owned enterprises are entrenched in debt and can be classified as zombie companies. There is huge industrial overcapacity in China which limits the amount of potential future investment which was used to fuel growth in China since the Global Financial Crisis. Investment accounts for a much larger percentage of GDP growth in China compared to the United States which is mainly a consumer based economy. Again, there are diminishing returns to investment led, Solow-type growth models. There is a major difference between investing to earn a sufficient rate of return than there is to investing simply to increase GDP data. This diminishing return idea can be seen in the fact that more debt is becoming necessary for each respective percentage point in Chinese GDP. According to the South China Morning Post, for 15 years prior to 2009, the incremental capital output ratio was between 2 and 4, meaning 2 to 4 yuan of fixed investment created 1 yuan of GDP. This figure now stands at approximately 13.
A hard landing in China is necessary and almost inevitable in my view. Chinese banks are going to lose capital as a result of corporate bankruptcies and non-performing loans. There may be a banking system recapitalization in response, at which point I would be inclined to become more optimistic on China. There must be an economic "reset" in China. In the long run, post-reset, I believe China will rebalance successfully to a consumer based economy given ultra low Chinese household debt to income ratios. This will not happen overnight though and it could be rough in the interim. Capital outflows from China and speculative pressure on the yuan will likely increase in the near term as the Federal Reserve (NYSEARCA:TBT) (NYSEARCA:TLT) continues on its normalization path.
The 2014 oil price decline coincided with the emergence of the divergence theme in financial markets with the Fed announcing an intent to end their easy money policies while other central banks such as the ECB and Bank of Japan were ramping up QE and lowering rates. This is the cause of the appreciation in the U.S. dollar (NYSEARCA:UUP) to date. The divergence theme is depicted below. The chart shows 10 year U.S. (orange line) and German (blue line) bond yields. As one can see they diverged in 2014.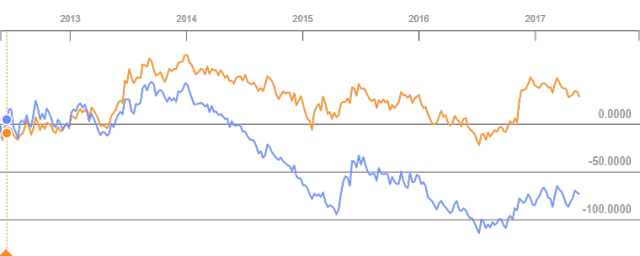 Source: Bloomberg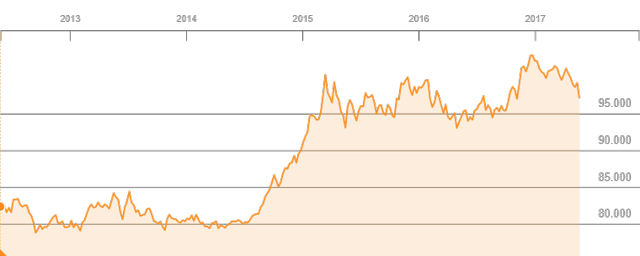 U.S. Dollar index, Source: Bloomberg
In 2016, the Fed went on hiatus and paused its tightening cycle. The U.S. dollar and treasury yields declined, commodity prices rebounded and China concerns subsided over the course of the year. The Fed is back on track now and quite hawkish with a plan to unwind the balance sheet through ending the reinvestment program of maturing securities - all while raising the Federal Funds rate likely 3 times this year. The U.S. bond and futures markets are not pricing this in correctly. According to CME Group there is roughly only a 40% market based probability of the Fed meeting or exceeding three total rate hikes this year. Then, there are 2018 rate increases to price in. If markets were pricing this in, the two-year treasury would not be yielding only 1.27%.
I believe in the re-emergence of the divergence theme and an unwinding of the reflation trade, as China experiences a hard-landing and global central banks implement opposite reaction functions. The ECB, Bank of Japan and other central banks are much more dovish than the Federal Reserve. The likely reaction to a downturn in China for most central banks globally is to lower interest rates. The Fed is more likely to continue on its tightening cycle, viewing the emerging market downturn more akin to 1997 than 2008. This will push the U.S. dollar higher on a trade weighted basis. Yellen specifically noted the resiliency of the U.S. economy to global shocks in a post FOMC press conference.
Oil inventories are still elevated and U.S. rig counts continue to climb for the 18th straight week as of today. The oil market rebalancing will be pushed back as demand forecasts are downgraded in response to an emerging market decline. Global capital investment in oil production will reach a halt. This will lead to supply shortages in the long run and a substantial rebound in oil prices over the long term. In the near term, I expect a decline in oil prices into the $30 per barrel range. Oil investors should focus on OPEC, but also on economic conditions in China as well as Federal Reserve policy.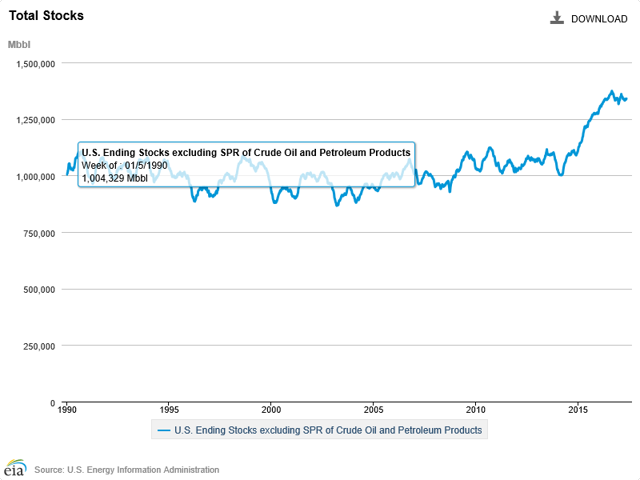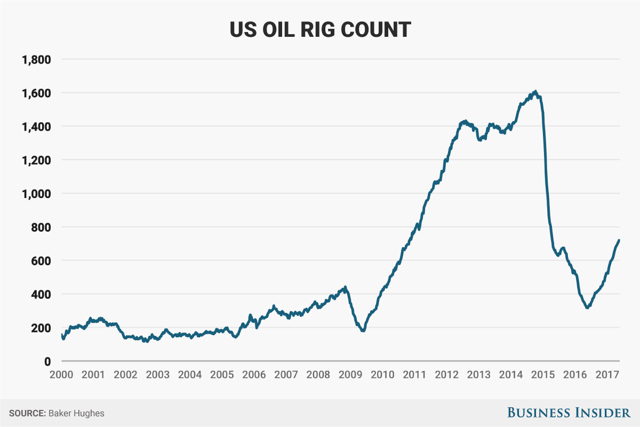 Disclosure: I/we have no positions in any stocks mentioned, but may initiate a short position in BP over the next 72 hours.
I wrote this article myself, and it expresses my own opinions. I am not receiving compensation for it (other than from Seeking Alpha). I have no business relationship with any company whose stock is mentioned in this article.