I made an invidious buy recommendation for Adobe (ADBE) last June 2016. Unlike the go-short recommendation of Investor Wand last month, I am again endorsing going long on ADBE. Adobe's phenomenal performance in the stock market is largely thanks to its continuing monopoly on commercial design/creative software. As long as there is a lack of pro-level alternatives to Adobe's Creative Cloud software products, Adobe's stock will continue to be valued at a lofty 50x P/E.
The recurring revenue from Creative Cloud is and will remain Adobe's main growth engine.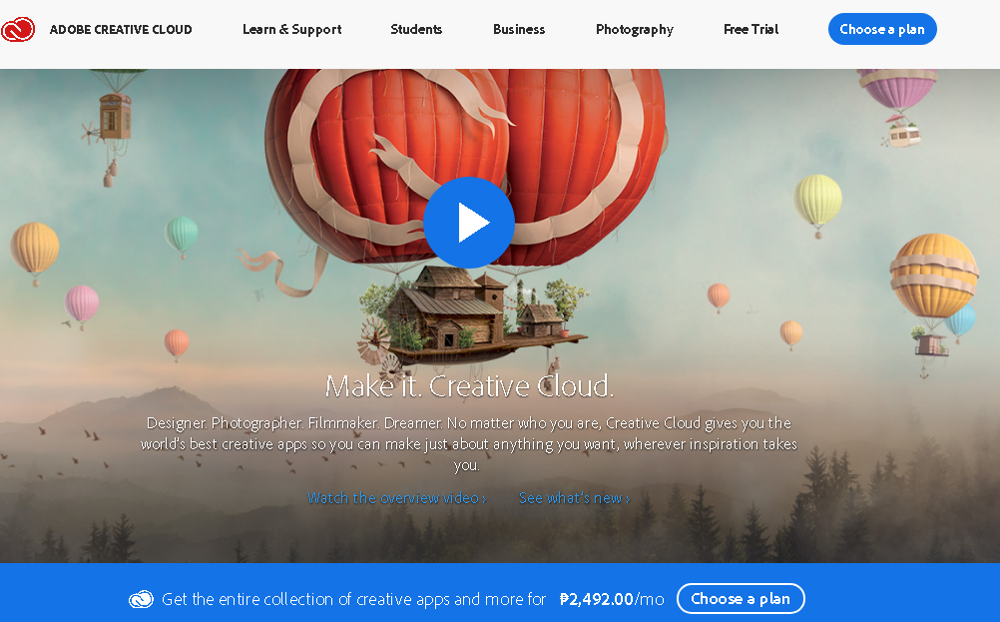 (Source: Adobe)
Adobe will not have an easy time as an advertising platform provider competing against Facebook (FB) or Alphabet (GOOG) (NASDAQ:GOOGL). On the other hand, I'm pretty confident Adobe will remain unchallenged for many years to come when it comes to design software. The enviable moat of Adobe's apparent monopoly on design/creative software has even inspired another Seeking Alpha author to suggest Adobe should be bought by Apple (AAPL).
You can search it online. No respectable employed or freelance graphic artist is using non-Adobe software for their paid projects. Check all the job boards, 99% of the job offers involving creative/design positions require proficiency in Adobe Photoshop, Illustrator, Dreamweaver, After Effects, Premiere, and Animate.
The Creative Industry Itself Elected Adobe
Nobody is hiring designers that are using cheaper alternatives like Autodesk's (ADSK) Pixlr or Graphic. As far as I know, all colleges and vocational schools offer just Adobe-branded software training/courses. The reason for this is that schools had to offer what the industry wants from its employees – proficiency in Adobe software.
Synergy Research has consistently recognized Adobe as a leader in Enterprise SaaS. This is thanks to the industry standard edge touted by Adobe's software products. Enterprise customers liked it that Adobe offered its entire business Creative Cloud software products for just $69.99/month per user.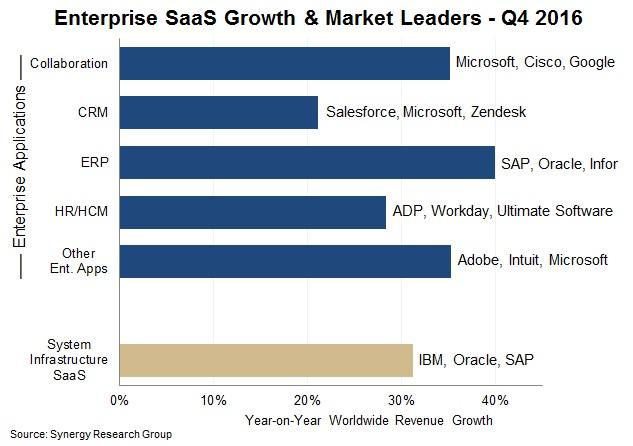 Adobe's long-term prosperity is guaranteed by the persistent preference of the global creative industry (print, web, and multimedia) for Creative Cloud products. If there were 9 million paying customers of Creative Cloud last year, I estimate that there are now more than 10 million subscribers.
The November 2016 release of Creative Cloud CC 2017 might have encouraged more people to sign-up for subscriptions. The release of the dedicated UI/UX/Wireframing design software, Adobe Experience Design CC, could also have encouraged more UI/UX artists to subscribe.
UI/UX designers are now the top earning creative professionals. They are desirable long-term customers for Adobe's Experience Design CC subscription software product.
Conclusion
I approve of Adobe's growing clout as a cloud marketing platform provider for advertisers. However, I still want the company to continue improving Creative Cloud software products. Taking care of its main revenue and income generator is always important for any company.
I want Adobe to keep building new software like genre-specific Experience Design CC to increase its total addressable market. Going forward, I expect Adobe to eventually challenge Autodesk's monopoly on commercial CAD (Computer-Aided Design) and 3-D software.
In my book, Adobe is currently king of the Software-as-a-Service [SaaS] industry. The shift from boxed software to subscription-only software distribution has been a bonanza for Adobe. Compared to Microsoft (MSFT), which is also a player in SaaS with its Office 365, Adobe's stock made a better return since June 20, 2016.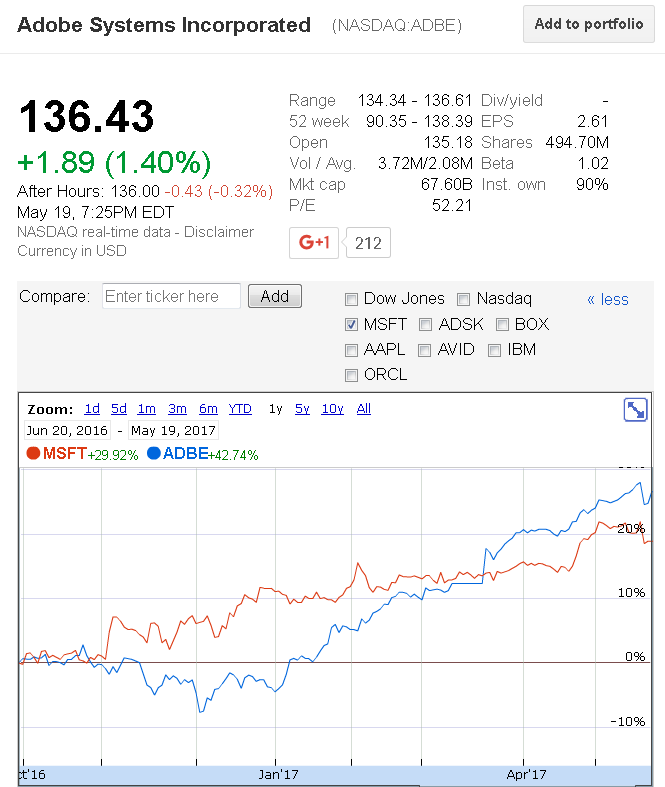 (Source: Google)
If you like MSFT as a long-term investment, ADBE should also get a place in your portfolio.
Disclosure: I am/we are long ADBE, MSFT, AAPL, GOOG, FB.
I wrote this article myself, and it expresses my own opinions. I am not receiving compensation for it (other than from Seeking Alpha). I have no business relationship with any company whose stock is mentioned in this article.