Since the 2000s, we have witnessed many rapid changes. Some examples include more advanced and sophisticated technology, the greater importance of information, and the replacement of human labor towards automatization. Every aspect of our lives has been involved in evolutionary and, sometimes, revolutionary processes of changes. Financial markets, of course, are an important part of this continuing process.
The part of financial markets that experienced the highest degree of changes is capital markets and commodity markets. The reason for that is the transition from manual trading towards automatic trading. Because of this, new ways of trading became available such as algorithmic trading (and High Frequency Trading (HFT) as its subtype). In this article, we will take a look at the impact of algorithmization and HFT on equity markets, and we will also discuss their perspectives and trends in the trading industry. For simplicity, we will assume that algorithmic trading is the same as HFT because the only difference between them is speed.
Impact of HFT:
Many changes on the equity markets and their trading processes have occurred. The most obvious change is that trading has become incredibly fast. HFT algorithms are focused primarily on speed, mostly due to the fact that the majority of high-frequency traders (HFTs) use arbitrage strategies to generate their earnings. These arbitrage algorithms monitor prices of the same (or different, but highly correlated) assets on different markets, where one is a benchmark for another. When there are some movements in price on a benchmark market, HFTs execute orders on another market (or another asset) towards the same direction to exploit divergence. Obviously, in order to succeed in arbitrage, you must be faster than others which is the reason for ever-increasing speed.
Some are against HFTs, but there are also some who support them, saying that HFTs add liquidity and make the markets more efficient. It is a debatable topic, but both of them have their valid points. Those who support HFTs have the following arguments:
1) Liquidity
HFTs' share of market orders is significant and, therefore, it may be stated that HFT algorithms add a big share of liquidity to the markets mostly by passive market-making strategies. Market-making strategies minimize spread between buy and sell prices and also increase depth of the secondary market. These aspects are very important for potential investors because liquidity makes them confident with trading in big volumes. In addition, big volumes cause transaction costs to decrease which is beneficial for all market participants.
2) Fair price valuation/volatility
HFTs require high volatility to earn their returns. From this perspective, they simply decrease deviation of an asset from its medium (or trend). This fact is very attractive for long-term investors because for them it lessens the risk of acquiring (or selling) an asset at a bad price. Efficiency of the markets increases with faster valuation and fairer prices caused by HFTs. It may be said that irrational investors (including those with high leverage) are penalized by HFTs.
HFTs are not directly involved in the process of initial public offerings (known as IPO) which are used by companies to accumulate new share capital. Initial company's stock price, however, depends on some related to algorithmic trading factors, including prices of other similar and comparable companies, because analogies are often used by underwriters when they try to figure the fair initial price. Therefore, better price-making is certainly beneficial for capital markets and potential investors.
3) New techniques, new opportunities
A wide range of fundamentally different strategies came to the markets with HFT algorithms. Some people believe that such variety is providing flexibility and sustainability of the markets in general. HFTs can provide real-time response to market changes.
On the other hand, there are many people who disagree with the positive image of HFTs. In their view, HFTs cause uncertainty and can bring a catastrophe to the whole financial institution system. The most common claims are:
1) Flash Crash risk
On 6th May of 2010, a major financial catastrophe occurred, also known as the Flash Crash. Popular American indexes collapsed for a couple of minutes. This event was caused mostly by HFTs, and therefore, created a negative public opinion towards them. Many people have realized since the Flash Crash that such extreme speeds can be dangerous for normal market functioning.
2) Market manipulations and fake liquidity
Sophisticated infrastructure of stock exchanges (mostly American) provides a wide range of strategies for earnings. There is the practice of front-running large trading orders from institutional investors. HFTs can track big institutional orders. Then they usually try to absorb liquidity before big investors. The final step is to close HFTs' positions counter to big investors. The prices for institutional investors at the end are much higher.
Another strategy related to misleading investors is called spoofing. When a high-frequency trader owns some shares, it can try to increase the price by placing buy orders. The true intention of this operation is to attract other buyers in order to sell them initially owned shares at a higher price at the same time cancelling its own buy orders. These cancelling orders are known as fake liquidity because they disappear if there is an attempt to execute them.
Both of these strategies cause unfair pricing for other market participants and can be classified as market manipulations.
3) Maintenance costs
HFTs' algorithms require a large amount of processing powers and all exchanges have to constantly update their equipment, cables and structure of working in order to be able to handle this increasing flow of HFTs' orders. At the end, it can increase costs for all market participants.
Current position of HFTs:
According to research conducted by Deutsche Bank (on May 2016), the total share of HFT volume in trading declined from 2010 to 2014 on both US and Europe equity markets. From more recent data, we can observe that the share of HFT has stabilized around 50% (in US markets).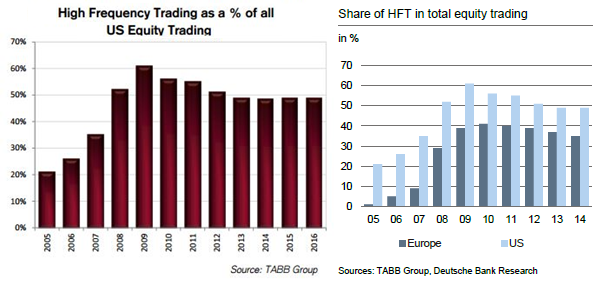 The reasons for this trend are not clear, but it is commonly believed that following factors affected it:
Since the Flash Crash, the pressure on HFTs has significantly increased; people became aware of their potential risks and regulators took some actions against HFT. In particular, the SEC has recently (January 30, 2017) approved the rule to require all individuals involved in development of trading algorithms to pass appropriate exams (series 57) and register as a Securities Trader with FINRA. In addition, according to CRS report, the US Congress has had a couple of hearings and legislative proposals to increase pressure on HFT by levying additional transaction taxes on security trades or directly on HFTs (presumably raising the cost and thus reducing the incidence of conducting HFT). The hearings included discussions about potential market fragility and complexity, during which the SEC and FINRA representatives were recommended to speed up implementation of a number of pilot programs and proposals the SEC and FINRA have discussed for several years. These include implementation of a consolidated audit trail aimed at improving surveillance and supervision of trading, including automated trading, and a possible pilot program aimed at temporarily eliminating rebates or inducements to brokers for routing client orders.
It is also believed that competition between HFT participants has become too tough, and ineffective HFTs started to leave the market due to declining profits (or losses). Higher speeds are required nowadays to stay competitive and it causes much higher expenditures on maintenance for HFT firms. Major exchanges doubled or tripled their co-location service fees over the 2010-15 period for HFT firms (according to Deutsche Bank research). It is clear that HFT has become a "red ocean" for new firms that want to conduct such business.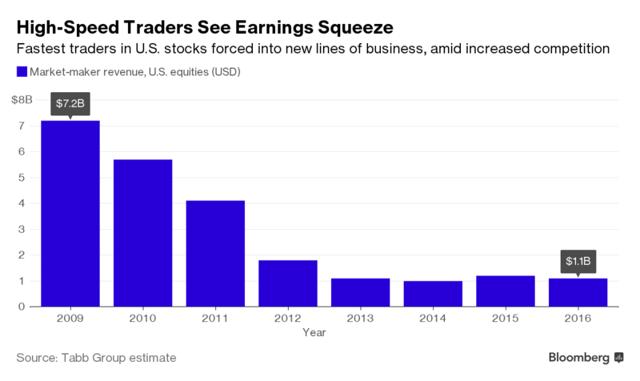 Another possible reason for the decline of HFTs is the creation of special exchanges to counter all potential benefits of high speed. The most famously known one is IEX (the Investors Exchange) created in October 2013 by a team of enthusiasts in order to stop inequality in trading between regular and high-frequency traders. IEX creates artificial delays for incoming orders and makes the average time from manual trading order and HFT order close to the same number. This concept does not provide HFTs an opportunity to use front-running strategies against regular traders. IEX regularly reports its market share, and from information on the last available date, there is a continuing trend of their market share increasing.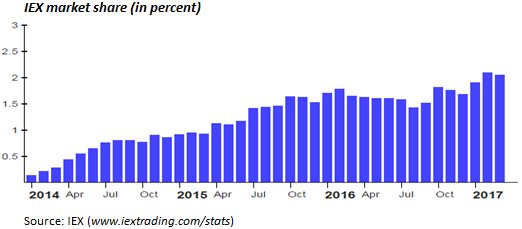 Future and tendencies of HFT:
The environment for HFT has changed. There are higher costs and more competitors. Nowadays, it seems impossible to earn excessive profits unlike before. HFTs are under constant pressure from the regulators and private exchanges and it will likely continue in the future. However, latest tendencies show that the HFT market reached its stable stance in earnings and it may indicate about HFTs' adaptation for "new game rules".
At the same time, there are global tendencies in IT - one of the most popular is machine learning. This technology can provide new opportunities for HFT and algorithmic trading. Potentially, the majority of algorithms will obtain the tools of recognizing complicated market patterns by themselves. It may change the flow of trading processes on markets significantly, but it is not clear if its impact will be positive or negative - there are too many questions to be answered: "What are the risks? How will these algorithms interact between themselves? What will the speed mean?" and so on. The current number of algorithms that already use machine learning is unknown.
As any investment, HFTs and trading algorithms will continue to develop and exist as long as they are profitable. It is likely that they will have positive (even if it will be very small) economic returns in the future and, therefore, be interesting for further development.