A somewhat incredible fact of global bond markets is that the third largest market in the universe is not included in any major index. The exclusion of China from global bond indices has merit; the onshore Chinese bond market was, until several years ago, closed to foreign investors. Through a very deliberate and directionally consistent process of liberalization, onshore Chinese bonds may become a significant weight in many, or most, global bond portfolios within the next two years. The impact on emerging markets bond indices and fund weightings will be even more significant.
The onshore Chinese bond market in total has a market value of approximately US$9 trillion, placing it third between Japan (US$14 trillion) and the United Kingdom (US$6 trillion), according to the Bank for International Settlements.
Total Debt Outstanding by Country
As of September 30, 2016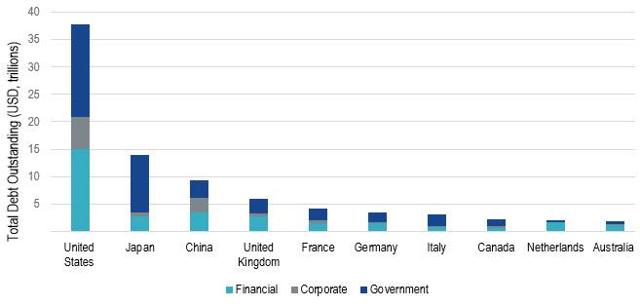 Source: Bank for International Settlements. Not intended to be a forecast of future events, a guarantee of future results or investment advice. Current market conditions may not continue.
The recent addition of Chinese Government Bonds (CGBs) and the bonds of three Chinese policy banks to a parallel version of the Bloomberg Barclays Global Aggregate Index included US$2.5 trillion in bonds, more than 5% of the index. CGBs would hold a similar weight in Citi's World Government Bond Index (WGBI) upon inclusion.
J.P. Morgan includes approximately $573 billion of Chinese government bonds in its emerging markets local debt index family, though none of these bonds qualify for its investable benchmarks. If China were included today, it would constitute more than 35% of the GBI-EM uncapped index1, though it would be capped at 10% of the more widely followed GBI-EM Global Diversified Index – the same weight as Mexico and Brazil. J.P. Morgan has had China on "Index Watch" for inclusion in the GBI-EM Global Diversified series since March 2016.
What Steps Has China Taken to Liberalize its Domestic Bond Market?
China has taken several incremental steps over the past fifteen years to open up its onshore sovereign, financial, and corporate bond markets to foreign investors. This began with the introduction of the Qualified Foreign Institutional Investors (QFII) scheme in 2002, followed by the RMB Qualified Foreign Institutional Investor (RQFII) scheme in 2011. Both allow institutional investors that meet certain qualifications to invest in onshore bonds, subject to approval as well as investment quotas, lock up periods, and repatriation limits. Since 2012, investors accessing markets through these programs could access both the exchange bond market as well as the much larger and more liquid interbank bond market, subject to additional approvals.
Significant progress was made to open up the interbank market in 2016 with the introduction of a registration process that allowed certain types of foreign institutional investors to access the market directly, provided they have established proper custodial and clearing accounts. Importantly, this scheme did away with the quotas, lock up periods, and repatriation limits of QFII/RQFII frameworks. In 2017, foreign investors were given the ability to hedge currency risks in onshore derivative markets, and officials recently approved the creation of a "Bond Connect" scheme that will allow foreign investors to purchase onshore bonds through a trading link with Hong Kong.
Opening up China's bond market to foreign investors is a priority for policymakers, and supports ongoing efforts to internationalize the Chinese yuan (CNY) and provide a much needed alternative to domestic financing. In addition, the expected inflows from long-term foreign investors could help to ease domestic outflow pressures currently experienced.
What Is Preventing China's Inclusion Today?
Certain issues have prevented China's inclusion in global bond indexes. Despite progress in opening up markets, the operational hurdles to do so remain onerous. Investors must have a local onshore custodian, and the registration process has proven to be somewhat lengthy and burdensome. There is still a need for greater access to onshore hedging tools, and certain tax rules remain undefined for foreign investors.
Most importantly, investors and index providers want some assurance that there will not be any backtracking of the progress made over the past two years. There must be some proof of concept that there would be no restrictions on repatriation of foreign currency when funds sell onshore bonds (i.e., fear of capital controls), particularly in a stressed market environment.
China's Impact on Emerging Markets Bond Indices
Barring what would be a significant step backwards by Chinese policymakers, index inclusion appears inevitable at some point in the foreseeable future. The impact will be significant, with inflows expected to be in the range of US$150 to $300 billion from emerging markets and global bond funds, mostly the latter. Although flows could initially be subdued if active managers choose to underweight China, flows would be increased to the extent that onshore bonds are added to off-benchmark exposures. From an emerging markets index perspective, the higher allocations to China would come at the expense of relatively smaller issuers including Poland, Indonesia and South Africa.
Adding China Reduces EMEA2 Weighting
J.P. Morgan GBI-EM Global Core Index Country Weights
As of April 30, 2017
Country
Current Index
Weight
Estimated New
Weight With China
Inclusion
Change
China
-
10.0
10.0
Brazil
10.0
10.0
-
Mexico
10.0
10.0
-
Poland
9.9
8.3
(1.6)
Indonesia
9.5
8.0
(1.5)
South Africa
8.7
7.3
(1.4)
Turkey
6.7
5.6
(1.1)
Colombia
6.2
5.2
(1.0)
Malaysia
5.9
4.9
(0.9)
Thailand
5.8
4.9
(0.9)
Russia
5.2
4.4
(0.8)
Hungary
4.0
3.3
(0.6)
Argentina
3.0
3.0
-
Chile
3.0
3.0
-
Czech Republic
3.1
3.0
(0.1)
Peru
3.0
3.0
-
Philippines
3.0
3.0
-
Romania
3.0
3.0
-
Source: J.P. Morgan and VanEck estimates, based on amounts outstanding as of 4/30/2017.
At current yields, China's inclusion would bring down the overall yield on the GBI-EM Global Core Index (3.6% average yield for China versus 6.3% for current index) and would reduce duration slightly. Although the overall yield on the index would decrease at today's yield levels, it's worth noting that CGB yields have risen significantly since reaching their tightest levels in 2016, with the 10-year yield wider by 95 basis points through early May. Index inclusion would also boost liquidity and increase diversification given the moderate correlation of the CNY to other emerging markets currencies.
Further, the CNY has been relatively stable compared to other emerging markets currencies because it is managed against a trade-weighted currency basket, and could therefore play a stabilizing force within the index. Concerns of CNY depreciation have kept foreign investor interest restrained over the last two years, and although further weakness is possible it is worth noting that inflows from potential index inclusion will help to at least partially offset current outflows that have put pressure on the currency's value. On the other hand, increased two-way flows could also result in higher volatility depending on future market conditions.
IMPORTANT DISCLOSURE
1J.P. Morgan GBI-EM Global Diversified Index (GBI-EM) is an unmanaged total-return index tracking local currency denominated EM government debt.
2Europe, the Middle East, and Africa.
Bloomberg Barclays Global Aggregate Index tracks global investment grade debt from twenty-four local currency markets.
World Government Bond Index (WGBI) measures the performance of fixed-rate, local currency, investment-grade sovereign bonds.
J.P. Morgan GBI-EM Global Core Index is an unmanaged total-return index tracking local currency denominated EM government debt which caps country exposure at 10% and has a minimum country exposure of 3%.
Sources of all data: FactSet, J.P. Morgan, and BofA Merrill Lynch.
Indices are unmanaged and are not securities in which an investment can be made. Index returns are not representative of Fund Returns. For fund returns current to the most recent monthend, visit vaneck.com.
The information herein represents the opinion of the author(s), but not necessarily those of VanEck, and these opinions may change at any time and from time to time. Non-VanEck proprietary information contained herein has been obtained from sources believed to be reliable, but not guaranteed. Not intended to be a forecast of future events, a guarantee of future results or investment advice. Historical performance is not indicative of future results. Current data may differ from data quoted. Any graphs shown herein are for illustrative purposes only. No part of this material may be reproduced in any form, or referred to in any other publication, without express written permission of VanEck.
This content is published in the United States for residents of specified countries. Investors are subject to securities and tax regulations within their applicable jurisdictions that are not addressed on this content. Nothing in this content should be considered a solicitation to buy or an offer to sell shares of any investment in any jurisdiction where the offer or solicitation would be unlawful under the securities laws of such jurisdiction, nor is it intended as investment, tax, financial, or legal advice. Investors should seek such professional advice for their particular situation and jurisdiction.
Please note that Van Eck Securities Corporation offers investment products that invest in the asset class(es) included in this commentary.
Debt securities carry interest rate and credit risk. Interest rate risk refers to the risk that bond prices generally fall as interest rates rise and vice versa. Credit risk is the risk of loss on an investment due to the deterioration of an issuer's financial health. Securities may be subject to call risk, which may result in having to reinvest the proceeds at lower interest rates, resulting in a decline in income. International investing involves additional risks which include greater market volatility, the availability of less reliable financial information, higher transactional and custody costs, taxation by foreign governments, decreased market liquidity and political instability. Changes in currency exchange rates may negatively impact a fund's return. Investments in emerging markets securities are subject to elevated risks which include, among others, expropriation, confiscatory taxation, issues with repatriation of investment income, limitations of foreign ownership, political instability, armed conflict and social instability.
Investing involves substantial risk and high volatility, including possible loss of principal. Bonds and bond funds will generally decrease in value as interest rates rise. An investor should consider the investment objective, risks, charges and expenses of the Fund carefully before investing. To obtain a prospectus and summary prospectus, which contains this and other information, call 800.826.2333 or visit vaneck.com. Please read the prospectus and summary prospectus carefully before investing.