Amazon (NASDAQ:AMZN) Web Services (AWS) seems equally unstoppable. Having built a large infrastructure needed for its e-commerce business, Amazon opened this infrastructure up for third parties in the form of AWS in 2006 (see here for a history).
For clients, this provides a number of obvious benefits:
Rather than having to incur the planning and upfront capital cost of building one's own infrastructure, clients can instantly fire up hundreds or even thousands of servers on a low variable cost basis, paying simply for what it needs.
It can be used for a whole variety of purposes, from simple storage to hosting advanced applications.
Cloud computing is a large and fast growing market opportunity, from Datamation:
According to IDC the public cloud computing market is on pace to double over the next four years, climbing from around $70 billion in 2015 to more than $141 billion by 2019. That huge market offers a tremendous opportunity for those companies that establish themselves as leaders in the cloud computing space.
Goldman Sachs is even more bullish (from Barrons):
The overarching theme is that cloud is still very young but will disrupt overall IT spending in a very big way in the next four years. They see public cloud spending rising from $32 billion this year to $137 billion in 2020. That's not including traditional software license revenue that Microsoft (MSFT) sells that moves to the cloud. Over that time, "we believe the public cloud market will continue to disrupt multiple industries, including servers, storage, networking, infrastructure software, data center construction, and data center outsourcing," areas that amount to $500 billion in spending now and will be worth $650 billion in 2020.
AWS has been hugely successful on several metrics. It's the biggest cloud company in the world, bigger than the three next competitors combined: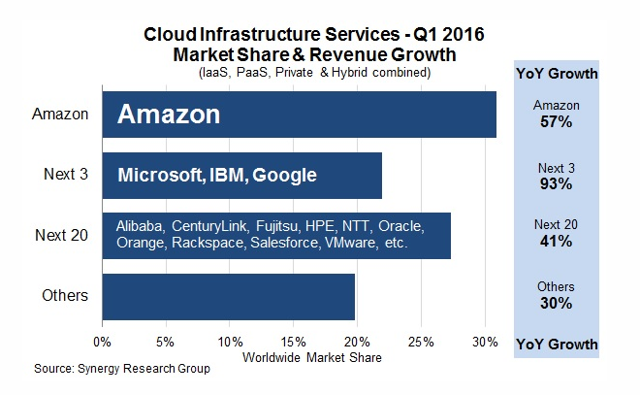 According to Gartner, it is even 10 times bigger than its 14 closest competitors combined. Its revenues are also growing fast, in Q1 2017 cloud computing revenues grew by 43% year over year to $3.7B, and it's also responsible for most of Amazon's profits:
Amazon reported its net income rose to $724 million in the first quarter, with AWS revenue accounting for most of its profits at $809 million in operating income. By comparison, AWS operating income was $604 million a year ago.
Amazon did enjoy a first mover advantage. The companies that are now the main competitors denied the viability of the cloud for a long time, in no small part informed by the disruptive nature to their own business. So Amazon had the cloud to itself basically, and could rapidly establish a dominant position. Here is Andy Jassy, the AWS CEO (from TechCrunch):
"I don't think in our wildest dreams we thought we would have a six to seven year head start, especially since we are across the lake from another big company in that space, and we all know so many people at each other's companies."
That other company across the lake is Microsoft, of course. One thing to stress is that the first mover advantage doesn't necessarily translate into a virtuous cycle. Cloud computing isn't a winner-take-all market like e-commerce, and the economies of scale and scope available to AWS are available to any competitor with the capital and know-how to build out the infrastructure and service platform.
Another thing to stress is that cloud computing isn't necessarily head to head. The leading platforms each have their own services and technologies on offer, which is summarized in the figure below: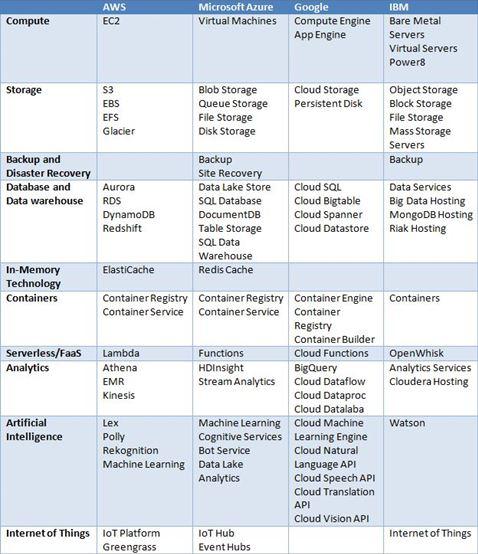 Microsoft's Azure cloud platform, whilst considerably smaller, is growing at twice the speed of AWS, as it experienced a 93% increase in Q1 2017. Microsoft, like Oracle (NYSE:ORCL) likes to tout its manifold relations with enterprise customers (Windows, Windows Server, Productivity software etc.) as an advantage and there is something in this.
So while Amazon is enjoying powerful economies of scale and scope in e-commerce which give it a near unassailable position in that market (and even versus much of traditional retail businesses), its cloud computing is eminently contestable.
There is an amount of stickiness of customers though, based on migration cost and technology lock-in, especially with respect to data. Here is Dharmesh Thakker, a general partner with Battery Ventures (from Techcrunch):
While Microsoft and Google (GOOG) (GOOGL) can hire and acquire their way through the software stack to close the gap with AWS, the growing data-gravity gap - the amount of data managed by S3 which natively uses AWS services - will make it very hard for competitors to catch up,"
But the market is still in relative infancy, so there is no reason to assume that AWS, even if bigger than the next three players combined, will come out on top once the market matures.
This is one reason that AWS keeps innovating, and at an accelerating pace: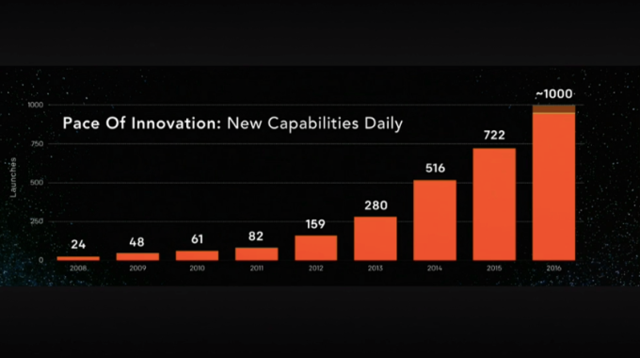 Artificial Intelligence
There is one area where Amazon's AWS is probably behind some of the competition, it's in artificial intelligence (AI). This is likely to matter a lot, as AI is one of the fastest areas of growth in cloud computing. AI is rapidly improving, see for instance the speed of improvement lately in stuff like speech recognition, a technology that has been around for a couple of decades: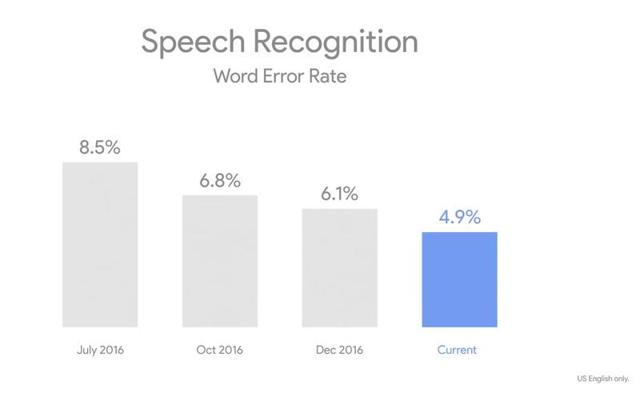 And the progress is accelerating almost everywhere, driven by machine learning (from Forbes):
a machine learning algorithm is given a "teaching set" of data, then asked to use that data to answer a question. For example, you might provide a computer a teaching set of photographs, some of which say, "this is a cat" and some of which say, "this is not a cat." Then you could show the computer a series of new photos and it would begin to identify which photos were of cats. Machine learning then continues to add to its teaching set. Every photo that it identifies - correctly or incorrectly - gets added to the teaching set, and the program effectively gets "smarter" and better at completing its task over time.
Machine learning is now driving advances in a host of fields, like healthcare, personalized marketing, fraud detection, natural language processing, smart cars, financial trading, data security, management, and a host more. And we've only just arrived in the take-off phase, this is going to accelerate and spread like wildfire. Here is what an Accenture report concluded (from CNBC, our emphasis):
The Accenture report looked at 12 countries and found that AI - or technology that senses the environment, comprehends what's happening and takes action - could increase productivity by up to 40 percent in 2035. The report also forecasts economic growth in the U.S. could increase from 2.6 percent to 4.6 percent over the same period with the adoption of AI technologies.
The race is on to build the leading AI platform. Because the massive amounts of data required, most of this will be in the cloud (although the first standalone AI chips are emerging, see below). The way to do that is to repeat some of the tricks from earlier technology platform wars, open up yours to third-party developers. This has two potential advantages:
It can create powerful network effects, the dominant platform will attract more users, which will attract more third-party developers, etc.
It can produce lock-in and high switching cost.
So the main rival platforms are opening up, like Amazon's open machine learning platform, Google's TensorFlow and Microsoft Open Cognitive Toolkit and Machine Learning.
It is Google which seems to have taken the lead though. TensorFlow was developed for in-house AI applications but it has been made available for third parties in 2015 (from The Verge):
Since then, it's been embraced by the AI community (it's the most popular software of its type on code repository Github), and is used to create custom tools for a whole range of industries, from aerospace to bioengineering. "There's hardly a way around TensorFlow these days," says Samim Winiger, head of machine learning design studio Samim.io. "I use a lot of open source learning libraries, but there's been a major shift to TensorFlow." Google has made strategic moves to ensure the software is widely used. Earlier this year, for example, it added support for Keras, another popular deep learning framework. According to calculations by the creator of Keras, François Chollet (himself now a Google engineer), TensorFlow was the fastest growing deep learning framework as of September 2016, with Keras in second place.
TensorFlow is offered for free and it connects easily with its servers providing computing power and storage. It has also come up with TensorFlow light that developers can use to make better machine learning products for Android devices.
Android, with more than two billion monthly active users, is being optimized for AI, from The Verge:
to keep the software's edge, the company is honing it with machine learning. New additions to the OS span the range from tiny tweaks (like smarter text selection) to big new features (like a camera that recognizes what it's looking at).
In some parts, it could actually replace the cloud, from Google's Research Blog:
Federated Learning enables mobile phones to collaboratively learn a shared prediction model while keeping all the training data on device, decoupling the ability to do machine learning from the need to store the data in the cloud. This goes beyond the use of local models that make predictions on mobile devices (like the Mobile Vision API and On-Device Smart Reply) by bringing model training to the device as well.
And Google has another trick up its sleeve in the form of its own 'AI' chip, the Tensor Processor Unit (TPU), now in its second generation. There are several remarkable aspects of the second TPU:
Unlike the first version, the second can do both inference and much more resource demanding training. In fact, it can do this simultaneously. Inference is crunching numbers to arrive at a real-time result (like for instance a web query). Training is how an AI algorithm is developed, and that takes a large amount of resources.
Taking a leaf out of the Apple (AAPL) playbook, it's integrated and optimized to work with TensorFlow.
64 TSUs can be rigged together to "form a TPU pod, turning a Google server rack into a supercomputer with 11.5 petaflops of computational power" (The Verge).
It is offered to third parties across the Google Compute Engine.
Such an integrated and optimized approach could confer Google important advantages. Here is Jeff Dean from the Google Brain team (The Verge):
The edge this gives Google over competitors' offerings is the speed and freedom to experiment, says Jeff Dean, a senior fellow on the Google Brain team. "Our new large-scale translation model takes a full day to train on 32 of the world's best commercially available GPU's," Dean told a group of reporters in a press briefing this week. "While one eighth of a TPU pod can do the job in an afternoon."
But not everybody agrees. Developing your own chips in-house also runs the risk of potentially locking yourself in when others develop something better, and there are those that argue that the rival chips for the big number crunching tasks, the GPUs from Nvidia (NVDA) have little to worry from the TSU, at least for now. Google will continue to increase the use the latter at a staggering rate, from Barrons:
Trip Chowdhry of Global Equities Research, who has written frequently on how the TPU relates to Nvidia GPUs, writes that "Google statements can safely be ignored for now" and Nvidia is in no danger. "Our research is indicating that Google Cloud will continue to grow its GPU farm by >100% this year."
Yet the general consensus seems to be that Google is in the lead, from The Street:
Machine learning R&D work can often be applied to many different tasks, including some that don't have much in common at first glance. Both of these phenomena work very much in Alphabet/Google's favor. Though Amazon.com, Microsoft and others have also made tremendous progress in delivering AI-powered products and services on a large scale, Google arguably remains a step ahead when it comes to many of the tasks that both Google and rivals are trying to address.
But the competition isn't sitting still either, from Investopedia:
For instance, International Business Machines (NYSE:IBM) and Salesforce.com (NYSE:CRM) announced that Watson and Einstein would join forces to create the biggest AI platform in the space with over a billion users per day. The move could provide the companies with a monopoly of sorts when it comes to enterprise users.
Graphics chip maker Nvidia, which produces the chips that drives much of the machine learning capabilities looks to set itself up to become an important AI platform itself. It's also promoting building intelligence into devices themselves (moving data and processing to 'the edge'), rather than to rely on the cloud, from Spectrum.ieee:
Why the move to the edge? At a press event held Tuesday in San Francisco, Talla gave four main reasons: bandwidth, latency, privacy, and availability... Nvidia, of course, wasn't painting this glowing picture of edge computing without some self-interest. At the event, the company announced its new edge-processing platform, the Nvidia Jetson TX2. This credit card-size module is a plug-in replacement for the company's Jetson TX1, designed for embedded computing. Depending on how it is applied, it can either run at twice the speed of its predecessor or use half the power.
And all the way, there are a myriad of startups and big competitors in China that are working a little under the radar:
Compared to the last few Industrial Revolutions, China has clearly not lagged in the Fourth one. Instead, it plays an important role in it. China is competing head-to-head with the U.S. and other tech powerhouses in the hottest area of technological innovation: Artificial Intelligence. With its big reserve in AI talent, excellent engineering education and massive market for AI adoption, China is poised to be a leader in AI.
Amazon isn't without its own platforms, like Amazon Machine Learning (AML) which offers companies an easy, highly-scalable on-ramp for interpreting data under the umbrella of Amazon Web Services (AWS). It is also offering other, more specific AI services like:
Amazon Rekognition, which can perform image recognition, categorization, and facial analysis
Amazon Polly, a deep-learning-driven text-to-speech (TTS) service
Amazon Lex, a natural language and speech recognition program.
However, according to Fabio Cardenas, the CEO of Sundown AI, a tech company that helps businesses offer customer service via an AI platform called Chloe which uses AML for business operations (from Zdnet):
Cardenas noted that AWS was behind other competitors at one point, but said "it's Amazon, and we knew they would catch up."
And something which we referred to above, these platforms might not necessarily be in direct competition, here is Alexander Linden research vice president at Gartner focusing on data science and machine learning:
In terms of broad aims for these tech giants, when it comes to their machine learning offerings, Linden said they "definitely" have different goals: Microsoft has a significantly broader offering than Amazon or Google, he said, while Amazon primarily targets software developers -- not the corporate data scientists. "I don't see Amazon playing a role in a banking context, insurance context, retail context, or government context," Linden added. Linden pointed out some considerations to keep in mind when evaluating Amazon's machine learning platform. First, there's a difference between Amazon's platform and the "pre-baked, ready-made, machine learning API," he said. Although it's difficult to stack the companies against each other, Linden's opinion is that "Amazon is not fully up to speed against Google. I would think Google or Microsoft are probably the cutting-edge folks -- then Amazon would be third, and IBM."
Conclusion
While Amazon's AWS has a big lead over the competition in cloud computing, its rivals are growing faster and some of them, like Google and Microsoft, seem to be well placed in the most sophisticated and revolutionary platform of machine learning and AI.
AI is no doubt the platform with potentially by far the biggest economic impact, leaving virtually no sector unchanged. The company that can dominate this platform is likely to reap enormous rewards.
This is still a contestable market, but also one that is characterized from important increasing returns (network effects). This means that a small first-mover advantage could very well develop into an unassailable lead a few years down the line.
It's too early to draw conclusions, but it does seem certain that Amazon isn't going to have it all to itself and might actually be a bit behind the leading platforms from Google and Microsoft.