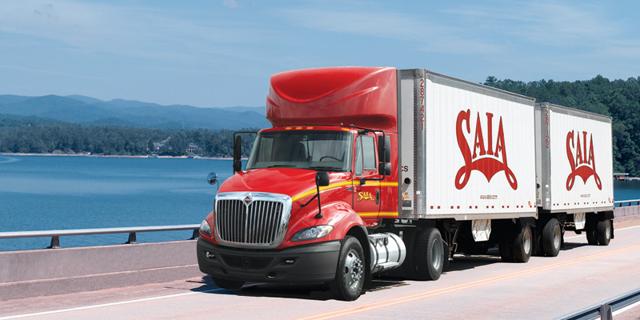 Source: Google Images
Review
Saia Inc. (NASDAQ:SAIA) reported its earnings results for the first quarter of 2017 on April 29 th. The company is an interesting investment play for a couple of reasons. First, it operates in the much more consolidated less-than-truckload (NYSEARCA:LTL) market; and second, it has undertaken a multi-year strategic growth expansion plan.
The growth expansion plan combines investments into four new terminals in the Northeast region, as well as purchases of new tractor, trailer and forklift fleets to improve operating efficiencies. Tractor, trailer and forklift technology and safety improvements have allowed for better LTL operational performance. But as Saia's results displayed, insurance premiums have still been on the rise. Insurers are not budging when it comes to more costly and efficient revenue equipment, but benefits are still driving these investments.
Saia has been making progress on its new terminals in Harrisburg, Philadelphia and Pittsburgh within Pennsylvania; and Newark, New Jersey. On the call, management stated that all of the pieces, including employees, equipment, etc. were in place. The latter part of the first quarter and month of April provided a strong focus on training and getting the terminals integrated into the overall system. This included operational layouts geared towards customer needs.
Saia's focus on the Northeast region has been the primary area, but recently, the company also purchased a facility in Laurel Maryland, which is scheduled to open in the third quarter of this year. The overall strategic plan for expansion is to grow in the Northeast region, as well as to look to expand capacity in other markets to create a more robust national network. Combined with the investments into revenue equipment, Saia is attempting to position the company for stronger market share through organic growth.
During the first quarter, the company exceeded both operating revenue and diluted earnings per share (NYSEARCA:EPS) analyst estimates. Operating revenue performance was driven by both strong volume and yield results. Tonnage and shipment volumes improved by 2 and 3.5 percent, while yields gained by 7.7 and 6.1 percent. Operating revenues totaled $317 million for the quarter, up over 9 percent.
For the bottom-line, Saia witnessed a gain of 5 percent earning $0.44 per share. Operating profit was marginally lower from last year at $17.5 million, driven by modest preliminary cost increases from the terminal expansions, and higher insurance premiums. This led to a 60-basis point (bps) increase in Saia's operating ratio, to 94.5 percent.
The earnings beat was primarily driven by a reduction in the company's effective tax rate for the quarter. The tax rate in 2017 was at 31 percent, versus 36.4 percent last year. This was related to accounting changes for certain equity-based incentive compensation. Management confirmed that the tax rate for the year is expected to be approximately 36 percent.
As a result of Saia's push to invest and grow organically, the company increased its leverage and capex spending. The company's total debt increased by over 110 percent from last year to $156.9 million. This was complimented by a 64 percent increase to $88.4 million with the purchase of property and equipment in the quarter; 70 percent when including capital leases - at over $108 million.
The increase in debt obligations was only 35 percent greater than the first quarter of last year. Saia's capex program tends to be highest in the first two quarters of the year. Additionally, the company does not pay dividends or repurchase stock often, so free cash flows are typically used to pay down debt in the back-half of the year.
Management stated that the company's capital structure reflected just under 25 percent leverage, which was comparable to the first quarter last year, which was at 21 percent. Debt to EBITDA was at just over 1 times EBITDA, keeping Saia as the fourth lowest out of its ten public peers.
Summary
The multi-year strategic growth plan that Saia is implementing is a necessary move. I applaud the company for taking these steps to compete for market share. Without it, Saia would be more dependent upon economic cycles for performance, and would be at risk of more stagnant longer-term market share results.
With that being said, competition remains robust for the LTL market across North America. Specifically, there are larger players including FedEx Corporation (NYSE:FDX), XPO Logistics (NYSEMKT:XPO) via the Con-Way acquisition, and United Parcel Service (NYSE:UPS); which all have a much more diverse service offering allowing for cross-selling opportunities.
Prospects remain positive for the LTL market to continue grow, both by volume and yield management. The industry has been constructive and disciplined during a challenging market last year, but we have witnessed a much more competitive yield environment for both truckload and domestic intermodal markets.
Despite the slow pace of gross domestic product (OTC:GDP) performance in the first quarter, an uptick in growth is still expected for the balance of 2017. This will potentially add increasing demand to meet capacity increases. But holistically for the LTL market, it may not be enough for all major players.
As part of Saia's investments into the Northeast U.S. region, the company has also entered into an exclusive partnership with TST Overland Express, one of Canada's leading LTL service providers for North America and a subsidiary of TFI International (OTCQX:TFIFF). Saia feels that their investments into the Northeast region has played a role in making this partnership more lucrative.
The four new Northeast terminals began operating on May 1 st, so the second quarter call will offer the first opportunity to review results with two months of operations. Saia's moves are necessary for the company to compete on a broader basis, but as capacities increase, especially across multiple companies, investors need to keep an eye on yields and margins.
Disclosure: I am/we are long FDX, XPO.
I wrote this article myself, and it expresses my own opinions. I am not receiving compensation for it (other than from Seeking Alpha). I have no business relationship with any company whose stock is mentioned in this article.
Editor's Note: This article discusses one or more securities that do not trade on a major U.S. exchange. Please be aware of the risks associated with these stocks.