As equity valuations reach high levels, returns decrease. Despite spectacular trends in some stocks, returns are nowhere near levels achieved when prices and valuations were lower. Many analysts overlook this effect but its impact is significant because it creates conditions for a bear markets or even a crash.
I wrote an article in 2012 about Apple stock (NASDAQ:AAPL) returns and how they have decreased over time. I also in a way anticipated the stock split of June 2014 in that article. Below is the updated chart.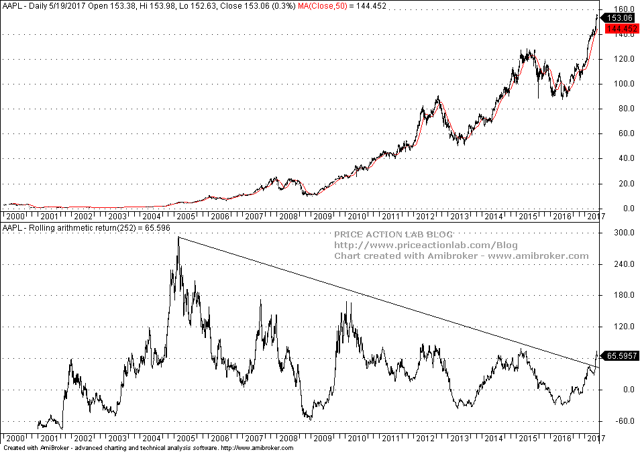 In the mid 2000s, 252-day returns reached as high as 290%. In 2007 and 2011, returns based on a 252-day rolling window were more than 170%. Since, and despite the Apple stock split, returns have fallen below 70% in the same period. This occurred despite an apparent bullish chart. This phenomenon is more evident in the stock of Amazon (NASDAQ:AMZN), which is on a strong uptrend.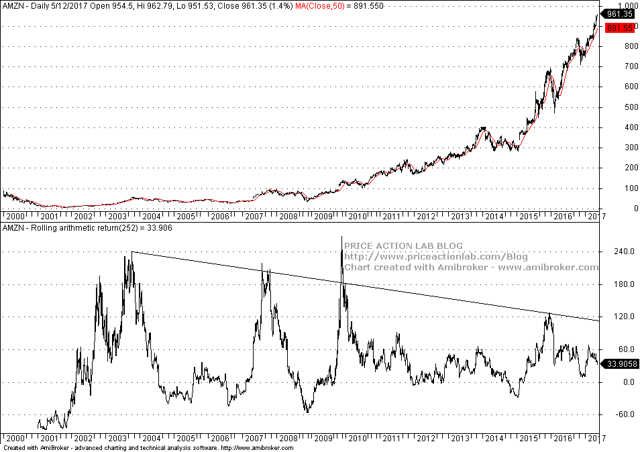 Everyone in social media and financial blogosphere is talking about the explosive move in this stock and a company that is about to take over the world with markets in almost everything. But take a look at 252-day rolling returns above: in 2003 the rate of change was nearly 250%. Then in 2007 it reached as high as 220% and in 2009 to a spectacular 270%. But since, despite the uptrend in stock price, returns have fallen and after a spike to a little more than 120% in 2015, there are now at about 33%. This is despite the explosive trend in the stock price. This is the effect of diminishing equity returns as valuations get higher. Charts offer a false impression in many cases about the return potential of equities when there are high valuations.
This phenomenon of diminishing returns is also present in the stock of McDonald's Corporation (NYSE:MCD). This stock just completed a 19-week win streak with a net gain of 23.6%. This is now the longest win streak in this stock after an 18-week streak in 1971. However, back then, the stock had gained more than 80% in 18 weeks, as it may be seen in the chart below.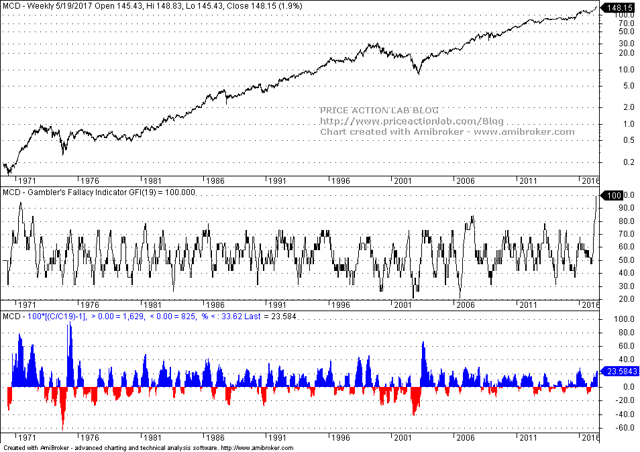 Therefore, it may be seen from the above examples that high returns may not sustainable at high valuations. This is one reason that a bear market is unavoidable and may occur despite economic conditions. As equity prices rise to levels of diminishing returns, some investors and speculators become infatuated with other assets where large returns appear possible, such as IPOs, derivatives and even crypto currencies.
Consider this example: a $10 stock that rises to $20 generates a 100% return but a $200 stock must rise to $400 to offer the same return. Although arithmetically these two examples are equivalent, there are certain factors, some based on investment physiology, that cause an asymmetry effect. This effect becomes stronger as prices rise and returns diminish.
This article was originally published in Price Action Lab Blog
Disclosure: I/we have no positions in any stocks mentioned, and no plans to initiate any positions within the next 72 hours. I wrote this article myself, and it expresses my own opinions. I am not receiving compensation for it. I have no business relationship with any company whose stock is mentioned in this article.