3 Gold Exploration Stocks to Put on Your Radar
Gold exploration and development companies carry more risk than typical mining companies, but also more upside. These are earlier-stage companies that have yet to make a large discovery, but are actively drilling to expand resources.
As I've mentioned before, I hold a significant amount of gold explorers in my real-life gold portfolio, as this is one reason why I've been able to outperform benchmark indexes such as the VanEck gold miners index (NYSEARCA:GDX) and other indexes. I've hand selected these stocks based on my own research.
I look for projects with strong exploration upside in politically favorable mining jurisdictions, such as Canada. Other major positives include a strong management team with heavy insider ownership and projects located near currently producing mines, as I think this increases the chances of a takeover.
Here, I've listed three gold exploration companies that are worth putting on your radar following solid exploration results, as I'll explain below.
Alexandria Minerals (OTCQB:ALXDF)
I'm featuring Alexandria Minerals because the company recently reported some of the best drill results at its Quebec property to date. On May 10, Alexandria said that drilling at Orenada Zone 4 (on its Cadillac Break property in Quebec) intersected high-grade gold veins.
Drill highlights include: 9.00 g/t gold over 13.85 meters, including 16.23 g/t gold over 5.05 meters; 6.29 g/t gold over 15.35 meters; 4.85 g/t gold over 12.00 meters, including 9.15 g/t over 3 meters. These results come from a previously untested area.
This is the main focus area for Alexandria now. By the end of May, the company plans on having three drills active in this area.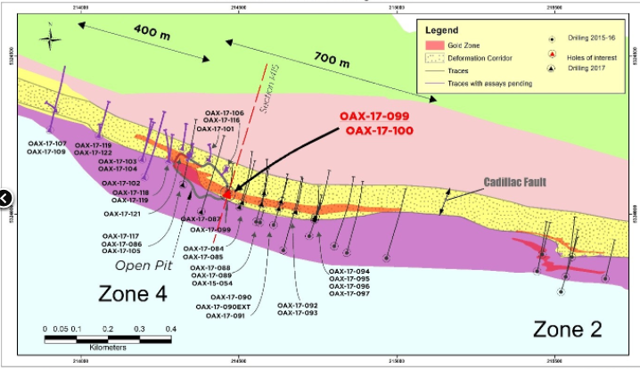 (Credit: Alexandria Minerals news release)
Alexandria still awaits the results of 22 gold assay results to see how far gold minerazliation extends west at this deposit, possibly to as far as Orenada Zone 2 (see map above).
If gold mineralization extends from Zone 4 to Zone 2 at an average grade of 2 grams per ton gold, there's strong potential for a 2 million ounce gold deposit within this 2 kilometer stretch alone, according to Mary Vorhis, VP of corporate development and investor relations. Orenada currently contains less than 600,000 ounces of gold in all resource categories.
For some background, Alexandria's Cadillac Break property stretches 35 kilometers long and this Orenada deposit is located close to the Lamaque project and the Sigma-Lamaque Milling Complex and Mine, owned by Integra Gold (OTCQX:ICGQF), which is being acquired by El Dorado Gold (NYSE:EGO).
Alexandria also has strong support from well-known precious metals investor Eric Sprott, who recently invested $2 million in the company via a private placement, as well as Agnico Eagle (NYSE:AEM), which owns 7% of the company. Management and insiders own 6%.
The company is well-funded, as it currently has $7 million in cash and another $2.3 million in credits and other assets, according to Vorhis.
Alexandria remains a top holding of mine in my gold portfolio and I'm confident of its inclusion in my top gold stocks for 2017 list.
TomaGold (OTC:TOGOF)
TomaGold announced that its 50% joint-venture partner on its Monster Lake property, IAMGOLD (NYSE:IAG), recently reported assay results from the first eleven drill holes, totaling just over 5,100 metres. The results were very strong, with the highlights listed below. You'll see one drill hole in particular intersected grades north of 100 g/t.
Drill hole ML17-­190: 4.4 metres grading 5.21 g/t gold, includes: 1.3 metres grading 15.99 g/t gold
1.9 metres grading 9.82 g/t gold, includes: 0.6 metres grading 25.10 g/t gold and 0.6 metres grading 36.90 g/t gold
Drill hole ML17-­194: 3.1 metres grading 121.67 g/t gold, includes: 1.1 metres grading 316.89 g/t gold
Lower Shear Zone: Drill hole ML17-­191: 1.8 metres grading 85.27 g/t gold
For some background, IAMGOLD is a multi-billion dollar gold miner that agreed to partner with TomaGold on Monster Lake back in 2015. IAMGOLD bought a 50% interest in the Monster Lake, Winchester and Lac-à-l'Eau-Jaune properties, in exchange for a $3.22 million cash payment to TomaGold. IAMGOLD can acquire another 25% interest by spending $10 million in exploration work over a 7-year period, and it needs to spend a minimum $500,000 each year.
After earning the 75% interest, TomaGold can fund its pro-rata share of exploration expenditures to keep its interest in the project, or it will get diluted ot a 10% interest in the project. TomaGold will also receive $1 million from IAMGOLD following a development decision. The full details can be found in the press release linked above.
These are positive drill results and the fact that IAMGOLD highlighted these drill results in its quarterly earnings and then released a separate press release, shows that the miner is committed to investing in Monster Lake. And TomaGold doesn't have to spend any money on exploration at this property until IAMGOLD earns a 75% interest.
Further drilling will continue at Monster Lake and an initial resource estimate are expected to released by year-end. Other potential catalysts this year include drilling results at TomaGold's Obalski, Hazeur and Monster Lake East properties, as well as expected drilling on the Sidace Lake property, which is 60.5% owned by Goldcorp (NYSE:GG) under a joint-venture.
TomaGold's stock has yet to take off this year but I remain bullish on this company and continue to hold shares in my gold portfolio. These drill results are a positive sign for the company and I think IAMGOLD is committed to developing this project, which will create value for shareholders.
ATAC Resources
ATAC is developing its Rackla gold property in the Yukon, Canada, which is located close to Victoria Gold's Eagle Gold project and several other advanced projects. Back in November of 2016, ATAC announced positive drill results that included 61.29 meters of 2.75 g/t gold at Rackla. However, today I will talk about other recent news.
The company recently announced major support from a senior gold miner, Barrick Gold (NYSE:ABX), which is a top pick of mine.
Barrick can acquire an interest in the central portion of ATAC's Rackla Gold Property, called the Orion project. Under the terms of the property earn-in agreement, Barrick can acquire up to a 70% interest in the Orion Project, with private placement of $8.3 million and a two staged, $55 million exploration earn-in option to acquire up to 70%. Following the private placement closing on May 4, Barrick now owns 19.9% of ATAC.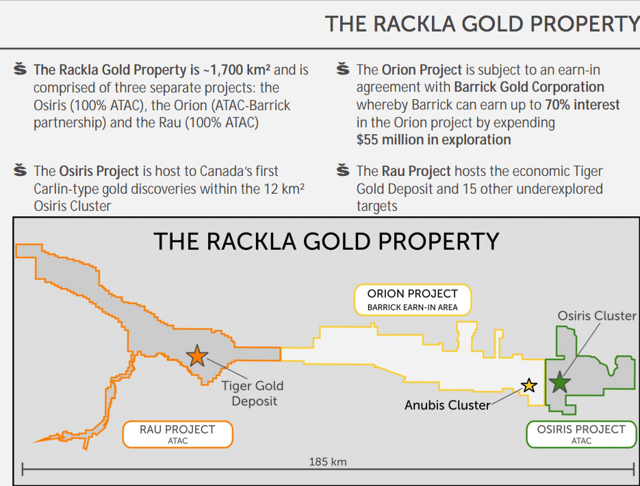 (Credit: ATAC corporate presentation)
This is obviously huge news for ATAC as it gains major support from a senior gold producer and validates the upside of its Orion project at Rackla. Meanwhile, ATAC can focus on its 100% owned Osiris project (42.93 meters of 18.44 g/t gold reported in one drill) and the Rau property which hosts the Tiger Gold Deposit, and it is well-funded following closing of the Barrick financing, as it has $22 million in cash.
The good news for investors here is ATAC's stock is still attractively priced at C$.54 per share (on the TSX) and a market cap just over C$60 million. Given the potential upside of the joint-venture with Barrick, its 19.99% ownership of the company, the exploration upside of its other properties, and its strong cash position, I'd say ATAC is a pretty good bet here.
I plan on doing a bit more research on this company before buying any shares, but so far, I like what I see.
Disclosure: I am/we are long ALXDF, TOGOF, ICGQF.
I wrote this article myself, and it expresses my own opinions. I am not receiving compensation for it (other than from Seeking Alpha). I have no business relationship with any company whose stock is mentioned in this article.
Editor's Note: This article covers one or more microcap stocks. Please be aware of the risks associated with these stocks.