Elevator Pitch
Guangdong Investment Ltd. (OTCPK:GGDVY) [270:HK] is an attractive investment candidate offering a good mix of defensiveness and growth. Guangdong Investment's defensiveness comes from its portfolio of stable businesses like water concessions, toll roads and investment properties that generate recurring cash flow. Investors in the stock should also realize value via either earnings growth from M&A or dividend growth from cash piling up over time. I estimate a total return of 36%, including dividends, for Guangdong Investment over a three-year holding period, based on my sum-of-the-parts valuation and expectations of an increase in dividend payout to 70% by FY2019.
Company Description
Guangdong Investment is a Hong Kong-listed conglomerate that also trades as a ADR in the U.S. It operates through four key business segments, water resources, property investment & development and department store operations, infrastructure, and hotel operations & management, which accounted for 63%, 23%, 13% and 1% of its FY2016 operating profit, respectively.
Guangdong Investment's water resources business includes the natural water supply business (Dongshen Water Supply project which provides natural water from Dongjiang River to Hong Kong, Shenzhen and Dongguan regions), the tap water supply business (the Wuzhou Water Supply project, the Qingxi Water Supply project and the Meizhou Water project with a combined supply capacity of 2.39 million tons per day) and the sewage water treatment business (the Meizhou Sewage project, the Wuzhou Sewage project and the Jinsheng Sewage project with a combined process capacity of 0.39 million tons per day). I will largely focus on the Dongshen Water Supply project in my analysis below as it is the most significant profit to the water resources business and the group as a whole.
Guangdong Investment's infrastructure business comprises toll roads (Xingliu Expressway project in Guangxi and the Yinping Public-Private Partnership Project in Guangdong) and electric power generation projects (Zhongshan Power Plant project and the Yudean Jinghai Power project). The company owns several investment properties (Guangdong Teem Mall project, the Tianjin Teem Mall project and the Panyu Wanbo CBD project) and operates a couple of department stores (Guangdong Teemall Department Store and the Teemall Wanbo Department Store) under its property investment & development and department store operations segment. Guangdong Investment also owns seven hotels and manages 40 hotels in Greater China via its hotel operations & management business segment.
Portfolio Of Defensive Cash Flow Generative Businesses
Guangdong Investment boasts a stellar financial track record. It grew its top line for eight consecutive years between FY2008 and FY2016, and it has remained profitable and free-cash-flow positive in every single year between FY2002 and FY2016. This is attributable to its portfolio of businesses which are largely defensive and cash flow generative.
Guangdong Investment's water resources business owns a 30-year concession (2000-2030) to supply fresh water from Dongjiang (East River) to Hong Kong, which accounted for 43% of the company's FY2016 revenue. Under the concession agreement between the Guangdong government and the Hong Kong government, Guangdong Investment receives a fixed availability (minimum of 820 million cubic meters of water per year) payment (quantum of payment to be negotiated every three years) that is independent of actual usage. There are several factors supporting the defensiveness of this revenue stream from the supply of fresh water to Hong Kong.
Firstly, Dongjiang accounts for 70-80% of water consumption in Hong Kong, and Hong Kong is unable to meet internal fresh demand from rainfall alone due to the erratic nature of this water source. Alternative sources such as new desalination plants are expected to only account for a mere 5% of fresh water supply by 2020 and the per-unit cost of water supply via desalination is at least 40% more expensive than that of Dongjiang. In other words, the supply-demand dynamics are in Guangdong Investment's favor.
Secondly, the Hong Kong government is unlikely to switch away from the current fixed availability payment structure which ensures revenue stability for Guangdong Investment. In a 2014 press release, the Hong Kong government explained the reasons for retaining the current payment structure:
We have adopted the "package deal lump sum" approach in the Dongjiang water supply agreements since 2006. Under this approach, we make a fixed annual lump sum payment to the Guangdong side in return for a guaranteed annual water supply up to the ceiling in the agreements. The actual quantity of Dongjiang water imported can also be flexibly adjusted in accordance with the local yield of the year. Under this approach, Hong Kong is assured of an adequate fresh water supply even under drought condition with a return period of one in 100 years. We can also avoid importing Dongjiang water more than necessary in years of high yield, thereby avoiding wastage of water resources and saving pumping cost. Therefore, a unit water price is not applicable under this approach.
Thirdly, Guangdong Investment has substantial bargaining power with the Hong Kong government due to the competition for Dongjiang water by the neighboring cities such as Dongguan, Shenzhen, Heyuan and Huizhou, which are also heavily reliant on the Dongjiang River for their water needs, as per the table below. These are fast-growing industrial cities whose demand for water is expected to rise substantially in the foreseeable for future. Using Shenzhen as an example, the Chinese government is projecting a water deficit of 694 million cubic meters per year by 2020. If the Hong Kong government chooses to lower the water tariffs, the Guangdong government has the option of potentially terminating the current water supply agreement and supplying more water to neighboring cities which are experiencing strong demand growth to protect Guangdong Investment's interest (state-owned enterprise).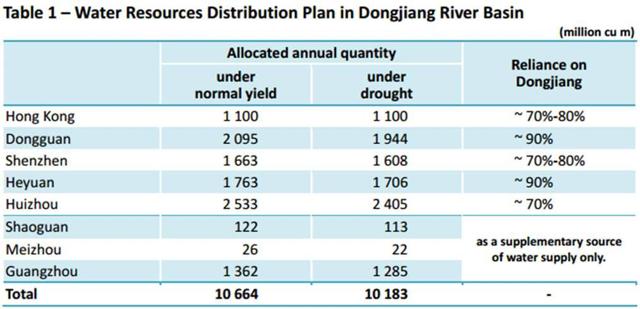 Source: June 2015 research report titled "Water Resources in Hong Kong"
This is validated by Guangdong Investment's steady revenue contribution from the water supply business to Hong Kong over the past 12 years. Interestingly, Guangdong Investment managed to get a RMB 652 million subsidy from the Guangdong government in 2008, when tariff growth was flat for the FY2005-FY2008 period and Guangdong Investment suffered escalating project costs partly driven by the appreciation of the RMB relative to the Hong Kong dollar. This validates my view that the Guangdong government will consider the interests of Guangdong Investment in upcoming negotiations over tariffs (2H2017) with the Hong Kong government.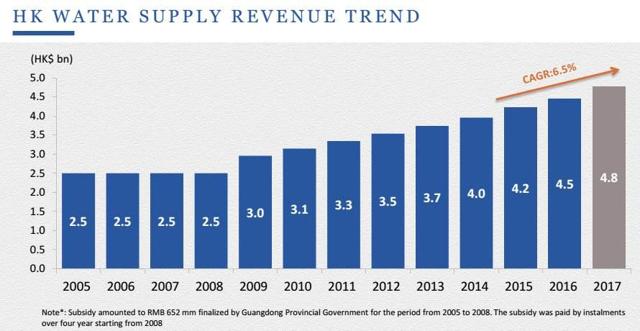 Source: Company Investor Presentation
Moving on to Guangdong Investment's infrastructure business, it is similarly stable and defensive on par with its water resources business. Xingliu Expressway, comprising a main line 99.6km in length and three branch lines with a total length of 52.7km, is part of the Guangzhou-Kunming Expressway connecting Yunnan, Guangxi and Guangdong Provinces, was acquired in October 2015 for HK$2.58 billion which Guangdong Investment has the right to operate till September 2032. This is a typical toll-road business which boasts recurring free cash flow taking into account minimal maintenance capital expenditure requirements and the long 15-year period remaining on the existing concession. Furthermore, traffic flow growth for Xingliu Expressway remained robust last year with an average daily traffic flow of 22,429 vehicle trips for FY2016 representing a 20% YoY growth.
In June 2016, Guangdong Investment announced it has entered into an agreement with the Xiegang Government in respect of the Dongguan Yinping Public-Private Partnership Project in Guangdong, which comprises the construction of highways, roads, drainage, and lighting with a budgeted cost of RMB4.754 billion. This is almost equivalent to a "risk-free" investment for Guangdong Investment, as it is guaranteed an annualized project return of 8% for 10 years, according to the terms of the agreement. Furthermore, Guangdong Investment bears limited project risks, as construction work is outsourced to external contractors (no construction completion risk) and there is a cap on project development costs (no cost overrun risk).
Another source of defensive, recurring cash flows for Guangdong Investment is rental income from its key investment property, Teem Plaza located in Tianhe District, one of the prime areas in Central Guangzhou. Teem Plaza comprises Teemall, a shopping mall, and Teem Tower, a 45-storey Grade A office tower, which boast occupancy rates of no less than 98% and 95%, respectively, for the past five years. Between FY2012 and FY2016, Teem Plaza has generated very stable annual revenue and profit before tax in a narrow HK$1.0-1.1 billion and HK$700-800 million range, respectively.
Based on my estimates, stable and recurring cash flow businesses accounted for at least 80% of Guangdong Investment's FY2016 operating profit, making it a very attractive investment candidate with limited earnings downside.
Net Cash Position And Strong Free Cash Flow Generation To Pursue Acquisition-Driven Growth
Guangdong Investment's net cash position of HK$9.4 billion as of December 31, 2016, accounts for approximately 13% of its market capitalization. In addition, it generated an average annual free cash flow of HK$4.7 billion in the past five years. This makes Guangdong Investment well-positioned to capitalize on future growth opportunities, particularly those driven by M&A.
In the past few years, Guangdong Investment has done a good job of allocating its excess cash and cash flow to value-accretive acquisitions. These acquisitions included:
the purchase of varying shareholding interests in 20 water-supply and waste-water processing plants between 2014 and 2017 for approximately HK$4.0 billion;
the purchase of a 100% interest in Xingliu Expressway in October 2015 for approximately HK$2.6 billion;
the purchase of a 76% interest in Tianjin Teem Shopping Mall (recurring rental income starting in the second half of 2017 as the new mall opens) for HK$2.4 billion;
the purchase of a 100% interest in Dongguan Yinping Public-Private Partnership Project in Guangdong for HK$4.0 billion;
the purchase of a 31% interest in Panyu Wanbo CBD Project (recurring rental income starting from FY2019 as new commercial complex is completed) for HK$3.9 billion; and
the purchase of a 74% interest in Hong Kong-listed property company, Guangdong Land (whose flagship project is Buxin Project located in Luohu District at the central area of Shenzhen, an integrated development comprising hotels, offices, parks, shopping, convention centers and apartments; phases I and II of the project to be completed in 2021 and 2023 respectively) for HK$3.8 billion.
The acquisitions highlighted above possess the defensive and recurring cash flow characteristics similar to its existing businesses and assets and should create new recurring earnings streams for the company in the mid-to-long term. Looking ahead, I am optimistic that Guangdong Investment will adopt similar investment criteria for the acquisition of new businesses and assets to further grow its recurring cash flow streams.
Attractive Dividend Growth Provides Win-Win Situation For Shareholders
Guangdong Investment grew its dividend payout by an impressive eight-year CAGR of 20% from HK$0.10 per share in FY2008 to HK$0.42 per share in FY2016. The five-year and 10-year dividend CAGRs are equally impressive at 11.3% and 13.7% respectively.
Based on Guangdong Investment's current share price of HK$11.18 as of May 22, 2017, it offers a decent 3.8% trailing dividend yield. Guangdong Investment has been gradually increasing its dividend payout ratio from 39.7% in FY2014 to 54.4% in FY2015 and then 62.5% in FY2016. Coupled with my estimates of mid-single digit EPS growth (assuming no new M&A) in the next three years, there is room for Guangdong Investment to further increase its payout ratio and dividend per share. This provides a win-win situation for investors, who either enjoy the upside growth potential of M&A-driven growth (high single digit EPS growth) utilizing the excess cash and cash flow, or a steady growing stream of dividends assuming the company finds no suitable future acquisition targets to deploy the cash.
More importantly, it is noteworthy that Guangdong Investment has raised its dividend payout over the past three years, despite deploying around HK$10 billion of cash for acquisitions. So even assuming new M&A deals, I estimate that Guangdong Investment can still comfortably achieve mid-single digit earnings growth and support a higher dividend payout of 70% over the next three years, which translates to a forward FY2019 dividend yield of 4.9%.
Concerns Over Tariff Review Offers Buying Opportunity
Guangdong Investment's current share price of HK$11.18 as of May 22, 2017, is about 13% off its 52-week high of HK$12.80 in September 2016. The subdued share price performance is largely the result of uncertainty over the new 2018-2020 Hong Kong water tariff which is likely to be confirmed in the second half of 2017. I view this an excellent buying opportunity. For the reasons outlined above, I expect Guangdong Investment's significant bargaining power with the Hong Kong government to result in either flat or a slight increase in water tariffs for the 2018-2020 period.
I arrive at a target price of HK$13.7 for Guangdong Investment based on my sum-of-the-parts valuation presented below:
| | | |
| --- | --- | --- |
| Business/Asset | Valuation (HK$ billion_ | Assumptions |
| Water Business | 52.12 | DCF at 8% WACC |
| Infrastructure Business | 7.88 | DCF at 8% WACC |
| Property Business (excluding Guangdong Land) | 10.37 | 0.7x NAV |
| 74% Stake in Guangdong Land | 2.15 | Market value |
| Department Stores Business | 2.10 | 10x earnings |
| Hotels Business | 1.75 | 0.7x NAV |
| Add: Net Cash | 9.42 | |
| SOTP Value | 85.79 | |
| SOTP Value per share | HK$13.7 per share | |
My target price represents a 23% upside to Guangdong Investment's current share price of HK$11.18 as of May 22, 2017. Including dividends received over the next three years, the total return potential for Guangdong Investment is estimated to be 36%, including dividends, over a three-year holding period.
Variant View
The key risk factors for Guangdong Investment are a significant reduction in the new 2018-2020 Hong Kong water tariff, a weaker-than-expected Guangzhou property market and overpaying for future value-destructive acquisitions.
This article is part of Seeking Alpha PRO. PRO members receive exclusive access to Seeking Alpha's best ideas and professional tools to fully leverage the platform.
Disclosure: I/we have no positions in any stocks mentioned, and no plans to initiate any positions within the next 72 hours.
I wrote this article myself, and it expresses my own opinions. I am not receiving compensation for it (other than from Seeking Alpha). I have no business relationship with any company whose stock is mentioned in this article.
Editor's Note: This article discusses one or more securities that do not trade on a major U.S. exchange. Please be aware of the risks associated with these stocks.